2018 was a pretty massive year for almost all the main camera makers except one – Olympus. Canon and Nikon launched their assault on the full-frame mirrorless camera market, Panasonic announced its own plans and a major strategic alliance and Fujifilm had the busiest year of announcements and launches that we can remember.
Sony was relatively quiet, though the A7R III was still hot news at the start of the year and it some interesting lens announcements throughout. We don't always hear a lot from Pentax, but what about Olympus?
Olympus news in 2018
Well it didn't start off too badly. In February 2018 Olympus announced the PEN E-PL9. True, this was just a new iteration of its long-running PEN series for beginners, influencers and style fans, but it did bring stabilised 4K video and two new Art Filters, Bleach Bypass and Instant Film, and reinforce its reputation as a smart and stylish fashion camera.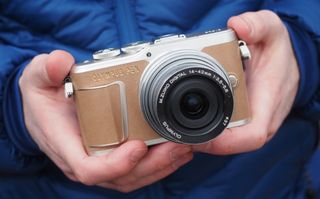 Still with the focus on style, Olympus also announced a new Bleu de Chauffe blue leather accessory collection designed specifically for the PEN-F in conjunction with the fancy French workwear company. Or you could choose a more stripped-down look with the new 'Streetomatic – Olympus Edition' Slinger Bag designed in conjunction with bag maker Cosyspeed.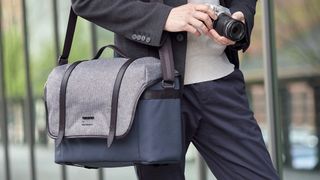 Finishing off a busy February, Olympus announced firmware updates for the OM-D E-M1 Mark II, OM-D E-M5 Mark II and PEN-F that brought the addition of the new Bleach Bypass filter across all three cameras and some model-specific improvements to each, especially the E-M1 II.
Then things went quiet. Olympus did win iF and Red Dot design awards in May 2018 for the OM-D E-M10 Mark III (one of our favorite travel cameras), and in May there was a European cashback offer on selected cameras and lenses. June brought a denim edition of the E-PL9 (whoop!) and September saw another cashback offer, this time on selected M.Zuiko Pro lenses.
So was this it for 2018? Pretty much. There was a flurry of activity in October 2018 with the launch of a new branded 'Explorer' messenger bag designed in conjunction with Manfrotto and aimed at OM-D users, some more cashback offers on selected OM-D cameras and M.Zuiko lenses, plus a free 30mm F3.5 Portrait/Macro lens for anyone buying an E-PL9 (which is a pretty good deal, actually).
The fact that we're reduced to talking about camera bags, firmware updates and cashback deals tells you everything you need to know about Olympus's year. So maybe it's time to step back for a reality check to see where Olympus is right now and where it might possibly go next.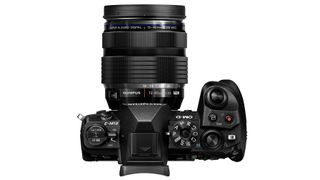 Olympus cameras: what next?
This slow-down in Olympus's development cycle is worrying for all fans of its compact, stylish and well-crafted cameras, but it actually started back in 2017, another quiet year for the camera maker. That year brought just two new cameras, the OM-D E-M10 Mark III and the Tough TG-5, and you have to go right back to 2016 for the foundation of its current camera range.
The fact is, Olympus's flagship OM-D E-M1 Mark II, launched in November 2016, is now over two years old, the smart and stylish PEN-F is about to celebrate its third birthday, and the middle of the range OM-D E-M5 Mark II, the ideal enthusiasts model, is almost four years old at the time of writing.
What's also worrying is the slow roll-out of the latest 20-megapixel Micro Four Thirds sensor. It's fitted to the OM-D E-M1 II and the PEN-F, but all of Olympus's other current cameras still use the older 16-megapixel sensor, and with the Micro Four Thirds format constantly battling for credibility against larger ASP-C sensor cameras, that can't be a good thing.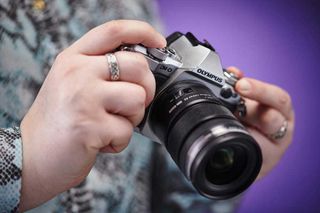 Panasonic is still using the older 16-megapixel MFT sensor in some lower-cost models, but has introduced the 20MP variant across more of its mid-upper range cameras and has its full frame mirrorless camera range to fall back on now. Olympus is not in the same position.
Something needs to happen. Olympus cameras are well regarded by consumers and journalists alike, but camera technology and expectations have moved on, and Olympus cameras will need more than firmware updates and cashback offers to keep up.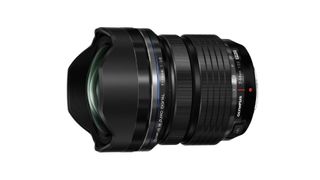 Olympus lenses: where are they?
Has Olympus made up for a lull in new cameras with new lens launches? Sadly, no. For the last new Olympus lens we have to go back over a year to October 2017 and the M.Zuiko Digital ED 17mm f/1.2 Pro and 45mm f/1.2 Pro.
These two new f/1.2 prime lenses, equivalent to 34mm and 90mm in full frame terms, certainly helped consolidate Olympus's Pro lens line-up, but previous to these you have to go back another year to September 2016 for the M.ZUIKO DIGITAL ED 25mm 1:1.2 Pro, 12-100mm 1:4.0 IS Pro and 30mm f3.5 Macro. That same year saw the release of the impressive DIGITAL ED 300mm f4.0 IS Pro (600mm f/4 equivalent, just a few months after the excellent ultra-wide 7-14mm F2.8 Pro (14-28mm equivalent) and 8mm f1.8 Fisheye Pro.
That 30mm f/3.5 Macro announced in 2016 is the only Olympus 'consumer' lens to appear since 2014 and the M.ZUIKO DIGITAL ED 14-150mm F4.0-5.6 II. Olympus's other more affordable non-pro lenses go way back to 2014 and earlier.
Olympus certainly seems to devoting almost all its attention to its Pro lens line-up these days, and it has to be said that this is now looking extremely strong. Its consumer lens line-up, however, feels like it hit its peak five years ago, with only two new lenses since 2014.
There are two ways of looking at this. One is that the Olympus lens range has already achieved everything it needs to, both for its consumer camera range and its professional users. The other is that the slow-down in lens launches coincides with the dearth of new camera models, and signals something more serious.
Where next for Olympus?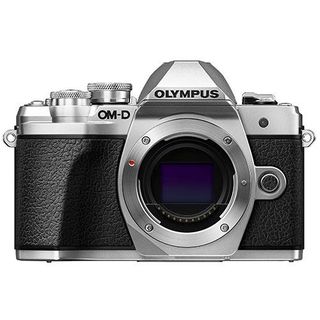 The continued use of the old 16-megapixel Micro Four Thirds sensor in the latest PEN E-PL9 and OM-D E-M10 Mark III models is troubling, as is the fact there has still been no replacement for the OM-D E-M5 Mark II, which also uses that sensor. If Olympus wants users to have faith in the Micro Four Thirds format, it needs to show a bit of faith in it itself, update its camera range and increase the pace of development.
At Photokina 2018, where so many manufacturers made major announcements, Stefan Kaufmann, Olympus CEO of Europe, Middle East and Africa, said: "Micro Four Thirds will remain highly relevant, and we as a company will continue to invest and innovate in our camera system and our lens systems."
Well, in 2019, let's see it.
Read more:
• The best Olympus cameras
• The best Micro Four Thirds lenses for your Olympus or Panasonic camera
• The best travel camera
• The best mirrorless cameras