In a week filled with crazy Canon rumors, this might be the craziest one yet: Canon has filed patents for three new lenses. Not so crazy, right? Well, get this: the lenses closely resemble the configuration required for Micro Four Thirds cameras.
Micro Four Thirds (MFT) is, of course, the smaller standard pioneered by Panasonic and Olympus. The format has been adopted by manufacturers such as Blackmagic and Sharp, but its open source nature means that anyone can produce lenses for it – and it seems that Canon may be doing just that.
The thing is, though, that Canon doesn't make lenses for cameras that it doesn't sell. You won't see Canon lenses for Hasselblad or Fujifilm mounts, for example. So, joining the crazy dots, is Canon planning to join the MFT standard?
The patent was spotted by Canon News, and describes three 'standard' zoom lenses with variable apertures: a 12-48mm f/1.7-4.0, a 12-47mm f/1.7-2.8, and a 12-24mm f/1.7-4.0.
In 35mm terms, these would be an equivalent 24-96mm, 24-94mm and 24-48mm focal ranges, so two of the optics are in the same ballpark as a standard 24-70mm zoom while the third lens is slightly wider.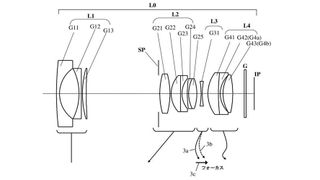 The report notes that the three lens designs don't quite conform to the MFT standard, though it's the only existing format on the market that these optics could conceivably be used on.
"… the image height is 10.75mm. The only sensor that is close to a diagonal of 21.50 is Micro Four Thirds - which is 21.60. For this lens to work on Micro Four Thirds, slight corrections may be needed to correct for the slightly smaller image circle."
The site notes that back flange distances (the distance from the rear lens element to the sensor) of these lenses are between 6-15mm, which is shorter than MFT's 19.25mm distance.
However, it's not at all unusual for lenses on the format (particularly exotic ones) to be inset into the mount to be closer to the sensor; optics such as the Mitakon Speedmaster 25mm f/0.95 do not work on older Micro Four Thirds bodies as the element recesses further than the throats can handle.
There is another possibility, though: Canon is designing an entirely new sensor that is even smaller than MFT. This seems unlikely, as the company already produces five different sensor standards (broadcast cameras, 2/3" compacts, 1" PowerShots, APS-C and full-frame), but hey – if anyone can, Canon can™.
Read more:
The best Micro Four Thirds lenses for your Olympus or Panasonic camera
The best Canon lenses in 2019: top lenses for Canon DSLRs and EOS mirrorless
Sharp officially joins Micro Four Thirds with Olympus and Panasonic