Fujifilm has confirmed the XF10, a new "ultra lightweight, travel-friendly premium compact camera."
Much like the company's X100-series models, the XF10 has been designed with an APS-C sensor and a fixed-focal-length lens.
The sensor isn't, however, designed with the same X-Trans CMOS architecture as the ones inside those cameras. Instead, it uses the same Bayer GRBG array as many other conventional types, with an effective pixel count of 24.2MP.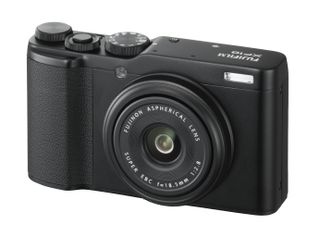 Fujifilm XF10: Key features
The optic in front of the sensor is a Fujinon 18.5mm f/2.8 lens, and this combination provides the user with an effective focal length of 28mm in 35mm terms. It's been designed with a 10cm close-focusing distance and a 9-blade diaphragm for circular bokeh.
Furthermore, as it's been crafted specifically for the camera, Fujifilm promises that it's been optimised for its sensor, with centre-to-edge sharpness. An additional Digital Teleconverter feature also allows focal lengths equivalent to 35mm and 50mm to be used too, at the expense of sensor resolution.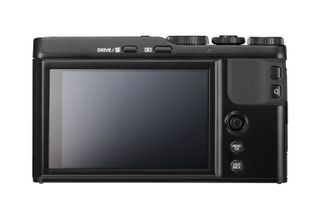 Elsewhere, the camera combines familiar technologies with new features. 11 Film Simulation modes are joined by 19 Advanced Filters, the latter camp welcoming two new features: Rich & Fine and Monochrome [NIR]. The first of these has been designed to produce vivid colours and slight vignetting, and the company has cited food and other tabletop photography as suitable applications. The Monochrome [NIR] option, meanwhile, is said to simulate images captured by near-infrared cameras.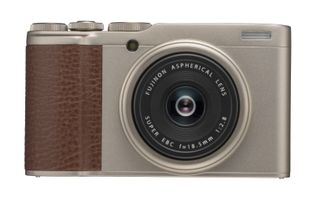 Another new feature is the SQUARE mode, an option that echoes the similarly named line of instax instant cameras. This adjusts the aspect ratio to the 1:1 format with one swipe of the camera's 3in touchscreen, which makes images captured in the format better suited to Instagram and other social media channels.
Read more: The best instant cameras right now
Additionally, as with Fujifilm's most recent releases, Bluetooth has been incorporated to connect the camera to a smartphone or tablet for easy image transmission.
Fujifilm's last XF-series model was the XF1, which arrived back in 2012. While also aimed at the enthusiast, it sported a smaller 2/3in sensor and a 25-100mm zoom lens. The new model more closely matches the spec sheet of the X70, which was released two years ago.
Fujifilm XF10 price and release date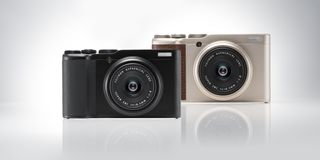 The XF10 will be available in Champagne Gold and Black finishes (above), and it's set to come onto the market in August.
The camera will be priced at £449 in the UK, while a $500 asking price has been set for the US. In Australia, the camera will retail at AU$799.
Read more: The best enthusiast cameras right now