Though it uses the same film as the hybrid analogue/digital Fujifilm instax Square SQ10 instant camera, the instax Square SQ6 camera is a different beast, being analogue in nature.
With a design reminiscent of the old Instagram logo, the instax SQ6 produces prints at a 1:1 aspect ratio, sized 62x62mm. Images are said to take about 90 seconds to develop, with exact times depending on the ambient temperature.
The new model sports a retractable lens, with a two-element construction and a focal length of 65.75mm, which equates to around 32mm in 35mm terms. There's also a selfie mirror positioned on the front, and a new Selfie mode that automatically adjusts focus to help get a better shot.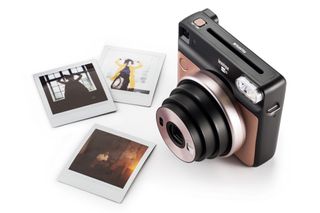 The auto exposure control functionality on the SQ6 allows it to set the appropriate flash levels for a scene, and it comes with three colour filters to fit over the flash, namely orange, purple and green, for creative effects.
The SQ6 also features Macro and Landscape modes, the former shortening minimum focus distance to 0.3m and the latter extending it beyond 2m. There's also a double exposure mode to superimpose two different images on the same print.
Handily, the SQ6 also has an LED display that shows shooting information and allows for control of flash suppression, brightness and self-timer. There's also even a tripod socket, should you wish to use one.
The SQ6 can hold a maximum capacity of approximately 40 instax Square 10-pack film packs with new CR2/DL CR2 lithium batteries. It weighs approximately 392g without battery, strap and film pack.
Fujifilm instax Square SQ6 price and release date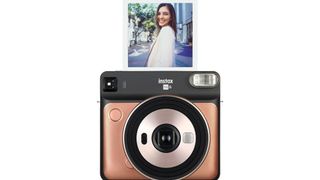 The Fujifilm instax Square SQ6 will be available in Pearl White, Blush Gold and Graphite Grey finishes from 25 May, and will be priced at £124.99 in the UK and $130 in the US. Availability for any other territories has not been confirmed as of yet.
You can head to Fujifilm's dedicated instax site for more information and pre-ordering.
Read more: The 10 best compact cameras right now