With many of us still stuck indoors as the coronavirus crisis continues, keeping in touch with people online for work and play has become more crucial than ever. Upgrading your laptop's built-in camera for Zoom, Google Hangouts, Twitch, and so on, has become something that many people are doing. And for this reason many of the best webcams are still hard to find in stock in many stores.
So why don't you just plug in your own DSLR, GoPro or mirrorless camera and use this as your camera source to keep in touch over video chats with friends and video conferences with colleagues?
Unfortunately it is not a matter of plug and play here - and to get your photographic gear pressed into service as a webcam you need some extra bit of kit.
There are exceptions - the Sigma fp, and the Sony ZV-1 - can be used as webcams without any extra hardware or software, using the appropriate menu setting (and the latest firmware). But these are exceptions that prove the norm.
There are also some software solutions to this problem out there - and all the manufacturers now have free webcam software, that allow you to turn your camera into a webcam.
However, the best technique is to use a hardware dongle that converts the image from the HDMI socket from your camera into a digital form where it can be recognized by your computer (and the app you are using for streaming) as a camera source.
1. Get a dongle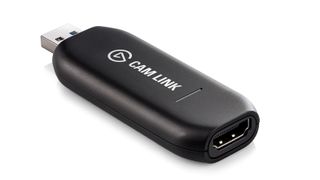 One of the most respected dongles out there is the Elgato Cam Link – made by a company that specializes in peripherals designed to meet the needs of the online gaming community. The Elgato Cam link has a simple HDMI input (to connect to your camera) and a USB 3.0 output (to connect to your computer).
An advantage of this dongle is that it allows you to transmit at 4K at 30fps, should you need top resolution. And it also provides other resolutions include 1080p at 60fps. And unlike other solutions, this device offers low-latency - so that there is minimal delay in the live video image being transmitted.
Unfortunately the Elgato Cam Link can be hard to find at the moment, as everyone is finding themselves in a world of FaceTime, Zoom and video conferencing. So there are some alternatives, such as Elgato's own HD60 S+ card (which is actually aimed at gamers, but can perform the same conversion task).
2. Advantages of a dongle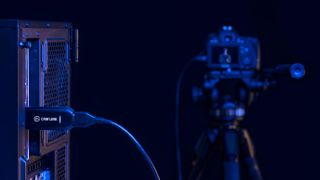 The first obvious advantage of using your own camera as a webcam, is that the quality is almost certainly going to be better than your computer's built-in camera. Most modern DSLRs and mirrorless cameras offer great lowlight performance – and allow you to use fast lenses in a variety of focal lengths, so that you can get the crop and look that you want. You can, of course, position your camera in a position that works well with your desk set-up (but you will probably need a tabletop mini tripod).
3. Check compatibility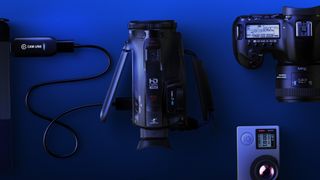 There are some things to watch out for when using our camera as a webcam. Elgato warn that you need to check compatibility with the Cam Link. But the manufacturer has a list of models it has checked, and shows you clearly how to identify if yours will work even if not listed. Essentially you need a camera that will give a clean output - that fills the frame of the screen, and without overlays over the image. You are also best served if you can run the camera off mains power as you shoot (to avoid the embarrassment of the battery running down mid-call). You also want to avoid cameras that switch themselves off automatically.
4. Alternatives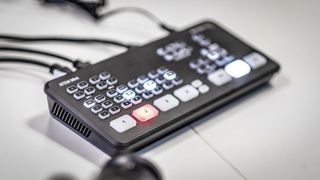 With webcams being in high demand due to the lockdown, we have also noticed that stocks of the Elgato Cam Link are low in some places (but we have put links to the ones we have found today below).
A very neat alternative is the Elgato Game Capture HD60 S+, which shares the same UVC (USB Video Class) driver capability that turns your camera into something that standard streaming and conferencing services see as a webcam (you can read Elgato's own technical article on the HD60 S+ for more details).
There are other alternatives such as dongles made by Magewell. Another possible solution is to use a production switcher - that will allow you to stream video from multiple sources; the Blackmagic ATEM Mini is a surprisingly affordable solution, and can switch between up to four video sources (although it will take up more room on your desk than a dongle).
Guides to other home working products:

Best webcam for home working
Best cameras for streaming
The best headset: Headphones with a mic
Best conference webcams for groups & meeting rooms
The best all-in-one printer for home working
The best monitor for photo editing
The best photo-editing laptop
The best video-editing laptop
Best doorbell cameras
Best graphics tablets for photo editing
Best tablets for photographers
Best broadband deals in the UK
Best VPN
Best website builders for photographers
The best laptop stands
The best desks for home working
The best microphone for vlogging