The best camera for TikTok can come in many different shapes and sizes. In this guide, we've included a range of smartphones and 'proper' cameras that will give you a boost in production value to make your TikToks even better.
The best camera phones for TikTokers include the latest from Apple, Samsung, and Google. Next, there are more expensive cameras that work well for TikToks, including mirrorless models, compacts and action cameras.
There are many benefits of creating TikToks on a dedicated camera, including the ability to change lenses (or use optical zoom with a compact). Dedicated cameras also have larger sensors than smartphones, for better low-light performance, and the option to shoot with a shallow depth of field.
Obviously, a smartphone is more convenient, as you can shoot, upload, and post your TikToks all on the same device. We've come up with a list of phones and cameras that represent the best value for TikTok right now. Once you're done here, check out the best TikTok lights and best ring lights!
The best camera for TikTok in 2023
Why you can trust Digital Camera World Our expert reviewers spend hours testing and comparing products and services so you can choose the best for you. Find out how we test.
Best camera for TikTok: Best phones
The Samsung Galaxy S23 Ultra could be one of the best cameras for TikTok. If you can't quite stretch to the latest model you could opt for the Samsung Galazy S22 Ultra instead which still has amazing camera specs plus a 40MP selfies camera. However the S23 has a 200MP main camera for taking super-high resolution photos and 8K video recording.
The 230mm camera is a capable portrait lens for a phone, or you can fire up the phone's improved portrait mode, which uses the NPU to capture more accurate background and foreground separation. With up to 8K videos and super-steady Full HD video capture, the S23 Ultra doesn't drop the ball with videography either.
The manual video modes are also excellent, and Portrait Video is surprisingly accurate too. Its camera zooms further, its screen shines brighter, its S Pen is more responsive, and all the while, the Ultra doesn't miss out on fundamentals like wireless charging.
Apple has bumped up the camera resolution for the new iPhone 14 Pro Max and there's a 48MP primary camera sensor, as well as a new action mode, for advanced stabilization of your TikTok videos. On top of the excellent portrait mode on the new iPhone 14 Pro Max, the phone brings back Cinematic Mode, which is a video portrait mode, as well as Panorama, Slow-mo, and Time-lapse.
Video shot on the iPhone 14 Pro Max using the primary camera looks great, even when the lighting isn't perfect. This phone isn't cheap, but if you're an Apple fan looking for the best option money can buy, this is it!
If you're looking for a capable and cost-effective camera for TikTok, the Google Pixel 7 is a good choice. With a 6.3-inch fast and responsive display, it's smaller than the Pixel 7 Pro but features many of the same camera features. It has a dual rear camera system, with a 50 MP wide camera, as well as a 12 MP ultrawide camera with ƒ/2.2 aperture. The front-facing camera has a 92.8° ultrawide field of view which should make group videos a breeze.
If you don't need the three-camera setup found on the Pixel 7 and want a slightly smaller, cheaper Google android phone, this is an excellent option.
Best camera for TikTok: Best cameras
The Sony ZV-1F is tiny, only weighing 229g, which makes it a very pocketable camera for streaming and TikTok videos. It's a cheaper, beginner-friendly alternative to the popular Sony ZV-1 and Sony ZV-E10, but it's still got 4K/30p video, as well as 5x in slow-motion or 60x for hyper-lapse content.
The camera is simple and easy to use, and the body itself is made from recycled materials. The new ZV-1F offers a wide 20mm f/2 lens, which is fixed (so you can't change it) but better for fitting more people into the frame for group shots.
If you want a best-in-class tool when it comes to combining stable video and pocketable size, nothing else trumps the DJI Pocket 2. As part of the Creator Combo, external audio and the ultra-wide lens are excellent additions, and it's basically a pocket studio.
Noise handling is probably the Pocket 2's weakest area, and it struggles with highlights, though in most well-lit environments, the convenience, versatility, and stabilization it offers can't be overstated. The original Osmo Pocket couldn't stream live, but new support for live streaming means TikTokers in need of wireless broadcasts are catered for.
Capable of unique immersive POV shorts and also worth considering as a minimalist rig for vloggers, the lightweight Insta360 Go 2 has some surprisingly big features for such a small camera. Excellent image stabilization, 'horizon lock' and a multi-functional battery case make this versatile clip-on camera more than just a novelty item.
The Go 2's design and magnetic nature make it go places that phones can't, to capture unique videos. That it also has enough resolution to make these novelty videos actually look good is a huge bonus.
Sony's excellent vlogging camera makes for an ideal buy for anyone who wants to make their TikToks look a little better. The Sony ZV-E10 is a mirrorless camera, meaning you can swap out Sony E-mount lenses at will, and it shoots excellent 4K video for a pretty reasonable price tag. While it does have a jack for an external mic, it's one of the few cameras where the built-in mics do a pretty reasonable job, augmented by the included clip-on windshield, which provides an easy way to block out unwanted noise.
There's no built-in stabilization, so you don't get the super-smooth effect of the DJI Osmo Pocket. However, having an APS-C sensor really expands your shooting versatility in different light conditions, and having an articulated screen makes it really easy to film from all sorts of different angles.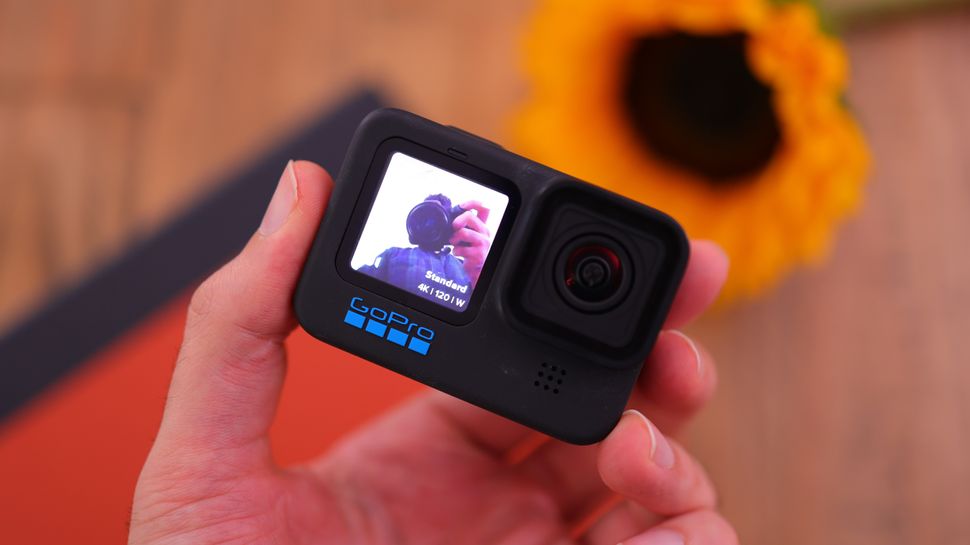 The GoPro Hero 11 Black is the TikTok-ready action cam. The new sensor captures virtually square 5.3K content that can easily be cropped to create native 4K clips in a host of aspect ratios. That means whether you're a 9:16 TikTok fan, you can grab this video format from one 8:7 video.
The camera's software has been simplified successfully, and GoPro's companion app, Quik has also been improved. With best-in-class stabilization and great-looking video in all but dimly-lit and dark scenes, as well as some fun new modes like light painting, the Hero 11 Black is an excellent camera for TikTok.
The G7 X Mark III was the first camera of its kind with a microphone input – vital if you want clean audio, not to mention the ability to live stream straight to YouTube and TikTok. This means that even if you've got an expensive cinema camera if you also have a G7 X Mark III you can create a fuss-free live setup without any expensive capture cards and a PC.
With its flip-out screen, the G7 X III also gives you a clear view of yourself when you shoot, and thanks to its 20.1MP 1-inch stacked CMOS sensor and Digic 8 processor it's also able to capture great stills, so your stills can pop nicely too.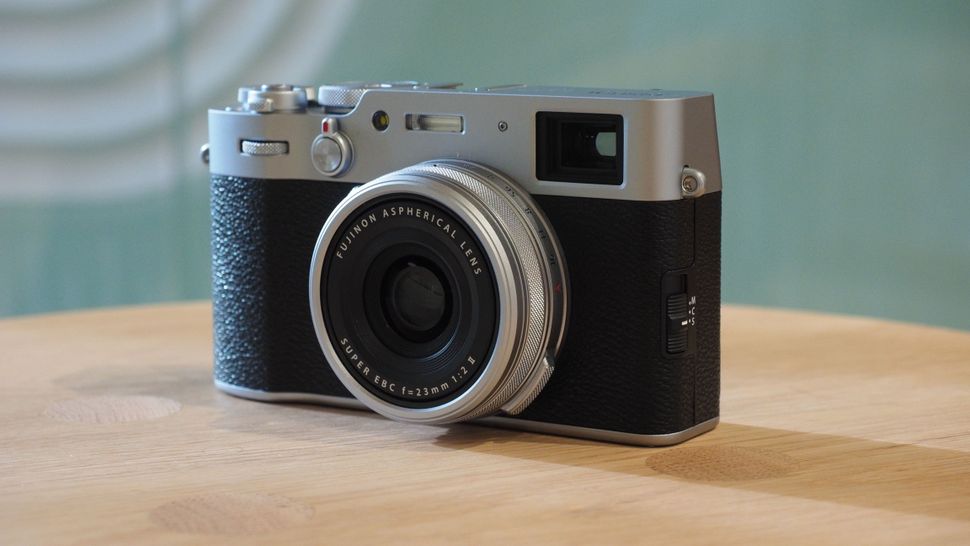 Fujifilm's original X100 was the camera that sparked people's obsession with Fujifilm's retro-styled modern cameras. In recent months, there has been a revival of interest in the Fujifilm X100 on TikTok, and the hashtag #fujifilmx100v now has over 3.2 million views. The Fujifilm X100V is a very popular choice for those who want a premium camera without the faff of changing lenses.
It has the same exceptional build quality as all Fujifilm cameras in a small, pocketable version. It has the same 26.1MP X-Trans sensor as the X-T4 and the same hybrid viewfinder as in the X-Pro 3. The X100V is an advanced, APS-C fixed lens camera and is certainly aimed at enthusiasts, but it can be used for TikTok videos too.
---
How we test the best camera for TikTok
We've physically seen and reviewed every single camera and smartphone in this guide, to ensure that we can give you informed, honest, and in-depth buying advice. We've analyzed the design of each model, how easy it is to use for TikTok videos, and how the camera performs for video recording.
Find out more about how we test and review at Digital Camera World.
---
If you want to improve your presence online, you might also like the best cameras for streaming and the best cameras for vlogging.