The best tablet for photo editing is a must-have for anyone who commutes, travels, or just likes to get away from their home office and occasionally work somewhere else. And the iPad Pro 2022 is our current top pick for these purposes. Running the M2 chip, it's quite simply the most powerful tablet you can buy today and it's got a lovely screen too.
That said, it's quite expensive, so we've also included some cheaper, yet still very capable iPads on our list. But maybe you're not a fan of Apple generally? Then check out the Samsung Galaxy Tab S8 Ultra, which is very similar in terms of speed, responsiveness, and features, and is currently the best Android tablet there is. Or, if you want Windows, then the Microsoft Surface Pro 9 is well worth a look.
In short, whatever kind of tablet you want to use for photo editing, you'll find it on our list, from premium models to the best budget tablets. Plus we'll explain how all the different products differ and share the facts and figures you need to choose between them.
Alternatively, if you want to use a stylus with your laptop, see our guide to the best drawing tablets for photo editing and our roundup of the best Wacom tablets. Or, if you'd prefer to work on a 'proper keyboard' instead, check out our roundup of the best photo-editing laptops.
Best tablet for photo editing
Why you can trust Digital Camera World Our expert reviewers spend hours testing and comparing products and services so you can choose the best for you. Find out how we test.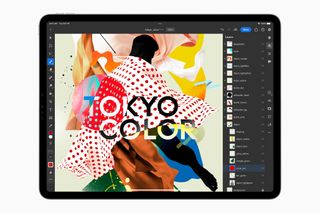 The latest 12.9-inch iPad Pro M2, launched this month, is hands-down the best tablet for photo editing available today.
Because it features the latest M2 processor, you'll find your software runs super-fast. It's basically as powerful as a MacBook; so if you wanted to also buy a Magic Keyboard to use with it, you'd have a sophisticated tablet-laptop hybrid for your photo editing. The 12.9-inch screen is quite beautiful too: a Liquid Retina XDR mini-LED LCD display, offering a 120Hz refresh rate, HDR10, Dolby Vision, and up to 1600 nits peak brightness.
Want to use a stylus for precision edits? The latest iPad Pro not only supports the Apple Pencil 2 (sold separately), but offers a new feature called Hover. This means your stylus is now detected up to 12mm above the screen, allowing you to see a preview of your mark before you make it.
Note that the iPad version of Photoshop doesn't have all the features of the full desktop software, though. If you want to run that, then you'll need a Windows tablet, and so number 5 on the list is our top recommendation.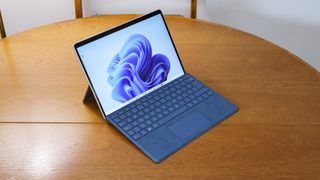 If you're seeking a tablet running Windows, our recommendation is the Surface Pro 9. This lovely device offers the processing power of a laptop, thanks to its Intel Core i5 or i7 chip, along with a beautiful 13-inch display and up to 16 hours' battery life.
The Surface Pro 9 also offers two Thunderbolt 4 ports, runs the latest Windows 11 operating system, and boasts a 10MP rear-facing autofocus camera with 1080p HD and 4K video, plus a 5MP front-facing camera with 1080p full HD video.
Moreover, if you team it with the Type Cover (Microsoft's keyboard case) you can switch between using it as a tablet and a laptop. Note, however, that the Type Cover is sold separately, as is the Surface Pen stylus.
One final point. This is the very latest Surface Pro, this new Surface tablet is hugely more expensive than the previous generation (the Surface Pro 8), and according to the specs, the differences between it and its predecessor are not that great. So you might want to look at last year's model if you want a great tablet for less.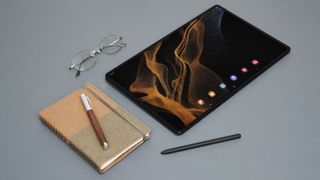 Bigger and thinner than the iPad Pro, the Samsung Galaxy S8 Tab Ultra is the best Android tablet you can get right now for photo editing. Its 14.6-inch Super AMOLED screen gives you fantastic picture quality, with deep blacks, zingy colors, a refresh rate of 120Hz, and a pixel density of 240 pixels per inch.
Launched this February, it runs the latest version of Android (12) and the Qualcomm Snapdragon 8 Gen 1 processor makes operations run quickly and smoothly. It's incredibly thin, at just 5mm to the iPad Pro's 6.4mm, yet still feels robust. And the improved S Pen provides a great experience if you like using a stylus in your editing workflow.
In short, if you're looking for an iPad Pro-like experience, but with a larger screen size, this is very much worth considering.
For more information, see our full Samsung Galaxy S8 Tab Ultra review.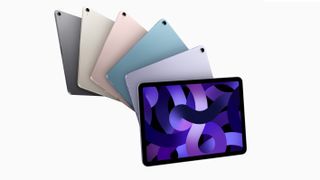 The iPad Pro makes number one on our list, as it's the best iPad overall for photographers and photos editors. But the 10.9-inch iPad Air 2022, launched in March, gives it a run for its money, and at a much lower price.
It's super-light at just 461g, and super-thin at just 6.1mm. It has a fast Apple M1 processor, and also supports 5G. There's a great 12MP ultra-wide front-facing camera with a 122º field of view, and the same Centre Stage tech for tracking your movements on Zoom calls.
On the downside, storage is only 64GB or 256GB and RAM just 8GB. That's a step down from the Pro, which remains the speedier machine for photo editing as a result. Plus, while the Air has the same f/1.8 12MP wide rear camera as the ‌Pro, it lacks the latter's 2.4 10MP Ultra Wide sensor and a LiDAR scanner.
On the whole, though, the iPad Air is still a very capable machine. And we'd argue it represents the best value overall of all the modern iPad range.
See also Best 11in laptops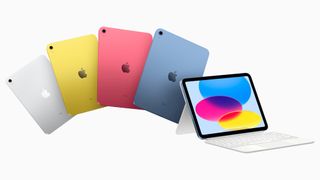 All the different iPad generations can get a bit confusing if you're not a hardcore Apple fan. They basically fit into four main ranges: iPad Pro, iPad Air, iPad mini, and the basic line that's just called 'iPad'. These are the least powerful of the iPads and so aren't the best choice for photo or video editing.
However, if you really want an iPad but can't afford an iPad Pro or iPad Air, the latest base-level iPad is actually worth a look, as it boasts a faster chip (A14 Bionic) and a bigger, better screen that its predecessors.
Photography-wise, the camera set up is fairly decent. On the back there's a 12MP back camera that can record up to 4K at 60fps, or 240fps slow-motion video. On the front, meanwhile, there's an ultrawide 12MP sensor with a 122-degree field of view, on the landscape side for better video calling.
Note, however, that unlike the first two entries on our list, it does not support the Apple Pencil 2, only the Apple Pencil 1. (For more on this, see our comparison article Apple Pencil 1 vs 2).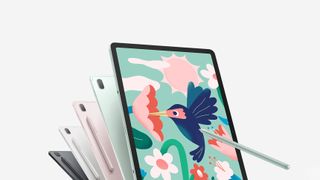 The Samsung Galaxy Tab Ultra may be the best Android tablet you can get right now for photo editing. But it's not cheap. Don't fret though, as the previous iteration, the S7+, has been reborn into the more affordable Samsung Galaxy Tab S7 FE.
FE stands for 'Fan Edition' and is Samsung's way of repackaging its last-generation tech into a more accessible product. The S7 FE is not lacking in terms of power and makes for an excellent productivity tool and photo-editing base. With the S-Pen stylus included, you can make notes, and mark up your photos, so it's easy to get cracking on your projects right away. The beautiful display is crisp and sharp, making it smooth and enjoyable to use for long periods.
If you like editing with hotkeys, it's worth also picking up the Samsung Book Cover Keyboard. You do have to pay extra for this, but it's a satisfying tactile device that also includes a trackpad, providing more options for those who don't care for working on a touchscreen for long periods.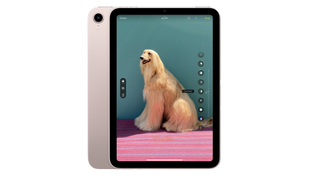 Ok so we know there are a lot of iPads on this list, but each of these devices offers something slightly different and therefore all are worth consideration.
The iPad Mini is a good option if you spend a lot of time traveling. The lightest device on this list, it weighs just under 300g, so it will fit in almost any camera bag and you'd barely notice it's there.
The cheapest iPad option on the list, it also has the smallest screen size of all the tablets we've mentioned, measuring in at 8.3" – but what a small but beautiful display it is. There's enough power from the Apple A15 Bionic chip to run the mobile version of Lightroom comfortably and, like the iPad Air, support for the Apple Pencil 2 makes the Mini well worth considering.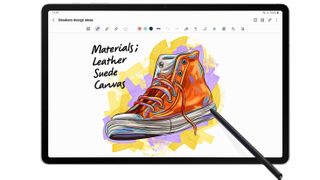 Let's face it, the 14.6-inch screen on the Samsung Galaxy S8 Ultra won't be for everyone, so if you are looking for the same power and design, but in a much smaller form factor, and with a cheaper price to boot, then the S8 is for you.
With only an 11-inch screen, the S8 is much for suitable for slipping into a backpack or kit bag. You don't sacrifice any power with these smaller tablets, with the same 4nm processor as the S8 Ultra, it will be more than capable of keeping up with the latest Adobe mobile apps.
Samsung is known for its displays and the S8 packs a punchy and colorful LTPS LCD Display. With the included S-Pen you can mark up and edit your images in a brand new way, as well as make notes about your next shoot, or your kit shopping list.
First launched in 2019, the Amazon Fire HD 10 remains the cheapest option we can recommend for light (and we do stress, light) photo editing work. Its 10.1-inch full HD screen is more than adequate for showcasing work and it's highly portable, weighing just 500g.
The Fire HD 10 is available as a 32GB or 64GB version, both of which have a microSD card slot to expand memory up to 256GB should you need it, and the battery life is said to last up to 10 hours after one full charge.
Very much part of the Amazon eco-system, the Fire HD 10 helpfully has Amazon's Alexa voice-assistant onboard. However it does mean using the FireHD for anything outside of that system – Google apps, for example – isn't possible.
That said, the ever-growing Amazon app store presents a number of lightweight photo editing apps, so you won't be short on software. A basic but capable option for anyone wanting a device for light editing work on the go.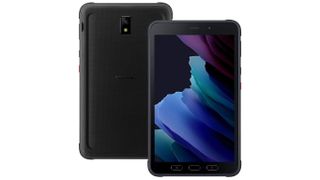 Do you do a lot of photo editing on the fly, while out on location? Are those locations often cold, wet and windswept? Then you need a rugged-ish tablet that'll withstand a few bumps and raindrops. We recommend the Samsung Galaxy Tab Active3. Released in September 2020, its IP68 rated water-resistant, drop-proof to 1.5m drop resistance and comes with a replaceable battery. You also get an S Pen, and you can even use the touchscreen with gloves on.
How to choose the best tablet for photo editing
Just because a tablet has some impressive numbers and a slick design, it doesn't necessarily mean that it's the best tablet for photo editing. There are a few features that you'll want to keep an eye out for, including the size of the screen and its resolution. You'll also want to make sure that the quality of the screen and its color accuracy is assured.
One important aspect to consider is the tablet's battery life. There's nothing more frustrating than sitting down to edit, only to realize that you've only got a few minutes of charge left. You'll also want to consider how much the tablet weighs and whether it'll fit into your camera bag.
Most crucially, you'll need to consider whether the device you're looking at is capable of powering your favorite photo editing software without any risk of unnecessary lagging. Also, be aware that not every app is available for every OS, and if it is, not all the tools you're used to may be available.
Photoshop, for example, is available for Windows and iPad, but the latter version is less powerful and feature rich. For Android, meanwhile, there's an even more scaled-down version in the form of Photoshop Express. With Affinity Photo, meanwhile, the Windows and iOS versions are pretty interchangeable, but there's no Android app.
Read more:
The best iPads for photo editing
Best budget tablets
The best phablets
The best portable monitors
The best monitors for photographers
Best graphics tablets for photo editing
The best photo-editing laptops
The best desktop computers for photo editing
Best laptop stands