Tamron's 24-70mm VC USD lens has long been seen as a top-value, budget alternative to Canon's own-brand f/2.8 zoom. The G2 edition is about 50 per cent more expensive in the UK, but remains about the same price in the USA, despite the makeover.
Revamped optics include two XR (Extra Refractive Index), three LD (Low Dispersion), three GM (Glass-Molded aspherical) and one hybrid aspherical element. Nano-structure coatings as well as conventional coatings are employed to minimize ghosting and flare. The Tamron features a more comprehensive set of weather-seals than Sigma's 24-70mm lens, plus a fluorine coating on the front element. However, both of these lenses feel similarly sturdy and well-built.
Other performance upgrades over the original lens include a faster, more accurate autofocus system, based on dual microprocessors, although it lacks the Sigma's additional 'manual override' mode. Like with the Sigma, an optional 'TAP-in Console' is available for fine-tuning performance and applying firmware updates.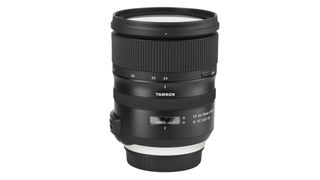 Performance
The Tamron delivers excellent contrast and impressive sharpness. It's similar to the Sigma lens in the 24-35mm section of the zoom range, but less sharp at 50-70mm focal lengths. Colour fringing and distortions are well controlled but, unlike with the Sigma, you can't take advantage of in-camera corrections for lens aberrations. Originally cheaper to buy than the Sigma in the UK, the Tamron is now more expensive, so bear this in mind when making your choice.
In a minor design quirk, the zoom ring actually rotates in the opposite direction to Canon lenses, so this is something you'll have to get used to if you're accustomed to using Canon glass. Another thing worth knowing – you do need to be careful to avoid tripping the AF/MF and VC switches accidentally, as they are quite large and prominently placed.
Elsewhere though, one thing that really impresses is the five-stop image stabiliser, which demonstrates class-leading performance and really expands the utility of the lens when shooting hand-held.
Read more: