Sigma's 'Art' line lenses have earned excellent reputations, although most are wide-angle primes and zooms. This is Sigma's first 24-70mm zoom in the Art category. As such it's a direct competitor not only to Canon's older 24-70mm f/2.8 lens, but also to the Tamron SP 24-70mm f/2.8 Di VC USD G2 lens. So how does this standard zoom stack up compared to its competition? We put the Canon-fit version through its paces to find out.
Although it's not a fully weather-sealed lens, the Sigma has a rubber seal on its mounting plate and the overall construction feels fabulous, based on a sturdy metal barrel and brass mounting plate. Zoom and focus rings are smooth in operation, and the ring-type ultrasonic autofocus system is speedy and accurate. Autofocus comes with switchable options for regular manual override, plus manual-priority autofocus. With the latter, manual override works without the need to wait for AF to lock onto a subject, as well as being available in AI Servo mode.
A crucial advantage over the Canon 24-70mm f/2.8 lens for handheld shooting is that the Sigma features an effective, four-stop optical stabiliser. A downside, however, is that at 1,020g, the Sigma is 200g heavier than the Canon.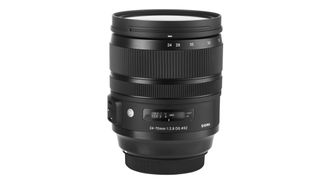 Performance
Image quality is simply stunning, combining superb sharpness and contrast with beautiful bokeh. Colour fringing and distortions are minimal, and vignetting is quite low for this class of lens. The lens can also take advantage of automatic corrections in recent Canon cameras, although if you buy an early example of the lens, you might need a firmware update which can be applied via Sigma's optional USB Dock.
The optical path of the lens includes three SLD (Special Low Dispersion) elements and four aspherical elements, which is what makes that image quality so good. A rubber gasket on the mounting plate also prevents the ingress of dust and damp, making the lens rugged and ready for outdoor shooting. Whether you're planning on photographing landscapes, events, sports or whatever else, this useful standard lens will more than meet your requirements.
Read more:
Best wide-angle lenses for Canon