The Fujinon XF56mm f/1.2 R APD is based on the standard edition of the lens but adds an apodization filter to smooth the circumference of 'bokeh discs', generated by defocused bright spots and pinpricks of light. The 'effective' focal length of 85mm on Fujifilm's APS-C format X-mount cameras is ideal for portraiture, while the f/1.2 aperture rating enables a tight depth of field as well as enabling you to maintain quick shutter speeds under low lighting conditions.
Specifications
Mount: Fujifilm X
Full frame: No
Image stabilization: No
Autofocus: Yes
Lens construction: 11 elements in 8 groups
Angle of view: 28.5 degrees
Diaphragm blades: 7
Minimum aperture: f/16
Minimum focusing distance: 0.7m
Maximum magnification ratio: 0.09x
Filter size: 62mm
Dimensions: 73x70mm
Weight: 405g
Key features
With an effective focal length of 85mm, this lens enables a natural working distance for portraiture on Fujifilm's APS-C format X-series cameras. Even so, gaining a tight depth of field is more of a challenge. The basic edition of the lens aims to solve the problem with an extra-wide f/1.2 aperture rating.

This up-market 'APD' version goes further by adding an apodization filter. It's essentially a radial, graduated neutral density filter that gets darker towards the circumference of the image circle. This helps to smooth 'bokeh discs' when using wide apertures, softening the bright and harsh edges typically associated with them.

The lens includes a glass molded aspherical element and two ED (Extra-low Dispersion) elements. Fujifilm's hi-tech HT-EBC (High Transmittance Electron Beam Coating) is applied to all surfaces throughout the optical path, to minimize ghosting and flare.

Build quality is very good, based on mostly metal barrel parts, while handling is enhanced by a dedicated aperture control ring. This has dual rows of f/numbers shown in white and red, the latter indicating how much light transmittance is reduced at wide apertures, due to the apodization filter.
Performance
Sharpness is pretty good rather than entirely great when shooting wide-open at f/1.2, but the lens is plenty sharp enough for portraiture. The f/1.2 aperture is where the apodization filter is at its most effective, although light transmittance drops from f/1.2 to an equivalent aperture of f/1.7, as indicated on the aperture ring. Bokeh is smooth for a 56mm lens but the overall quality of in-focus and defocused areas in images isn't any better than from most 85mm f/1.8 lenses when used on a full-frame body.
Lab results
We run a range of lab tests under controlled conditions, using the Imatest Master testing suite. Photos of test charts are taken across the range of apertures and zooms (where available), then analyzed for sharpness, distortion and chromatic aberrations.

We use Imatest SFR (spatial frequency response) charts and analysis software to plot lens resolution at the center of the image frame, corners and mid-point distances, across the range of aperture settings and, with zoom lenses, at four different focal lengths. The tests also measure distortion and color fringing (chromatic aberration).

Sharpness: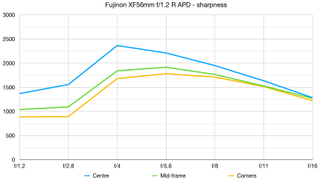 Wide-open sharpness is pretty good for an f/1.2 lens, although light transmittance only equates to f/1.7.

Fringing: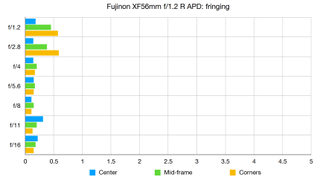 It's pretty average from f/1.2 to f/2.8 but virtually eliminated at medium to narrow aperture settings.

Distortion: -0.02
Essentially a distortion-free lens, it recorded only the merest trace of barrel in our lab tests.
Verdict
Compared with the standard edition of this lens, this more upmarket 'APD' version includes an apodization filter to further enhance the quality of bokeh. It's pretty compact and lightweight for a super-fast f/1.2 prime, yet beautifully built and has excellent handling characteristics. Outright sharpness isn't overly impressive and it's quite pricey to buy but, overall, it's the most desirable portrait prime for Fujifilm X-mount cameras.
Read more:
• Best Fujifilm lenses
• Best Fujifilm cameras
• Best camera lenses to get
• Best Canon lenses
• Best Nikon lenses
• Best Sony lenses