The Zeiss Batis 85mm f/1.8 is one of our favorite lenses for the Sony E system, with great image quality and wide aperture that makes it brilliant for portraiture. And today only it is available with a $320 discount!
Until midnight tonight (EST) you can buy the Zeiss Batis 85mm f/1.8 for just $879 – a significant saving on its usual $1,199 price tag!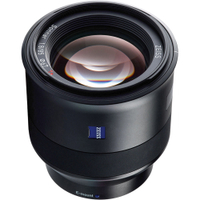 The Zeiss Batis 85mm f/1.8 is great short telephoto lens that combines a classic portrait focal length with a fast, wide aperture. It's compact and lightweight, but features great build quality and weather sealing – along with a sleek OLED panel that displays distance and aperture.
The lens also boasts optical image stabilization and great image quality. The Sony FE 85mm f/1.8 is cheaper, and faster to focus, but for this price and this performance the Zeiss Batis 85mm f/1.8 is irresistible for portrait photographers.
Read more:
The best lens for portraits in 2020: our pick of the best 85mm lenses right now
The best Sony lenses in 2020: top lenses for Sony mirrorless and Alpha cameras
The best Sony camera in 2020: from Cyber-shots through to Sony Alphas