Had your eye on a GoPro HERO7 Black but been put off by the cost? Well, here's a chance to knock a chunk off that asking price – GoPro has rolled its trade-up programme out in the EU, meaning anyone in the UK can participate by sending in an old camera to get £100 off a GoPro HERO7 Black or the 360-degree GoPro Fusion.
Contrary to what you may be thinking, this doesn't just apply to old GoPro cameras. GoPro will accept any old camera for its trade-up program, from any manufacturer, and it also doesn't matter if the camera is "dented, dinged, destroyed" – the firm will still take it, and still give you the same £100 discount.
The only stipulation is that the camera you're trading in needs to have had an original retail price of at least $99.95 USD. So, that old Canon EOS 1000D lingering in the back of your cupboard is more than eligible, and GoPro will also cover the shipping cost. You place your order, GoPro sends you a pre-paid shipping label, then you post your old camera. Once the firm has received the goods and verified that you've sent them an eligible digital camera, they'll ship out your new GoPro.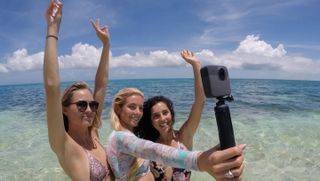 The discount only applies to purchases of the HERO7 Black – the latest flagship model, with super-stabilised video – and the GoPro Fusion, its 360-degree action camera. The discount takes the price of the HERO7 Black down to £279.99 and the Fusion down to £459.99.
This program has been around in the USA since last year, and has finally been rolled out to the EU. As GoPro has been facing increased competition recently, particularly from the likes of DJI with its new Osmo Action camera, it makes sense that we'd see the firm ramping up its efforts to try and woo new GoPro users.
The more you look at the terms of the offer, the more evident it becomes that the trade-in aspect is basically a formality – GoPro really just wants to get you using one of its new cameras, and if paying the cost of shipping a broken Fujifilm X-E1 to the United States is what it'll take to do that, then they're evidently willing to do so.
Still, a £100 discount is nothing to sniff at. You can head to GoPro's trade-up page now to find out more and get started on your trade-in.

Read more:
The best GoPro cameras in 2019
GoPro Hero 7 Black: 5 things to know
The 24 best GoPro accessories in 2019