The last 12 months were again difficult for the camera industry as it contended with the various fallout effects of the Covid-19 pandemic – particularly parts and staff shortages that resulted in serious supply chain issues for most manufacturers. In many ways then, the winners in this year's TIPA World Awards – especially those who collected multiple accolades – are an indication of who coped best with the circumstances and were still able to come up with worthy products.
As we've noted on a number of occasions recently, the supply chain issues saw a shift more towards higher-end cameras which are not only important flag bearers for a brand, but also deliver greater profits. The list of heavy-hitter mirrorless cameras that arrived during the period of eligibility for this year's TIPA World Awards is a long one – Canon EOS R7 and EOS R6 Mark II, Fujifilm X-H2 and X-H2S, plus the X-T5, Sony A7R V and Panasonic Lumix S5II. It wasn't until Canon unveiled the EOS R50 and EOS R8 in early February that we saw a return to more affordability.
Australian Camera feature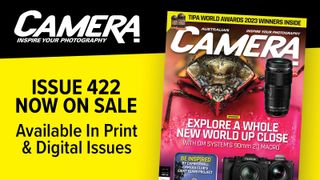 This article originally appeared in Australian Camera magazine, one of Digital Camera World's sister titles Down Under. Click here to read the full article and find out more about Australian Camera magazine, including how you can subscribe to the print issues or buy digital editions.
Of course, over the last few years there has been a conscious shift in the market to higher value cameras as a way of offering more compelling alternatives to the ever more photographically-capable smartphone. Whether this is an effective strategy remains to be seen, but it seems unlikely we will ever see truly budget-priced digital cameras again, especially fixed-lens compacts (with the exception of the few ruggedised 'tough' models which continue to sell well). However, there's still a need for a cohesive and convincing advertising campaign to sell the many virtues of a 'real' camera compared to a smartphone, which is perhaps something that TIPA, with its global membership, could consider initiating.
Whatever the issues, we were still treated to a veritable smorgasbord of lenses throughout the period of eligibility, again presenting a challenge to TIPA's Technical Committee – of which the editor of Australian Camera magazine is a member – when it came to narrowing down a very long list of appealing candidates to those most likely to win an award. Tellingly, there is a total of 11 lens categories in this year's Awards, an indication of how the mirrorless camera market is rapidly maturing with expanding lens systems that are increasingly including many more specialist optics (macros, supertelephotos, etc.), as well as upgrades of earlier models that deliver further improvements to performance and capabilities.
Traditionally, the TIPA World Awards has always comprised 40 categories, but this year it was initially felt that this should be pared down partially to serve as a sign of the times, but also to avoid simply ticking boxes because we thought had to. However, as Technical Committee discussions and debates continued, we soon found ourselves back at 40 categories which, if nothing else, is an encouraging sign that market recovery is well under way. As always, the Awards categories are tweaked and tuned to reflect the changes happening in the industry and so, this year, there are some brand new 14 entries while other category titles have been changed to adopt the usage of new terms and descriptors... particularly in the video world where, for example, "vlogging" and being a "content creator" are now common things. However, the core categories for cameras, lenses, monitors, imaging software and lighting are constants.
For the first time in three years, the TIPA members were able to meet in person for the judging, which took place in the Spanish city of Barcelona. Due to a family matter, Australian Camera magazine editor Paul Burrows was unable to attend, which was a real pity because beyond the to-and-fro of the voting sessions, the interaction with the editors of photo magazines from all around the world is always stimulating and educational.
The period of eligibility for the 2023 awards was from 1 May, 2022 to 30 April, 2023 with the key provisos that everything has to be available to buy in most markets by the closing date, and have been tested by one or more member magazines. In terms of the latter, TIPA partners with the French engineering company DXOMark Image Labs for the testing of cameras, lenses and smartphones. This provides us with comprehensive and, most importantly, fully independent evaluations of a product's performance in many areas. Of course, we also have our own in-house product testing – as do many of the TIPA member magazines – to further guide us in the process of selecting worthy Award winners.
Our top 40 this year is pretty star-studded with some predictable winners – the products that were clearly something special the moment they came out of the box – and some less so, but all have the potential to enhance, extend or increase the enjoyment of what we love doing – photography.
2023 TIPA World Awards Winners
Best APS-C Entry-Level Camera – Canon EOS R50
Best APS-C Expert Camera – Fujifilm X-T5
Best APS-C Professional Camera – Fujifilm X-H2S
Best APS-C Vlogging Camera – Nikon Z 30
Best Full Frame Advanced Camera – Canon EOS R8
Best Full Frame Expert Camera – Panasonic Lumix S5II
Best Full Frame Professional Camera – Sony Alpha 7R V
Best Professional Content Creator Camera – Sony ZV-E1
Best Professional Video Camera – Canon XA70/XA75 Professional
Best Wide-Angle Prime Lens – Sigma 24mm f/1.4 DG DN Art
Best Standard Prime Lens – Sony FE 50mm f/1.4 GM
Best Telephoto Prime Lens – Canon RF 135mm f/1.8L IS USM
Best Supertelephoto Prime Lens – Nikkor Z 600mm f/4.0 TC VR S
Best Portrait Lens – Nikkor Z 85mm f/1.2 S
Best Macro Lens – AstrHori 28mm f/13 2X Macro Probe
Best Wide-Angle Zoom Lens – Sigma 16-28mm f/2.8 Contemporary
Best Standard Zoom Lens – Sony FE 20-70mm f/4.0 G
Best Telephoto Zoom Lens – Tamron 50-400mm f/4.5-6.3 Di III VXD
Best Superzoom Lens – Sigma 60-600mm f/4.5-6.3 DG DN OS Sports
Best Content Creator Lens – Tamron 20-40mm f/2.8 Di III VC VXD
Best Drone – DJI Mini 3 Pro
Best Storage Media – Lexar Professional CFexpress Type B Diamond Series
Best Enthusiast Imaging Software – Skylum Luminar NEO
Best Professional Imaging Software – DXO Photolab 6
Best Professional Photo Monitor – Viewsonic ColorPro 27-inch 4K HDR
Best Professional Video Monitor – Dell UltraSharp 34-inch Curved (U3423WE)
Best Video Accessory – Zhiyun Weebill 3 Gimbal
Best Professional Portable Flash – Elinchrom FIVE
Best Professional LED Light – Godox Bi-color LED Light MG1200Bi
Best Photo Service – CEWE Photobook 100% Recycled Digital Printing Paper
Best Photo Paper – Hahnemühle Photo Rag 188 LayFlat
Best Photo Cards – Hahnemühle FineArt Photo Cards
Best Frame Design – WhiteWall Design Edition by Studio Besau-Marguerre
Best Photo Lab – WhiteWall 3D Wall Art Configurator
Best Design & Technology – fotobuch.de | ColorScience Workflow | Fomanu AG
Best Consumer AI App – Picsart Photo Editor AI
Best Professional AI App – Neurapix
Best Photo Smartphone – Huawei P60 Pro
Best Workflow Provenance Concept – Content Authenticity Initiative (CAI)
Best Photo Event – PHOTOPIA Hamburg
Read more:
The best DSLRs
The best mirrorless cameras
The best cameras for professionals
Best camera lenses
Best Sony lenses
Best camera drones