Canon last released a 135mm professional portrait lens all the way back in April 1996, but now it has finally released a sequel, this time for a new mount and a whole helping of improvements across the board, although, with 27 years to work on it, we are hoping for something special. Canon's previous 135mm f/2 L USM EF lens set the bar pretty high, hence why is still around all this time later.
135mm lenses are renowned as the ultimate portrait lenses as they offer a focal length that produces a very flattering compression for human facial features, and beautiful natural looking defocused backgrounds. Although not just limited to portraits, the RF 135mm lens is also a suitable length for many subjects including weddings, events, sports, and wildlife.
There are a number of Canon zoom lenses that cover the 135mm focal length, but if you want the wider apertures and sharper optics that only prime lenses can buy, then the RF 135mm f1.8L IS USM will be top of your list.
Specifications
Lens mount: Canon RF
Maximum aperture: f/1.8
Minimum aperture: f/22
Optical Image Stabilizer: Up to 5.5 stops (up to 8 stops with IBIS)
Lens construction (elements/groups): 17 / 12
Special optical elements: 3 x UD
Aperture blades: 9
Closest focusing distance: 0.7m
Maximum magnification: 0.26x
Focusing motor type: Nano USM
Filter size: 82mm
Size (WxL): 89.2 x 130.3mm
Weight: 935g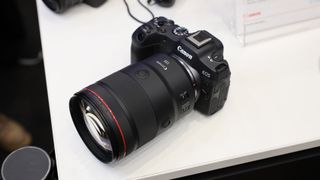 Key features
Canon has managed to improve every single specification from the EF 135mm f/2 L USM.
The lens has 5.5 stop optical image stabilization, or up to 8 stops when combined with a camera with in-body image stabilization (IBIS) such as the Canon EOS R5 or EOS R6 Mark II. Image stabilization allows steadier shots in low light, or when panning during sports or wildlife photography.
The lens has an f/1.8 maximum aperture, with a total of 9 diaphragm blades for smooth round bokeh and natural subject separation. An f/1.8 aperture allows for better low-light performance and shallow depth of field. The lens has three ultra-low dispersion elements that help control chromatic aberrations, as well as an Air Sphere Coating (ASC) to help prevent flare and ghosting.
The lens is part of Canon's hallmark L-series of lenses, which signify outstanding optical design and construction signified by the res ring that encircles the front of the lens. The 135mm lens has Canon's customizable control ring that can offer lens-based control over a range of shooting settings, including but not limited to ISO, aperture, and shutter speed.
The RF 135mm also has additional lens function buttons, these can add another level of quick control for changing settings on the fly and again are completely customizable. The lens focuses using a Nano USM motor for smooth, fast, and near-silent operation.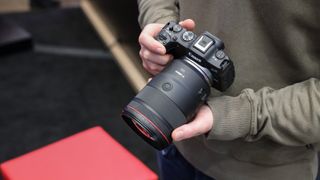 Build & handling
The RF version of the 135mm has grown a bit in size from the EF version, with the optical image stabilization and extra stop of aperture making this a bit larger of a lens. Cameras have also got smaller since the DLSR heyday, this means the lens makes the shooting setup slightly front-heavy when using the RF 135mm on smaller cameras like the EOS R8 (as we did in our hands-on) or even the EOS R6. The lens is not unwieldy to use, but it will be draining to carry this lens around your neck for a long day of shooting.
The lens has Canon's solid L-series build quality, which includes dust and moisture sealing, a substantial feeling premium polycarbonate build, and topped with the infamous red ring. The RF 135mm continues the design continuity of previous RF lenses. The lens has the usual reliable autofocus / manual focus switch and a switch for toggling the image stabilization on and off.
The lens also has Canon's RF lens customizable control ring on the front of the lens that can be used for a huge range of controls but is most likely best used for ISO or exposure compensation. Joining the control ring are new lens function buttons, which again allow specific functions to be assigned to them. Both of these are very welcome additions, Canon has managed to do a great job of making the more redundant left hand more useful in controlling the camera.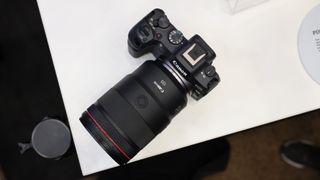 Performance
In our very brief time with the lens, we were very impressed with what it could produce. We previewed the lens at the Society of Photographers Show in London, where we took our chance to snap a couple of portraits of a model on the Rotolight stand, who incidentally make some of the best LED panels.
The lens was excellent, producing an incredibly sharp image of the model's face, with the autofocus proving to be accurate enough to focus on her nearest eye ensuring it was perfectly in focus. The bokeh and background falloff is also very pleasing. While lenses such as the RF 50mm f/1.2L USM have a wider aperture, at this mid-telephoto length f/1.8 should produce similar results due to the compression and focal length.
We are looking forward to getting this lens in for further testing and seeing how it does on a range of subjects and in other challenging lighting conditions.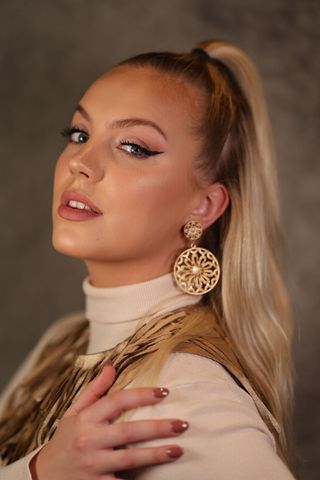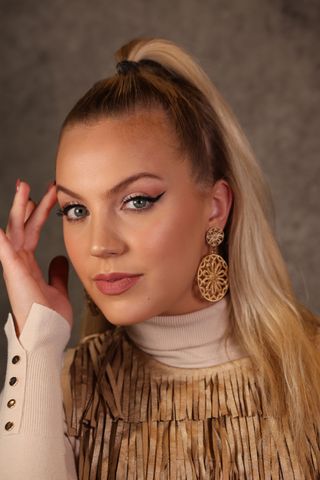 Early verdict
If you want a dedicated portrait lens for Canon then you can't really do much better than the RF 135mm f/1.8L IS USM lens. Offering a sharp picture, backed up by 5.5 stops of optical image stabilization, which becomes 8 stops when used with a compatible camera with IBIS. The customizable control button is also a nice additional feature, combines with the control ring, it gives more instant control to your left hand than ever before.
The downside of this lens is it (of course) costs L-series prices, and top of the pricing bracket too. Canon lens prices continue to creep higher, so you better have deep pockets if you want all this portrait quality.