The vlogging camera space is really heating up, with most of the major manufacturers increasingly targeting content creators with new specially designed products. Sony was one of the first companies to recognize this market as a significant new area and has been making cameras in its vlog-focused ZV line for the past couple of years. Sony's initial entries like the Sony ZV-E10 or Sony ZV-1F have all focused on the entry-level vlogger, with 1-inch or APS-C sensors and affordable price points.
Sony now has something for the more serious vlogger – the ZV-E1 – a full frame vlogging camera, with image stabilization and a subject recognition and tracking system, pulled right out of its top-of-the-line professional camera.
However, the ZV-E1 is still hounded by the same question as the rest of the vlogging camera market, when the video on an iPhone is so good (and just keeps getting better), is there any need for a dedicated $2000 vlogging camera?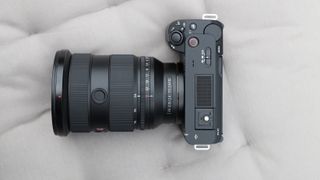 Sony ZV-E1: Specifications
Sensor: 12.1-megapixel full-frame CMOS
Image processor: BIONZ XR
Lens mount: Sony E-mount
Viewfinder: Electronic viewfinder, 2.36-million dots
LCD screen: Vari-angle touchscreen LCD, 3.0 inches, 921,600 dots
Video recording: 4K UHD at up to 30fps, Full HD at up to 120fps
Autofocus: Phase-detection and contrast-detection autofocus
Connectivity: Wi-Fi, Bluetooth
Dimensions: 122.5 x 72.8 x 94.8mm
Weight: 492g (body only)
Compare the range: Sony ZV-1 vs ZV-1F vs ZV-E10 vs ZV-E1
Sony ZV-E1: Key Features
The Sony ZV-E1 utilizes the same sensor as the A7S III, and features a 12MP back-side illuminated sensor with an impressive 15+ stops of dynamic range and ISO range of 80-102,400 (extendable up to 409,600), powered by the Bionz XR processor and a dedicated AI chip from the latest Sony A7R V. The camera inherits the impressive autofocus features from the A7R V, including person and animal subject recognition that tracks movements of limbs and body, making it possible to focus on partially obscured subjects.
In terms of video specifications, the ZV-E1 can capture 4K60p footage without pixel binning and the camera supports S-Log and 10-bit 4:2:2 all-intra internally, and can be connected to an external monitor using a microHDMI for external recording. It is also capable of live video streaming at 4K 30p or FullHD 60p via USB-C.
Sony markets the ZV-E1 as the perfect tool for in-camera content creation, providing more creative options and one-touch controls for shooting settings. The camera offers a redesigned menu, incorporating the best features from Alpha and FX bodies, as well as a My Style quick menu for easy adjustments. The ZV-E1 comes equipped with Cinematic Vlog settings, featuring preset LUTs that can be combined to adjust the footage's look and mood, and users can load their own LUTs for in-camera processing.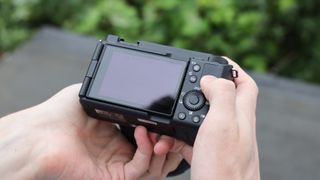 The ZV-E1 also features a new Frame Stabilizer mode that uses AI to track the subject and maintain selected subject framing, and a Dynamic Active mode that attempts to stabilize the entire scene with a fixed crop. The camera is also capable of Auto Framing, which adjusts the frame and crop to keep the subject centered, and can switch between subjects automatically or manually.
Fine-grained control options are available for crop modes, including size and how quickly the crop will change between subjects. However, cropped footage is recorded in FullHD and not 4K, and the camera enables users to record original 4K footage externally via HDMI while recording cropped footage internally. The ZV-E1 also has the ability to dynamically adjust its aperture value when multiple faces are detected, ensuring everyone is in focus and clear.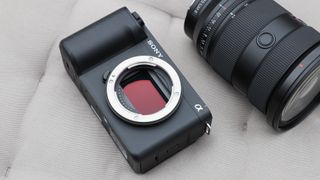 Sony ZV-E1: Build & Handling
After testing some of the entry-level cameras in the ZV series, which have a more cost-effective build quality, I was a little concerned for the ZV-E1 on announcement, but I am very pleased to say that the ZV-E1 feels every bit as premium as its price tag might suggest. Despite sharing the same design ethos as the other cameras in the line, the plastic body used in the ZV-E1 feels thicker and sturdier, with even the buttons and dials feeling like they will be more hard-wearing.
The ports and SD card slot on the ZV-E1 are on the side behind robust doors rather than rubber flaps, these blend in much better with the overall design, although there are no markings on the exterior of the door, so you need to learn which port is under which cover.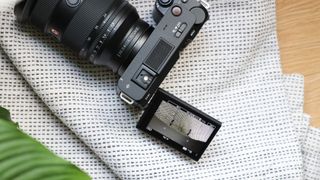 The ZV-E1 is incredibly easy and intuitive to use, you can just pick up this camera and get great quality footage without having to know much at all about videography. But there is also a professional depth too, so novices can slowly become familiar with settings and expand their video capabilities, or more experienced users can jump right in and get footage exactly how they like it.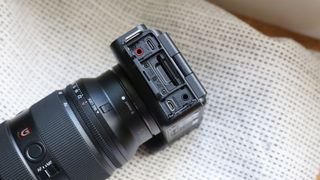 The size of the ZV-E1 is pretty special, I regularly forgot that there was an image stabilized full frame sensor in the camera. When put next to my Fujifilm X-E4, the Sony was only very marginally bigger with its grip. I used the ZV-E1 with the Sony FE 24-70mm F/2.8 GM lens, as simply is it one of the best Sony lenses, but it turns out that this lens was a poor match for the camera.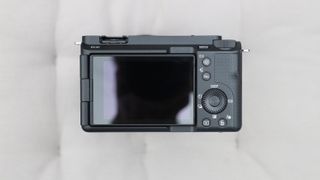 The grip on the camera is substantial enough for smaller lenses, something like the Sony FE 24mm F/2.8 G lens would be perfect, but with larger lenses, it was difficult to hold and keep steady during filming. Heavier lenses like the 24-70mm made the camera very front heavy, pulling the weight forwards on the grip, and without a deep recess to lodge my fingers into, my hand became painful hanging on for longer periods.
Battery life is quite good, I managed to go a whole day of filming quite a lot of short 4K clips with autofocus and image stabilization as well as still images. This will vary if you decide to use power zoom lenses, or more heavily use internal camera processing. But you can comfortably take this camera out to an event or day exploring without too much battery anxiety.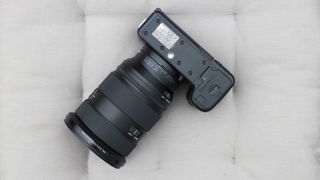 Sony ZV-E1: Video Perfomance
Starting with video quality, for the purposes of testing, I tried to use the camera as if I were a vlogger and my video was going straight up on my hypothetical YouTube channel, so I shot my footage in 4K 24fps without any S-Log or any other settings requiring additional post-production work. These options are available for more creative filmmakers, but I just wanted to work with the footage straight from the camera as this feels like the intention of this camera.
The ZV-E1 produced some very nice quality footage, with a much more accurate tonal range than what I filmed on my phone, with more natural processing compared to the HDR-heavy phone video. This is where the full frame sensor and its larger pixels can shine, with improved dynamic range capturing the tones and shadows more effectively. The additional depth of field also wiped the floor with any artificial 'cinematic mode' from the phone.
However, while beating phones, I don't think that the 4K video direct from the ZV-E1 is any better than the 4K video from other cameras I have tested. If you are in the market for a 4K vlogging camera, then the latest from Canon, Panasonic, or even Fujifilm are fairly indistinguishable from one another for the purposes of social media, streaming or vlogging video.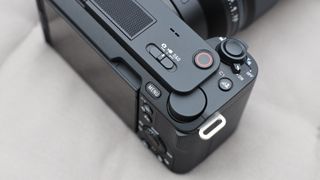 Where the ZV-E1 shines above other systems though is it's subject recognition and tracking, Sony has one of the best human subject recognition systems in the business, it is capable of tracking people down to their skeletal movements. When filming people, the camera kept the focus locked to subjects' heads even when they were facing in other directions, and then when returning to face the camera swapped to eye focus faster than I could blink. The low amount of false positives on the Sony is also excellent, only very occasionally did it manage to incorrectly identify and lock onto inanimate objects, which can't be said for all systems.
Image stabilization on the ZV-E1 is a bit of a mixed bag, this is a camera that is meant to be used handheld, so offers three levels of stabilization to compensate. I found standard stabilization was fine for any slow zooming or panning, but as soon as I tried to walk or move with the camera footage became quickly unusable. Swapping into Active or Dynamic Active stabilization helped dramatically with this, although at a fairly significant crop, with the 24-70mm lens I was using, even at its widest angle, in these additional stabilization modes, the handheld the view of my face as unflatteringly close. I also struggled to fit buildings and other large objects that otherwise would have fit in frame once the crop was applied.
Above: Sample footage from the Sony ZV-E1, and testing out its auto framing modes
The mileage you get from the image stabilization really depends on what you want to film and what lens you own. The image stabilization is incredibly useful when moving while filming other people or wildlife, the Active IS and tracking autofocus are a perfect combination for this. You can comfortably get handheld stable footage without the use of an additional gimbal.
The built-in microphone on the ZV-E1 is very good, it is leagues above the microphones on most regular mirrorless cameras. The microphone has automatic directional audio, which did a good job at picking up and isolating my voice, especially in noisier environments, however, the microphone still is not as full and rounded as a larger external mic.
Sony ZV-E1: Photo Performance
Sony camera's photo performance has long been excellent, as the ZV-E1 does not change that. Photos are sharp with excellent natural colors and a fantastic dynamic range. Again the autofocus and tracking system in the ZV-E1 works wonders, and the focus was lightning fast on everything I pointed my camera at. Human subjects are especially a standout, eye tracking is never 100% on any camera system, but in bursts of shots on the ZV-E1, Sony's system has a very accurate hit rate.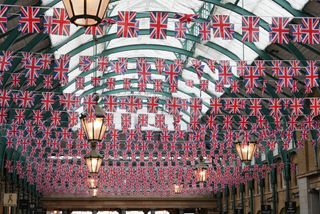 Stills are not this camera's primary purpose, and the ZV-E1 is held back somewhat for stills by only having a 12.4MP sensor, which is a considerably smaller number than what has become the norm for any digital camera. The smaller sensor limits the ability to crop images and still maintain their quality, and you will not be able to make large prints, however, 12MP is more than enough quality for social media or most other online use cases.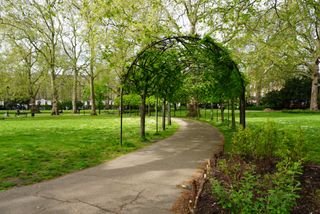 Sample gallery
Sony ZV-E1: Lab results
For our lab data comparison, we compared the Sony ZV-E1 to three of its main hybrid camera rivals: the full-frame Canon EOS R6 Mark II and Panasonic S5 II, along with the APS-C Fujifilm X-H2S - a camera which though smaller in sensor size than the Sony, also has a strong focus on video, and is closely match on price.
We test resolution using Imatest charts and software, and dynamic range and signal-to-noise ratio with DxO Analyzer.
Resolution (line widths/picture height):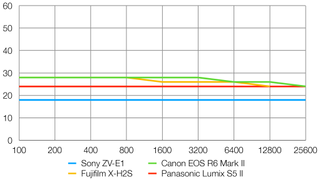 With 'only' 12.1 megapixels on tap, the ZV-E1 was never going to score highly in our resolution test, and it wasn't designed to - there's the A7R V for that. Though the outright detail capture is mediocre, it is at least consistent, as the ZV-E1's excellent high ISO image quality means detail isn't softened or obscured by noise at higher sensitivities.
Dynamic range (EV):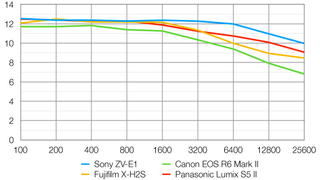 Though the ZV-E1's relatively low pixel count scores against it for outright detail capture, it pays dividends for capturing the maximum possible dynamic range. While the Fujifilm and Panasonic cameras match the Sony at lower sensitivities, the ZV-E1 can capture substantially more dynamic range at IOSO 3200 and beyond - great if you're shooting stills or video in less than ideal lighting.
Signal to noise ratio (decibels):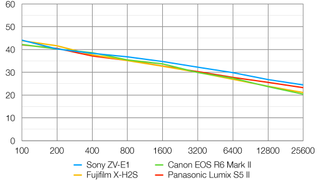 This test compares the amount of random noise generated by the camera at different ISO settings as a proportion of the actual image information (the 'signal'). Higher values are better and we expect to see the signal to ratio fall as the ISO is increased.
All four comparison cameras are quite closely matched here, though the ZV-E1's extra-large sensor photosites ('pixels') mean it generates less image noise. Consequently, at ISO 800 and above, the ZV-E1 is producing the cleanest images of the group.
Sony ZV-E1: Verdict
The ZV-E1 is an excellent vlogging camera, it is small, compact, and lightweight while packing in some incredible features like an image stabilized full frame sensor, and subject recognition and auto tracking straight out of the Sony A7R V. The camera is also incredibly simple and intuitive to use, so is perfect for anyone wanting professional looking footage without knowing a lot about cameras.
Video footage is excellent, sharp, clear, and with good color direct from the camera, stills are also fantastic quality, although are limited by the 12MP sensor. The latest autofocus tracking from Sony is a sight to behold, especially for human subjects, it is incredibly fast and accurate, with its AI powers meaning you don't have to worry about focus and can think about other aspects of filming.
However, if the ZV-E1 is necessary at all is slightly confusing. Sony already has the Sony A7C which is fundamentally the same camera, with better photos, has an EVF, and is cheaper. Similarly, if you are happy with an APS-C sensor, then the Sony a6600 is also a cheaper and similarly equipped camera. You lose the new autofocus tracking, but Sony's previous autofocus system is still incredible. If you care about filmmaking rather than vlogging, Sony also offers a range of FX cameras in its cinema line.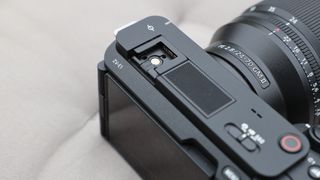 You might also like...
If you already are invested in Sony lenses, then the Sony A7C is a good alternative to the ZV-E1. It has a very similarly shaped compact body and also has a full frame image stabilized sensor and articulating screen for vlogging. The Sony A7C makes for a better hybrid camera, however, with around twice the megapixels and an EVF.
If you aren't bothered about the size and care more about excellent video features, then the Panasonic S5 II offers a fantastic video experience. Our reviewer thinks this is one of the best video cameras right now. The S5 II is larger than the ZV-E1 but comes in at a very competitive price.