The Tamron 20-40mm F2.8 Di III VXD is yet another different take on the 'standard' zoom lens. Tamron already makes alternatives to 'trinity' wide-angle and standard zooms, with its impressive 17-28mm F2.8 Di III RXD and 28-75mm F2.8 Di III RXD G2 lenses for Sony E-mount cameras, which we've been thoroughly impressed by. Indeed, both of these lenses have been tweaked and rebadged as NIKKOR lenses for Nikon Z system cameras, as the equally alluring Nikon Z 17-28mm f/2.8 and Nikon Z 28-75mm f/2.8.

The new 20-40mm retains the same fast and constant f/2.8 aperture rating but delivers a more unusual zoom range. In some ways, it's similar to the Panasonic Lumix S 20-60mm f/3.5-5.6 for L-mount cameras, although that one gives more telephoto stretch but with a slower, variable aperture rating.

The Tamron is a perfect fit for photographers who find they often want a wider viewing angle than a standard zoom can deliver, and aren't so fussed about telephoto reach. On full-frame cameras, the zoom range works really well for landscape and architectural photography, and is also great for vlogging. The f/2.8 aperture also makes the lens a good choice for astrophotography.
Specifications
Mount: Sony E (FE)
Autofocus: Yes
Full-frame: Yes
Stabilization: No
Lens construction: 12 elements in 11 groups
Angle of view: 94.5 to 56.8 degrees
Diaphragm blades: 9
Minimum aperture: f/22
Minimum focusing distance: 0.17m (W) 0.29m (T)
Maximum magnification ratio: 0.26x (W) 0.2x (T)
Filter size: 67mm
Dimensions: 74x87mm
Weight: 365g
Key features
For walkabout and travel photography, size matters. Despite its fast and constant f/2.8 aperture, this lens is conveniently small at 74x87mm and very lightweight at 365g. An ultra-wide maximum viewing angle of 94.5 degrees is shoehorned into the lens, narrowing to a more standard 56.8 degrees at the long end of the zoom range. Although full-frame compatible, the lens works equally well on Sony's APS-C format mirrorless cameras, on which it gives a very useful 'effective' zoom range of 30-60mm. However, Tamron's 'Vibration Compensation' system isn't featured, so there's no optical image stabilization. That can be an issue when using Sony's first-generation full-frame mirrorless cameras that lack in-body stabilization, and most of its APS-C format bodies.

The optical line-up is based on 12 elements in 11 groups and features some up-market glass, including four LD (Low Dispersion) elements, two GM (Glass Molded) aspherical elements and one hybrid aspherical element. The overall aim is to deliver excellent sharpness, contrast and color rendition while keeping aberrations, size and weight to a minimum.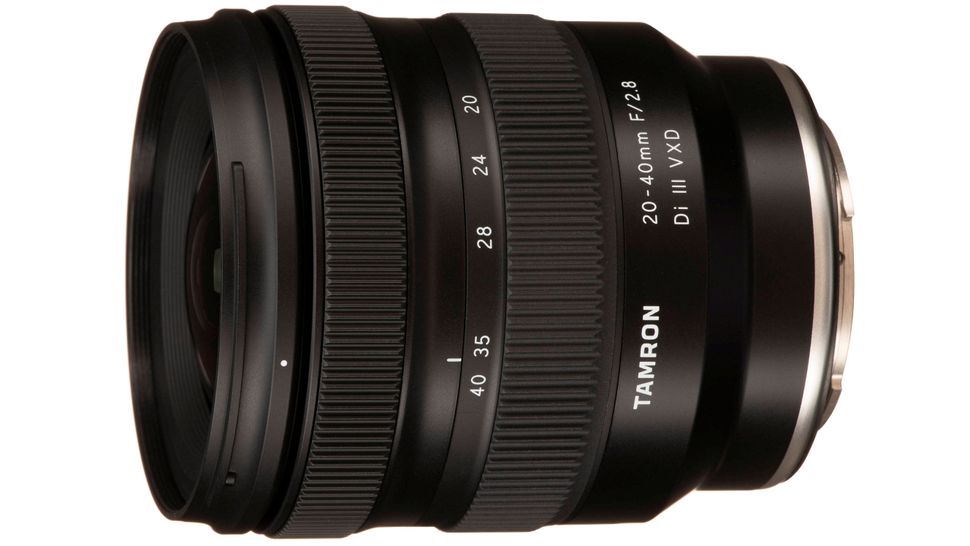 Autofocus is driven by a VXD (Voice-coil eXtreme-torque Drive) system, which is super-fast and virtually silent in operation. It also enables smooth autofocus transitions when shooting video, and is compatible with Sony's advanced AF modes where featured in-camera, like Fast Hybrid AF and Eye AF.
Build and handling
The lens feels well-built, solid and robust, despite its lightweight construction. Weather-seals make it resistant to dust and moisture, and a fluorine coating is applied to the front element. This helps to repel moisture and greasy fingermarks, as well as making the front element easier to clean. At the back end, there's a metal mounting plate complete with a rubber weather-seal gasket.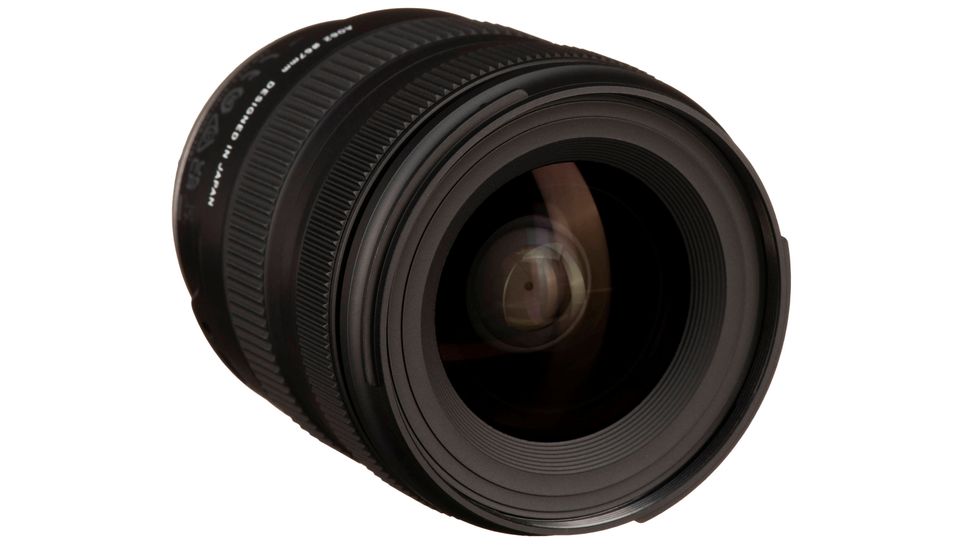 The lens extends a little in physical length as you zoom out from 40mm to 20mm, with a telescoping inner barrel. Even so, there's practically no perceptible shift in the center of gravity and the zoom action feels smooth and precise. The electronically coupled manual focus ring operates with similarly smooth precision, and its function when in autofocus mode can be customized using Tamron's Lens Utility software. For customization and the application of firmware updates, the lens features a USB-C port on its barrel, for connection to a computer.

Onboard controls are pretty basic, boiling down to just a pair of zoom and focus rings. As such, there are no refinements like an aperture control ring, AF hold button or mode switch. However, these are common absences in lenses that are designed to be as compact and lightweight as possible.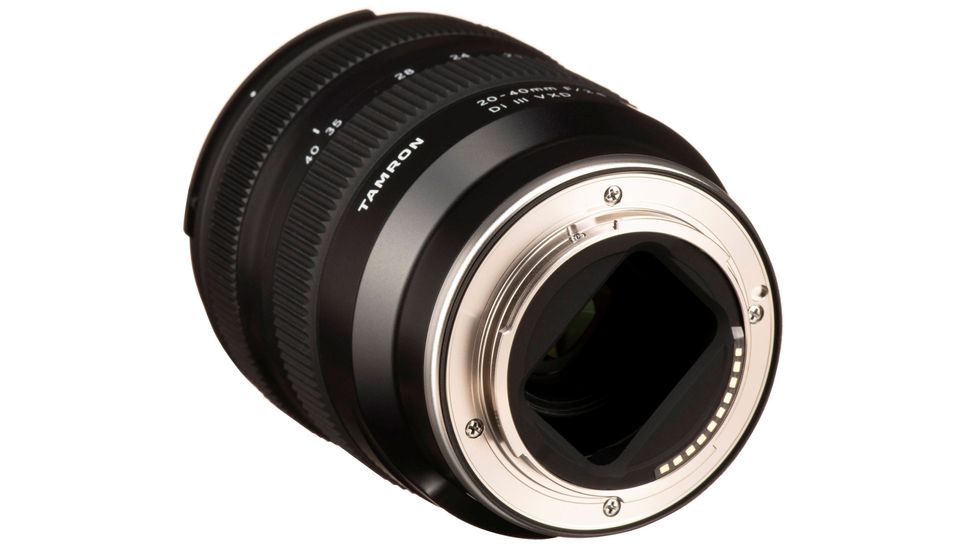 Performance
The VXD autofocus system lives up to its billing, proving to be fast, virtually silent and consistently accurate in our tests. Levels of sharpness are exemplary throughout the zoom range, even when shooting wide-open at f/2.8, although extreme corner-sharpness drops off a little at the long end when using wide apertures.

Color fringing is absolutely negligible throughout the entire zoom range at all aperture settings, right out to the corners of the frame. And that's without any in-camera correction being applied. Distortions are more noticeable when uncorrected but the Tamron relies much less heavily on auto correction for distortions than many recent lenses that have been designed for mirrorless cameras.

Not just for expansive wide shots, the lens is also good for close-ups. Short minimum object distances range from 0.17m at the shortest zoom setting to 0.29m at the longest, delivering generous magnification ratios from 0.26x to 0.2x respectively. The f/2.8 aperture enables a pretty tight depth of field when shooting close-ups, and bokeh is pleasantly soft, with nicely rounded bokeh discs from defocused lights and other bright spots. They remain quite well-rounded when stopping down a little, thanks to the 9-blade aperture diaphragm.
Sample images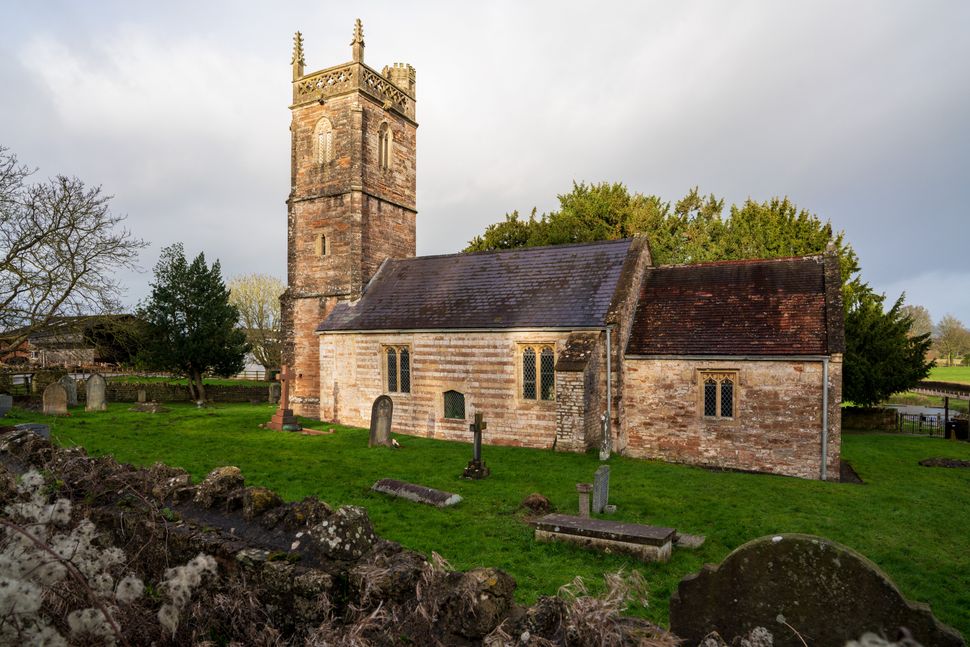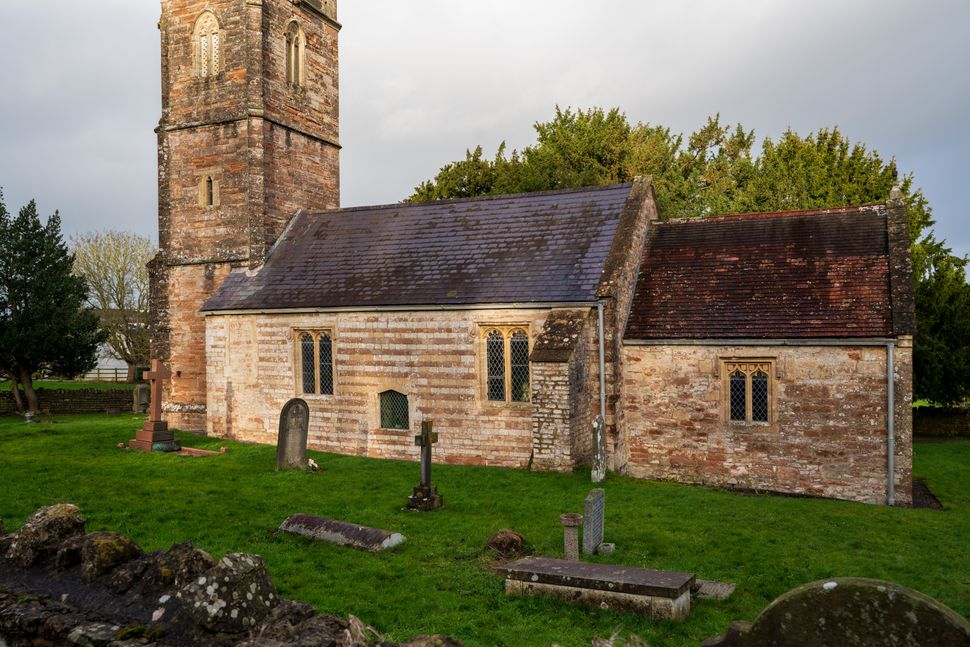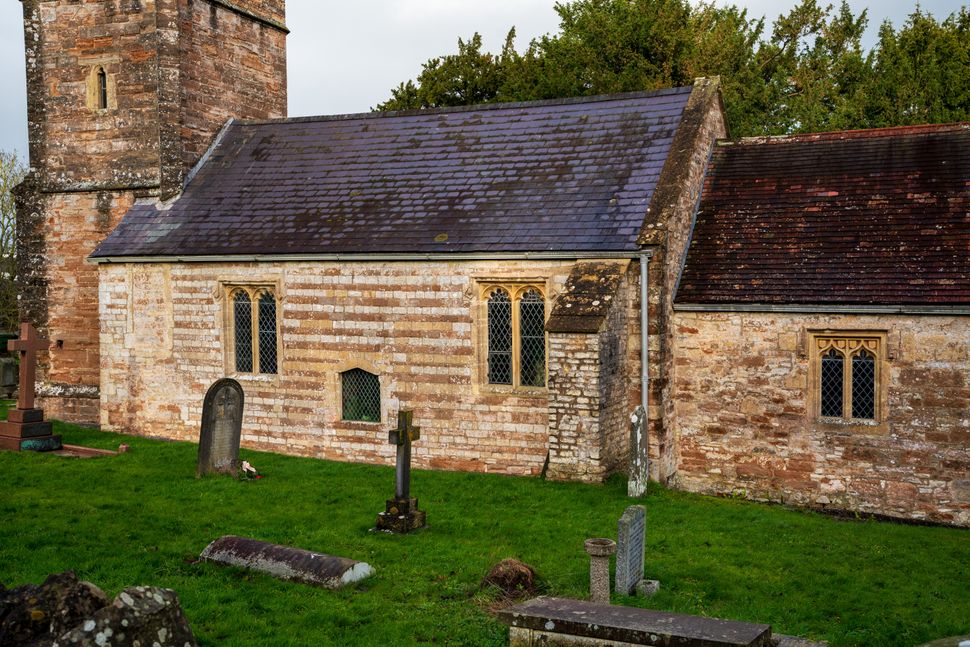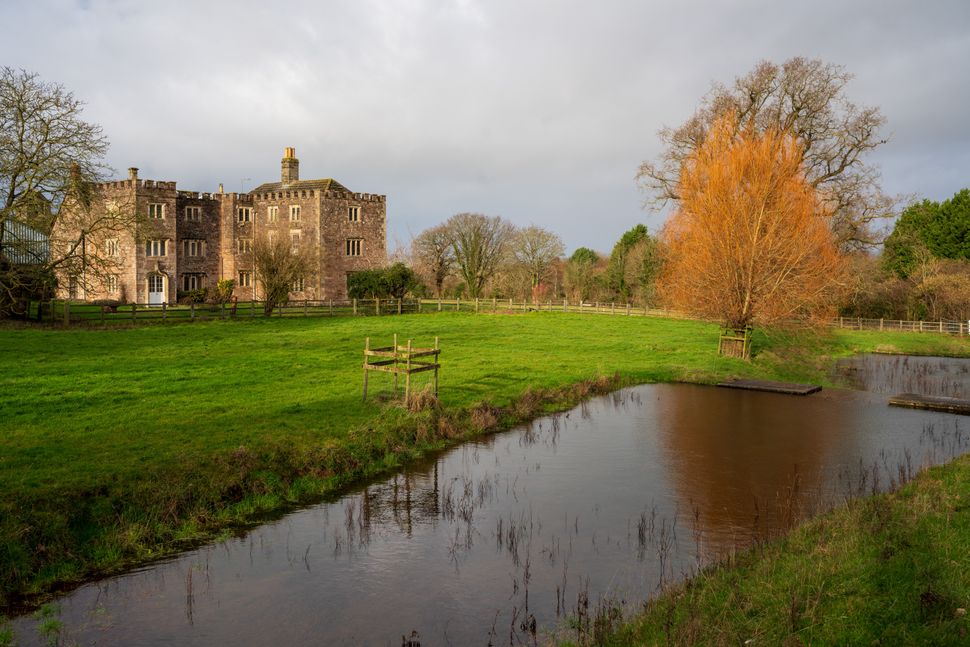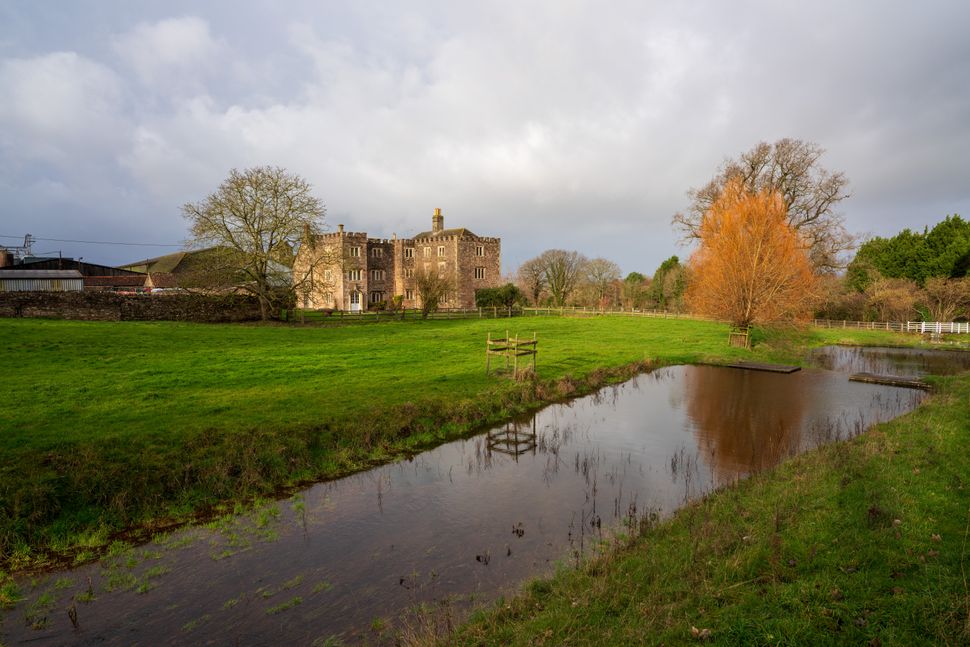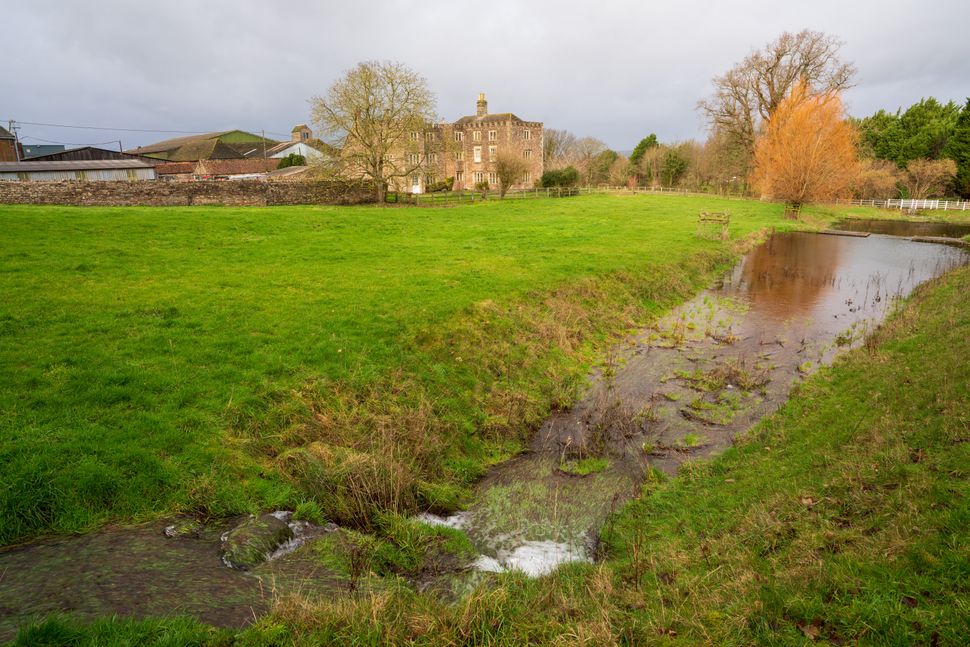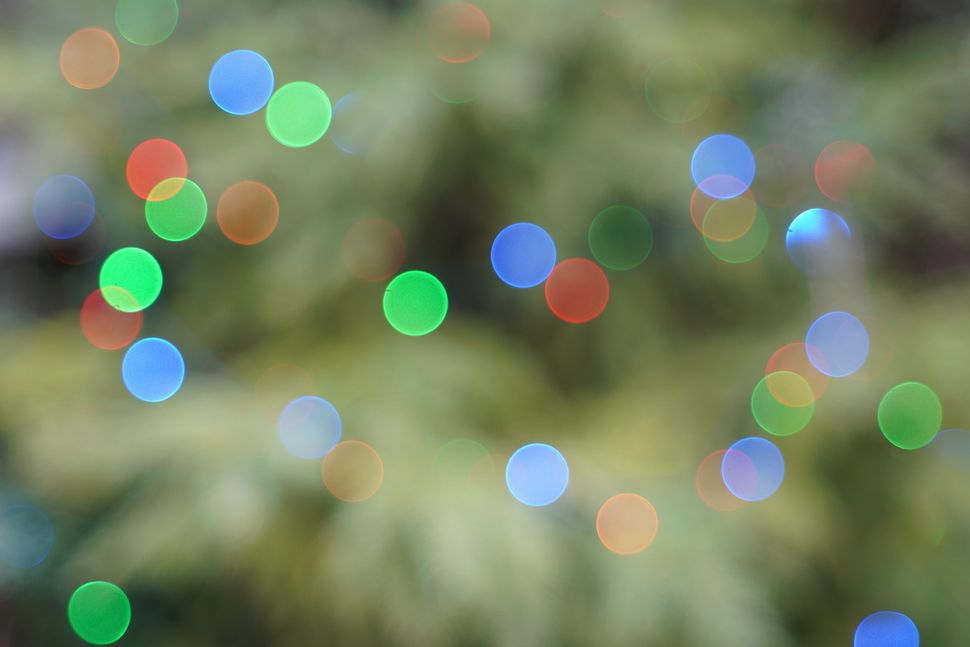 Lab results
We run a range of lab tests under controlled conditions, using the Imatest Master testing suite. Photos of test charts are taken across the range of apertures and zooms (where available), then analyzed for sharpness, distortion and chromatic aberrations.

We use Imatest SFR (spatial frequency response) charts and analysis software to plot lens resolution at the center of the image frame, corners and mid-point distances, across the range of aperture settings and, with zoom lenses, at four different focal lengths. The tests also measure distortion and color fringing (chromatic aberration).

Sharpness: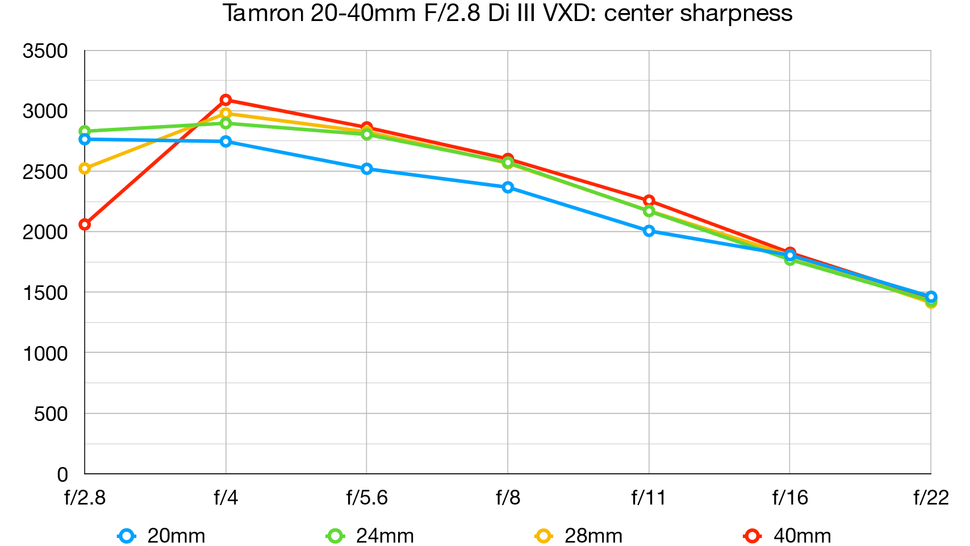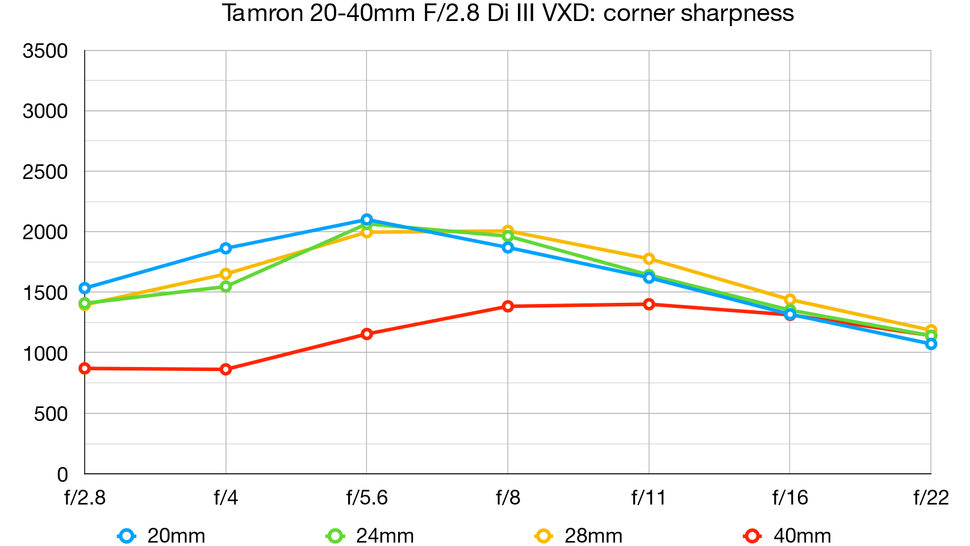 There's enough sharpness on tap to do full justice to Sony's most megapixel-rich camera bodies. Center-sharpness remains excellent throughout the entire zoom range, even when shooting wide-open at f/2.8. For best corner-sharpness at the long end of the zoom range, it pays to stop down to f/5.6 or narrower apertures.

Fringing: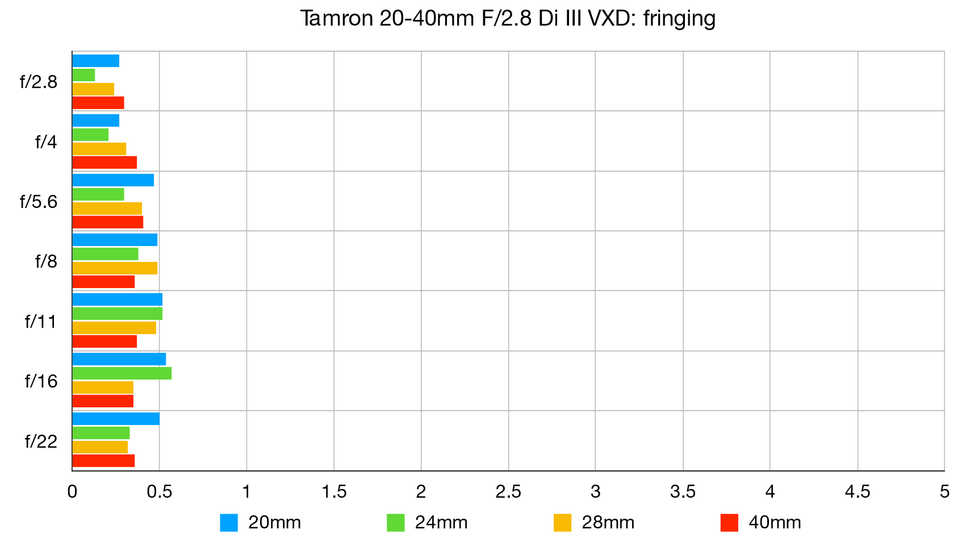 Even with no automatic in-camera correction applied, there's virtually no color fringing to be seen, even out at the extreme edges and corners of the image frame.

Distortion: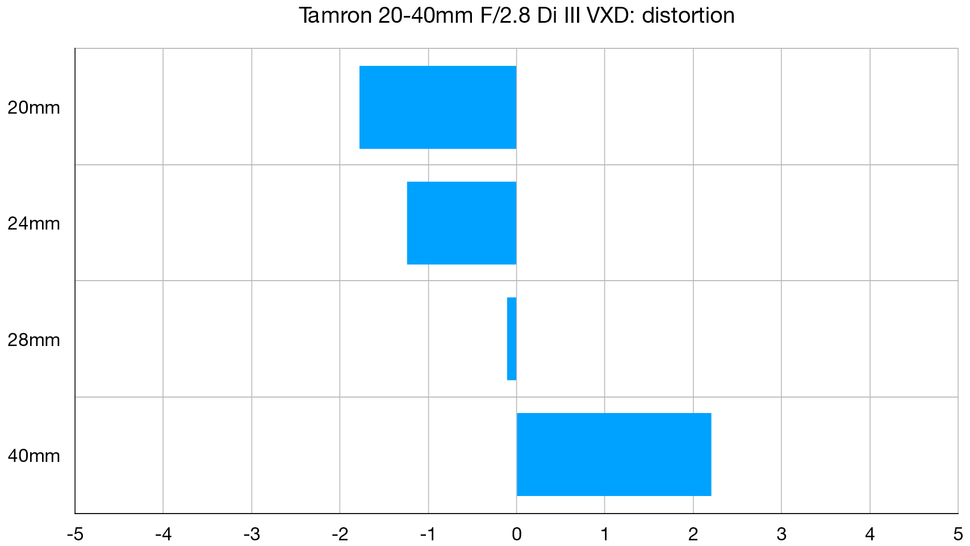 Barrel distortion can be a little noticeable when uncorrected at 20mm, less so at 24mm. There's virtually no distortion at 28mm but pincushion is visible at 40mm. In-camera correction is available if you feel the need.
Verdict
This full-frame compatible lens for Sony E-mount cameras packs strong all-round performance, lovely image quality and a versatile zoom range into a compact and lightweight package. It's great for everyday stills shooting works every bit as well as a vlogging lens, thanks to its wide maximum viewing angle coupled with a fast and constant f/2.8 aperture. All in all, it's a very smart buy at the price.
Read more:
• Best camera lenses to get
• Best Canon lenses
• Best Nikon lenses
• Best Sony lenses