The Huawei P60 Pro is unequivocally the best camera phone we've tested in a number of key areas including macro photography. Huawei's demonstrated mastery of computational photography combines with pioneering lens technology to create an experience unlike anything we've seen on a smartphone, but there's so much more to this phone than a fantastic camera.
For starters, the phone doesn't run Android or iOS – or at least not as we know it. As a result of sanctions against Huawei by the US government, the firm's tech can't access the Google Play Store or any Google services, which means if you're hardwired into the Google ecosystem, any Huawei device will be a tough sell.
Next, there's no 5G on the P60 Pro either. Less of a big deal, but still a bitter pill to swallow, especially given the fact the phone is so expensive, starting at £1,199 in the UK, which converts to $1,500.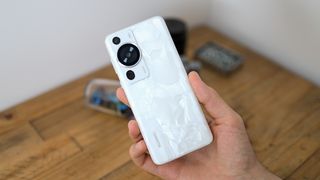 All this is why we've spent less time focusing on Huawei phones in recent years. After all, since the P30 Pro launched in 2019, Huawei phones have been difficult to recommend, despite their camera clout. The P60 Pro is different, though – its camera is game-changing, even in the face of stiff competition from the excellent Xiaomi 13 Ultra and iPhone 14 Pro.
So whether you're interested in picking up the P60 Pro or not, we'd urge you to read on if you have any interest in smartphone photography. After all, Huawei pioneered a lot of the tech in the best Android phones and best iPhones out now, so it wouldn't surprise us if the P60 Pro ends up being a crystal ball into the smartphone camera tech of tomorrow.
HUAWEI P60 PRO REVIEW: DESIGN
Huawei's never struggled with making phones that look good, especially with its P-series. The line has historically been photography-focused with a side-helping of style, and the P60 Pro we tested has been grabbing attention whenever we've used it.
Specifically, we're referring to the Rococo Pearl finish (pictured), which features a mosaic, mother-of-pearl style effect around the back. This curves into the polished metal frame seamlessly, which in turn curves into the screen, making for a supremely smooth in-hand feel that's crammed with premium-factor.
If you're not vibing the Rococo Pearl, you can also pick up the phone in frosted black in the UK, though across Europe, violet or green options are available too.
Navigating around the Huawei P60 Pro's polished silver frame, at the top is an IR blaster, on the right side are the volume and power buttons, and at the base, a USB-C port and SIM tray.
The P60 Pro isn't too big, but at 200g, it has a substantial weight to it. The camera bump is bold but isn't quite as cumbersome as those of other phones like the Xiaomi 13 Ultra or Vivo X90 Pro.
The P60 Pro we tested included a case in the box, and had a pre-fitted screen protector. The phone is also IP68 water and dust resistant, able to withstand a 30-minute swim in up to two meters of fresh water.
Hardy and handsome – we're fans of what Huawei's done with the P60 Pro's design, and we specifically enjoyed the indulgence of the Rococo Pearl model. We also like the fact Huawei styled the back of the phone to be held in landscape orientation, with all the text running horizontally. It adds cohesion to the camera-focused features.
HUAWEI P60 PRO REVIEW: SCREEN
The P60 Pro's OLED screen is a checkbox exercise in quality smartphone displays. Out of the box, everything looks tasteful and subdued, set to switch between sRGB or DCI-P3 color spaces automatically based on what's on-screen.
If you're a fan of a more saturated picture, it's easy to dip into the settings and switch to vibrant mode, and adjust the color temperature to suit your tastes.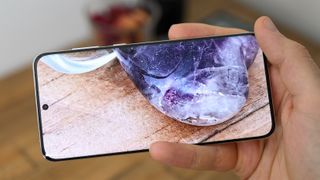 The P60 Pro's screen scrolls smoothly with its 120Hz refresh rate. This can dynamically dial up or down based on what's on-screen, or you can lock it to 60Hz to save power.
Even if some phones like the Motorola Edge 40 Pro are upping the refresh rate bar to 165Hz smoothness, 120Hz still delivers an excellent experience, with content gliding throughout the UI, and Huawei optimizing the interface brilliantly.
The P60 Pro's screen is also a 10-bit panel which means it can showcase a billion colors for super-smooth gradients and minimal banding, and it's protected by Huawei's scratch-resistant Kunlun glass.
The main issue we had in our time testing the phone was that it isn't optimized for Netflix HDR, despite support for HDR10. There was a noticeable lack of dynamic range when streaming HDR content like Sweet Tooth on the P60 Pro compared to the Samsung Galaxy S23 Ultra as a result.
Videophiles after a best-in-class streaming experience might be left wanting, therefore, but for everyone else, the P60 Pro's display should hit the mark.
HUAWEI P60 PRO REVIEW: CAMERA SPECS
There's some mystery surrounding the P60 Pro's main camera sensor. While other brands like Xiaomi shout about the 1-inch IMX989 in its 13 Pro, and the Motorola Edge 30 Ultra's 200MP Samsung ISOCELL HN1 is part of its appeal, we can't actually tell you what camera sensor powers the P60 Pro's main camera.
The apps we normally use to get camera sensor information didn't pull up a familiar Samsung or Sony sensor code, and Huawei hasn't offered up the information after we asked for sensor details. The only thing we managed to find out online is that Cambridge Mechatronics, the company behind the OIS on the Mate 50 is back in some capacity for the P60 Pro.
If this mystery is a conscious move on Huawei's part, it's quite smart, as rather than get hung up on sensor size, we can focus on image quality.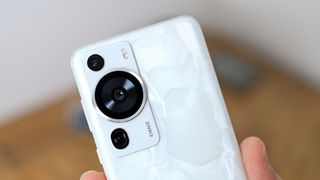 We do know some of the Huawei P60 Pro's specs, thankfully, and can confirm the main camera's resolution is 48MP with an RYYB subpixel formation, it has a 25mm focal length, and a mechanical aperture that can be set to f/1.4, 1.6, 1.8, 2.0, 2.2, 2.5, 2.8, 3.2, 3.5 and 4.0.
With such a wide aperture, the P60 Pro's sensor doesn't need to be as big as the 1-inch competition, so we're excited to see how it stacks up.
As for the periscope camera, it's also a 48MP sensor with an open lens, this time at f/2.1 – the widest aperture of any telephoto camera we've seen on a phone. Its 90mm focal length equates to a 3.5x optical zoom, and the camera packs sensor-shift OIS, so the sensor itself moves to compensate for hand shake.
Finally, the ultra-wide camera is a 13MP, 13mm, f/2.2 system, and supports autofocus, so it can double up as a macro camera too.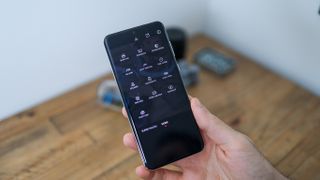 Like a few other phones out now, the P60 Pro's periscope camera has a party trick: it can capture macro photos as well as far-reaching zoomed-in shots. Unlike any phone we've seen before, though, it captures as near as 10cm, which, given its 90mm focal length makes for some incredibly detailed close-up photography.
As far as shooting modes go, there's an Aperture mode, which lets you change virtual aperture – don't be fooled, only Pro Mode gives you control over the physical aperture of the main camera. Other modes include Night, Portrait, Photo, Video, Pro, Super Macro, Monocrhome, Time-lapse, Dual-view, Snapshot, Panorama, Light Painting, Documents, Story Creator, Slow-mo, AR lens, Stickers, High-res, and Multi-cam.
If you're coming from a Huawei phone, the Multi-cam feature is especially cool. Whether taking photos or videos, you can wirelessly switch between compatible phones and it creates a user-friendly rig setup.
HUAWEI P60 PRO REVIEW: CAMERA
You can see the three optical focal lengths captured by the Huawei P60 Pro below, as well as a fourth, which showcases the phone's hybrid zoom performance at 10x.
Instantly looking at the above photos, we can see that Huawei's style doesn't shy away from processing. Photos across all three cameras have plenty of depth, saturation, and contrast, though still manage to showcase a decent amount of shadow detail, and highlights are nicely preserved too.
Detail from the primary and telephoto cameras is exceptional, with the weakest camera being the ultra-wide, which we wouldn't lean on for shots that need to be cropped into.
Huawei's color science is balanced and consistent across all three cameras, and it's easy to pick a look to pump up or dial back vibrancy.
The primary camera's variable aperture has a two-fold effect, depth and exposure time.
Starting with depth, as you can see in the set of images above, it can increase the depth of field for a less shallow look. While other camera phones do this with a portrait effect, the P60 Pro and Xiaomi 13 Ultra are two of the only phones that achieve it optically.
A variable aperture also means the P60 Pro gives you control over light intake, helping out video capture in super-bright environments, and making long-exposure shots possible without blowing out highlights.
All the images taken above were captured on the periscope telephoto camera, with its nearest focus distance of around 10cm. This unlocks a new type of photography on a smartphone, and for the first time in our week of reviewing a phone, it made the periscope camera our most-used camera.
Detail is jaw-dropping, and there's even a Super macro mode that ramps up sharpening for some added wow factor. Even in auto mode, though, Huawei's telemacro shots are packed with impact and depth.
The periscope camera isn't just impressive for macro shots. For a 3.5x telephoto range, it captures crisp zoomed-in shots, as illustrated above, and with its wide aperture and Huawei's fantastic computational photography, it even performs respectably at night.
It's so versatile, that we used it for some product shots too in mediocre natural light, see below, and while it doesn't have the reach of Samsung's 10x Galaxy S23 Ultra periscope camera, it's still the most practically powerful telephoto camera we've ever used on a phone.
The P60 Pro's nighttime performance is also fantastic. Unlike other phones, it captures instant night mode photos, so you don't have to hold your phone steady while it composites shots, which you need to do on Galaxys, iPhones, and Pixels.
Specifically, its main camera and periscope camera can employ this party trick, and it liberates lowlight capture like never before.
The periscope camera can also snap a decent moon shot, and while purists won't love what Huawei's doing – brightening up night to look more like the crack of dawn, there's a Pro mode for anyone who wants to dial down exposure.
The only camera that can't hold its own at night is the ultra-wide, which falls behind competition like the Oppo Find X6 Pro and Xiaomi 13 Ultra.
The P60 Pro handles skin tones very well, keeping them looking warm and flattering while still being realistic. The 13MP selfie camera shoots with as much detail as you need from a front camera, and it has autofocus too, so can capture individuals and groups without sacrificing clarity.
Video climbs up to 4K, 60fps and is held together well across resolutions. Its lowlight performance isn't as good as photos, but it still holds its own alongside the competition.
HUAWEI P60 PRO REVIEW: PERFORMANCE
The Qualcomm Snapdragon 8+ Gen 1 inside the P60 Pro is one of the best smartphone chips out now, delivering impressive gaming performance with great heat and power management. It's unsurprising that in our time with the P60 Pro, both apps and the interface were handled well and flowed smoothly.
While the P60 Pro runs Android apps, its experience, EMUI 13.1 doesn't access new apps in the same way as other Android phones. Because there's no Google Play Store, you need to download them through Huawei's app store – AppGallery – or Petal Search, a tool that trawls the web for reliable ways of getting apps that aren't in the AppGallery.
There's no Gmail, Google Chrome or YouTube pre-installed either. Huawei's native email app can access your Google mail, and the Huawei browser gets you access to a web version of YouTube, as well as other Google services. These web-based alternatives, however, have no offline support.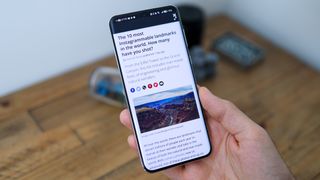 So if you're sold into the Google way of doing things, a Huawei phone takes real effort.
First, porting your contacts over – we eventually figured out the best way to do this is sync the Microsoft Outlook app with Google Contacts and then sync that with the phone – not rocket science, but a faff nonetheless.
Then there's Google Calendar – we couldn't get this to sync with the system calendar, so we used the Outlook app to access it.
It's also tough for creators as YouTube requires the app to upload Shorts, and the YouTube Studio app won't work with the phone. If you're based in the US and are thinking of importing the P60 Pro, the HBO Max app won't work either.
But if you think the P60 Pro experience is totally hamstrung, it really isn't. We got used to the limitations quickly. No Google Docs? We used Microsoft Word. No Google Maps? Petal Maps worked well.
Instagram, Twitter, Netflix, Amazon, Audible – almost all the apps we use regularly did the job, but do check the compatibility of critical apps before picking one up – especially high-security apps like banking – Barclays, for example, won't play ball, but Monzo and Revolut do.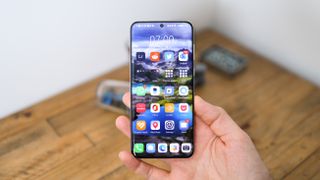 Once you've gotten past the app limitations, there's just one more hurdle before you're on the home stretch with the P60 Pro – the lack of 5G. This shouldn't be a deal-breaker for most, for now at least. After all, we were still able to hit speeds of 152Mbps over EE 4G in London, UK, just 50Mbps slower than the 200Mbps speeds we got on the Sony Xperia 1 V over 5G on the same network in the same place.
There's a responsive fingerprint scanner under the screen and nippy face recognition to unlock the P60 Pro quickly. If you go for the lower-cost black version, it packs 256GB storage and 8GB RAM, while the Rococo Pearl option hikes that up to 512GB storage and 12GB RAM, with both options supporting Huawei's NanoMemory cards for SIM-card-sized expansion.
The P60 Pro packs an ample 4815mAh battery that lasts a comfortable day even with heavy picture-taking. It charges at 88W wired, so fills up by 50 percent in a little over 10 minutes, and 100 percent in under 40 minutes. Wireless charging maxes out at 50W with a compatible charger.
The P60 Pro's plug is also handy, sporting both a USB-A and USB-C port, so it can charge the phone quickly, or a laptop.
HUAWEI P60 PRO VERDICT
If you live in the UK, the Huawei P60 Pro is the best camera phone you can buy right now. After all, its main competition, the Xiaomi 13 Ultra hasn't launched there, and the competitors like the Galaxy S23 Ultra and iPhone 14 Pro either fall behind on hardware or processing.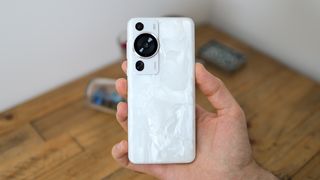 The P60 Pro's camera is so good, it flips the script, shifting focus to lens quality over sensor size. In addition to a stellar main camera with a variable aperture from f/1.4-f/4, it also packs a 90mm macro, telephoto, and portrait camera – incredibly versatile. In fact, for macro photographers in need of a pocket companion, the P60 Pro could be worth picking up just for its periscope camera.
Don't get us wrong, the camera isn't perfect in every situation. We'd tune back sharpening a little if processing was left to us, but that doesn't take away from how powerful it is, and Huawei's next-gen night capture.
The million-dollar question, though: does this excellent imaging system make up for the lack of Google services on the P60 Pro? For most who use Google, it won't. After all, unless you're comfortable getting geeky and finding workarounds, the experience will feel like swimming upstream.
If you consider yourself a photography enthusiast with some cash to splash, though, and you aren't afraid to invest time, effort, and patience to make the P60 experience your own, it's a stunning showcase. It's also a bold statement that Huawei, the firm that first gave us computational photography as we know it, is still here, pioneering smartphone camera technologies just like it was in 2017.