The best cameras for landscape photography are the perfect way to get stuck into one of the most enduringly popular genres of photography. Shooting landscapes may seem like a comparatively simple thing compared to the split-second demands of action or wildlife photography, but once you drill into the details, you start to realise that a good landscape camera needs a few very specific things.
Arguably more so than other genres, landscape photographers need resolution and a large sensor. Lots of megapixels on a large sensor mean you can capture all of the tones and details in a big, gorgeous landscape scene, and set you up well for making large-format prints of your images. You probably don't need to worry about features like burst mode or super-fast autofocus – so you can save yourself some cash by compromising on these features.
Landscape photography (opens in new tab) tips and techniques
Weatherproofing is also important, as landscape shooting can often involve long treks through unglamorous conditions. And this leads us to another factor worth considering: the physical weight of the camera. If you're going to have to carry a camera through the desert, the forest or wherever else, you don't want it to be a millstone that'll drag you to the ground before you're halfway to your shooting location.
We've picked out the best landscape photography cameras with all these features in mind. Our list includes a mixture of new cameras with all the latest tech, and older models that represent a terrific bargain. There are plenty of different types of cameras here, including DSLRs, mirrorless models, compacts and medium format. They all have just one thing in common – they're the best cameras for landscape photography.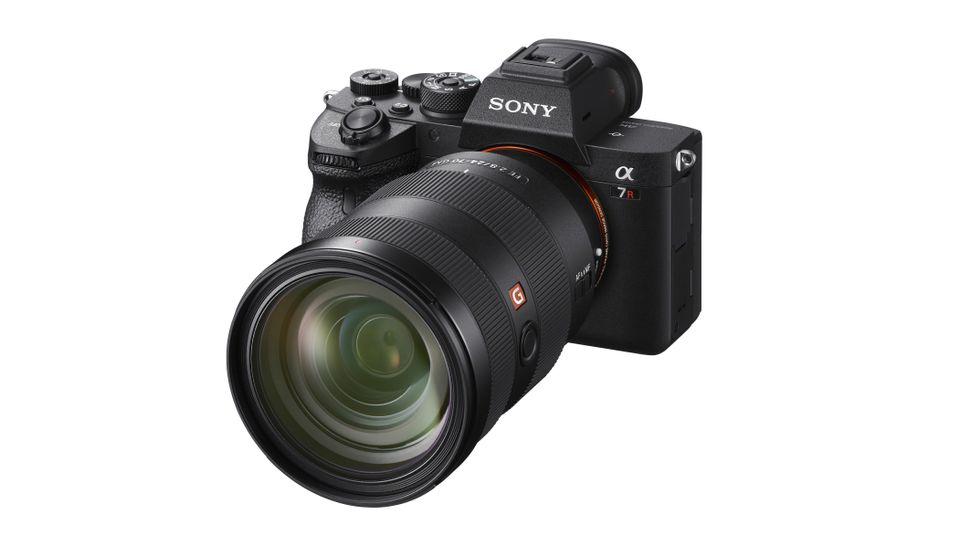 (opens in new tab)
At the A7R IV's heart is a class-beating 61-megapixel full-frame sensor - the highest resolving sensor we've seen on a full-frame camera, and is wedded to Sony's FE full-frame lens mount. This has now been established for some years with some tasty pieces of glass to appeal to the serious landscape photographer.
Aside from the image quality and the A7R IV delivers in other areas. The 10fps burst shooting speed is impressive if you're planning to shoot subjects other than landscapes, while the highly capable AF system doesn't disappoint. If you are planning to shoot handheld then the 5.5 stop in-body image stabilisation (IBIS) system works a treat, while the body is relatively lightweight at just 655g.
Handling is a weak area - not that its bad, but rivals like the Z7 II are that much nicer to shoot with. Otherwise though, this latest generation A7R IV is a seriously capable contender for landscape fans.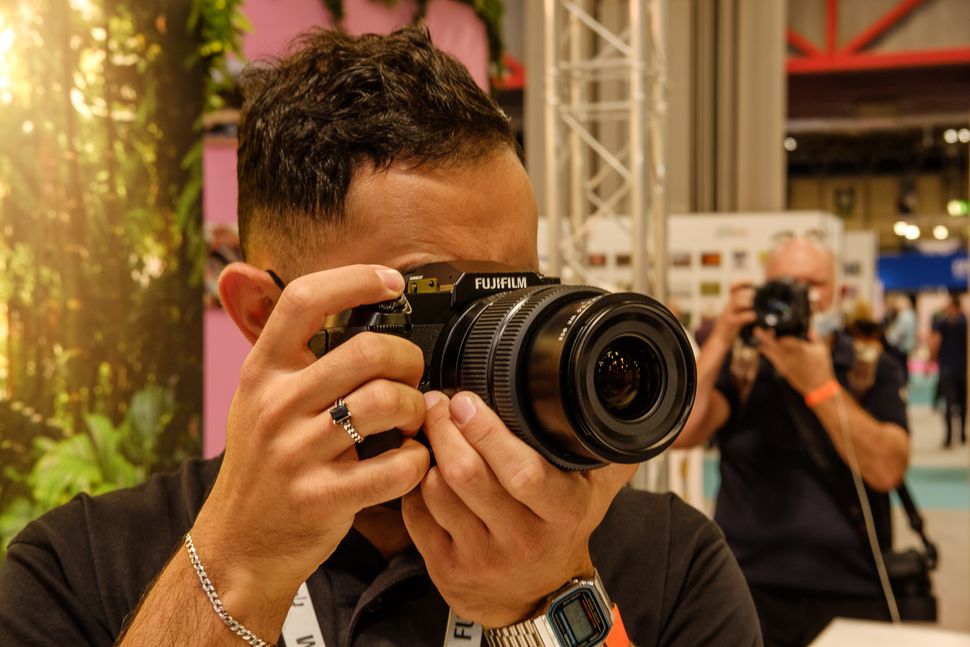 For shooting landscapes, a large medium format sensor is the dream, but the expense and the bulk puts it beyond the reach of the majority of photographers. That's why Fujifilm's GFX series has been such a hit – these mirrorless medium format cameras are more lightweight, portable and useable than more traditional medium format cameras, and while the cameras are still expensive, they're cheaper than the likes of Hasselblad.
The GFX 50S II uses a 51.4MP sensor to capture images of stunning detail and dynamic range – while it is of course outstripped by the incredible 100MP GFX 100S, it's a more affordable and accessible option for most people. We love this clever camera, and any landscape photographer is likely to love it too.
Read more: Fujifilm GFX 50S II review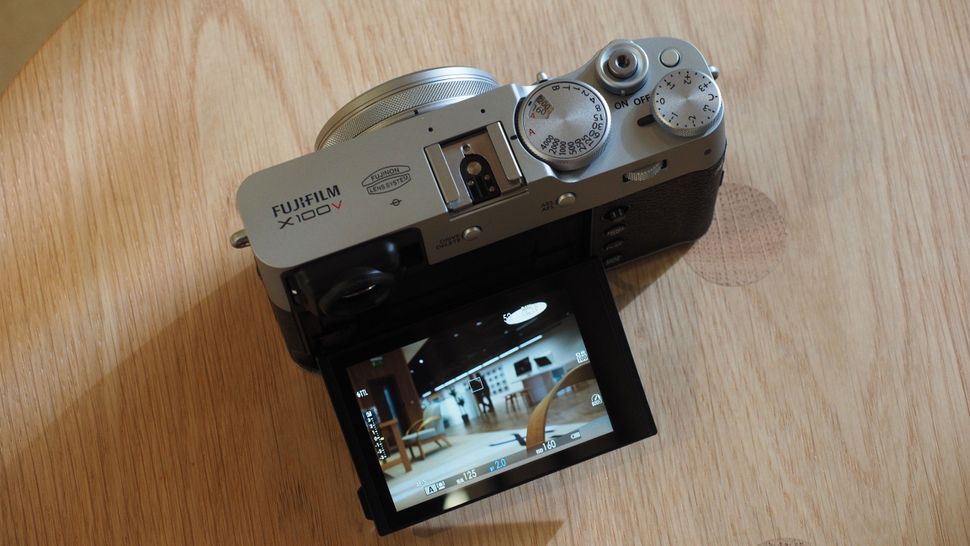 (opens in new tab)
This is might seem a bit of an odd inclusion amongst the other cameras on the list, but stick with us. The premium compact is something a bit special and if you can justify it, a great camera to have with you when you don't want to take a kitbag full of cameras and lenses. At the heart of the X100F is a 26.1-megapixel APS-C sized sensor (just like that found in Fujifilm's latest range of compact cameras), while there's an all-new 34.5mm-equivalent f/2 prime lens that's sharper than its predecessors.
This might not be quite wide enough for some, but this moderate wide-angle delivers the goods. This is supported by a tilt-angle touchscreen and a clever hybrid viewfinder that can switch between an optical and electronic display at the flick of a switch. With a pleasing smattering of external controls and a gorgeous design, this is a lovely camera for those want to enjoy the process just as much as the results.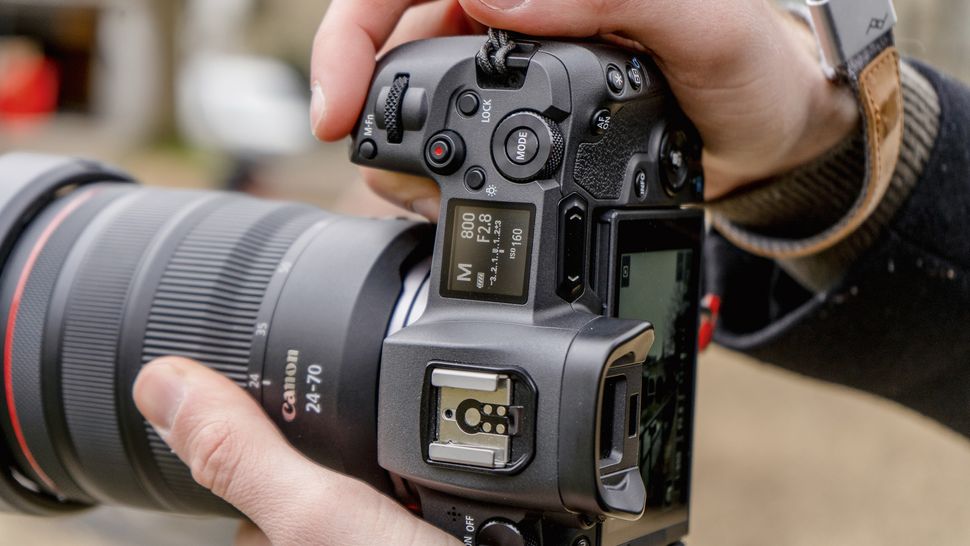 (opens in new tab)
The original Canon R still holds its own several years after release. This was the first attempt at a full-frame mirrorless from Canon, and it wasn't without its issues (the terrible touch bar will haunt Canon forever), but overall this is a very polished and solid camera. Yes, there are newer Canon cameras with more autofocus modes or advanced IBIS, but for landscapes, this camera has everything you need.
With a 30.3 megapixel sensor, it is perfect for capturing large detailed landscape shots, and it can be paired with Canon's exceptional RF mount lenses including the Canon RF 14-35mm f/4 IS USM (opens in new tab) to get the ultimate image quality. Now a slightly older camera, you can also pick it up for significantly cheaper than Canon's latest models.
Read more: Canon EOS R review (opens in new tab).
(opens in new tab)
While the more obvious choice is Canon's blistering EOS R5 (opens in new tab) with it's excellent 45MP full-frame, it's a pricey option, while some of the incredibly advanced features just aren't necessary for a lot landscape photographers.
That's why we've picked Canon's ageing EOS 5DS R. This 50-megapixel full-frame camera is a firm favourite amongst landscape photographers who love the richly detailed files from this densely populated sensor.
Pair it with some high-end L-series lenses and this will mix it with the latest high-resolution cameras out there, while the damped shutter is a welcome touch for those shooting landscapes. Our only slight grumble is the slightly disappointing dynamic range compared to newer rivals, but this can be overcome with some shrewd use of filters to balance the scene.
Another thing to be aware of is that the EOS 5DS R is well and truly reaching the end of its shelf life, meaning it may get harder to find, particularly outside of the US. However, the flip side of this is that you may be able to pick it up for a bargain clearance price if you keep an eye on stockists.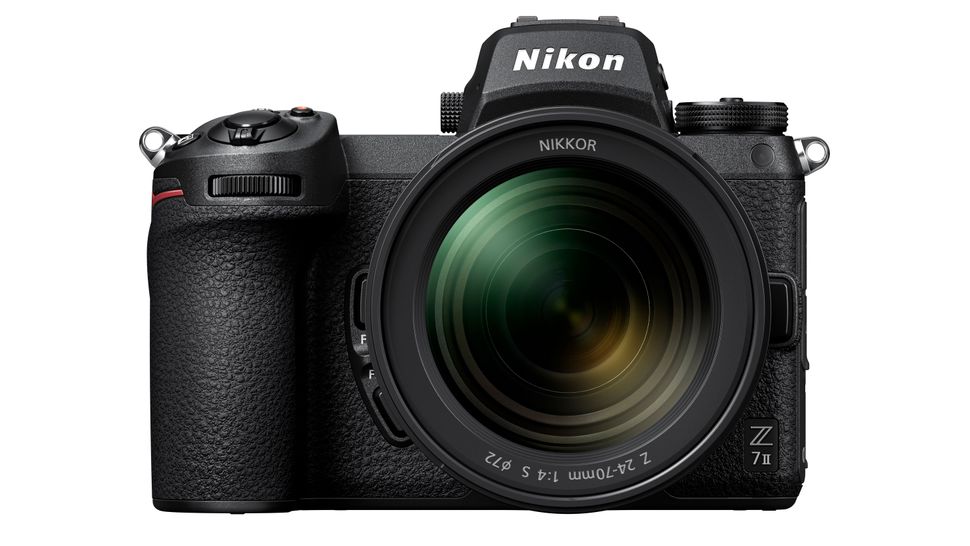 (opens in new tab)
The Nikon Z7 II is one of Nikon's most advanced mirrorless cameras and there's lots to attract the series landscape photographer. The 45.7-megapixel full-frame sensor delivers brilliant images as you'd expect, while it's a bit lighter and more compact than the Z7 II's DSLR stablemate, the D850 (opens in new tab), making it a bit easier to live with if you're going to be lugging it about all day.
The electronic viewfinder is very good, but bear in mind that rivals like the EOS R5 and the Sony Alpha A7R IV enjoy even better resolutions. Autofocus is more than up to the job when it comes to landscapes as well - there are better systems out there, but focusing is swift and it'll achieve focus even in the poorest of conditions.
There's a growing range of dedicated Z series mirrorless lenses available for the Z7 II, while the FTZ adapter means you can choose from a huge back catalogue of Nikon F-mount lenses should you prefer. Though it's not as new as the Nikon Z9 (opens in new tab), that camera's focus on sports and speed means that the Z7 II represents better value for the landscape photographer.
(opens in new tab)
Fortunately for landscape photographers, the D3500 is not only its maker's lightest DSLR, at just 415g with battery and card, it's also Nikon's most affordable APS-C DSLR and one of the best cameras for beginners (opens in new tab).
You'll find the camera bundled with a lightweight 18-55mm kit lens – its widest angle setting the most suitable for landscapes, and of course it's also compatible with an extremely broad range of Nikon-fit lenses.
The D3500's body isn't image stabilised, but if you're using it with a tripod for landscapes that's hardly a deal breaker. More important is the 24.2-megapixel APS-C CMOS sensor at its heart, while an on-board Guide Mode helps newbies select the correct settings.
Should you want to share and review images in the field (literally), Bluetooth rather than Wi-Fi is offered by way of cable-free transfer, which at least lets users transmit images to a smartphone, as well as utilise a handset as a remote means of firing its shutter. Another bonus for landscape photographers is the 1,550-shot battery life; three or four times the amount you'd typically get from a mirrorless interchangeable lens camera.
A minor refresh of an enduringly popular mirrorless camera, the stylish X-T30 II by Fujifilm is a fantastic gateway drug into the X system. Its retro, dial-based controls are fantastic for learning the ropes of photography, certainly much more pleasant than rooting around in menus.
Also, as is commonly the case with Fujifilm cameras, the X-T30 II produces fantastic JPEGs straight out of camera, making this a good choice for those who don't want to spend too much time editing in front of the computer. Fuji's famous film simulation modes are also present and correct, providing picture profiles that emulate the looks of classic film stocks like Velvia and Provia – perfect for giving your landscape images a touch of retro class.
Read more: Fujifilm X-T30 II review (opens in new tab)
(opens in new tab)
While it's been superseded by the RX10 IV, the RX10 III still available and that bit more affordable than the newer camera. This is a great all-in-one solution if you're wanting to travel light when shooting landscapes, with this bridge camera packing in a highly versatile 24-600mm f/2.4-4 lens.
This means you can happily shoot broad vistas to tightly cropped details. The 1-inch sensor is physically smaller than that found in the other DSLRs and mirrorless cameras on the list, but the 20.1-megapixel chip still delivers some impressive results (and the compromise you have to make if you want an all-in-one camera like this). Performance doesn't disappoint either, with a snappy 14fps burst shooting speed and capable autofocus system.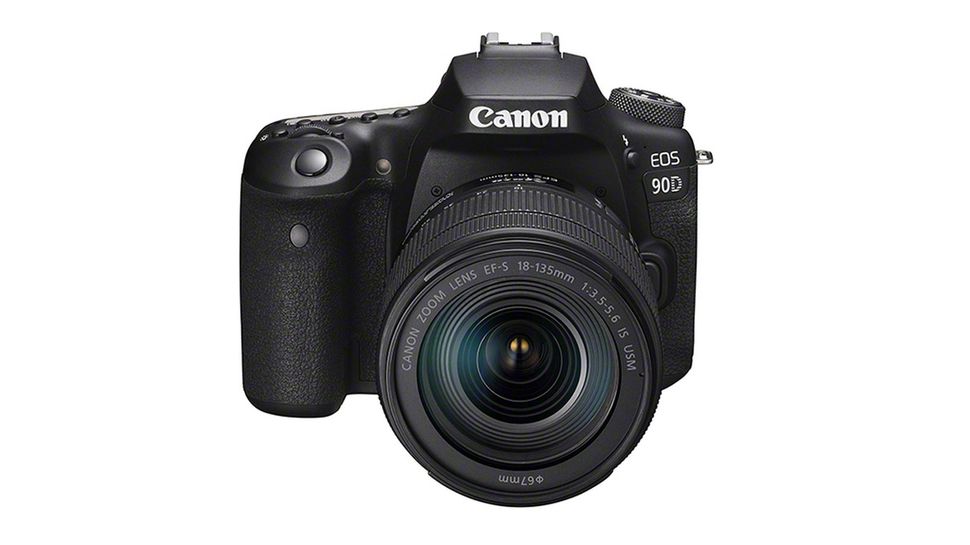 (opens in new tab)
Sitting at the top of Canon's APS-C DSLR range of cameras, the EOS 90D packs in a 32.5-megapixel sensor. One of the most densely packed APS-C sensors, this adds a little bit more in the way of resolution over its rivals.
While it feels a little plasticky places for our tastes, the EOS 90D is weather-sealed so should be up to the job of when shooting out in the elements. We're big fans of the EOS 90D's touchscreen interface, while the Dual Pixel CMOS AF system when shooting in live view delivers incredibly quick focusing, Add to that Canon's polished control layout and the wealth of Canon EF lenses out there for the EOS 90D and this is a great option for those looking to upgrade.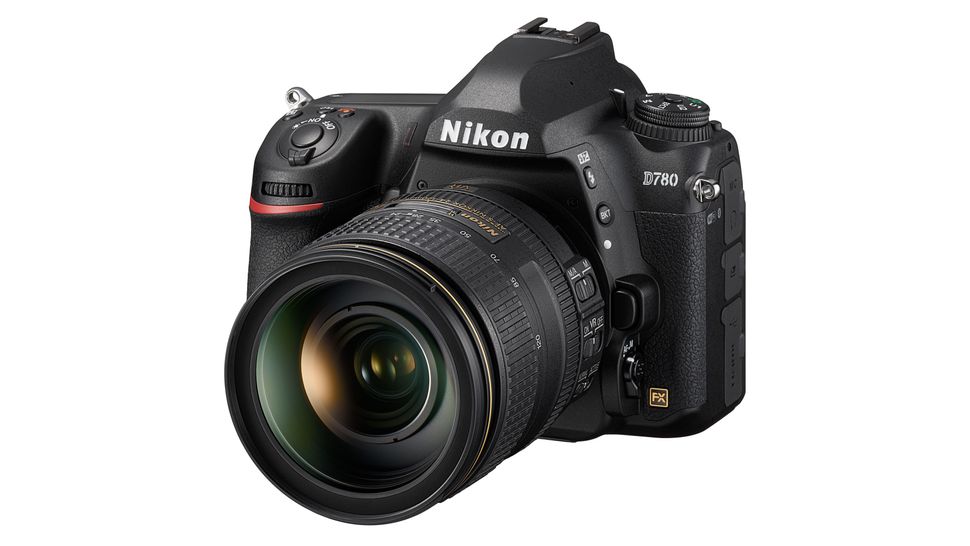 (opens in new tab)
Nikon's enthusiast full-frame DSLR is a brilliant DSLR. An upgrade to Nikon's incredibly popular D750 (opens in new tab), many thought we wouldn't see a new model with the march of mirrorless. However, Nikon's been crafty and distilled some of the tech from its own range of mirrorless cameras and dropped it in the D780.
The most notable element being the 24-megapixel full-frame sensor from the Z6 (opens in new tab). A much more advanced sensor than the one found in the D750, it not only performs better in low-light, but thanks to the on-sensor phase detection autofocus, live view focusing speeds are now much, much quicker.
This is supported by a high-resolution touchscreen and large optical viewfinder, as well as 4K UHD video and dual UHS-II SD compatible card slots. Handling is a dream and the build is very solid, making it a great landscape shooters camera.
Read more:
• Best lenses for landscape photography (opens in new tab)
• The 10 cheapest full frame cameras (opens in new tab) you can get right now
• The best full-frame DSLRs (opens in new tab) to choose
• These are some of the best tripods (opens in new tab) to buy today
• Which are the best camera backpacks (opens in new tab) right now?
• The best tablets for photo editing (opens in new tab) and photographers