The Sony Xperia 10 III is officially available to pre-order in the UK, offering 5G connectivity, an extended battery life and a stylish and compact water resistant body. This mid-range handset is designed to balance speed, power and portability – and we're sure it will prove popular with fans of the best Sony phones.
Sony Xperia 10 III pre-order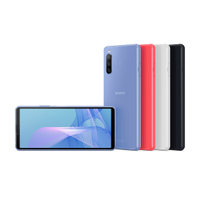 Sony Xperia 10 III | Only £399
If you're in the UK, you can pre-order the Sony Xperia 10 III at this link. With 25% more battery capacity than the previous generation, a 21:9 Wide 6" notchless FHD+ OLED display and a triple lens camera for under £400, this handset is a great balance between high-end specs and affordable pricing.
This latest update to the Xperia 10 series is the first to offer 5G connectivity, plus a whole host of entertainment features that are designed to offer a great mid-range experience.
The Sony Xperia 10 III features the Qualcomm Snapdragon 690 5G chipset and a 4,500mAh battery, which will offer 25% more capacity than the Xperia 10 II and is designed to remain healthy for up to three years of use. The Xperia 10 III has IP65/IP68 water and dust resistance and uses Corning Gorilla Glass 6.
With a 21:9 Wide 6" notch-less FHD+ OLED display, the Sony Xperia 10 III is designed to provide a fantastic cinematic experience – plus the DSEE Ultimate audio technology is designed to give high resolution audio quality as well.
Meanwhile, the Sony Xperia 10 III features a triple lens camera, including an ultra-wide 16mm, a wide 27mm and a telephoto 54mm option. The auto mode on the Xperia 10 III also features animal detection, which is apparently capable of identifying whether a subject is a dog or a cat. This is then able to adjust the shutter speed and ISO sensitivity accordingly.
However, this isn't the only exciting camera feature on the Sony Xperia 10 III. It also has a burst mode of up to 10fps and 4K video recording with SteadyShot for smooth, shake-free footage. Plus, the Auto HDR mode helps to prevent under- and over-exposure to ensure that key details are kept visible.
Read more
Best budget camera phone
Best iPhone for photography
Best Sony lenses
Best camera for TikTok
Best TikTok lights
Best camera for Instagram
Best iPhone tripod