The Memorial Day camera sales have thrown up some incredible deals so far, but this B&H bargain offers serious savings for cinematographers: the Canon EOS C300 Mark II has been slashed by $1,500, and comes with a free Touch Focus Kit worth an additional $1,477.86 – a total of $2,977.86 in savings!
The Canon EOS C300 Mark II with Touch Focus Kit is on sale for $7,499, down from its SRP of $8,999 – but that's just the tip of the iceberg.
In addition to one of the best cinema cameras on the market, this bundle also includes a 4-inch Canon LM-V1 LDC monitor (worth $599), Canon MA-400 microphone adapter ($499), Canon UN-5 cable ($295), Manfrotto 492 LCD Micro Ball Head ($74.88) and other extras!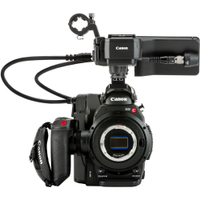 With the imminent arrival of the Canon EOS C300 Mark III, the still-brilliant C300 Mark II is available for a ridiculously good price – as is the case with this Touch Focus Kit, which gives you virtually everything you need to get shooting out of the box.
Just add your preferred EF lenses and a microphone and you're ready to roll with one of the best Super 35mm cine cameras out there – as used in productions like Oscar-winning Netflix documentaries!
Read more:
The best Memorial Day sales: Cameras, lenses, laptops and more!
Canon Memorial Day camera and lens deals you can get right now
Memorial Day sale: Camera deals at B&H right now
Memorial Day sale: Camera deals at Adorama right now
HP slashes laptop prices in Memorial Day sales by up to 55%