The Memorial Day camera sales (opens in new tab) have thrown up some incredible deals so far, but this B&H bargain offers serious savings for cinematographers: the Canon EOS C300 Mark II has been slashed by $1,500, and comes with a free Touch Focus Kit worth an additional $1,477.86 – a total of $2,977.86 in savings!
The Canon EOS C300 Mark II with Touch Focus Kit is on sale for $7,499 (opens in new tab), down from its SRP of $8,999 – but that's just the tip of the iceberg.
In addition to one of the best cinema cameras (opens in new tab) on the market, this bundle also includes a 4-inch Canon LM-V1 LDC monitor (worth $599), Canon MA-400 microphone adapter ($499), Canon UN-5 cable ($295), Manfrotto 492 LCD Micro Ball Head ($74.88) and other extras!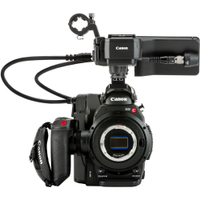 (opens in new tab)
Canon EOS C300 Mk II + Touch Focus Kit: $7,499 (was $8,999) (opens in new tab)
This amazing bundle represents $2,977.86 in total savings, built around the C300 Mark II cinema camera. With its EF mount, you can use Canon's vast range of native lenses without being slave to expensive cinema glass!
With the imminent arrival of the Canon EOS C300 Mark III (opens in new tab), the still-brilliant C300 Mark II is available for a ridiculously good price – as is the case with this Touch Focus Kit, which gives you virtually everything you need to get shooting out of the box.
Just add your preferred EF lenses and a microphone and you're ready to roll with one of the best Super 35mm cine cameras out there – as used in productions like Oscar-winning Netflix documentaries (opens in new tab)!
Read more:
The best Memorial Day sales: Cameras, lenses, laptops and more! (opens in new tab)
Canon Memorial Day camera and lens deals you can get right now (opens in new tab)
Memorial Day sale: Camera deals at B&H right now (opens in new tab)
Memorial Day sale: Camera deals at Adorama right now (opens in new tab)
HP slashes laptop prices in Memorial Day sales by up to 55% (opens in new tab)