As had been widely rumored, Canon has officially announced the Canon EOS C300 Mark III. The manufacturer's latest cinema camera features a new Super 35mm 4K CMOS DGO (Dual Gain Output) sensor that is capable of over 16 stops of dynamic range, and records in a host of hi-res formats.
The Canon EOS C300 Mark III is a modular camera system, like the full-frame Canon EOS C500 Mark II that debuted last year. This flexible design can be configured according to the shooting and equipment requirements, right down to the lens mount – which can be changed between EF, PL or EF Cinema Lock without the need of converting by a service center.
An electronic viewfinder can be added, as can two different Expansion Units to provide extra connection terminals in order to expand compatibility and connectivity depending on the situation.
• Read more: Canon EOS R5 "cinema industry-standard" 8K specs
The real magic is in the new DGO sensor, though – and the C300 Mark III is the first of Canon's bodies to feature it. It achieves remarkably clean low light picture quality as well as HDR acquisition, thanks to the Dual Gain Output imaging system.
Every pixel on the sensor is read out with dual amplification levels: one high gain (which prioritizes saturation in highlight areas) and one low gain (which suppresses noise in shadow areas). These two amplification levels are then recombined, at pixel-level accuracy, to achieve an incredible 16 stops of dynamic resolution.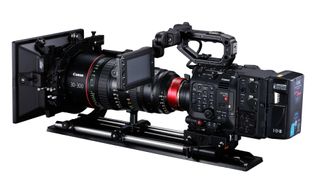 Combined with Canon's latest video processor, Digic DV 7, 4K and HDR can be recorded with more fluidity. This also enables the camera to process high-speed recording, including 4K video at up to 120fps in Super 35mm and 2K video at up to 180fps at Super 16mm.
The Canon EOS C300 Mark III's internal recording options include 4K Cinema RAW Light at 10- or 12-bit, 2K RAW (in Super 16mm Crop) at 10- or 12-bit, and XF-AVC (MXF) at 4:2:2 10-bit ALL-I or LongGOP.
The camera also incorporates Electronic Image Stabilization in the body for supporting 5-axis camera shake correction. So even if "dumb" lenses (with no electronic contacts) are mounted, stabilization can be achieved by informing the camera of the optic's focal length.
The Canon EOS C300 Mark III will be available from June for $10,999 / £10,499.99.
Pre order the Canon EOS C300 Mark III from B&H
Pre order the Canon EOS C300 Mark III from Adorama
Pre order the Canon EOS C300 Mark III from Wex Photo
Read more:
Canon EOS R5 declares 8K war with "cinema industry-standard" specs
The best 4K camera for filmmaking in 2020 for photographers, vloggers, pros
The best cinema cameras in 2020: stepping up to full scale filmmaking