Today marks the launch of the newly designed Polaroid Now camera – which itself marks the long-awaited unification of the Polaroid Originals and Polaroid brands.
Intended to be a Polaroid camera for now, the Polaroid Now has been redesigned with a new look and feel befitting the new decade – and it has some new tricks, too, namely a newly developed autofocus lens system "that automatically switches between distance and portrait formats – for a more precise shot each time."
The camera also boasts longer lasting battery life and, importantly, a brighter flash – and the superior illumination provides noticeably better image quality, making the Now a top contender for the best instant camera title.
• Read more: Polaroid Now review
Ergonomically the camera takes one step (sorry) away from the angular, hard-cornered features of previous bodies like the Polaroid OneStep2, featuring softer and more rounded edges that make it more comfortable to shoot with.
"In the 70's, Polaroid changed the rules of branding with the introduction of bold, full panel rainbow spectrums across our product lines, inspiring a host of legendary brands to this day," said CEO, Oskar Smolokowski.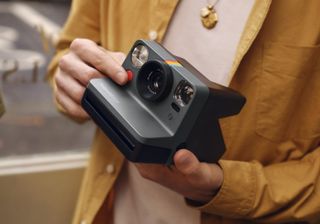 "As this new decade marks a new chapter in the Polaroid story, it's a moment for us to celebrate that heritage, while keeping our sights set on the future. The new identity for 2020 reflects this, boldly reclaiming the colour spectrum as uniquely Polaroid."
To further commemorate the occasion, Polaroid is launching a new special edition film. Colour Wave "features a host of hues, from moody blues to warming orange and red frames, perfect for moments in the sunshine." It is also introducing Colour i-Type Film – Black Frame Edition as a permanent fixture in the company's lineup.
(For those keeping track, the original Polaroid Corporation filed for bankruptcy in 2001, after which the brand was used for everything from DVD players to sneakers. In 2008 The Impossible Project was founded after the Polaroid holding company exited the instant film business. In 2017 Smolokowski acquired the brand and IP of the original Polaroid Corporation, renaming Impossible to Polaroid Originals – and now it will assume the Polaroid name.)
The Polaroid Now is on sale now for $99.99 / £119.99 (Australian pricing to follow) in the core black and white colorways – and, for a limited time, it is available in each of Polaroid's five iconic rainbow colours: red, orange, yellow, green and blue.
The new Color i-Type Films, Black Frame Edition and Color Wave Frame Edition, are also available now for $16.99 / £15.99 per pack.
• Order the Polaroid Now from B&H
Read more:
The best instant cameras in 2020 – from best instax to best Polaroid cameras
Best digital instant cameras: hybrid cameras and instant printers
Polaroid OneStep2 review