Nikon has announced its new flagship camera, the Nikon Z9 – a mirrorless camera featuring the Z mount, a full-frame stacked CMOS sensor and 8K video capability, which will be available this year.
The Nikon Z9 was revealed in a short development announcement, so full specifications were not revealed, though its 8K functionality will put it in the same technical wheelhouse as the Canon EOS R5 and Sony A1. The official image reveals that It bears the 'pro DSLR form factor' of the Nikon D6, with a built-in vertical grip (and, presumably, an extra-large battery with increased capacity).
• Read more: Best professional cameras
What else can we tell from the image? It appears that the mode dial is replaced by a bank of buttons – the bracketing button is visible, there will likely be a Mode button to cycle between PASM, metering and WB functions. There's seems to be a locking knob next to it, suggesting that the bottom portion rotates – which could be for quick selection between single / continuous / self-timer / M-Up shooting modes.
"Nikon Inc. is pleased to announce the development of the first flagship model for which the Nikon Z mount has been adopted: The Nikon Z9," reads the official announcement. "The full-frame (Nikon FX-format) mirrorless camera is scheduled for release in 2021, and represents a significant leap in technology and performance.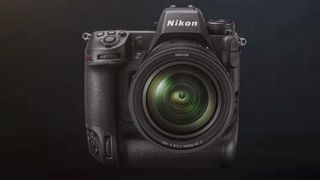 "The Z9 brings together Nikon's groundbreaking technologies to deliver the best still and video performance in Nikon history, meeting the advanced needs of professionals in a wide range of genres. It utilizes a newly developed FX-format stacked CMOS sensor and new image-processing engine.
"In response to the growing needs of professionals, advanced enthusiasts and cinematographers, it includes support for 8K video recording as well as various other video specifications that fulfill diverse needs and workflows. The Z9 embodies ultimate usability as a tool, offering users an unprecedented imaging experience from capture to workflow exceeding that of previous digital-SLR and mirrorless cameras."
This jibes with a recent statement by Nikon's Keiji Oishi – department manager of Nikon's Imaging Business Unit, UX Planning Department – where he noted that, "A flagship Nikon Z-series mirrorless camera can be expected within the year, and is being developed with the goal of surpassing the D6."
It also gives credence to our previous report that an 8K Nikon camera – which "might be seen as better" than the Sony A1 – will be arriving in spring or summer. According to insider Thom Hogan in that story, the 8K camera may have the same resolution as the Nikon Z7 II, though it will trump its 10fps top shooting speed.
Could the Nikon Z9 be ready in time for the Tokyo Olympics in July? It certainly seems possible…
Read more:
Best Nikon cameras
Nikon D6 review
Nikon Z7 II review
Best Nikon Z lenses
Canon EOS R5 review