The Panasonic Lumix S5 joins three existing Lumix S models, and the Panasonic Lumix move to full-frame has been largely positive. The Lumix S-line of cameras and lenses are capable of capturing sumptuously attractive photos and videos. But two criticisms in particular have been tough for Panasonic to shake – autofocus and size.
The Lumix S5 aims to tackle both of those points and it smashes at least one of them; size. Panasonic has packed some of the best tech inside the significantly larger Lumix S1 and Lumix S1H, into a camera body smaller than the Micro Four Thirds champions, the Lumix GH5 and Panasonic Lumix G9. It's nothing short of witchcraft.
It's not completely clear cut, as our Panasonic Lumix GH5 II vs S5 comparison shows, but it's close enough to leave a lot of filmmakers and vloggers wondering whether to switch to the Lumix S format.
Larger full-frame sensors are the professional photographer's standard, but they're less common in the video world. The benefit is that they can gather more light as they have about 2.5 times the surface area of APS-C sensors found in rival cameras like the APS-C King, the Fujifilm X-T4.
A larger surface area and a humble 24.2MP resolution means the Lumix S5 has large pixels of approximately 5.93 microns. More light gathering capability improves noise handling at low light, but it also means the S5 has an impressive dynamic range, rated to around 14 stops. The new Sony A7C matches this claim but doesn't match the S5's specs, and neither does any other full frame camera at this price point. You'll have to spend another $1,000/£1000+ to invest in the Sony A7S III for a genuine step up in performance for lowlight shooting and general video specs.
In some ways the Lumix S5 is what we'd hope from in a Lumix GH6, so where does the release of this new camera leave the popular GH-line? We will have to wait for Lumix to announce the next phase for any potential successor to the GH5. But at this price point and with a full-frame sensor, the Lumix S5 doesn't leave much space below it.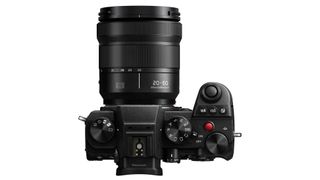 Specifications
Sensor: 24.2MP CMOS full-frame sensor
Lens mount: L mount
Image processor: Venus Engine
AF points: 225-area DFD contrast AF
ISO range: 100 to 51,200
Max image size: 6000 x 4000
Metering modes: 1728-zone multi-pattern sensing system, centre-weighted, spot
Video: 4K/60p 10-Bit 4:2:0, FHD 180 fps S&Q mode
Viewfinder: EVF, 2.36m dots
Memory card: 1 x SD/SDHC/SDXC (UHS I), 1 x SD (UHS-II)
LCD: 3-inch vari-angle touchscreen, 1.84m dots
Max burst: 7 fps (mechanical shutter), 6K Photo Mode (18MP @ 30fps)
Connectivity: Wi-Fi, Bluetooth
Size: 132.6 x 97.1 x 81.9 mm
Weight: 714g (body with card and battery)
Key features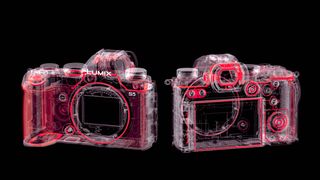 Sharing the same 24.2MP full-frame sensor as the Lumix S1, the S5 builds upon a proven platform. The Lumix S1 is a fantastic camera, held back perhaps only by its relative heft. But the point is that the S1 performs brilliantly in terms of image quality, so the S5 has nothing to prove in this regard.
The standout features of the S5 are related to the fact that it's super compact and comes in at a highly competitive price. It offers Lumix colours and full-frame quality in a much smaller body. It also adds JPEG + RAW capture to its sensor shift-based 96MP high resolution mode, which is a fantastic upgrade.
Capturing fast subjects can be done with either 7fps mechanical shutter for about 30 frames (RAW+JPEG) or using 6K-photo mode, which can record 30fps for up to 15 minutes and allows you to grab 18MP stills from the resulting footage.
The S5 also sees the addition of a Live View Composite mode, which allows you to see what you're capturing in real time when shooting night scenes or astro photography for example. It does this by only processing changes in the light detected by the sensor. This makes producing winning shots of scenes like fireworks or light painting significantly easier, all in-camera.
The Lumix S5 can capture a maximum 4K/60p 10-Bit 4:2:0 video with a data rate of 200Mbps. If you need greater colour depth, 4K/30p 10-Bit 4:2:2 video is also available internally. 10-bit video is limited to 30 minutes recording, but there's no wait time to begin recording again. There's no time limit on any of the other video recording modes.
The Lumix S5 also comes with all of the V-Log enhancement options built-in that Lumix S1 owners had to shell out around £150 extra for to get the required 'software key'. The S5 also comes with anamorphic modes built in, waveform monitoring, Dual Native ISO and will get further features and functionality from the S1H towards the end of 2020.
These additional free firmware upgrades include 5.9K RAW video recording to Atomos Ninja V, vector scope display, shutter angle control and more. Once these updates are included, you'll effectively have a full-frame Lumix GH5 or a mini Lumix S1H – whichever way you want to look at it.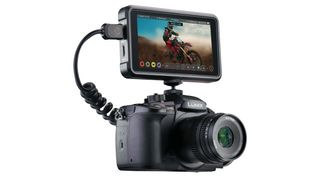 To my surprise, Panasonic managed to retain in-body I.S. in the Lumix S5. It's rated at up to 5-stops of stabilization and, depending on the Micro Four Thirds lens used, will implement Dual I.S. for up to 6.5 stops of stabilization with compatible stabilized lenses.
Further stabilization can be called upon in the form of Boost I.S. and E-Stabilization. E-stabilization incurs a slight crop. Boost I.S. is the most aggressive form of stabilization and will produce a look similar to using a tripod when shooting handheld. It's not ideal for capturing video while moving the camera as it will cause sudden judders as the camera counters your movement to keep the frame steady.
A fully articulated screen, almost identical to the one sported by the Lumix G100, takes the place of the tilting touchscreen on the S1 and S1R. But cosmetically, the Lumix S5 shares the S-series aesthetic. Dual SD card slots are included here, one UHS-II compatible, the other UHS-I. It's an odd choice to not go with two fast UHS-II slots like Fujifilm and Canon did with the X-T4 and EOS R6 respectively. But none of the internal recording options in the S5 at launch require UHS-II SD card speeds, so you won't be held back by this. I would have just preferred to have both slots match.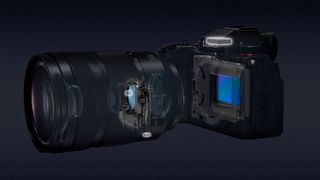 The S5 is rated as water and dust resistant, but lacks the freeze resistance rating of its bulkier stablemates. It has all of the ports, including USB Type-C, which can provide power while recording and can also be used to tether the S5 and use it as a webcam. But the HDMI output is micro size, and this will undoubtedly bother some potential S5 owners. However, if you invest in some quality cables from a brand like ZILR, you can mitigate the inherent fragility of the port type.
Lumix as a brand has been affected by the perception that its DFD Contrast detection AF simply isn't fast enough. The S5 attempts to challenge this with an updated AF system that benefits from smarter algorithms and improved processing. At launch it outperforms the other S-series cameras, although a firmware update is being rolled out across the system to bring the others up to the same speed.
Overall, the Lumix S5 is a curiosity. Its feature list is extensive and very few corners seem to have been cut here to keep size and cost down. Borrowing so many features from the S1H, the S5 renders the S1 redundant in many ways. It has almost all of its tricks and more, at a significantly lower price.
Build and handling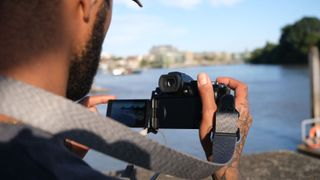 Despite being positioned at the advanced enthusiast/amateur market, the Lumix S5 is built around a tough, magnesium alloy frame that makes it feel very much made for professional use. Packing all of its incredible tech into a body smaller than the Lumix GH5 and keeping the price tag below £2,000/£2000 comes with some compromises, though.
So what's new? The Lumix S5 has a 3-inch fully articulated display, and I'm near certain that it's the same one used on the vlogger-focused Lumix G100. Touch-screen functionality works well and in all instances, whether moving the focus point or navigating the menus. Its articulated arm feels smooth and sturdy enough and it can be turned inward to protect the screen in transit. One bug for me though is that when you have a micro-HDMI cable inserted, it's not possible to use the screen tilted upwards (flat) towards you. Reduced motion of the screen is usually caused by the microphone or headphone inputs, but these are placed above and out of the way of the display's rotation. The issue is that the protective door for those ports blocks about 6mm of the top left corner of the screen. It's not a huge issue, but it is noticeable if you're running a shotgun mic or wireless transmitter out of the mic port using the display to frame yourself while vlogging for example.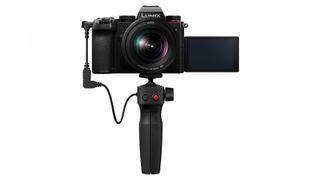 Weighing around 1kg with its LUMIX S 20-60mm f/3.5-5.6 kit lens attached, the S5 is perfectly balanced for vlogging, however. An extended arm will get you completely in shot with plenty of room in the frame for locational context. I also love the general ergonomics of the S5. Compact cameras often run the risk of feeling dinky and fragile. But the S5 is anything but. It offers a deep grip, with tactile rubberised finish and has a sensible button layout that gives intuitive access to its main functions.
There are slight cosmetic differences from the other S-line cameras, including the removal of a display from the top plate. Instead there's a mode dial, with an S&Q mode added for easy access to specialized high or low frame rate recording. Drive, bracketing and timer shooting functions sit on the left shoulder of the S5. As mentioned in the features section, the S5 has a USB Type-C port that can supply power while the camera is in use, but it also comes with a dedicated battery charger in the box.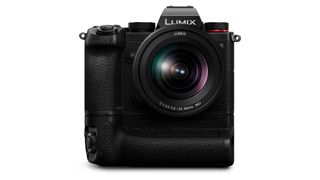 Another area of compromise is the S5's electronic viewfinder. The 5,760K-dot EVF of the S1 is one of my favourite features on that camera, so it feels like a significant step back to drop the S5's resolution so low to 2,360K-dots. Even the G100 has a higher resolution EVF at 3,680k dots. The S5's EVF does offer both 60Hz and 120Hz refresh rates, rendering the issue of lag imperceptible at its highest setting.
There's a new DMW-BLK22 battery, which I would have happily done without. Although it performs well and in some cases will outlast the battery in the larger Lumix S1, it's just frustrating to have a system that doesn't share batteries across the range. This is especially annoying when the S5 makes for such a perfect additional camera if you are an existing S1 or S1H owner. Oddly, the new battery is however compatible with the GH5/G9, so you can use it in those cameras if you own them – but you can't use their batteries in the S5.
As far as quality goes though, the Lumix S5 is solid, well balanced and deceptively compact. It's easy to forget that you're getting full-frame quality out of such a small body. It's a little larger than Sony's full frame bodies and physically smaller than Canon's EOS R6, despite weighing a fraction more. But most importantly, the S5 comprehensively addresses the criticisms of the Lumix S-bodies being "too bulky".
Performance (AF, stabilization)
The first thing you want to know is how good (or bad) are the S5's autofocusing capabilities. So let's dive straight in. It is noticeably improved over the previous S-series cameras. Body, head and eye detection is responsive and sticks with subjects tenaciously. However, detection and actuation are two separate challenges. And this is ultimately where we experience the limitations of the Lumix depth from defocus contrast-based AF system.
DFD Contrast AF works by analysing the movement of subjects between frames. Lumix cameras use that information to calculate and anticipate the position of a moving target and actuate the AF motors accordingly. There are a couple of issues with this approach, particularly when it comes to AF-C and video recording. Shooting at lower frame rates provides fewer frames for the camera to analyse, affecting the predictive and tracking capabilities of the camera's AF system. It's the reason why AF-C speed and performance drops when using an external monitor or shooting in 4K/24p for example. To get maximum AF consistency, you need to increase your shutter speed or shoot at a higher frame rate, like FHD/60p or 4K/60p, for example.
Below is a video test showing the different stabilisation modes of the Lumix S5 both walking and filming, and from a static shooting position:
There's a noticeable improvement in the intelligence of the S5's AF system, meaning that it hunts less than the older S models. But it occasionally drifts or refuses to focus for no apparent reason, despite the tracking box appearing to accurately detect exactly what I want it to, be it an eye, face or animal. In comparison with the Sony A7 III though, the S5 seemed to keep pace and in some cases outperform the phase-detecting Sony, which is famed for its AF performance. So it's tough to make an assessment of the S5's autofocus system overall. It is possible to make adjustments to the S5's AF sensitivity and speed though, so perhaps you'll be able to mix it to taste with some tinkering.
When it comes to photography, I found the AF much more consistent. Shooting at its max burst rate of 7fps, I found the majority of shots were bang on, with the odd frame slightly off. There is one quirk with the way the S5 displays the AF targeting that could do with improving. When in single area AF and you half press the shutter or hold the AF-On button, the camera re-exposes briefly to acquire focus and then locks on. But unless you use the beep – I hate the beep so I don't – you can never be fully certain that the camera has focused correctly before you to take the shot. That's because the targeting box is green and remains green the whole time you hold AF-On or half press, whether it's in focus or not. In multi-area AF modes the green box at least moves around to show you which area it's focused on. Ideally in single area AF I'd like the box to remain grey and only become green once focus is achieved. It's a small quirk but one I'd love to see addressed as it would fill me with greater confidence, particularly when firing off a lot of frames successively.
To answer the question of the Lumix S5's AF performance unequivocally, it is an improvement. It's detection is super quick and it performs particularly well when taking photos. But when it comes to keeping subjects consistently in focus in movie mode it still lags behind the best autofocusing systems around. If you rely heavily on AF-C during video recording with moving subjects you may want to consider the Sony A7SIII (current champ), the Canon EOS R6 and EOS R5, or the Nikon Z6, Z7 and Z5.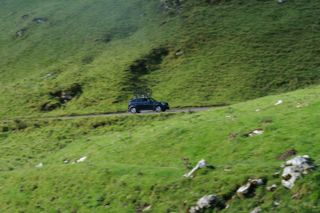 Despite its compact size, the S5 does offer 5-axis sensor shift image stabilization. In use it works well and enables me to shoot handheld as slow as 1/6th of a second. This is great for night time or low light shots when you don't have a tripod or stable surface to compose your shots on. This is improved further if you can pair the S5 with an I.S. lens, then it will offer up to 6.5 stops of stabilization, which is most notable while shooting video handheld or walking. In comparison with the GH5, I'd say the S5 was on par, but it doesn't feel quite as stable as the I.S. system used in the Lumix S1.
• Best Micro Four Thirds lenses
Picture/video quality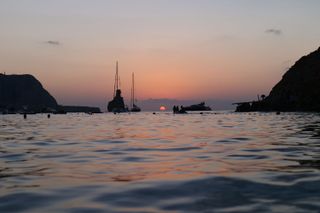 This is really where the S5 leaps ahead of the competition when comparing hybrid cameras in the same price bracket. The low-pass filter free 24.2MP CMOS sensor housed in the S5 captures stunning images with depth, detail and rich tonality. Even shooting JPEG only, there is some recoverable data in the highlight and shadow areas of the image to correct slight underexposure. If you shoot RAW, you'll be even more delighted by the sensor's latitude. Shooting a high contrast landscape scene for example, you can afford to blow out the clouds a touch in favour of shadow detail and recover it all in post.
It also handles noise brilliantly, delivering usable images comfortably up to 6,400 and perhaps a little beyond in certain circumstances. This is extremely good in situations where light is limited and you want to keep your shutter speed high, such as wildlife at dusk and dawn, as well as live performances.
Borrowing many of the features and functionality from the Lumix S1H, the S5 is a tough camera to beat in terms of video at this price point. It simply can't be matched in terms of dynamic range, and only the Sony A7S III beats it in this camera class. Shooting in V-Log, the S5 is rated to deliver in excess of 14-stops, but in use I found it came in closer to 12.5-stops of usable dynamic range. This is still much better than the Canon EOS R5.
The quality of the S5's video does suffer somewhat when you dip into S&Q mode though. Unless you can expose your scene perfectly, there's very little room for corrections in post when shooting beyond 120fps FHD or 60fps in 4K. The slightest adjustments to video captured in these modes will introduce banding and noise. But overall the look from videos captured with the S5 appear filmic and manage to capture a lot of detail without looking particularly digital.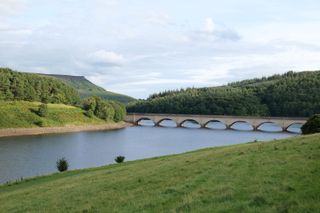 Then there's the color science. Lumix colors are simply beautiful. Regardless of skin tone, I've found that the S5 renders skin and scenes faithfully, with consistency and a pleasing fullness to the color. There's no inexplicable color shift towards green or magenta as I've experienced with some Sony and Nikon cameras in this bracket. With the Sony A7 III and Nikon Z5 the most natural competitors to the S5, the color and dynamic range alone would see me choose the Lumix without hesitation.
The Panasonic 20-60mm f/3.5-5.6 kit lens that comes with the Lumix S5 may be a little slower than I'd like, but it performs well in terms of build and image quality. I noticed very little in the way of chromatic aberrations, such as flaring or fringing, and only experienced noticeable issues with corner softness and vignetting at its maximum 20mm range – these are cleared up at around 24mm.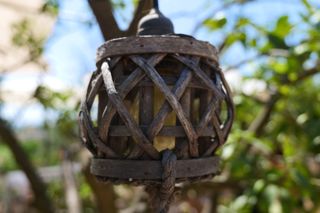 The focal range is highly usable and covers everything from landscapes and vlogging – even with a 1.5x crop at max quality 4K-video – to street scenes and portraits. I'm not a fan of variable apertures, but the ISO performance of the S5 goes some way to mitigating the issue. A fixed 2.8 aperture would have been a dream though. But considering it only adds $200 to the price of the body S5 body-only, this kit lens represents impressive value for money.
Lab data
We compared the Lumix S5's lab results with those from three rival full-frame mirrorless cameras to see how it compares technically: the Canon EOS R6, Nikon Z6, and Sony A7 III.
Resolution: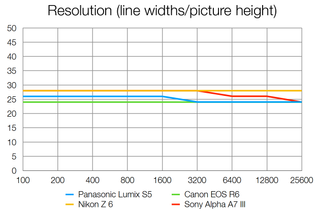 Resolution is measured in line widths/picture height, a widely used standard for resolution measurement that's independent of sensor size.
Though all the cameras apart from the EOS R6 have ~24MP sensors, the Lumix S5 can't quite resolve the same amount of fine detail as the Z 6 and a7 III. This is likely due to the S5 producing more moiré on the tight parallel lines on our resolution test chart, effectively blurring them slightly and reducing the resolution score. In real-world shooting, the Panasonic, Nikon and Sony cameras resolve very similar amounts of detail.
Dynamic range: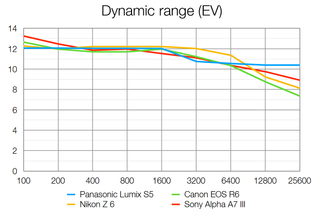 Dynamic range is measured in EV (exposure values, or 'stops'). It's a measure of the camera's ability to record detail in extremely bright and dark areas of the scene. The higher the value, the better.
The S5's dynamic range is remarkably consistent throughout the tested sensitivity range, Though it's not class-leading at lower sensitivities, it matches the rival cameras through the ISO 200-6400 region, and then comes out on top at the upper end of the sensitivity scale.
Signal to noise ratio: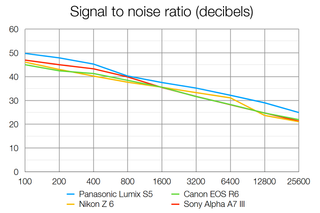 Our signal to noise test measures image clarity, specifically the ratio of the actual image 'data' you want to capture, versus the image noise that you don't want, but will inevitably be visible when shooting at higher ISO sensitivities. The higher the score at a given ISO sensitivity, the better.
Here the S5 excels, producing cleaner images than its rival cameras at all tested ISO sensitivities. Noise is noticeably less evident, and this is with all noise reduction disabled, both in-camera and in raw processing.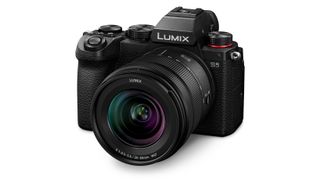 Verdict
At this price, including its kit lens, the Lumix S5 is the hybrid camera to beat. It offers stunning full-frame image quality, class-leading video performance and matches a camera that costs almost $1,000/£1000 more in terms of dynamic range.
These facts alone would be impressive if the price was only thing that's relatively small about the S5. But it's also compact, weighing about 1kg with its kit lens attached. The Lumix S1 weighs that without a lens. And that's what brings us to the ultimate curiosity around the release of this camera. Most brands throttle the performance of their entry-level cameras so as not to cannibalise sales from the cameras above. But this is Lumix we're talking about, and the Lumix S5 offers no-holds-barred video features.
The introduction of the S5, which retains many of the features that the Lumix S1 has and surpasses it with features borrowed from the S1H – in a smaller frame makes the case for buying an S1 much harder. It also makes the Lumix S5 the most attractive $2,000/£2,000 camera for hybrid shooters with a leaning towards video.
Where does that leave a potential Micro Four Thirds successor to the GH5? I don't know. But I do know that if you're a hybrid shooter and want a compact camera with intuitive controls and great battery performance, that produces highly attractive, robust images, you can't go wrong with the Lumix S5.
Read more:
• Best L-mount lenses for Panasonic, Leica and Sigma mirrorless cameras
• Best full frame mirrorless cameras
• Best Panasonic cameras
• Best cameras for vlogging
• Best 4K cameras for filmmaking
• Best cameras for video