The best iPhone 11 Pro cases can be a little pricey, but since you've invested in a beautiful, expensive phone, we suspect you'll want to protect your fragile device with a fantastic phone case...
The best iPhone 11 Pro cases aren't necessarily the ones that Apple has designed: while they may be the perfect fit, they tend to be a little on the pricey side. Given that the iPhone 11 Pro is an extremely popular phone, it's not surprising that there are hundreds of case options available, so to help you to choose which one is the right fit for you and your phone, we've made a selection of the best ones here for you.
Remember that mobile phone cases are available in various shapes, sizes and price, and that some even have extra features.
In our roundup of the best iPhone 11 Pro cases, we've included different kinds of cases, from rugged design ones to folio wallets that wrap around your device. So whether you like loads of storage or a clear design sleeve to show off your Apple device, you're bound to find one that suits you here.
(The cases in this selection are for the iPhone 11 Pro, not the 11 or 11 Pro Max, so make sure you check out our other buying guides for those devices.)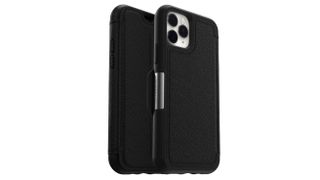 The Strada Series iPhone 11 Pro case by Otterbox is a stylish option for protecting your device. The hard polycarbonate shell with a layer of soft suede of atop offers maximum protection against drops, bumps and scratches. The folio case feels good to hold and there's a handy magnetic clasp to keep the phone case open. Plus, the cover has a storage slot that'll hold two credit cards or some cash.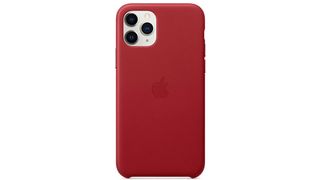 As it's an Apple-designed case, this leather case fits snugly over the curves of your iPhone 11 Pro without adding any bulk. While this feels great in your hand, the new leather can be a little slippery at first, but it's great once it's a little worn in. The case features some cool aluminum buttons to keep the quality feel of the iPhone 11 Pro's own buttons. And there are various colors to choose from: Black, Blue, Brown, Green, Yellow and Red.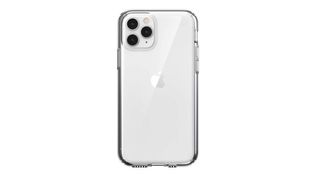 This clear case from Spec enables you to show off the elegant design of your iPhone 11 Pro. Unlike other clear cases, where time may take its toll on the material and eventually discolor is, this case uses a special coating to ensure that it stays clear as long as you own your iPhone. The case has a raised bezel that protects the screen from scratching or shattering if it falls face-down. What's more, Presidio's Impactium shock barrier technology has been designed to guard your phone from drops of up to 13 feet. Now that sounds good.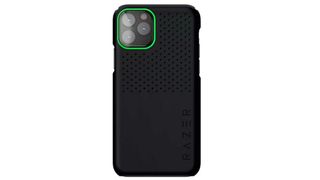 Razer has designed this Arctech Slim for iPhone 11 Pro case for 'unhindered gaming performance'. It has been built especially to reduce heat buildup that is common in most other cell phone cases; aiding long-term battery health and boosting overall smartphone performance. As the iPhone 11 Pro features a powerful CPU and GPU combination, and supports fast charging, it has lots of opportunities to heat up, however, the Razer Arctech Slim case is designed with a special layer that absorbs the phone's heat, and perforations in the case enable airflow so that your device stays cool. The case comes in lots of exciting colors too.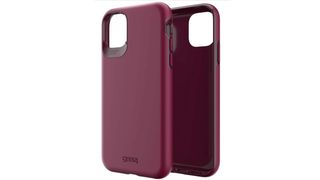 The Holborn case from Gear4 is ideal for fans of harder cases. It might be a little more expensive than others available, but is it said to offer drop protection of up to 13 feet. The case is built using D3O material (used for helmets) which offers advanced protection against knocks and drops. If you're after a case that offers great protection in a slim, soft-touch case, this is the one to go for.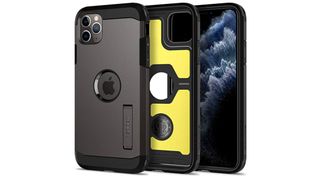 This Tough Armor case from Spigen offers good value to those looking for tough protection. The case is made of hard polycarbonate and soft TPU which will protect your device against all sorts of drops and scratches. The case's can protect the edges and back from drops, while the raised edges will keep your screen and camera safe. It's thin enough to allow wireless charging, and it has a cutout on the back to show off the Apple logo. There's also a handy feature for people who like to watch videos on their iPhone 11 Pro: an adjustable kickstand that holds the screen in the perfect viewing position.
If you're not particularly bothered about your device looking sleek and stylish, instead you want ultimate protection, then look no further. The Defender Series from OtterBox features a soft rubber slipcover that wraps around your device, and that sits in a hard polycarbonate shell which covers the back and sides of the phone. There's a holster included which adds a third layer of protection and serves as a kickstand. The three-layer build makes this the ideal iPhone 11 Pro case for people who are serious about protecting their phone and those on the go.
Read more
• Best iPhone for photography
• Best camera phone
• Best selfie sticks
• Best gimbal stabilizers