For this guide, we've rounded up the best iPhone XS cases available today. The iPhone XS, like all Apple phones, could be viewed as being too nice to put in a case, but there's a bigger argument for protecting your investment, so a case is a wise purchase.
To help you pick the best iPhone XS phone case for you, we've rounded up 10 options. Our top choice right now is the Mujjo Leather Wallet Case, as you'll see below. But the selection covers various budgets and styles, including wallets, clear cases, rugged choices and more.
They all offer at least basic protection and all pay attention to the iPhone's camera in one way or another, in most cases offering a raised lip around the lens, so it's less vulnerable when the phone is dropped.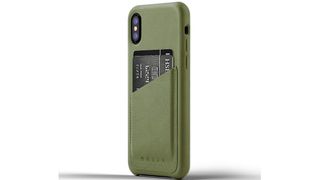 We think the Mujjo Leather Wallet Case is the best iPhone XS phone case right now, thanks to its mix of style, protection and extra features. On the style front, this is a leather case, so it looks and feels far more premium than most. As for protection, it has a raised lip around the camera to keep the lenses safe from flat surfaces, while the inside of the case is lined with microfiber, so your iPhone doesn't get scratched by the case itself.
Then we come to the extras. This Mujjo case doubles as a wallet, thanks to a slot on the back big enough for two or three cards. But unlike most wallet cases, it's slim and doesn't have a flap, making it far more conventional-looking. Plus, this is cheaper than Apple's basic leather case.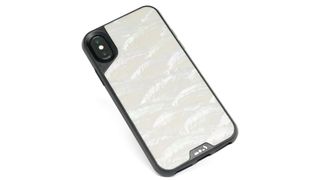 The Mous Protective Case is really several different cases, as it's available in a range of unusual and distinct finishes. Our favourite is the shell version, which uses real seashell on the back, but there are also carbon fiber, bamboo, leather and walnut options. Whichever version you choose you'll get plenty of protection for your phone. There are raised edges around the camera lenses to keep them safe, as well as an 'AiroShock' material inside that absorbs and disperses energy, so the case is shock-resistant while still remaining slim and stylish. Plus, Mous even throws in a free screen protector.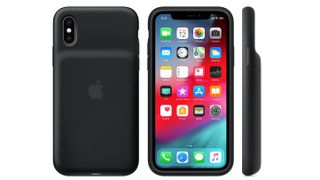 If you want to snap for longer, then you're going to want the iPhone XS Smart Battery Case. It comes with a built-in battery that can give you up to an extra 13 hours of talk time, or an extra nine hours of internet use. The case can also be charged at the same time as your iPhone and the total combined battery life will be displayed on your iPhone's screen, so it's almost like the case becomes a part of the phone.
It's bulky, expensive and plain, but coming direct from Apple you can be sure that the quality is high and that the cut-outs – including the one around the camera – are precise.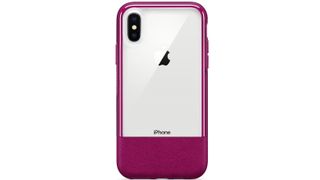 The OtterBox Statement Series Case is one of those cases that looks like almost no other cover, and there are a couple of reasons for that. Firstly, it's partially clad in felt, giving it a soft, unusual finish. Secondly, the top two thirds of the back are transparent, to show off your iPhone. While transparent cases are nothing new, it's usually all or nothing, not a mix of transparent and felt, as we have here.
Like other OtterBox cases, the Statement Series also has a precise camera cut-out and has been extensively drop-tested, so you can rest assured that it's fit for purpose. And if felt isn't your thing, there's also a leather version.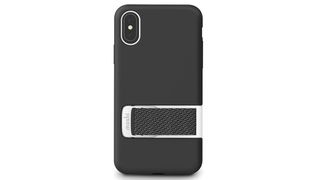 The Moshi Capto Slim Case looks fairly ordinary for the most part, as it's a plain hard-shell case. That is, plain other than a fabric loop on the back, that can be used not just as a kickstand, but also as a camera grip, so you're less likely to drop the phone when taking photos. Using the grip also gives you increased reach across the screen, making one-handed use easier. The Moshi Capto Slim Case also offers military-grade drop protection and a precise camera cut-out, so the lenses won't be obscured. Maybe it's not so ordinary after all, then.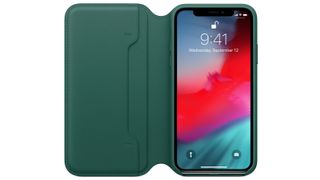 The iPhone XS Leather Folio is an official Apple case and one that's every bit as stylish as the iPhone XS it's designed for. It's a wallet case made from real leather, available in a range of colors. There's a flap on the front that adds some extra protection to the screen, and which can be used to house your bank cards, so you hopefully won't need to carry a separate wallet with you. A soft microfiber lining ensures the phone is cushioned, plus there are precise cut-outs for the camera and ports, and the case works with wireless chargers.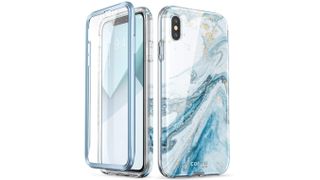 The i-Blason Cosmo Glitter Case definitely won't be for everyone, but if you want to add some sparkle to your iPhone then it could be for you. Rather than the fairly plain, arguably boring designs of most cases, this one comes with a colorful, glitter-heavy image on the back (there are several, quite different, images to choose from).
Beyond the look there are other reasons to consider this case; most notably the built-in screen protector, which ensures your iPhone's screen is far better defended than most cases can manage. It also has a scratch-resistant back plate, raised edges around the camera, and shock-absorbent corners, so this is one case that offers all-round protection.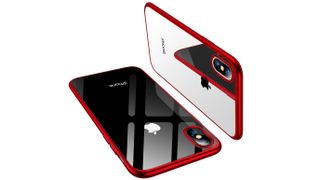 The Torras Slim Case is one of the more basic iPhone XS cases, and we don't necessarily mean that as a bad thing. It's incredibly slim, adding almost no bulk to the phone, and it has a transparent back, so you can see your iPhone in all its glory too.
The sides can be clear or colored, the latter either matching your phone or adding a nice two-tone effect. And despite being slim, the case still manages to have air-cushioned corners and raised edges around the camera and screen, so they're protected if you drop the phone on a flat surface.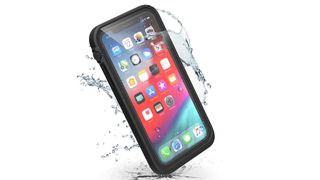 As you've probably guessed from the name, this Catalyst iPhone XS case is waterproof. By which we don't just mean water-resistant like the iPhone XS, but waterproof to a depth of 10 metres, so you can even take your phone swimming with this case on it. To achieve that, the case has to cover the entire phone, including both the screen and camera, giving them more protection than most cases do – though on the flip side you might not want even a transparent cover over your camera lenses.
As well as being waterproof, this Catalyst case also exceeds military drop test standards, meaning it's better at protecting your phone from a fall than most cases, which is no surprise when you consider the full body protection it offers. It even comes with a lanyard, so you're less likely to drop your phone when taking photos or doing anything else.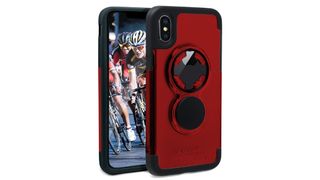 The Rokform Crystal Case has a clever trick up its sleeve in the form of a magnet that lets you stick the case onto most magnetic surfaces, such as a fridge. There's also a twist lock system and a car vent mount that enable you to mount it on other things, including cars and accessories for bikes and motorbikes.
In short, this case has a comprehensive hands-free system built in. It's tough too, with a soft, impact-resistant core and a hard protective shell, combining to help it succeed in drop tests from six foot. The camera is also slightly recessed and rest assured, that magnet we mentioned shouldn't interfere with Bluetooth, GPS or any other phone functionality.
Read more:
• The best camera phones right now
• Best gimbals for your smartphone or camera
• Best selfie sticks for your smartphone
• The best iPhone tripods