The Google Pixel 3 was once one of our top picks in our list of the 10 best camera phones and it's a great handset in other ways too. However, like most phones, it's fragile, where is where this buying guide comes in. We've rounded up the best Google Pixel 3 phone cases to keep your handset protected.
Choosing which case can be a challenge though. They're made of various different materials, have various different features and come in at various different prices. Some also do a frankly substandard job of protecting the camera lens.
To ensure you end up with the best option for you, we've rounded up 10 of the best Pixel 3 cases. You'll find cases for a variety of budgets and needs, all of which will keep your camera projected. Our current top pick is the Moment Photo Case, but if that doesn't appeal there's sure to be something for you here.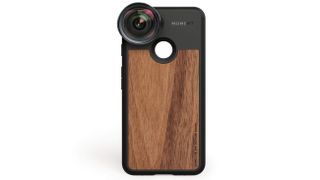 The Moment Photo Case is built with photographers in mind, as not only does it protect your Pixel 3 from shocks and scratches, it also supports Moment's lens attachments. These are sold separately, but significantly improve the phone's already impressive optics.
Additionally, the Moment Photo Case has a wrist strap attachment, so there's no chance of dropping your Pixel while taking a photo (though the strap itself is also sold separately).
The case looks great too. Most of the case has a rubberised finish, but there's a large panel on the back that comes in canvas, leather or wood, and gives the Moment case an unusual look and feel.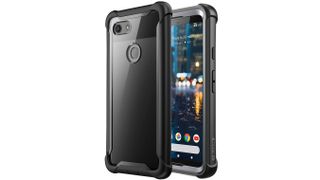 The i-Blason Ares Case stands out from most other rugged cases due to its built-in screen protector, which keeps the most vulnerable part of your phone as safe as possible. It also has raised bezels around the camera lens, so if your Pixel 3 hits the floor, the lens won't.
Other highlights include shock-absorbing bumpers, a transparent, scratch-resistant back, and a frame that's designed to offer a secure grip, so the Pixel 3 is less likely to slip out of your hands when snapping or chatting. And despite its chunky appearance, this i-Blason case still works with wireless chargers.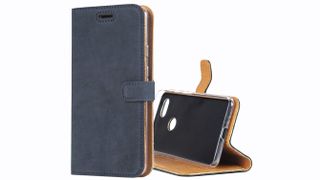 The Snakehive Leather Wallet should appeal on two levels. For one thing, it's made of real leather, giving it a classier look than most cases. For another, it's a wallet, with all the good points that entails, including slots for your cards. Finally, there's a cover that protects the screen, and you can even fold the case into a stand for your Google Pixel 3.
The case also offers all-round protection for your device (though not to the same standards as some cases in this list) and has a precise camera cut-out.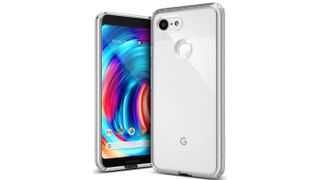 It's easy to write off simple transparent cases as being basic options that are only worth considering if you're on a tight budget, but while the Caseology Waterfall Case is certainly cheap, it has a lot more going for it.
For one, it being transparent and slim means you can show off your phone and add minimal bulk to it. The case also has a raised lip around the camera and screen to protect them when the phone's placed on a flat surface. There's more protection than you might expect too, as the acrylic material the case is made from is shock-absorbent.
With grippy sides as well and responsive button covers (so you don't have to press any harder to make the buttons work) this is one case you shouldn't write off.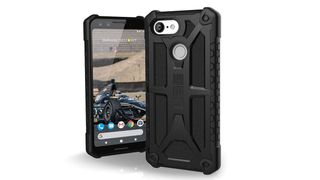 The Urban Armor Gear Monarch is one of the toughest cases available for the Pixel 3. In turn, it's also one of the most expensive. Made up of five layers, this case exceeds military standards for drops and shocks, as well of course, as offering a precise, raised camera cut-out.
Beyond being tough, the Monarch also looks good, as those five layers include leather and metal, alongside the expected plastic. The design is certainly rugged, which won't suit everyone, but it also looks as expensive as it is.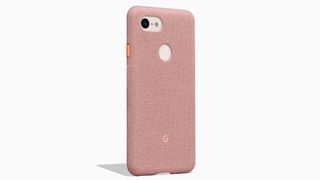 This is the official option from Google, but it trades customisation for an unusual material, namely a nylon and polyester fabric cover on top of the polycarbonate base. It looks good, feels soft to the touch and comes in four different shades, so you do get some control over the appearance. The camera cut-outs and fit are perfect, as you'd expect from a Google case, but you can get more protection elsewhere.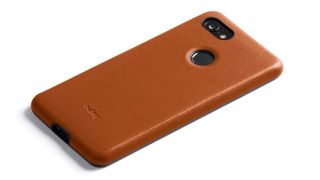 Most leather cases for phones are of a wallet design, but if you want a more conventional case that happens to be made out of leather, try this Bellroy leather case. It's one of the most stylish options available for the phone and with that it's also one of the most expensive. However, bear in mind it doesn't offer as much protection as some of the heavier duty options.
But it's got the basics covered, including protection for the sides and back of the Pixel 3, an accurate camera cut-out, and a slim design. It also works with Active Edge.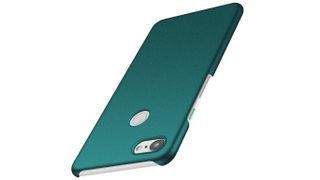 At just 0.8mm thick, the Anccer Ultra-Thin Case is one of the slimmest cases available for the Pixel 3, adding almost no bulk to the phone. It also doesn't cover the buttons, giving you unrestricted access, but it still shields the back and corners of the Pixel 3. Thanks to a raised edge around the camera, which is 0.3mm thicker than the rest of the case, it also protects the lens from flat surfaces.
It's designed to offer excellent grip too, so you hopefully won't drop the phone in the first place, and it comes in loads of different colours.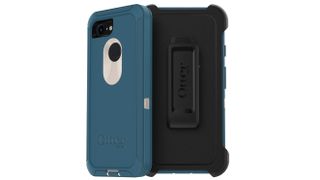 The OtterBox Defender is a tough case from a trusted brand that's been making well-received phone cases for a long time. A solid inner shell combined with a soft outer cover provide two layers of defence, the camera is shielded by raised sides around the lens, and there's a belt clip holster that can double as a kickstand.
The OtterBox Defender also has port covers to keep dust out of your phone. As with most tough cases this is a bit chunky, but that's probably a trade-off that's worth making for this level of protection.
Read more:
• The best phone cases
• The best camera phones right now
• Best selfie sticks for your smartphone
• The best smartphone tripods
• The best gimbals for your iPhone, GoPro and camera