This go-faster Canon PIXMA TS8360 printer is available in black, white or a racy shade of red, going by the European model numbers of TS8350, TS8351 and TS8352 respectively. In North America, it has a single product code of PIXMA TS8320, and in Australasia it's called the TS8360. Whichever color and number you go for, you're in for a treat. Despite a fairly small, space-saving design, this all-in-one printer packs in some serious printing technology and a highly intuitive interface.
• See also Best Canon printers
Specifications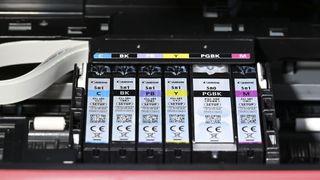 Inks/type: 1x pigment, 5x dye
Max print size: 8.5x14 inches
Max print resolution: 4800x1200dpi
Input trays: 1x integral cassette, 1x rear feeder, CD/DVD/Blu-ray
Scanner: 2400x4800dpi, 8.5x11 inches
Display screen: 4.3-inch color touchscreen
Interfaces: Hi-speed USB, Wi-Fi, Bluetooth, SD/HC/XC card slot
Colors available: Black, white or red
Dimensions (WxDxH): 373x319x141mm
Weight: 6.6kg
Features
Unlike most PIXMA A4/8.5-inch printers, the Canon PIXMA 8300 Series runs on six inks rather than the usual five. The pigment-based black ink aims at delivering crisp mono text with a rich, solid black look. The CMYK dye-based cartridges are supplemented by a 'photo blue' ink which increases the 'gamut' or color space for photo printing as well as theoretically enabling smoother graduations in the likes of deep blue skies and seascapes.
As such, the addition of the photo blue ink puts it one step ahead of the less expensive PIXMA TS6350/6320/6360. Other enhancements in the top-end model include a 4.3-inch color touchscreen instead of a small OLED screen, a higher-resolution 2400x4800dpi scanner, an SD/HC/XC memory card slot for standalone photo printing, and a tray for printing directly onto white-faced CD/DVD/Blu-ray discs.
Like its sibling, this more up-market printer has dual paper input feeds. There's a 100-sheet integral cassette which slides into the bottom of the printer and is primarily intended for plain paper. There's also an upright feeder at the rear, which is more suitable for photo paper (up to 20 sheets) as well as other creative media like Canon's printable fingernail stickers and fridge door-friendly magnetic photo paper. The rear feeder is full-size, so can handle anything from small media up to A4/8.5x14-inch paper.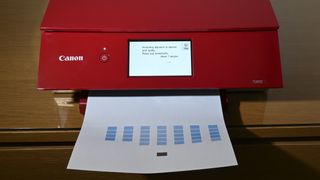 The large touchscreen makes standalone photocopying and photo printing from memory cards quick, simple and intuitive. The printer also pairs well with smartphones and other devices, supporting the Canon PRINT App, Apple AirPrint and Mopria for Android. Built-in connectivity includes hi-speed USB, Wi-Fi and Bluetooth. Auto duplex is also featured for straightforward double-sided printing.
Handling is enhanced by a motorized paper output tray which extends automatically at the beginning of a print run, and a tilting front panel which, again, rises automatically as the output tray extends. There's an option for mechanized retraction of the output tray when turning off the printer.
Performance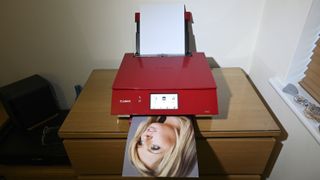 Although fast, it's no faster than the 5-ink TS6350/6320/6360. As such, it prints documents at the same speed of 15ppm (pages per minute) in mono and 10ppm for colour. In our tests, it recorded identical print speeds for photo printing. This ranges from 19 seconds or 43 seconds for a borderless color 6x4-inch photo in standard or high quality modes respectively. The same standard or high quality settings for a borderless A4 photo print give print times of 51 seconds or 1 minute 57 seconds.
The addition of the photo blue ink cartridge makes this printer more attractive to serious photographers. Print quality in terms of color rendition, tonal range and retention of fine detail is excellent. As with the TS6350/6320/6360, there's plenty of vibrancy on tap to do full justice to rich landscape colors, while skin tones are very natural with a slight but appealing warmth. Another similarity is that any difference in overall quality between the normal and high quality modes is practically imperceptible to the naked eye, although a high-powered loupe reveals the greater resolution of the high quality mode. A more surprising similarity is that, despite the additional photo blue ink cartridge, rich blue skies and other graduated blue areas in scenes tend to look very similar in prints created with both printers.
Another facility that's often important to 'serious' photographers is black & white photo printing. This printer can't compete with most larger-format Canon and Epson 'professional' photo printers, which often feature three or more black and grey cartridges. By comparison, this printer's B&W photo output looks comparatively lacking in richness and drama.
Despite featuring an extra ink cartridge, running costs are only slightly more expensive than with the 5-ink TS6350/6320/6360 printer. For the total cost of ink and Canon's own-brand Photo Paper Plus Glossy II paper, you're looking at a cost of around £0.69, £0.50 or £0.45 per 6x4-inch photo print. That's using the three options of standard, XL or XXL cartridges respectively.
For A4/8.5x11-inch photos with the same cartridge options and upsized paper, it works out to £2.49, £1.76 or £1.55. As you'd expect, XXL cartridges are most cost-effective but a full set costs around £120. In usual market conditions, that's pretty much the same as the cost of the printer itself (including a set of 'setup' cartridges).
Verdict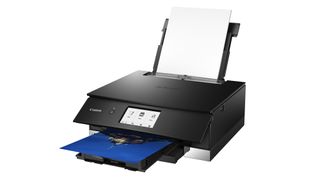 Many of us are working at home these days with the need to create mono and/or color documents, while also printing resources for home-schooling and creating photo prints. Relatively few of us want to put the space, money and effort into running two or more different printers, catering to our different needs.
As an all-rounder, this Canon PIXMA delivers superb quality in everything from mono and color documents, though creative projects on arty media, to vibrant glossy color photos. It's a bit more expensive to buy and to run than the TS6350/6320/6360 and, while the enhancement offered by the extra photo blue ink can be very hard to spot in most photo prints, the large color touchscreen, SD/SDHC/SDXC memory card slot, higher-resolution scanner and CD/DVD/Blu-ray print tray will make it more appealing to many prospective buyers.
Read more:
• Best wireless printers
• Everything photographers need to work at home
• The best large format printer
• The best photo printing online: top services from around the web
• The best photo printer 2021: desktop photo printers compared
• The best portable printers
• The best all-in-one printer
• The best film scanners