The most specced out phone of 2021 is here – the Xiaomi Mi 11 Ultra, loaded up with an almost 1-inch camera sensor, two screens (one either side), and a camera bump you can see from space. This could be the biggest statement from Xiaomi to date.
Xiaomi already makes the best budget camera phone around, the 108MP Redmi Note 10 Pro, but can the Mi 11 Ultra give the once underdog manufacturer, now a top three smartphone player, a best-in-class flagship phone too?
Costing RMB 6,999 (roughly $1,075 / £775), the Mi 11 Ultra sounds like great value when you look at its specs. Based on recent launches though, prices will be about 20 percent higher in European markets, likely pushing it past the $1,390/£1,000 mark.
With its 6.81-inch screen, the Mi 11 Ultra is big, with one of the largest surface areas around. It's also thick, heavy, and powerful, with Qualcomm Snapdragon 888 flagship internals. Add to the mix a 5000mAh battery as well as up to 512GB storage and 12GB RAM, and there's very little the phone can't do.
• The best Xiaomi phone guide
The Mi 11 Ultra's 50MP 1/1.12-inch main camera sensor is the most impressive feature, and that's matched with a 48MP ultrawide camera, and another 48MP periscope zoom. That said, where Xiaomi has fallen down in the past with phones like the Xiaomi Mi 11 is user experience and software. Can you really justify paying top dollar for a phone that gets any of the basics wrong?
Design and screen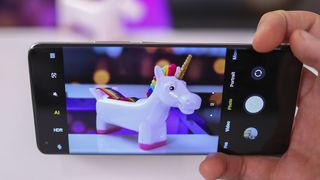 Combining a huge 6.81-inch screen size with a commanding camera bump that stretches across the width of the phone's back, the Mi 11 Ultra's goal is never subtlety. It looks like Xiaomi was inspired by the Huawei P40 Pro when it comes to design, with the phone's front glass curving on all four sides into the metal frame. Around the back, there's very little of Huawei's P-series design subtlety. The Mi 11 Ultra's huge camera surround plays host to three cameras, and a tiny second screen.
Why would you want a screen on the back of your phone? As demonstrated by the Nubia Z20, it can be fantastically handy for things like selfies. That said, when you shrink it to 1.1 inches (126 x 294 resolution) to fit on the phone's camera bump, no matter how oversized that bump may be, its utility becomes limited. While it can help you frame a shot, therefore, it's also easy enough to miss-frame an element when the phone's held at arm's length.
Other design highlights include a Gorilla Glass 7 front, a white or black ceramic back, and a highly polished aluminum frame.
As for the 6.81-inch AMOLED screen, it sports a wide, but not super-wide 19.5:9 aspect ratio, and its 92.4 percent screen-to-body ratio is exceptional. It really is expansive. With a 120Hz refresh rate matched with WQHD+, it's both as smooth and sharp as the Samsung Galaxy S21 Ultra, and thanks to HDR10+ credentials, can playback your favorite shows in all their full-tonal glory on Amazon Prime Video, Disney Plus
, or Netflix.
Cameras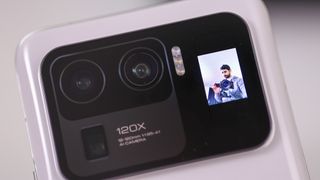 The Xiaomi Mi 11 Ultra is the first smartphone to use Samsung's ISOCELL GN2 sensor. This isn't the first time we've seen Xiaomi debut a Samsung sensor, with the Mi Note 10 introducing the now ubiquitous 108MP Samsung sensor to smartphones. This time around, we get fewer megapixels, but more size, with the Mi 11 Ultra sporting a 50 MP resolution, and a 1/1.12-inch sensor. That means 1.4µm pixels, which, when matched with an f/2.0 lens (24mm), Dual Pixel PDAF, Laser AF and OIS, reads very well indeed.
While the ultra-wide camera can't quite compete with the GN2 sensor, with its 48 MP resolution, autofocus, f/2.2 aperture and 128˚ field of view (12mm equivalent), it still covers the basics and more. The sensor size is much smaller at half an inch, and in turn, so to are the pixels – 0.8µm, but with PDAF and a tried and tested Sony IMX 586 sensor at the helm, it should still be a solid performer.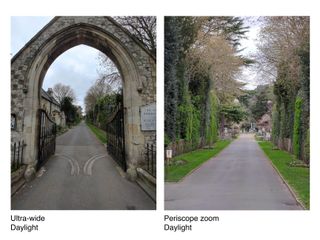 The Xiaomi Mi 11 Ultra's telephoto camera may lack the 10x zoom range of competing smartphones like the Galaxy S21 Ultra or P40 Pro Plus, however, with its identical sensor to the ultra-wide camera, it's one of the first mobile telephoto cameras to not drop the pixel-count. In turn, it delivers a 48 MP resolution, matched with a 5x equivalent zoom (120mm), PDAF, and OIS, and a fairly capable digital zoom as well.
With a front camera resolution of 20MP, Xiaomi has opted for a Samsung selfie sensor. It sports an f/2.2 aperture, as well as a 27mm equivalent focal length. As for the user interface, Xiaomi has a consistent camera experience across its entire line, from the Poco X3 Pro, to its top-end Mi 11 Ultra. There are some real highlights – the Pro Mode engages all the shooting lenses — wide, telephoto, and ultra-wide, with RAW support across all three, and it offers up to 30-second exposure. The Mi 11 Ultra's main camera also reaches an ISO of up to 12800 and 6400 on the secondary cameras, while it shoots video at up to 8K resolution (24fps), or 4K resolution (60fps).
Camera performance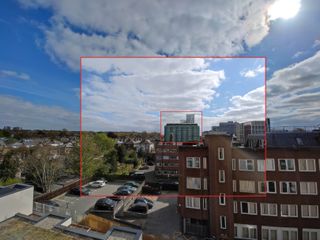 With a wide, ultra-wide, telephoto camera combo, the setup the Mi 11 Ultra delivers is predictable, but when you factor in that periscope zoom, and the megapixels the telephoto camera packs, its digital zoom adds a fair amount of usable crop-factor. We comfortably grabbed photos with 30-times zoom that were perfectly shareable on WhatsApp, though the five-times zoom would probably be our limit for posting to visual platforms like Instagram.
Xiaomi's 50MP behemoth of a main camera can take a second to take a snap a photo, definitely feeling less instantaneous than the iPhone 12 Pro or Samsung Galaxy S21, even if the rest of the interface feels nippy.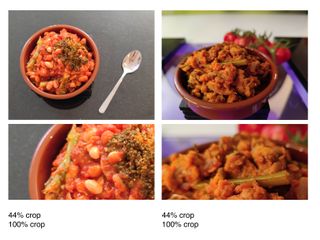 If you're a fan of shooting close-up shots, the Xiaomi Mi 11 Pro could fool you into thinking it's painfully soft. This is down to its extremely shallow depth of field, which is great when photographing anything at arm's length, however, makes macro shots a challenge. We found ourselves digital zooming into a roughly two times crop in order to get a broad enough depth for some close-up photos.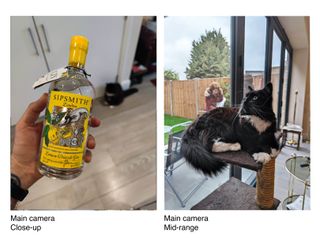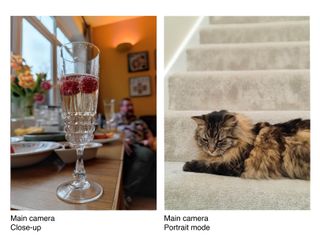 While the Mi 11 Ultra's depth of field dramatics limit the macro-appeal of the camera, thanks to an ultra-wide camera with autofocus, it can compensate for this, pulling out a pan-focus close-up photo. That said, the ultra-wide also goes too far in the opposite direction, capturing photos that are too low on impact. We really do miss the Xiaomi Mi 11 and Redmi Note 10 Pro's tele camera on the Ultra as a result. However, owing to the phone's macro periscope telephoto camera, it can focus at about 8cm away. While performance isn't fantastic in dim scenes, owing to that f/4 aperture, in bright environments, it makes for a novel macro camera, with its 120mm focal length.
Photos captured in automatic mode look punchy – relatively processed, but definitely pleasing at first glance. Colors are relatively accurate, leaning towards cooler hues than some of the smartphone competition, and saturation is ramped higher than on OPPO phones (like the Find X3 Pro), for example, but not quite as saturated as older Samsung phones. That's until you turn on AI mode, when saturation is given a boost.
Noise handling on the Mi 11 Ultra in automatic mode is excellent, owing to a combination of factors – the large sensor, and the fact night mode fires up automatically. This auto-night mode can drag out the open shutter from around two to over five seconds, helping the phone see in the dark. It's very comparable to Apple's Night Mode on the iPhone 12 Pro.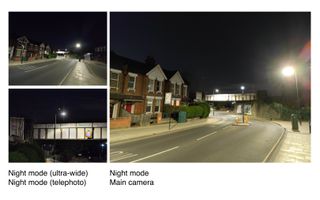 The Mi 11 Ultra's strong performance in low-light environments extends to video, which looks beautifully steady, even at high resolutions as the lights dim. While footage is richly contrasted and saturated, which might put some video pros off, it's nevertheless perfect for Instagram stories, or sending in a WhatsApp message.
Sample images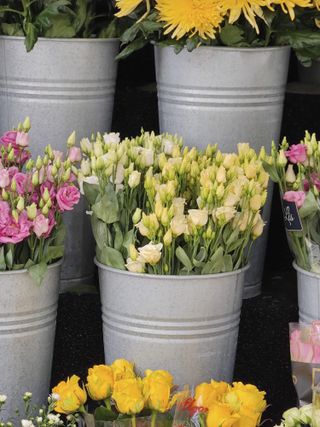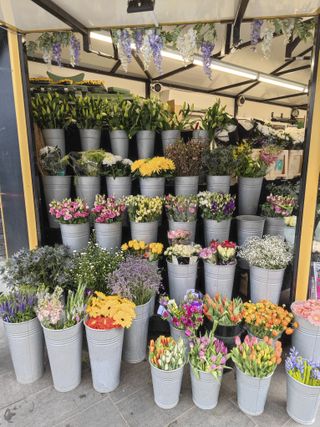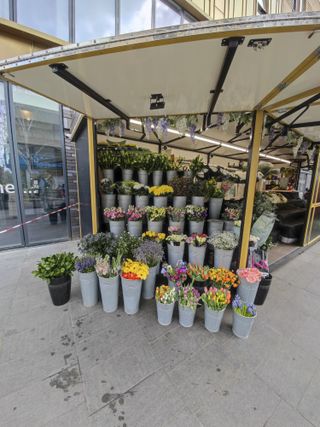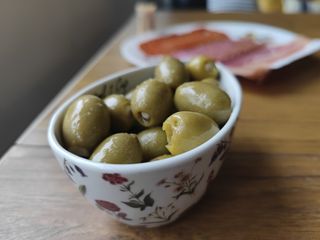 Sample video
Xiaomi Mi 11 Ultra: Additional specs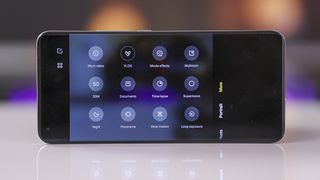 Powered by a Qualcomm Snapdragon 888 paired with either 8GB or 12GB RAM, the Xiaomi Mi 11 Ultra flies. It also gets pretty warm after long bouts of gaming, so if you're picking it up with a view to ramp up the graphics settings on Genshin Impact, or other demanding titles, maybe check out the Asus ROG Phone 5 as a less camera-tastic alternative.
Running Android 11, matched with Xiaomi's MIUI 12.0.6, the Mi 11 Ultra does a fine job of looking good as you swipe and tap through it, however, it isn't always the most polished phone around. Dark mode, for example, makes buttons in third-party apps invisible on occasion. That said, we have seen some areas Xiaomi has refined and improved its interface this time around – word selection, for example, is now more in line with other Android phones. With any luck, by Xiaomi's next iteration of flagship, we won't have to bring up UI gremlins.
With 256GB or 512GB storage, the Mi 11 Ultra has plenty of space for files and photos, even given the fact it doesn't feature a microSD card slot. Rounding off, the 5000mAh battery, which charges at up to 67W wired and wireless is both fast and large, however, for whatever reason, we struggled to make it through a full day with heavy use. This could be owing to the phone's huge display, or some power management issues with the early version of the Mi 11 Ultra we used. On the plus, it still powers up in around 30 minutes with the supplied charger, which is mightily impressive stuff.
Xiaomi Mi 11 Ultra: Verdict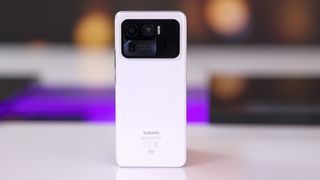 The Xiaomi Mi 11 Ultra is a standout phone, and is one of the best camera phones of 2021. It's Xiaomi's first attempt at an across-the-board spec-leader, complete with a periscope camera, class-leading image sensor, and power.
There are hits and misses when you scratch the Mi 11 Ultra's surface. The camera is full of personality, and what it does well, it does very well. That said, it also misses the mark in a few areas, most notably when photographing subtle nuances, especially in darker elements of a scene. Add to the mix a battery that's occasionally good, never great, and a UI that's lumbered with a few niggles, and no matter how much we love the Xiaomi Mi 11 Ultra's technological breakthroughs, it isn't a perfect smartphone.
If you're a camera enthusiast who values shallow depths of field above all else, and likes the idea of a rear display on a big, statement smartphone with a killer screen, the Mi 11 Ultra could be perfect for you. For most, however, the best from Apple, OnePlus, OPPO and Samsung may well be safer bets.
Read more:
• Best camera phone in 2021
• Best budget camera phones
• Best iPhone for photography
• Best burner phone
• Best 5G phone
• Best phablets
• Best flip phones
• Best phablets