The best flip phone is nice and easy to slip in your pocket, while the best folding phone opens up to reveal an enormous screen. Whichever you prefer, this guide will reveal the best model for you, at the best possible price.
The arrival of the smartphone temporarily killed the flip phone market, but we're not surprised they're on their way back, albeit reimagined with the latest tech. After all, there's something very satisfying, as well as practical, about closing the phone to hide your screen. It's a great way to take a step away from the incessant demands of the digital world: you can still be contacted, but you're not constantly being bothered by screen updates.
The best fold phones, meanwhile, provide many of the advantages of a large tablet screen, without having to carry around a tablet. And of course, you can make calls too. Fold phones are quite expensive right now, admittedly, but you can save substantially if you buy an older first- or second-generation model. For more on fold phones, read: Why I Fold While Others Flip.
Finally, if you don't need 2020s tech, and want to wallow in nostalgia, you could opt for one of the old-school flip phones we've included at the end of our list.
Best folding phones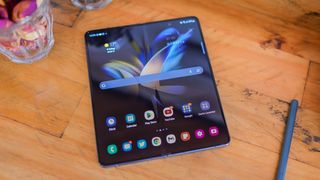 The Samsung Galaxy Z Fold 4 is quite simply the best folding phone to date. It's super-slim, at just 6.3mm thick. It's lighter and more durable than its predecessor, thanks to an advanced hinge. And you get a beautiful AMOLED display, which folds out to 7.6 inches in diameter, supports HDR, has a 120Hz refresh rate, and has a high resolution of above 380 pixels per inch.
The cameras are very high quality too; being virtually identical to those of the Samsung Galaxy S22 and Samsung Galaxy S22 Plus, and a big step up from the sensors in the Z Fold 3.
You can capture videos at up to 8K resolution at 24fps, and 4K at up to 60fps. Manual ISO can be set as high as 3200, and the shutter speed up to 30 seconds. And cleverly, the camera takes advantage of the phone's Flex Mode, so when the Fold 4 is half-folded, the top half of the screen acts as a viewfinder, while the bottom half serves up your shooting controls.
The 4,400Mah battery isn't the greatest among modern smartphones, and like with the Z Fold 3, the fold still has a big gap in the middle. But on the whole, if you want a folding phone, you won't find it finer.
For more information, see our Samsung Galaxy Z Fold 4 review.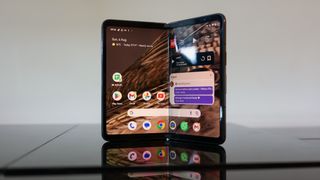 The Google Pixel Fold has a lot going for it: the most balanced camera system of any mainstream foldable; its front screen is much more comfortable to use than that of the Z Fold 5, the part-folded inner screen is great for watching 16:9 video on, and it's a taster of what a foldable stock Android experience looks like. So while a fair few shortcomings hold it back, and its price is eye-watering, it's still a viable alternative to Samsung's Z Fold line and a welcome addition to the foldable space.
Read our full Google Pixel Fold review for more details.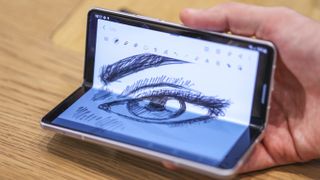 The previous phone in the Samsung Galaxy Z Fold series is still available, and if you can get it for cheaper than its successor, it's still worth investigating.
As this model was released back in 2020, you'd expect it to be inferior in many ways, and you'd be right. For instance, the cameras aren't quite as good, with the 12MP main sensor being a big climbdown from the 50MP one in the new phone.
The Z Fold 4 is more durable too, due to its advanced hinge design, reinforced with Armor Aluminium. The processor in the Z Fold 3 (Snapdragon 888) also isn't fast as the 4's Snapdragon 8 Gen 1. That said, you're getting the same S-Pen and the same 4,400Mah battery as the latest model.
For more information, see our Samsung Galaxy Z Fold 3 hands-on review.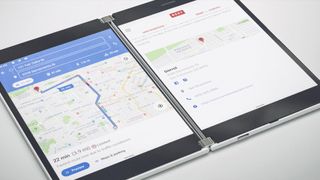 With two screens separated by a small hinge, the Surface Duo is impressively thin – sub 5mm when open – and shiny, with gorilla glass on both the screen size and outside of the case. Since the hinge can stop in any position, the device can be used like a book, a tiny laptop (Psion PDA style), a tablet or a single-screen phone. There are even extra options like 'peak mode' (rather than an extra external screen).
Microsoft is using Android rather than their own OS (they don't even force Bing on you), so you have access to a good range of apps. The Snapdragon 855 and 6GB of RAM is enough, though the big bezels mean the screen is 'only' 8.1 inches and a single 11MP camera won't please photographers. That said, Instagrammers are definitely not the intended market, and the camera is fine for video calls.
For productivity tool users, the real gains are in the software space. Microsoft has updated its suite of apps to work on both screens effectively, but multitaskers really power ahead by using 'app groups' to choose pairs of apps to run one on each screen, side by side.
Best flip phones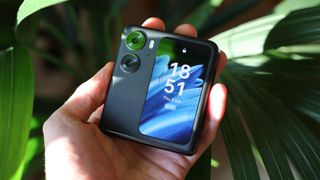 The OPPO Find N2 Flip is one of the most exciting new flip phones in the category, and that has to do with OPPO putting that larger vertical screen on the cover, this screen is far more interactive than anything that has come before, and encourages you to use it instead of glancing at and then bypassing it to just open the phone.
OPPO has put a lot of careful thought into the flip phone experience and there are lots of nice touches throughout, with OPPO's custom cover screen widgets being a standout as well as the selfie camera experience on that larger screen just being magical. The Flexation Hinge is a fantastic upgrade, and really does minimize (but not erase) the crease from foldables.
Read the full OPPO Find N2 Flip review.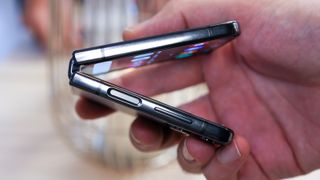 The Samsung Galaxy Z Flip 4 is nice and compact while folded away, making it easy to carry, yet feels very durable and sturdy. Open it up, and it turns into a 6.7-inch screen smartphone with a Dynamic AMOLED 2X display, smooth 120Hz refresh rate, HDR10+ support and a 1200 nits peak brightness.
The cameras are a step up from its predecessor, the Galaxy Z Flip 3, with a larger, 1/1.76-inch main sensor (despite being the same 12MP resolution), matched with an f/1.8 aperture. That means you should get better quality photos, especially in low light, thanks to the new Super Night Solution mode.
You can also film videos at up to 4K, at 260fps, and if you're shooting in Pro Mode, manual ISO can be set at 3200, and the shutter speed up to 30 seconds.
For more details, see our Samsung Galaxy Z Flip 4 review.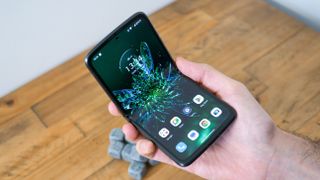 The Motorola RAZR (2022) is a welcome upgrade for anyone coming from a RAZR or a RAZR 5G. Its design is a little hardier and more refined, its cameras perform better, and thanks to Motorola including Ready For, and a flagship-grade processor onboard, performance is on the money too.
Folding phones are becoming less expensive, and the RAZR (2022) marks a beautiful boost in quality and a drop in price for the line. Foldable phone cameras still have a way to go, as do Motorola's phone cameras. But with the trajectory set by the RAZR (2022) suggesting both are going in the right direction, it's fast becoming one of the best folding phones out now.
Read our full Motorola Razr (2022) review.
---
• The best camera phones you can buy today
• The best budget camera phone
• The best burner phones
• The best phablet
• Which is the best iPhone for photography?
• Best phone cases
• Best wireless chargers