The Samsung Galaxy S21 Ultra is the latest champion of the Galaxy dynasty. But Samsung has switched up its strategy for its new Galaxy S21 series of flagship phones. Rather than load up all three phones — the S21, S21 Plus and S21 Ultra with top of the line specs, the S21 and S21 Plus are stripped back.
Both the Galaxy S21 and the S21 Plus sport lower resolution screens than last year's S20 and S20 Plus. There's also nothing new on the camera front from a hardware point of view; and both have plastic backs too — a step down from glass on all the S20s.
This shift isn't too surprising. In a recession and pandemic year, stripped-back flagships were well received, with phones like the Google Pixel 5 and OnePlus 8T serving up some cost-conscious flagship appeal. That said, Samsung hasn't totally snubbed its spec-hungry fans. Meet the Samsung Galaxy S21 Ultra.
The Galaxy S21 Ultra is a beast. With its 6.8-inch display, top-of-the-line power, huge 5,000mAh battery and up to 512GB storage and 16GB RAM, you can't argue with the specs. It also brings back sky-high 108MP resolution of 2020 Samsung top-enders like the Galaxy S20 Ultra and Note 20 Ultra, and matches it with a 10x optical zoom. Sounds good, but is it $1,199/£1,149 good?
Samsung Galaxy S21 Ultra: design & screen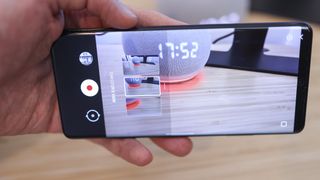 The Samsung Galaxy S21 Ultra is a massive smartphone, combining a 6.8-inch screen size with and a 227g body. It's thicker than the iPhone 12 Pro Max, measuring 8.9mm versus the Max's 7.4mm, and is a touch taller. That said, it's also narrower, with smaller bezels and a less squat, 20:9 aspect ratio display.
The front is all-screen, with a 90 percent screen to body ratio and a cutout selfie camera. There are no buttons or ports on the left or top-side, with the power and volume buttons on the left, and the USB-C port and SIM tray at the bottom.
Around the back of the phone is a pronounced camera surround that extends out of the polished metal frame, as well as a matte Gorilla Glass rear panel.
The phone's styling is bold, but it's somewhat lost in the black variant. That said, for a black phone, it is incredibly fingerprint repellent, and with availability in five colors: Phantom Black, Phantom Silver, Phantom Titanium, Phantom Navy and Phantom Brown - you have choices.
While the design is probably a 7.5/10, the display gets a perfect 10. Samsung's Dynamic AMOLED 2X tech delivers a 120Hz refresh rate, HDR10+ support, 1500-nit peak brightness, and a 1440 x 3200 resolution (515 PPI pixel density).
A new adaptive refresh rate means the Galaxy S21 family can automatically switch between a power-saving 10Hz and a silky smooth 120Hz. That's cool, but the S21 Ultra takes things even further with its pin-sharp WQHD+ resolution.
All those screen smarts combine with a bright, easy-to-view display that's vibrant, deep, inky, and a treat to watch, swipe, shoot, and edit on. Samsung doesn't just make the screens, it goes a long way towards perfecting them with tuning, and the S21 Ultra sets a new benchmark.
Samsung Galaxy S21 Ultra: cameras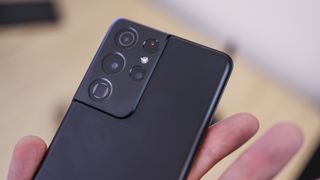 The Samsung Galaxy S21 Ultra's main camera module features a 108 MP 1/1.33" sensor, 0.8µm pixels, and an f/1.8, 26mm lens. Also loaded up with OIS, it focuses using a combination of PDAF and Laser AF.
With a 12 MP ultrawide, the Galaxy S21 Ultra's all-seeing eye drops the resolution, and with it, the aperture too, to a (still respectable) f/2.2. With a 13mm equivalent field of view, it's wider than the likes of the Huawei Mate 40 Pro's ultrawide, though with a 1/2.55" sensor with 1.4µm, pixels, isn't quite as large. On the plus, it sports dual pixel PDAF, and Samsung's EIS.
Packing two telephoto cameras, both featuring the same sensor, the S21 Ultra's near-distance telephoto camera is a 10 MP, f/2.4, 70mm module with a 3x equivalent zoom. The headline grabber, however, is the 10 MP, f/4.9, 240mm module which delivers that coveted 10x optical magnification that only the P40 Pro Plus has achieved in recent years.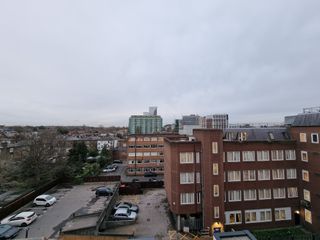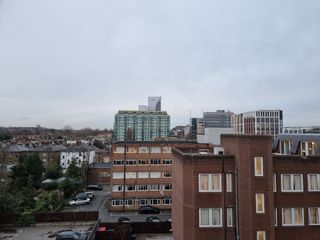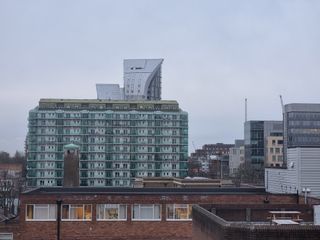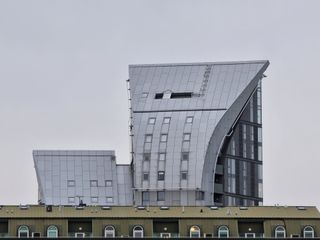 With a front camera resolution of 40 MP, the S21 Ultra also pumps up the pixels for selfies compared with the vanilla S21 and the Plus, whose selfie cameras are 10MP. With a f/2.2, 26mm lens, selfie specs read predictably. That said, with PDAF and 4K video capture at up to 60fps, it's definitely one of the more specced out front cameras we've used.
As for video, the S21 Ultra introduces a new Director's View to the line, which supports a live preview of three focal lengths within the UI while shooting, so you know exactly what view you're switching between. The phone also captures video at up to 8K resolution (only using the main camera), or 4K/FHD resolution (using all four cameras).
Samsung Galaxy S21 Ultra: Camera performance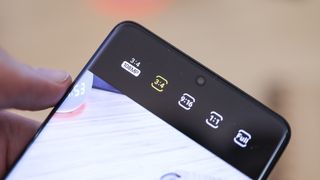 Certain sensors have specific characteristics, and Samsung's 108MP ISOCELL line is no exception. On the plus, its size helps it grab depth where other cameras keep everything inelegantly in-focus. It's also a rockstar when it comes to clarity, with its pictures packing clear detail at their sharpest point. There are some drawbacks though, as experienced on the Galaxy Note 20 Ultra and Xiaomi's Mi Note 10 (both sporting the 108MP Samsung module). The most notable is the way backlit subjects can look slightly washed out, with dynamic range occasionally losing out to the likes of the Huawei Mate 40 Pro or iPhone 12 Pro Max.
In bright environments, the S21 Ultra's photos are for the most part excellent - made even better if you underexpose the shot slightly with the exposure bar. If you're coming from a Samsung phone and like the Samsung look, then you can't go wrong here. The Ultra's photos are punchy and vibrant, with a distinctly Samsung quality to them. Samsung unapologetically boosts image sharpness and ramps up the contrast and noise reduction in challenging scenes. This results in shots that look crisp until you pinch in, after which aggressive processing is visible.
For anyone who likes some added zing to their snaps though, the S21 Ultra's pictures are supremely Instagramable.
When it comes to noise handling the Galaxy S21 Ultra obliterates any grain when lights drop. This might sound great, but means its photos lose out on nuances phones like the iPhone 12 series and OPPO Find X2 Pro capture.
This style is carried over to the phone's additional cameras, though they unsurprisingly fare worse when it comes to dynamic range and detail than the main sensor. The ultrawide is a welcome step up compared to many, with autofocus supporting macro photography as close as a few centimeters and minimal distortion - not to mention a seriously broad field of view.
As for the telephoto cameras, these help the S20 Ultra leapfrog the competition when it comes to zoom. The 3x zoom takes on the majority of telephoto phones — the iPhone 12 Pro Max and OnePlus 8 Pro, for example. Meanwhile, the 10x zoom manages to best the telephoto champ, the Huawei P40 Pro Plus. The S20 Ultra, for the most part, edged ahead of Huawei's P-series flagship when it came to pure detail in our tests, though Huawei's color reproduction was consistently superior.
The phone also has plenty of additional modes, from a fun Director's View which we mentioned above to Pro Video and photo options. Frustratingly, Pro mode only works on the wide and ultrawide cameras, so you won't get control over your telephoto snappers. On the plus, Samsung does give you control over contrast, saturation, tint, and other elements of your photo, so even if you don't fancy shooting RAW, you can still apply customizations beyond exposure and focus.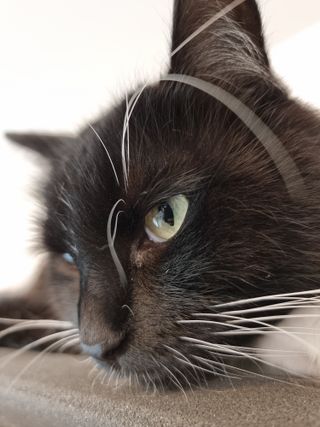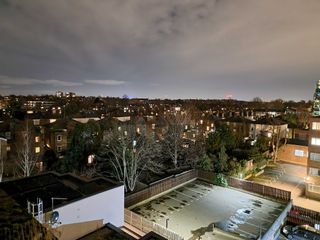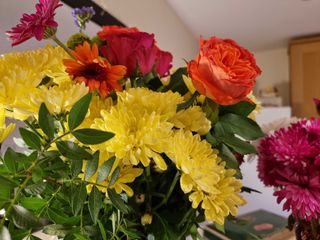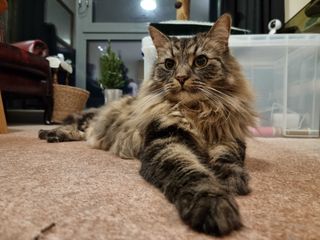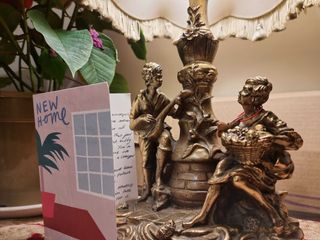 Video shot on the S21 Ultra is beautifully steadied across resolutions, is optimized for the phone's screen, and is a treat to capture and watch back. It can be shot at up to 30fps in 8K, 60fps in 4K, and with directional audio as well as a combination of OIS and EIS at play, is reliably good across the board.
Shooting at 8K might sound totally overkill, but stills pulled from an 8K video look decent enough to share, so it does afford S21 Ultra owners with a bit of extra versatility. As for the 40MP front camera, in a turn for the books, Samsung actually applies less softening and processing to selfies, so they pick up more grain in auto mode than photos from the main camera. Results are sharp though, and shareable, though if you want the most flattering selfies on the scene, Huawei's front cameras are still our choice.
See iPhone 12 Pro Max vs Samsung S21 Ultra
Samsung Galaxy S21 Ultra: Additional specs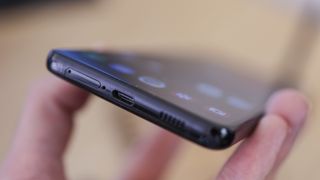 Depending on where in the world you are, the S21 Ultra will come with one of two possible chipsets. Powered by a Exynos 2100 in most markets, if you're in China or the USA, your S21 Ultra will sport a Qualcomm Snapdragon 888. While in the past, there was an issue with heat management on Exynos powered devices, the 2100 improves things to the point of near parity.
Running Android 11 and One UI version 3.1, Google and Samsung's newest software combine to deliver Samsung's best interface experience to date. There are still issues with bloatware, with Microsoft and Samsung providing pre-loaded alternatives to Google's Chrome and Gmail apps, but between the beautifully refined new color scheme, Samsung giving users the option to ditch Bixby in favor of Google Assistant, and a host of other blips of joy you encounter when using it, the S21 Ultra isn't just a good camera phone, it's also a great phone.
Also worth noting, it's the first non-Note smartphone to get S Pen integration, so supports 4,096 levels of pressure sensitivity. It doesn't compete with the Note 12 Ultra, missing out on the Bluetooth Pen support and the virtually non-existent latency. That said, as a value add, it's an epic one for artists and note-takers alike.
Available with 128GB storage (12GB RAM), 256GB storage (12GB RAM) and 512GB storage (16GB RAM), storage options are plentiful, though there's no microSD card support here.
Rounding off, the huge 5,000mAh battery, which charges at up to 25W wired, and at 15W with a wireless charger, the S21 Ultra lasts a full day even with relatively heavy use.
Samsung Galaxy S21 Ultra: Verdict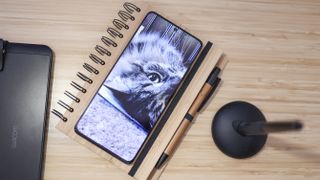 For a phone at this price, the Samsung Galaxy S21 Ultra needed to be excellent. Thankfully for Samsung, it is.
Sure, we've seen its 108 MP camera before on old Samsung phones. It's always been good, and while its photos aren't as nuanced as some of the best out there, matched with a 10x zoom, a decent ultrawide, and plenty of shooting modes, the camera system, on the whole, makes it one of the best camera phones of 2021. Given the fact its main telephoto competition comes from Huawei's P40 Pro Plus, a phone with no access to Google services, Samsung's superzoom smartphone will be the only 10x telephoto consideration for most.
Add to the mix the added value Samsung loads up with that S Pen support, the phone's stunning screen, improved interface, and solid performance, and if you can handle its heft (and that price tag), then the S21 Ultra is a clear winner.
Read more:
• Best camera phone in 2021
• Best budget camera phones
• Best iPhone for photography
• Best burner phone
• Best 5G phone
• Best phablets
• Best flip phones
• Best phablets