The Huawei P40 Pro is here, complete with a brand new 50MP sensor, big pixels and a sky-high maximum ISO of 409,600. The flagship launched alongside the P40 and P40 Pro Plus, and is a beauty from a hardware point of view, combining a new Overflow Display (which literally looks like it's spilling over the phone's frame) with tonnes of power and storage. And the whole P40 range is also loaded with a 32MP autofocus front camera.
All of which makes it, on the surface, one of the best camera phones on the market – and, since it comes with 5G as standard, it's also got the muscle to be among the best 5G phones, too. Though of course, it faces stiff competition on both fronts from the mighty Samsung Galaxy S20 Ultra – a phone that doesn't face Huawei's current troubles in the US.
• See also Best Huawei phones
Huawei has made some much needed app-related announcements since parting ways with Google at the behest of the US government. The brand's App Gallery is now available for all phones to download, and Huawei has invested $1 billion in getting key apps and services onboard – no small sum. Could all this make the P40 Pro the first step in Huawei's return to glory outside China?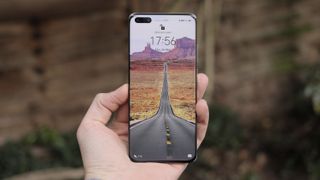 Camera
The P40-series introduces a new Ultra Vision sensor to the market. While we don't know who makes it, we do know some of its core specs: a 1/1.28 sensor size combined with 50MP resolution and an RYYB (red, yellow, yellow, blue) sub-pixel formation.
When shooting in High-Res mode, images are captured using the full-fat resolution of 6144 x 8192. However, as standard, images employ pixel-binning (as with all 48MP phones launched over the last year) and are captured at 3072 x 4096 – roughly 12.5MP. They are also processed out using an HD image engine, with Huawei's Octa PD autofocus keeping things looking sharp. Combined with an f/1.9 lens loaded with optical image stabilization (OIS), Huawei claims that the P40 Pro features the best low light camera on the market.
Bringing back the periscope zoom, the telephoto camera's RYYB sensor is something we haven't seen in a tele module before and boasts a 125mm equivalent focal length, an f/3.4 aperture and OIS. As for the ultra-wide camera, it's the stunning Super Sensing sensor introduced on the Huawei Mate 30 Pro, featuring a 40MP resolution combined with an 18mm angle of view and a beautifully wide f/1.8 lens. Add to the mix a time of flight sensor, and the P40 Pro betters the best from Samsung and Apple on paper in terms of resolution clout, and bells and whistles.
The software has also some refinements, too, with the phone's AI features now able to identify sports and activities – so it can capture the perfect arc of a jump or the peak of a smile, locking the frame at just the right time.
On the front, a 32MP selfie camera that can capture 4K video sits in an oblong punch hole, along with a time of flight sensor for better portrait photos and an IR sensor too, guaranteeing more secure face unlocking than that offered by the Samsung Galaxy S20-series.
Screen and design
The Huawei P40 Pro's Overflow Display literally appears to do just that – flow over the sides of the phone's metal frame. It curves at the top, bottom and on both sides, delivering a tiny bezel and an engulfing screen experience for a relatively easy to manage in-hand experience.
It's available in black, blue and pearlescent white, all with a high-gloss finish. Whichever P40 Pro you pick up, its build will be top-tier – but that said, if you find it in a matte glass finish (either Silver Frost or Blush Gold) you'll be getting the finest options around in our opinion, with a premium to the touch feel and a fingerprint-repellent finish.
As for the screen, its refresh rate is smoother than that of the Huawei P30 Pro, clocking in at a OnePlus 7T-matching 90Hz. That's good, but it falls behind the Samsung Galaxy S20 and its 120Hz. Nevertheless this display looks stunning, with DCI-P3 certification and HDR10 support. Given its 6.58-inch size, it's big without being Galaxy S20 Ultra big – a brilliant balance.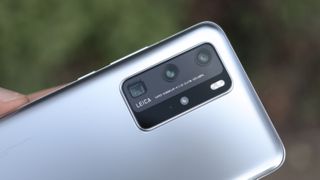 Specs and apps
Packing a 4,200mAh battery, the Huawei P40 Pro should easily make it through a full day from a capacity-to-screen-size point of view. The phone also supports 40W fast charging and, in a first for Huawei phones, 40W wireless charging as well – though you'll need a specific wireless charger to get those kinds of speeds.
Huawei also offers up WiFi 6+ support on its flagship, delivering wireless speeds of up to 2,400 Mbps – and 5G comes as standard on this 2020 flagship. Additionally, the P40 Pro also features a Kirin 990 chipset (the same as introduced on the Mate 30 Pro) combined with 8GB RAM and 256GB storage. Not enough space? The whole P40 series supports Nano Memory cards – Huawei's proprietary storage solution.
Running Android, all Huawei's new phones will accommodate most Android apps, including some Google staples like Chrome and Google Maps, available through third-party app stores like APK Pure. That said, they won't work with Gmail and Google Drive – or even some awkward non-Google apps like Uber. Techies may be comfortable side-loading Google services onboard new Huawei phones, though this isn't something we can recommend or guarantee will work.
Performance
Huawei has hit it out of the park once again with its imaging capabilities. The jewel in the crown of the Leica camera module is the 50MP f/1.9 camera, partnered with a 40MP f/1.8 ultra-wide and a 12MP telephoto, all supported by a time of flight sensor for software-driven depth of field effects.
Let's start with that 50MP flagship feature. Slide over to High-Res mode when taking photos and you can capture images using every last pixel. The P40 Pro needs good lighting for this mode to be at its best (bearing in mind that the sensor is primarily designed to render using pixel-binning), though ultimately the detail doesn't pop quite as much as image taken at lower resolutions, which benefit from pixel-packed oversampling as well as software-powered sharpening.
Standard shots with the main camera possess real pop, and the ultra-wide is an equally impressive performer, with all those pixels and processing rendering fine detail very well. Huawei may be right about this being the best low light camera out there, too; fidelity obviously takes a hit, but images in gloomy indoor conditions are surprisingly bright and surprisingly clean. The aggressive depth of field effect can be intrusive at times, and gives images that "smartphone look" if you're not careful.
While the optical 5x zoom performs well, the 50x digital zoom is (as expected) a mixed bag. It's a fun gimmick, and provides a distraction during lockdown when you're zooming all the way in to see what the pigeons are doing in the trees across the street, but realistically you're not going to be using this beyond 10x zoom.
Video recording is highly impressive, with the optical image stabilization giving a gimbal-like glide that makes this a formidable vlogging camera. Its low light performance comes into its own for video, and the ability to use the telephoto camera to zoom in while capturing video is genuinely useful. If you're looking for easy-to-shoot and great-looking 4K, you won't go wrong with the P40 Pro.
Verdict
The Huawei P40 Pro is a beauty – just look at it! Huawei's hardware has always been top quality and, from the phone's design through to the screen, its latest flagship is no different. The camera is everything you would expect from a Huawei handset, delivering stacks of soft-focus depth to pictures, balanced against plenty of detail.
Like other phones with a ridiculous zoom, it's better on paper than in practice – you probably won't use the 50x digital zoom more than a few times, though the 5x optical zoom is genuinely useful. The 50MP High-Res mode doesn't stand up to the same pixel-peeping as the software-assisted lower-res images, standard images produce very impressive results. The video is among the best we've ever used on a phone, and will be a boon for content creators.
Huawei is doing what it can from an app point of view to boost its Google-free experience, and it has made significant strides. The question, though, is whether it's where it needs to be to guarantee success for its handsome new flagship. Ultimately, the lack of Google ultimately leaves this handset with a severe handicap for the vast majority of people.
In terms of pure camera performance, though, the P40 Pro is about as good as it gets. If you're happy to pay the premium, and you're realistic about the limitations of the 50x zoom and 50MP imaging, this is an incredibly impressive device.
Read more:
The best camera phone in 2020: which is the best smartphone for photography?
The best 5G phone for photographers in 2020: get ahead of the curve!
Samsung Galaxy S20 Ultra review