This year, Apple has introduced four different models into its iPhone 12 series. As well as the iPhone 12, you have the iPhone 12 Mini, the iPhone 12 Pro and the iPhone 12 Pro Max.
In this review, we'll be taking a look at the iPhone 12 Pro, which is arguably the most likely that most who are interested in the photographic capability of their smartphone will have their eye on. It's not the cheapest in the range, nor is it the most expensive, while offering flexibility thanks to its triple-lens set up.
Last year's iPhone 11 Pro featured the same camera setup as its larger screened sibling, the iPhone 11 Pro Max. This year, however, Apple has played it slightly differently, equipping the larger model with a slightly better camera.
Key features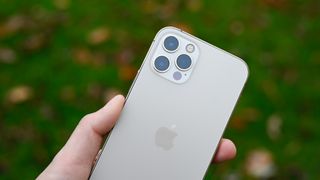 Not too much has changed in terms of camera set up when compared to last year's iPhone 11 Pro. We still have the same triple lens setup, to include a 26mm (equivalent) standard lens, a 13mm (0.5x) ultra-wide optic, and 52mm (2x) telephoto lens. A key difference between the iPhone 12 Pro and the iPhone 12 Pro Max is that the latter's telephoto lens is slightly longer at 65mm (equivalent), while the standard lens has a larger sensor behind it.
Further improvements include the addition of a LiDAR scanner, which is used to measure distance and should also improve autofocusing speed, particularly in low light. Software tweaks, such as the addition of Night Mode for portraits should also make for better overall image quality. One of the biggest new updates is the addition of Apple's ProRAW format, which photographers have been asking Apple to enable for a long time. Sadly, this is not available from launch, so we've been unable to test this for the time being.
• iPhone 12 Pro or iPhone 11 Pro: Which should you buy?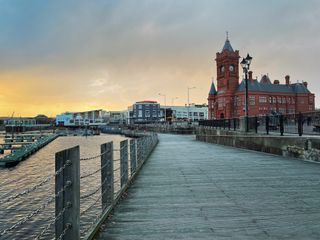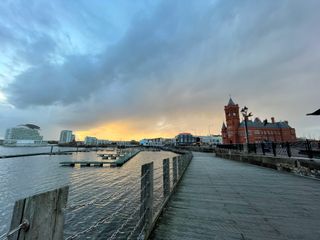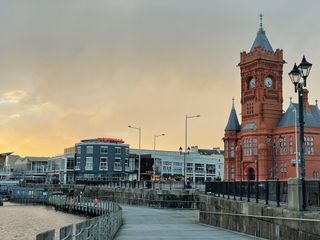 4K recording at 60p was available on the iPhone 11 Pro, but there's now also Dolby Vision HDR video recording and Night-Mode time-lapse to give those specs a bit of a boost. Dolby Vision HDR will force you to record in the High Efficiency format, meaning you'll need a compatible device if you want to view it somewhere other than your phone.
Other updates compared to the iPhone 11 Pro have largely come in the shape of non-camera related alterations. That includes a larger screen - which is now 6.1-inches, compared to the older version's 5.8-inch, and it's now got a Ceramic Shield front which promises to be 4x better equipped if you drop it.
Perhaps the biggest news is the addition of 5G connectivity, for super-fast download (and upload) speeds. There's also other tweaks such as the minimum storage capacity now being offered at 128GB, instead of 64GB.
Pricing starts at $999 / £999 for the Apple iPhone 12 Pro, but it's worth noting that due to "environmental reasons", the phone no longer ships with a charging adapter or headphones. Apple says that most people will already be in possession of these items since they're likely to be upgrading from an older iPhone, but if you're not (or are defecting to iPhone from Android), then make sure you add these to your basket before you checkout too. A more positive note is that the base storage option now starts at 128GB, twice the amount found on the iPhone 11 Pro's 64GB base model.
Build and handling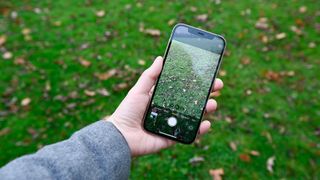 Apple has turned to its design of the iPhone 4 for the iPhone 12 Pro. Gone are the rounded edges of the last few models, and the squared-off edges and corners have made a comeback. Whether you like that or not is an individual choice, but it's quite a striking look.
The size of the iPhone 12 Pro's screen has increased compared with the iPhone 11 Pro, but the overall size of the phone is only a couple of millimetres taller, and impressively it's actually thinner than its predecessor. It's also almost the same weight, being 1g lighter than the iPhone 11 Pro.
As with all previous iPhone generations, the native camera app is a straightforward affair. That's great for being easy to use, but it continues to frustrate advanced photographers who would love to have a few more settings to play with. Apple has tried to placate those types of users with the introduction of "ProRAW", but that's a feature that's still not available even a few weeks after launch.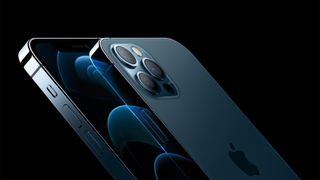 Most of the time, you're likely to be using the standard "Photo" app. With this you can shoot with any of the three lenses, and you can also switch a few options - such as flash or "Live Photos" on or off. If you swipe up, you'll see a few more options, including the ability to alter aspect ratio and to dial in some positive or negative exposure compensation. That's about as advanced a control you'll get with the iPhone 12 Pro.
A new feature that appeared with the iPhone 11 Pro was the ability to look "outside the frame" when composing your images. We find that here also with the iPhone 12 Pro, which uses the cameras you're not using to show you what's happening either side of your shooting frame. This can be very useful in certain circumstances. You can also choose to capture that same information, keeping it in reserve should you want to adjust your composition at a later date via the phone's inbuilt editing options - by default, this extra information is only kept for 30 days though.
Another feature which has been around for a few iPhone generations is Portrait mode. Despite its name, you can use it for any subject, such as still life and pets. You can choose an aperture effect, as well as Lighting mode - but happily, you can also change these effects after the fact if you don't like them.
iPhone 12 Pro: Performance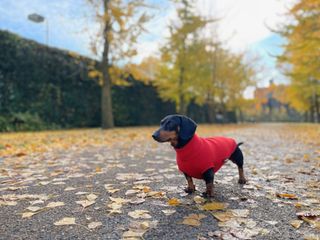 Once again Apple has produced a smartphone which ranks near or at the top when it comes to image quality. Although you don't have much control over the settings yourself, it's capable of delivering such fantastic images that you can easily forgive it.
Images display lovely vibrant colours with a fantastic amount of detail, particularly when viewing your images on the phone's screen itself. Some of that detail doesn't appear quite so impressive when examining very closely on a large computer screen - but unless you're pixel peeping to the extreme, that's unlikely to be a problem.
Low-light shooting is more of a mixed bag. While Night Mode continues to impress - and the addition of it to Portrait Mode is a good bonus - it really does depend on which lens you're using. The best results come from the standard lens, which has the larger sensor behind it. The telephoto lens produces reasonable results, but the wide-angle lens is by far the weakest. Still, it's a good overall performance which really shows just how far smartphone technology has come in recent years.
Video recording has long-been impressive from the iPhone series, and Apple has made much of the fact that you can use it as a professional tool. The addition of HDR Dolby Video is an exciting step forward for anybody who wants to use their phone for advanced content creation. Although the average user might not notice a huge difference for everyday or ordinary videos, having this tool available in a pocketable device such as your phone is great news for those that do.
If we compare videos side by side with Dolby HDR switched on and off, the difference is fairly striking. In those with HDR enabled, we can see a much broader dynamic range and movies which appear to "sing" from the screen of the iPhone 12 Pro. That said, the difference is only quite so obvious when viewing videos next to each other - look at a non-HDR video in isolation and you'll likely be impressed as it is.
Update: Having now had a chance to shoot raw files with the iPhone 12 Pro by downloading the public beta of iOS 14.3, there are some additions we'd like to make to this review.
For the moment at least, there's no way to record a simultaneous JPEG/HEIF file at the same time as a RAW (DNG) file is captured. That means that some apps, notably Instagram, will refuse to accept a raw file shot with the phone, unless you edit/convert it first. It could be that either Apple tweaks its software to allow two files to be recorded at the same time, or Instagram updates itself to recognise DNG files.
In use, the DNG files allow for additional information to be extracted from the file, making editing much easier, especially in certain conditions. The files are quite robust, allowing you to make quite big changes, but, considering just how well the iPhone gets it right in most situations, how frequently you want to use the raw setting is questionable - especially if you don't want to take up too much space on your iPhone.
Overall, it's good to have the functionality, as there will be some situations where you might require it, but hopefully there will be some extra tweaks made to its usability.
iPhone 12 Pro: Sample images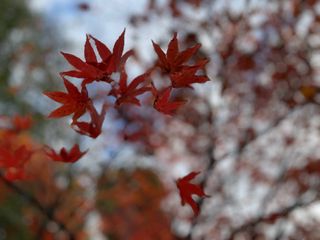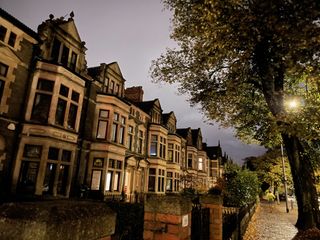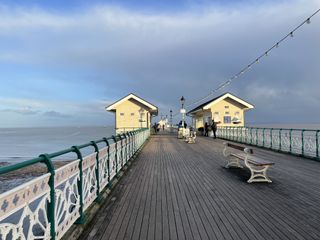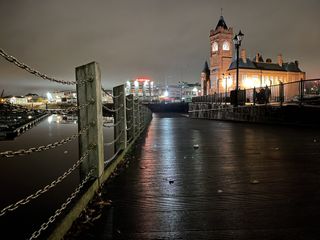 iPhone 12 Pro: Video samples
Video sample: 4K standard video at 30fps
Video sample: 4K standard video at 60fps
Video sample: 4K Dolby HDR video at 30fps
Video sample: 4K Dolby HDR video at 60fps
iPhone 12 Pro: Verdict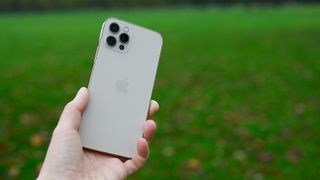 There's no denying that the iPhone 12 Pro delivers excellent results - just as we'd expect from the latest iPhone.
However, whether it delivers extra performance when compared to the 11 Pro - at least camera wise - is more debatable. It's perhaps a slight improvement, but one which is small enough to be unnoticeable for the vast majority of users. Dolby HDR creates impressive videos, but unless you're a dedicated video content creator, that's unlikely to be motivation enough to pay for the latest model.
That said, there are plenty of other reasons to upgrade to the iPhone 12 Pro, which have nothing to do with the onboard camera - particularly 5G.
We've now also had chance to evaluate the iPhone 12 Pro Max, and see how it stacks up against its smaller sibling. While there are some key differences on paper between the two, in reality, the resulting images are very similar. If you're keen to save money (and pocket space) you shouldn't be disappointed with the iPhone 12 Pro. If you want to know more about the differences, see our iPhone 12 Pro vs iPhone 12 Pro Max piece, as well as our full iPhone 12 Pro Max review.
In short, while the iPhone 12 Pro camera is a worthy upgrade for anyone shooting with an iPhone X or older, for those in possession of last year's model (and who aren't interested in the other non-camera related upgrades) might do better to wait until the iPhone 13 for maximum value for money!
Read more
Apple iPhone Pro 12 Max review
Best iPhone 12 Pro cases
Best iPhone for photography: from the iPhone 7 Plus to 11 Pro
Best camera phone: which is the best smartphone for photography?
Best phablet
Best phone cases: protect your camera phone in style
Best stylus for iPhones and iPads