The Sony FE 35mm f2.8 ZA Carl Zeiss Sonnar T* has very compact dimensions of 62x37mm, almost qualifying it as a pancake lens, and it weighs a mere 120g. It therefore forms part of a very discreet package when mounted on one of Sony's full-frame mirrorless bodies, while the 35mm focal length is the preferred choice of many street photographers. The lens is equally at home on Sony's APS-C format mirrorless cameras, where it works well as a 'standard prime' with an effective focal length of just over 50mm.
Specifications
Mount: Sony E (FE)
Sony product code: SEL35F28Z
Full frame: Yes
Autofocus: Yes
Image stabilisation: No
Lens construction: 7 elements in 5 groups
Angle of view: 62 degrees
Diaphragm blades: 7
Minimum aperture: f/22
Minimum focusing distance: 0.35m
Maximum magnification ratio: 0.12x
Filter size: 49mm
Dimensions: 62x37mm
Weight: 120g
Key features
The downsized design is enabled in part by the inclusion of three aspherical elements. Even so, the lens is based on classic Zeiss Sonnar principles and also features legendary Zeiss T* anti-reflective coatings on all seven elements. This helps to maximize contrast and color accuracy, as well as minimizing ghosting and flare.

Autofocus is based on a fast and quiet linear stepping motor, with an electronically coupled focus ring that gives the option of manual override, via in-camera menus. Typical of this arrangement, there's no focus distance scale nor depth of field markers, but focus assist and focus peaking facilities are available in-camera. That's good news for street photographers who like sticking to the tradition of manual focusing. Although small, the lens feels robust and features weather-seals.
Performance
The little Sony punches above its weight in terms of image quality. Centre-sharpness is excellent from f/2.8 all the way to f/16 and still very good at f/22, although corner-sharpness is unimpressive at both ends of the aperture range. Color fringing is very minimal but vignetting is severe at f/2.8 and remains noticeable even at medium apertures of around f/8. Distortion is of a fairly low order but it's not entirely uniform and can be tricky to correct.
Lab results
We run a range of lab tests under controlled conditions, using the Imatest Master testing suite. Photos of test charts are taken across the range of apertures and zooms (where available), then analyzed for sharpness, distortion and chromatic aberrations.

We use Imatest SFR (spatial frequency response) charts and analysis software to plot lens resolution at the center of the image frame, corners and mid-point distances, across the range of aperture settings and, with zoom lenses, at four different focal lengths. The tests also measure distortion and color fringing (chromatic aberration).

Sharpness: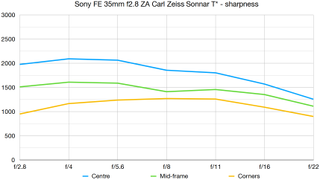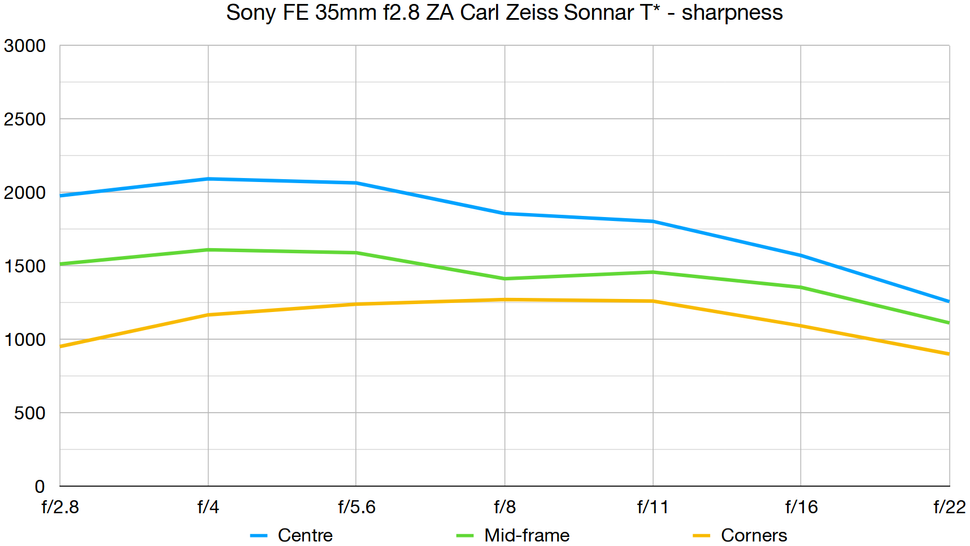 Sharpness is very impressive in the central region of the frame, even at the widest aperture of f/2.8, but is comparatively lackluster towards the edges.

Fringing: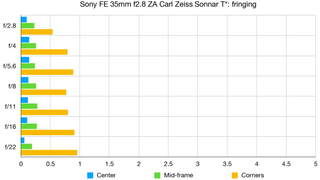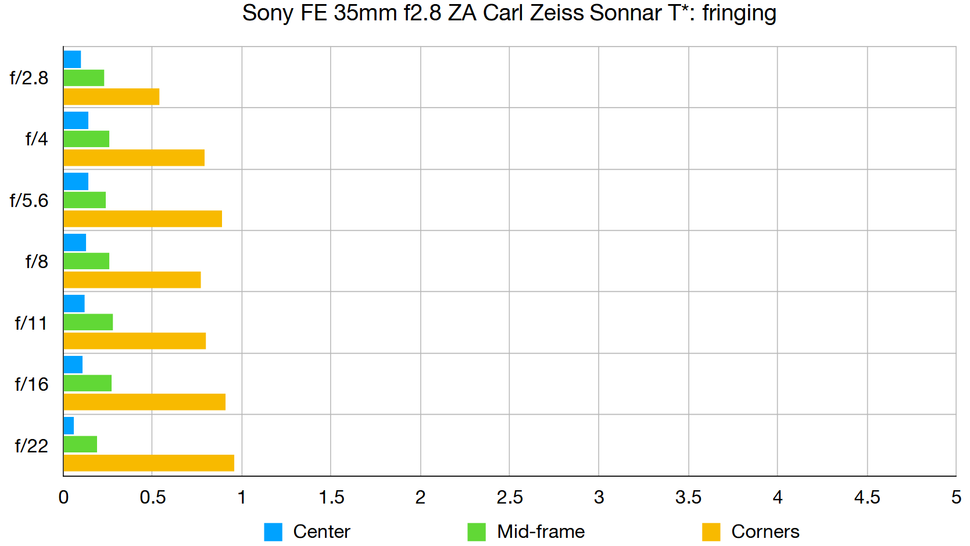 Lateral chromatic aberration is negligible, even towards the extreme corners of the image frame. Axial chromatic aberration is also minimal, even when shooting wide-open.

Distortion: 0.24

On a full-frame camera, distortion can be noticeable towards the corners of the image frame and tricky to correct, but this is taken out of the equation when shooting on an APS-C body.
Verdict
This diminutive Sony lens is a good choice for stealthy street photography. It has a fast autofocus system and works equally well in manual focus mode, often preferred by street photographers. Image quality is very good overall but vignetting can be very noticeable when uncorrected in-camera, even when stopping the aperture down. That's not an issue when using the lens on APS-C format Sony mirrorless cameras, on which it gives a more standard 52.5mm effective focal length.
Read more:
• Best camera lenses to get
• Best Canon lenses
• Best Nikon lenses
• Best Sony lenses