Thanks to its small size, durable-feeling body, extensive control and high-quality images, the OM-D E-M10 has been very successful for Olympus, outselling the other OM-D models. Now we have the OM-D E-M10 Mark II, which is more of a refresh than a substantial update.
Update: The E-M10 Mark II has been replaced by the E-M10 Mark III, but it's still widely available at reduced prices, making it a top candidate for anyone looking for the best cheap camera.
Like the original E-M10, it has a 16MP Four Thirds type sensor coupled with the TruePic VII processing engine. However, the new model brings a few changes that should help it compete in the current market. The main upgrades include: a 2,360,000-dot OLED viewfinder with an option to simulate an optical finder; image stabilization that operates over five axes rather than three; focus bracketing; and the ability to use the screen to set the AF point while looking through the viewfinder.
Read more:
• Olympus OM-D E-M10 III vs E-M5 III vs E-M1 II
• Olympus OM-D E-M10 Mark IV vs Mark III vs Mark II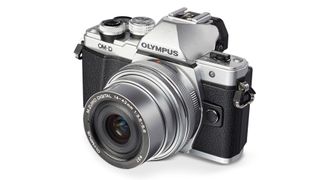 In addition, short video clips can be shot then joined together in-camera to create more dynamic movies, and there's a clean HDMI output for recording or viewing on external devices.
Although it's not possible to record 'normal' 4K movies with the E-M10 II, Olympus has improved upon the original EM10's time-lapse feature with the ability to create 4K time-lapse movies in-camera, although playback is limited to 5fps.
Build and handling
The E-M10 Mark II is constructed from magnesium alloy and has a solid, durable feel, but it lacks the weatherproof sealing of cameras higher up the range. The most noticeable difference between the new and old cameras is on their top-plates. The control dials on the Mark II are much taller and easier to use, while the exposure mode dial has swapped sides to make room for the retro-styled power-switch.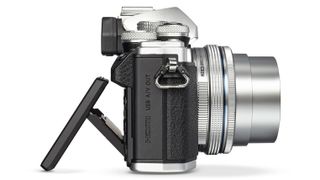 I found the viewfinder very clear, and it's easy to forget whether you're using an optical or electronic device. It makes the scene look vibrant and attractive to photograph. However, when shooting from the photographers' pit at Fairport's Cropredy Convention, I sometimes found that the viewfinder didn't show the image as it would be captured. I've reported the issue to Olympus, and it's being investigated. On other occasions, the viewfinder correctly previewed the final image – unless I was using the simulated optical finder, as you'dd expect.
I had mixed success using the screen to set an AF point while looking in the viewfinder. On some occasions it worked well; on others, I couldn't get it to respond.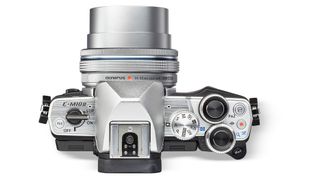 On the whole, the E-M10 II's menu is sensibly arranged, but it would be helpful if there was a customisable screen where you could access all your most commonly used features.
It would also be nice if Olympus made more use of the camera's touch control system, so it can be used with more of the Super Control Panel and the main menu.
While the E-M10 II is generally very responsive, I had an occasional problem – as with the E-M5 Mark II – where pressing the info button didn't actually toggle through all the options, skipping the histogram and level views.
Olympus hasn't divulged whether the sensor inside the OM-D E-M10 Mark II is the same as the one in the E-M10, but it's likely that it is very similar. The processing engine is the same TruePic VII system. Our lab tests indicate that the OM-D E-M10 Mark II produces very similar images to those from the Mark I.
Although there's a tiny hint of luminance noise visible at 100% in images captured at ISO 400, there's a good level of detail visible in low to mid sensitivity range shots. Noise is controlled well up to around ISO 3,200-6,400, when some areas in JPEGS start to take on a slightly painterly appearance at 100%. The results at ISO 12,800 and 25,600 are reasonably good, provided you are happy to keep printing sizes to A4 (8.3 x 11.7 inches) or smaller.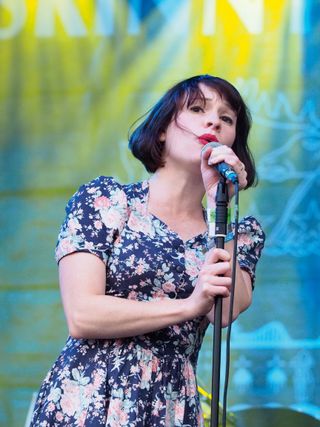 One area where the E-M10 II really impressed was with its autofocusing. I enjoy music photography, and in the past I've found that compact system cameras haven't been able to cope when stage lights are the main form of illumination. However, when shooting from the photographers' pit, the E-M10 Mark II was more than up to the job with an M Zuiko Digital ED 40-150mm f/2.8 Pro lens mounted.
It was able to get the subject sharp even in very low light conditions. Provided I positioned the starting AF point over the subject, I also found the AF Tracking system was able to get it sharp quickly – and keep it sharp as performers moved.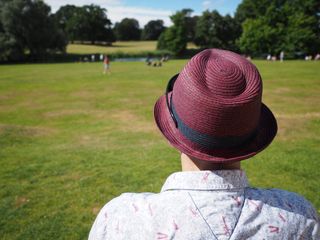 The five-axis image stabilisation system inside the E-M10 II is very good. When shooting with the 40-150mm lens mentioned earlier, I was able to get images that look sharp at 100% when shooting at the longest point (equivalent to 300mm) and using a shutter speed of 1/8 sec. Rising to 1/15 sec produced more consistently sharp images.
The automatic white balance and metering systems give a good account of themselves, delivering the colours and exposures that you'd expect in any given situation.
Olympus OM-D E-M10 II specifications
Sensor 16 million effective pixel Four Thirds type (17.3 x 13mm) CMOS
Lens mount Micro Four Thirds (MFT)
Focal length conversion 2x
Memory SD/SDHC/SDXC
Viewfinder 2,360,000-dot OLED
Max video resolution Full-HD at 60fps
ISO range 100-25,600
Autofocus points 81
Max burst rate 8.5fps in S-AF at full resolution
Screen Tilting touch-sensitive 3-inch LCD with 1,037,000 dots
Shutter speeds 60-1/4,000 sec with mechanical shutter; up to 1/16,000 sec with electronic shutter; plus Bulb
Weight 342g (body only)
Dimensions 119.5 x 83.1 x 46.7mm
Power supply Lithium-ion battery (supplied)
Olympus OM-D E-M10 II lab tests
We use Imatest and DxO Analyzer hardware and software to test cameras for their colour accuracy (colour error) signal to noise ratio (the amount of noise in the images) and dynamic range (their ability to capture detail in very bright and dark areas). We also pick three rival cameras to test them against.
Colour error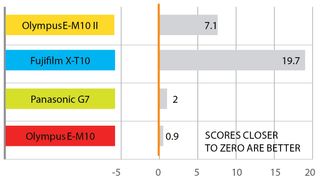 We tested the OM-D E-M10 II against four of its rivals: the Fujifilm X-T10, Panasonic G7 and the original Olympus E-M10. The colour error test indicates that the Mark II version of the E-M10 produces more saturated images than the Mark I. There are several ways to tailor colour to suit your preferences in-camera.
Signal to noise ratio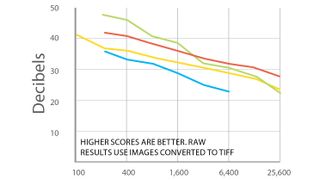 The E-M10 II's raw files reveal a little more noise than simultaneously captured JPEG files. This enables them to record more detail. It compares well with the competition.
Dynamic range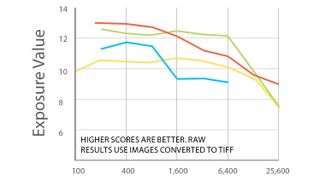 Unusually, the E-M10's raw files have a lower dynamic range than simultaneously captured JPEGs. Performing a bespoke conversion is likely to draw more information out of the file.
Olympus OM-D E-M10 II verdict
The OM-D E-M10 II is a high quality camera that feels great, offers an extensive feature set with bags of control and yet doesn't take up much space in your bag. Its autofocus, white balance and metering systems are excellent, helping it to deliver high-quality images, even in challenging conditions.
The competition
Fujifilm X-T10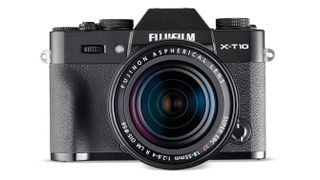 The X-T1's little brother, this 16MP beauty has traditional controls and produces superb quality images for a good price.
Panasonic G7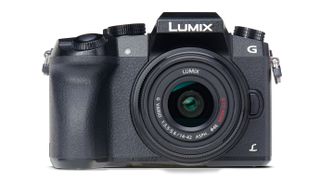 An all-rounder with an excellent viewfinder, a vari-angle touchscreen and clever 4K Photo shooting, but rather lightweight build.
Read more:
• The best lenses for your Olympus camera