For an APS-C format lens, the Fujinon XF100-400mm f/4.5-5.6 R LM OIS WR is a heavyweight in all respects. It tips the scales at almost 1.4kg and measures 95x211mm, stretching to 270mm at its longest zoom setting, somewhat dwarfing the Fujifilm X-mount camera bodies for which it's designed. Even so, the effective zoom range of 152-609mm gives you powerful reach and, if that's still not enough, the lens is compatible with Fujifilm's 1.4x and 2x tele-converters.
Specifications
Mount: Fujifilm X
Full frame: No
Image stabilization: Yes
Autofocus: Yes
Lens construction: 21 elements in 14 groups
Angle of view: 16.2-4.1 degrees
Diaphragm blades: 9
Minimum aperture: f/22
Minimum focusing distance: 1.75m
Maximum magnification ratio: 0.19x
Filter size: 77mm
Dimensions: 95x211mm
Weight: 1,375g
Key features
The lens comes with a string of letters after its name, denoting a dedicated aperture control ring, in addition to zoom and focus rings, a linear stepping motor autofocus system, optical image stabilization and a weather-resistant construction, ticking pretty much all of the boxes on a Fujifilm photographer's wish list. Indeed, the autofocus system employs not just one but two linear stepping motors for added speed.

Build quality is excellent, with a beautifully engineered construction that incorporates 13 separate weather-seals, and a high-precision feel to all its controls. There's no hint of zoom creep but a zoom lock switch is featured nevertheless. The high-grade optical path includes no less than five ED (Extra-low Dispersion) elements, plus a fluorite-grade Super ED element.
Performance
True to its claims, the autofocus system's dual linear stepping motors enable super-speedy performance, well able to track fast-moving subjects. Similarly, the optical stabilizer lives up to its 5-stop billing and comes complete with effective automatic panning detection. Sharpness proved excellent in our field tests, throughout the entire zoom range, but lab results based on shooting test charts at close range were less impressive.
Lab results
We run a range of lab tests under controlled conditions, using the Imatest Master testing suite. Photos of test charts are taken across the range of apertures and zooms (where available), then analyzed for sharpness, distortion and chromatic aberrations.

We use Imatest SFR (spatial frequency response) charts and analysis software to plot lens resolution at the center of the image frame, corners and mid-point distances, across the range of aperture settings and, with zoom lenses, at four different focal lengths. The tests also measure distortion and color fringing (chromatic aberration).

Sharpness: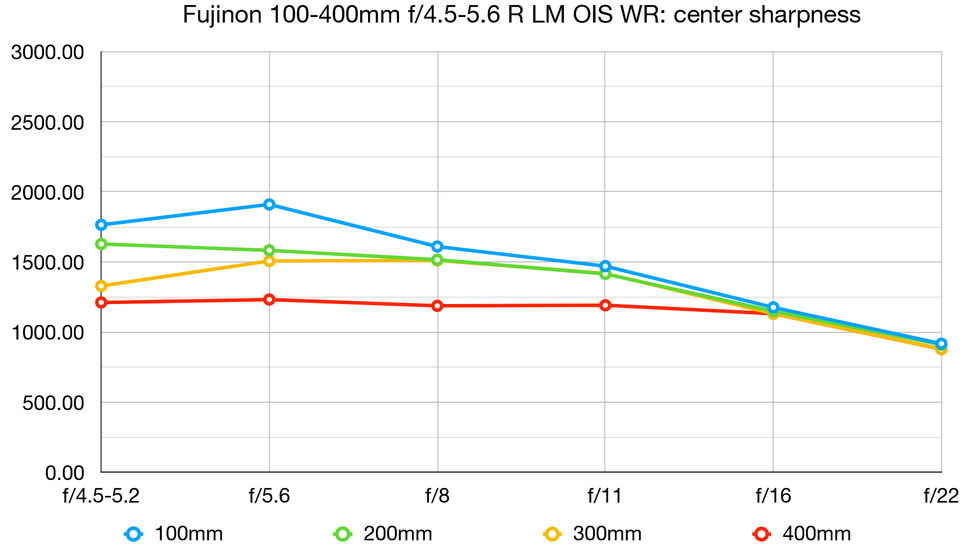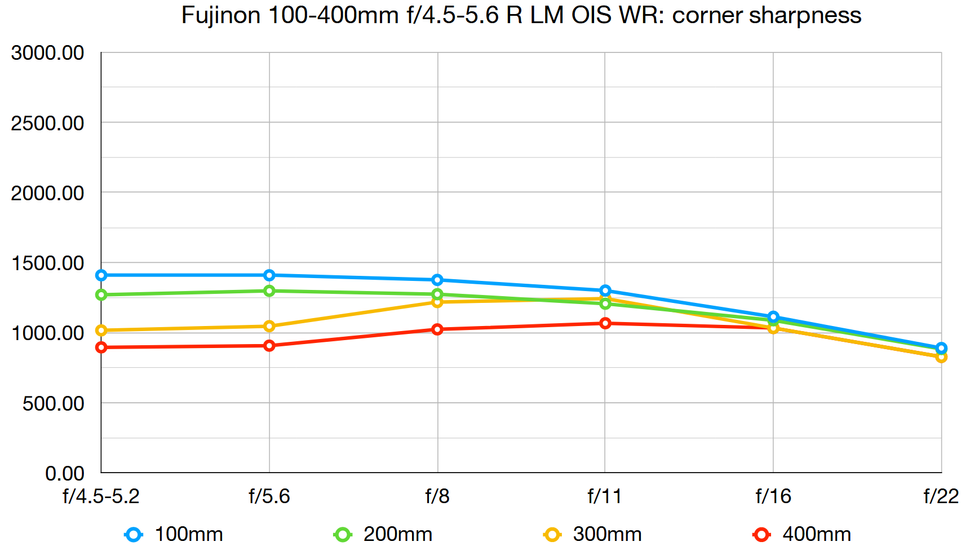 Levels of sharpness dropped off noticeable at the long end of the zoom range in our lab-tests based on shooting charts at short range, but proved very impressive in real-world shooting at more typical distances for a telephoto lens.

Fringing: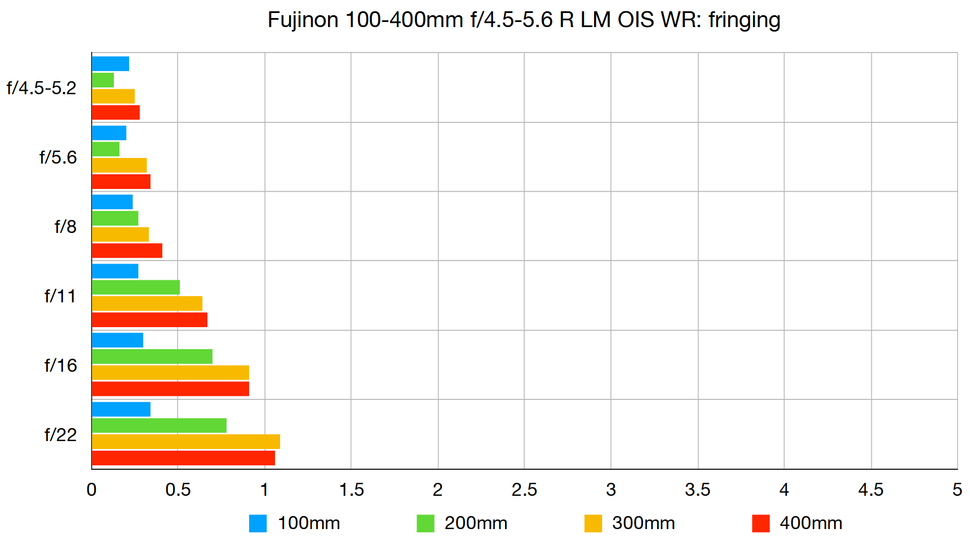 There's virtually no color fringing to be seen at any combination of focal length and aperture setting, even towards the extreme corners of the image frame.

Distortion: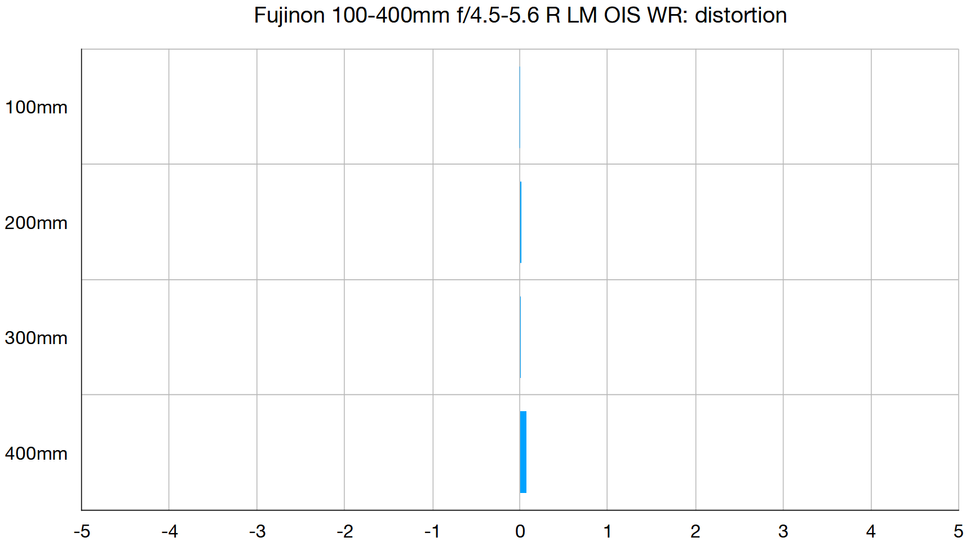 Helped by automatic firmware corrections which cannot be disabled, the net result is that images are entirely free of distortion at all focal lengths.
Verdict
Thanks to the crop factor of Fujifilm's X-mount mirrorless cameras, this lens delivers radical reach of up to 609mm in full-frame terms. It really covers the distance in action, sports and wildlife photography, for which the super-fast autofocus system and 5-stop optical stabilizer also play into your hands. Indeed, although no lightweight at 1.4kg, it's perfectly manageable even for prolonged periods of handheld shooting, while performance is excellent in all respects.
Read more:
• Best Fujifilm lenses
• Best Fujifilm cameras
• Best camera lenses to get
• Best Canon lenses
• Best Nikon lenses
• Best Sony lenses