Normally, cameras as small as this come with significant handling compromises, but the PowerShot G1 X Mark III is laid out very well.
The main mode dial on the top has a locking button so that you don't turn it accidentally, and over on the right side is an exposure compensation dial with no locking button but an action stiff enough to prevent accidental operation. Actually, it's perhaps a little too stiff if you like to dial in compensation with your thumb, but that's better than a dial that turns too easily.
The main control dial is on the front of the camera, where you'd normally expect to find it at the top of the grip on larger cameras – but this position is fine, and it's right where your index finger naturally falls, so you get used to it in no time.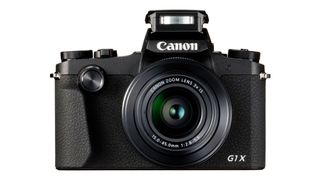 The second control dial is on the rear, around the four-way navigation buttons. This isn't so good, because you have to spin the dial without pressing it down, because pressing on the ring will activate the drive mode, flash, info screen or focus settings – and this can be a real nuisance. You may not find this to be an issue, but if you find you need to apply a little pressure to get a proper purchase on the control ring, you could find this quite frustrating.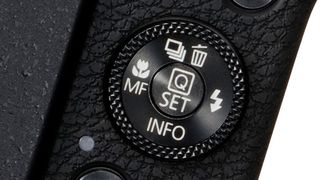 There's a small moulded thumb-rest on the back of the camera and a grip/ridge on the front. They don't look as if they couldn't possibly make a difference, but they do. Both have a grippy, rubberised surface that gives you a surprisingly secure one-handed hold on the camera.
As the zoom is operated electronically, there's no mechanical zoom ring on this camera. You can operate this either using a spring-loaded zoom lever around the shutter release, or the multi-function control ring around the lens itself. Neither is quick, and the zoom motor is noisy too, so you probably wouldn't want to zoom while filming. Worse still, the lens control ring has a disconnected, laggy feel, which makes zooming even slower. Sadly, this isn't one of the PowerShot G1 X III's high spots.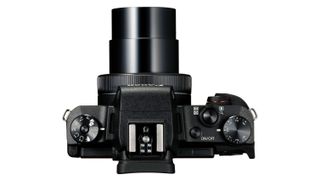 That's not the only thing. With interchangeable zoom lenses you can expect the minimum focus distance to stay the same whatever the zoom setting, but this lens is like compact camera lenses, where the minimum distance changes with the zoom setting. So, you can't pull the usual DSLR trick of zooming in to get a closer shot because this will often put nearby subject's out of the lens's focus range (minimum focus is 10cm at the wideangle setting, but 30cm at full zoom).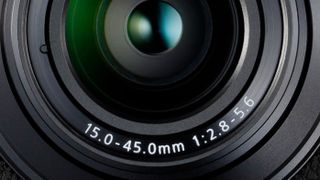 This lens has other limitations that are obvious enough in the specifications and prove to be just as irksome in real-life use. A 3x zoom range isn't much, and, when combined with a two f-stop drop in maximum aperture as you zoom in, it does feel limiting. It's what you'd expect from a low-cost kit lens on a DSLR or a mirrorless camera, not an expensive high-end compact. While it's a compromise Canon has clearly had to make to get an APS-C sensor inside a camera this small – and the designers deserve plenty of credit for that – it's a compromise nonetheless.
It certainly feels well made, and Canon says the PowerShot G1 X Mark III is weather-sealed too, which is unusual for a compact. In fact, you can even get a dedicated waterproof casing.