By their very nature, wearable action cameras need to be compact and lightweight. The Opkix One, however, takes things to another level – the world's smallest wearable camera is the size of two sugar cubes and weighs just 12g.
Made by Tokyo-based manufacturer Litec, the Opkix One is so small and perfectly formed that it can be worn on your glasses, as a necklace or even on a finger ring. Alternatively it can be mounted in more conventional ways, such as on top of a bicycle helmet, and contains a built-in magnetic plate.
The device actually comprises two cameras, to enable synchronized shooting. This affords you either a backup camera shooting from a near-identical position, or the ability to shoot from two separate viewpoints simultaneously – another definite USP for the system, which in terms of features alone looks to be one of the best action cameras out there.
Measuring just 14 x 15 x 36mm, the Opkix One features a 22mm lens (in 35mm equivalent terms) with an f/2.2 aperture. It can record 1080p video at 30 frames per second, shooting continuously for up to 15 minutes to its 4GB memory. Its 75mAh battery charges in about an hour.
• The best budget action cameras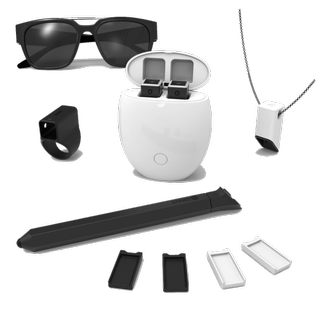 There is no external screen, but LEDs surrounding the cameras' lenses indicates when they are recording (the LED looks to be purely indicative, rather than a source of illumination).
A dedicated Opkix Studio smartphone app enables seamless video transfer from the cameras, after which it can edit videos as well as apply Electronic Image Stablization (to correct camera shake), filters, augmented reality features and "facial recognition stamps using your device's camera".
The Opkix One comes in a Starter Pack with both cameras, an 'Egg' charging and interface station, as well as four mounting accessories (eyewear, necklace, ring and stick) for ¥49,800 ($457 / £356). It is available now directly from Litec, and we dearly hope to see it released in the west soon!
Read more:
The 10 best action cameras in 2020: cameras you can take anywhere
The best GoPro cameras in 202o: fantastic action cams you can buy right now
GoPro Hero8 Black review