Some weeks of camera news are dominated by rumors, some weeks are dominated by an onslaught of new products, and some weeks are dominated by ludicrous figures relating to photography.
This week has been one of the latter, with big (in every way) camera news coming in the form of a 1.8 billion-pixel photograph taken by NASA – and on the surface of Mars, no less.
We've also got a camera priced at $18,995, courtesy of Leica. We'd call it a new product, which it technically is, but we saw it a year and a half ago and nothing perceptible has changed…
There's also a slew of new lenses from Tokina, as well as a natty trick with Sony's latest Xperia that turns your phone into an external display for stills and video. Adios, Atomos? Here are the five biggest camera news stories of the week!

1.8 billion pixel photograph taken on Mars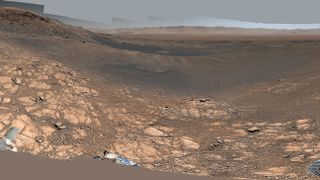 Is there life on Mars? Well, there's certainly a very busy little robot up there working incredibly hard – in fact, NASA's Curiosity rover even worked on Thanksgiving, producing an incredible 1.8 billion pixel 360° panorama on the red planet.
While the rest of us were overdosing on pumpkin pie and surfing for Black Friday bargains, Curiosity spent the 2019 Thanksgiving holiday photographing Glen Torridon – an area on the side of Mars' Mount Sharp, which it had been exploring.
It took over 1,000 photographs between 24 November and 01 December, using the telephoto lens on its Mast Camera ("Mastcam") to produce the high-res 1.8 billion pixel panorama. In fact, it even did double duty, using its medium-angle lens to capture a lower-resolution pano of 'just' 650 million pixels, which included its deck and robotic arm…
Read more: This 1.8 BILLION pixel panorama of Mars is out of this world!

$18,995 for 64MP? Meet the Leica S3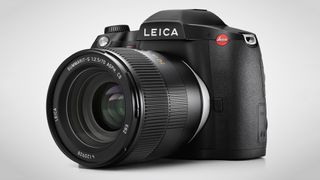 Some 17 months after we last saw it, the Leica S3 has finally been officially released. The long-awaited medium format DSLR boasts a 64-megapixel sensor and uncropped full-width 4K video – but comes with an $18,995 / £16,500 price tag that is more than a little out of whack for that kind of resolution in 2020.
To put the Leica S3's price into context, the Fujifilm GFX 100 is $9,995 / £9,499 for 102MP, the Hasselblad X1D II 50C is $5,750 / £5,399 for 50MP, and the Fujifilm GFX 50R is currently just $3,499 / £2,999 for 50MP. And if you're not fussed about medium format, the full-frame Sony A7R IV is $3,498 / £3,499 for 61MP. So why is Leica so expensive? The answer, of course, is because it's a Leica.
The Leica S3 features a unique medium format sensor size and ratio; the proprietary ProFormat sensor is 30 x 45mm with a 3:2 aspect ratio, offering a slightly different shooting proposition to the 44 x 33mm dimensions and 4:3 aspect favored by both Fujifilm and Hasselblad…
Read more: $19,000 for 64MP? The Leica S3 is out this month… if you can afford it

Canon abandons touch input for Canon EOS R5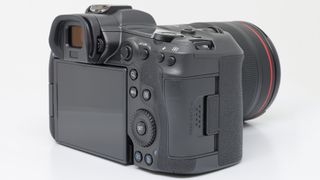 The first images of the rear of the Canon EOS R5 have appeared online and reveal a number of design differences from the base Canon EOS R – namely the abandoning of the M-Fn touchbar. The Canon EOS R5 will instead feature a traditional joystick – and not the Smart Controller of the Canon EOS-1D X Mark III, which we'd hoped for – in addition to a familiar AF-ON button.
Among the many divisive opinions of the Canon EOS R upon its release, the M-Fn bar was reviled by most users who would much rather have seen a traditional joystick – and all credit to Canon for listening to the feedback. Indeed, in all subsequent revisions of the body (the Canon EOS RP and Canon EOS Ra) the input was unceremoniously dumped.
In the newly revealed images of the R5, shared by Japanese outlet DC Watch, we see that the critics got their wish. In fact, the entire rear of the camera has been completely redesigned; the streamlined 8-button approach to the EOS R has given way to a more traditional 11-button configuration much more akin to Canon's DSLR design, right down to the reinstated scroll wheel (replacing the circular D-pad)…
Read more: Touchy subject: Canon abandons touch bar on Canon EOS R5

Use your Xperia 1 II phone as an external monitor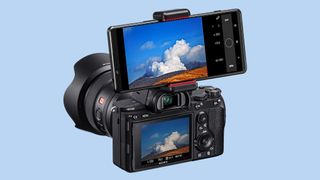 If you've been longing to mount your smartphone on your hotshoe to act as an external monitor, your wish has come true! Among its host of dazzling new features, the Sony Xperia 1 II can pair with your Sony Alpha camera to act as a second screen. This function enables the phone to work in conjunction with the Alpha series of mirrorless cameras, radically increasing the 3-inch rear screen of Sony's bodies with the huge 6.5-inch display of the new flagship camera phone.
And it's not just the sheer size of the screen; the high quality 21:9 HDR OLED display boasts 4K resolution and a smooth 90Hz refresh rate, and is optimally tuned for image fidelity. Its white balance, for example, can be customized to D50 or D55, enabling pristine reproduction for reviewing stills or footage.
Likewise its color rendition is highly impressive, with an equivalent 10-bit display (achieved via 8-bit with 2-bit smoothing) that can display a spectrum of color without exhibiting banding issues. Indeed, the screen supports professional reproduction standards such as DCI-P3 100%, BT.202013 color space and D65 White Point, and also boasts a high contrast ratio of 1000,000:1 to display deeper blacks and more natural whites…
Read more: Use your phone as an external monitor with the Sony Xperia 1 II!

Tokina's tidal wave of new Sony and Fuji lenses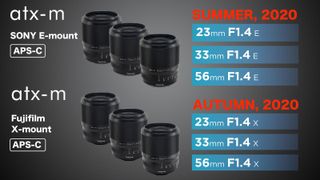 Tokina has announced a raft of new lenses due this year for mirrorless APS-C Sony and Fujifilm cameras. This comes as welcome news, given the current relative lack of third-party lenses for APS-C Sony and Fujifilm systems. Come summer we can expect three new primes for Sony E-mount cameras: an atx-m 23mm f/1.4, atx-m 33mm f/1.4, and atx-m 56mm f/1.4. This same trio of primes are scheduled for release in Fujifilm X-mount-fit in the autumn.
The announcement follows a recent trend of third party lens manufacturers embracing previously under-supported systems with new prime optics, most notably Sigma's launch of its 16mm, 30mm and 56mm f/1.4 DC DN Contemporary lenses for Canon's M-mount cameras.
And it's not just APS-C Sony shooters who Tokina is out to impress this autumn. The company is also due to launch two new full-frame Sony FE-mount optics for A7 and A9 cameras. Expect to see atx-m 35mm f/1.8 and atx-m 50mm f/1.8 lenses joining the recently launched atx-m 85mm f/1.8 portrait lens – a lens we recently reviewed and came away very impressed by…
Read more: Tokina announces a swathe of new lenses for mirrorless Sony and Fujifilm cameras

Latest buying guides:
The best digital photo frames in 2020: display your images the digital way!
The best camera for astrophotography: tools and lenses to shoot night skies
The best laptops for video editing in 2020: edit your footage easily on the move