The Canon EOS Ra is not the first camera modified specifically for astrophotography. Occasionally, camera makers do produce 'astro' versions of their leading cameras, and the EOS R is a good candidate, thanks to its vari-angle screen, mirrorless live view operation and – for those that have the budget – some super-fast RF lenses.
From the outside, the EOS Ra is indistinguishable from a regular Canon EOS R (apart from the badge) and the differences are on the inside. All camera sensors have infra-red filters to restrict the spectrum of light captured by the sensor to visible wavelengths, but the filter on the EOS Ra's sensor has been specially modified to transmit four times as much HA (Hydrogen Alpha) light. This extended red sensitivity means the EOS Ra can capture the characteristic reddish color of nebulae, for example, and will reveal a larger number of celestial objects for much richer night skies.
That's pretty much all you need to do to a regular camera to adapt it for astrophotography, but Canon has added another tweak – the ability to zoom in to a full 30x magnification of captured images to check for pinpoint focus accuracy. The EOS Ra's AF system is sensitive down to -6EV, but that may not be enough with a very dark sky, and if you're going to commit to long exposures or exposure stacking techniques, you're going to want to be absolutely sure of the focus before you start.
Interestingly, Canon says you can use the EOS Ra for regular photography too, but warns that its extended infra-red sensitivity can lead to some colors looking strange compared to what we see with the naked eye.
Specifications
• Sensor: 30.3MP full frame CMOS, 36 x 24mm
• Image processor: Digic 8
• AF points: 5,655 Dual Pixel AF positions
• ISO range: 100 to 40,000 (exp. 50 to 102,400)
• Max image size: 6,720 x 4,480
• Metering modes: Evaluative, partial, spot, centre-weighted
• Video: 4K UHD at 29.97p, 25p, 24p, 23.98p
• Viewfinder: EVF, 3.69m dots, 100% coverage
• Memory card: SD / SDHC / SDXC
• LCD: 3.15-inch fully articulating touchscreen, 2.1m dots
• Max burst: 8fps
• Connectivity: Wi-Fi, Bluetooth, NFC
• Size: 135.8 x 98.3 x 84.4mm (body only)
• Weight: 580g (body only; 660g with battery and card)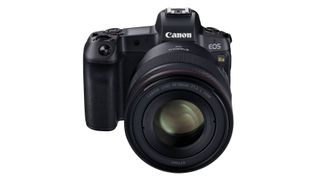 Key features
Apart from its astrophotography adaptations, the EOS Ra is essentially the same as the EOS R. It has a full-frame 30.3MP CMOS sensor and a phase-detection AF system with 5,655 focus positions covering 88% of the frame horizontally and 100% vertically.
The EOS Ra does not have in-body image stabilisation (IBIS), unlike rival full frame mirrorless cameras from Sony, Nikon and Panasonic. That's an issue for the regular EOS R, but not for this variant, which is almost certainly going to be used on a tripod or an equatorial mount.
We have complained about the heavy 4K video crop in the past, but this will only affect astrophotography if you need an ultra-wide view of the sky. The 1.7x crop means that your RF and EF lenses won't be nearly as wide (a 24mm lens becomes 40.8mm equivalent).
Canon's new RF lens mount has allowed Canon's engineers to produce optics with larger rear elements and better performance, such as the superb RF 50mm f/1.2L USM. Fast lenses like this, and the amazing RF 28-70mm f/2, will be well suited to astrophotography.
The 30MP sensor in the EOS R has drawn some criticism for its lower resolution compared to rivals like the Sony A7R Mark IV, Nikon Z 7 and Panasonic Lumix S1R, but it does offer a good compromise between resolution and low noise levels, with an ISO range of 100 to 40,000 (expandable to 50 to 102,400).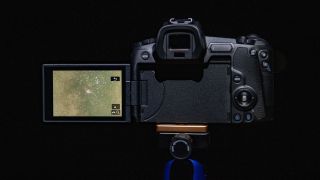 Build and handling
We do like the EOS Ra's magnesium alloy body, which feels both wieldy and robust. This compact size does mean that larger lenses like the RF 50mm f/1.2L USM and particularly the RF 28-70mm f/2L USM start to be unbalanced, but this doesn't make any difference for tripod use.
The Control ring you get on RF lenses is especially useful. This can be programmed to adjust aperture, shutter, white balance or ISO and can be found easily by touch in the dark (just don't change the focus by accident).
The unique M-Fn Bar on this camera is controversial, but we quite like it. You can set it up so that a touch, tap or swipe will manipulate the ISO, enabling you to control the entire exposure triangle without taking our eye away from the EVF.
This EVF is one of the best we've used; it's big, responsive and crystal clear. Better still, the rear screen is fully articulated, which makes things much easier if the camera is mounted at an awkward height on a telescope adapter.
Performance
You can check out our regular Canon EOS R review to see what we think of that camera for daytime photography, and for this test we concentrated (obviously) on shots of the night sky.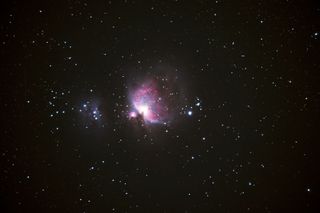 Above is a single exposure of the Orion Nebula captured by astrophotography specialised Chris Grimmer for our review. Chris was impressed with the colours and how clearly you could see images on the screen, especially with high ISOs. It made it really easy to focus on the foreground or stars as you could virtually see in pitch blackness. The 30x zoom proved a real boon for focusing too.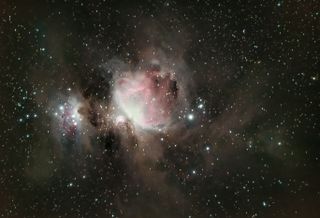 This second image is a set of 15 exposures combined in free star stacking software . Sequator. This stacking technique helps build up the colours and depth in nebulae and galaxies and also reduce noise.
The EOS Ra was mounted on a Sky-Watcher Star Adventurer Pro equatorial mount on a tripod. An angled equatorial mount will follow the angle of rotation of the Earth so that stars render as pinpoints of light rather than curved trails.
Lab tests
The Canon EOS Ra has unique adaptations for astrophotography and has no direct rivals (apart from Canon's own EOS 60Da, which we haven't reviewed). Nevertheless, we ran it through our suite of lab tests to see how it performs against three regular cameras – including its sibling, the Canon EOS R, the Nikon Z 6 and Sony A7 III.
Resolution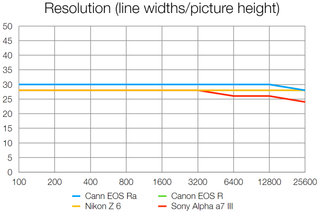 It's no surprise that the 30MP EOS Ra manages to resolve more fine detail than the 24MP Nikon Z 6 and Sony A7 III. The EOS Ra scores are identical to the regular EOS R in this test.
Dynamic range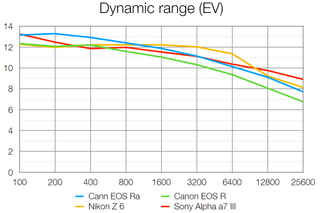 Canon's sensor and processing tweaks for the EOS Ra have noticeably improved dynamic range. It manages to record around 1 stop of extra dynamic over the standard EOS R range right across the ISO sensitivity range.
Signal to noise ratio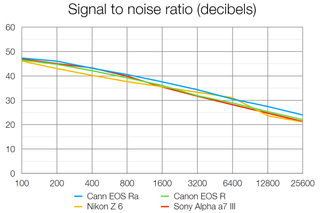 Our signal to noise test measures image clarity, specifically the ratio of the actual image 'data' you want to capture, versus the image noise that you don't want, but will inevitably be visible when shooting at higher ISO sensitivities. The higher the score at a given ISO sensitivity, the better.
All four cameras are very closely matched in this test, but with the EOS Ra, Canon has managed to improve on the EOS R's performance, and the Ra just manages to edge out the competition throughout the sensitivity range.
Verdict
The Canon EOS Ra is physically identical to the regular EOS R, so we found the same combination of handling likes and dislikes. But this camera is designed for a very specialised field, and some of these quirks hardly matter here. The lens Control ring is a plus point, bing easier to find in darkness than buttons and dials, the cropped 4K video is much less important, and the and lack of in-body image stabilisation doesn't matter in a camera that's going to be used on a tripod. What makes the EOS Ra unique compared to regular cameras is its sensor's extended infra-red sensitivity and increased 30x magnification for pinpoint focus checking.
The fact is, this is one of only a handful of off the shelf cameras specially adapted for astrophotography, so it doesn't have a lot of competition. And while we have misgivings about some aspects of the regular EOS R's design and handling, they are much less important in this field, and the camera's strengths start to shine through.
There is a 20-25% price premium for the EOS Ra version over the standard camera, but that doesn't seem a lot for a specialized conversion of this kind.
Read more:
• The best lenses for astrophotography right now
• These are the best mirrorless cameras today
• Free 2020 astrophotography calendar: what to shoot and when
• Astrophotography guide: how-to guides, tips and videos!
• Best CCD cameras for astrophotography