Vanguard have lifted the cover on a new exciting accessory for avid smartphone photographers. The VESTA 8320M digiscope allows a humble smartphone to deliver stunning telephoto images - ideal for the budding wildlife photographer or birdwatcher looking to capture quality record shots.
Specifications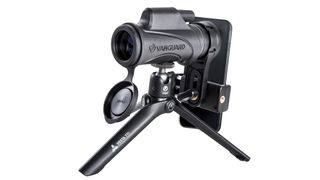 Max magnification: 8x
Objective lens diameter: 32mm
Viewing angle: 7.45°
Closest focus distance: 2.0m
Dimensions: 127 x 47 x 70mm
Weight: 260g
Price: $79.99 / £79.99
The Vanguard VESTA 8320M provides an 8x magnification to get the photographer closer to the action, using a 32mm objective lens. The optical construction makes use of a BaK4 roof prism and lens elements featuring specialized coatings, to provide sharp resolution and superior contrast. Nevertheless the unit remains compact and lightweight, for easy transport and storage. It measures only 5 inches (12.7cm) in length and weighs just 260g. For even more portability the monocular is supplied with a neck strap, so it can be quickly accessed when needed, while a safety pouch enables it to be mounted on a belt.
The monocular also makes use of a 1/4" thread to enable the setup to be mounted on a regular monopod or a table tripod, for convenience. The focussing mechanism is simple and intuitive, employing a single long-travel focus wheel. This is designed to simplify the focus procedure, even in tough outdoor conditions, such as cold and wet environments. The wheel is textured for a good grip, with minimal slip when wet.
• The best add-on lenses for iPhones and Android phones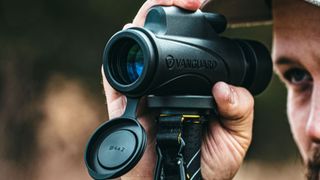 To protect against the elements, and the rigors of regular usage, the monocular is fitted inside a durable, thick rubber armor, with provided lens covers, to prevent scratches on the main optics and the eyepiece. The unit is waterproof and fogproof.
A key feature of the VESTA 8320M setup is the supplied PA-60 Universal Smartphone Adaptor. This is central to allowing users to employ the monocular as a digiscope. The universal design accepts any smartphone up to 2.15-3.4 inches/55-87mm wide and is easily affixed to the monocular eyepiece. Meanwhile a phone is secured using rubber grips and a dedicated, threaded clamp. The adjustable bracket enables the adaptor to be positioned to align with the lens of most smartphones, which vary in their position and size depending on phone model.
Read more: The best camera phone in 2020:
The Bluetooth Remote Control function enables the user to trigger the camera's shutter without physically touching the phone, to reduce blur-inducing vibrations - especially useful at high magnifications.
The VESTA 8320M was originally scheduled to launch at The Photography Show 2020, which has now been postponed until September. It will retail for $79.99 / £79.99.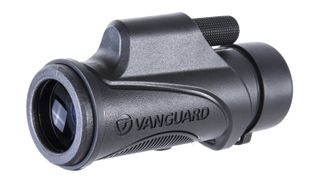 Read more
The 10 best spotting scopes in 2020: spotting scopes for birds, planes and stars
The best lenses for bird photography in 2020
The best binoculars in 2020: binoculars for wildlife, nature and astronomy