Everyone knows the main purpose of binoculars is to bring the faraway closer. But what if your subject is a rare form of bird or beast, and you want to capture the image for posterity? While spotting scopes may offer special attachments for attaching cameras to shoot through the eyepiece – a pursuit known as 'digiscoping' – binoculars typically don't.
So, for the purpose of our buyer's guide, we're looking for binoculars with cameras already built in. While we'd be right to assume these are relatively rare and somewhat niche, a handful do exist, which we're covering here.
Naturally, as with any camera, we'll be checking out the resolution offered. Plus, just like any pair of binoculars, the magnification provided and the size of the objective lens is vitally important. As any scholar knows, 10x42 denotes a 10x magnification and a lens measuring 42mm in diameter. That's a constant. The higher the numbers may suggest better the performance. But as ever it's about finding that sweet spot that suits you. After all, a large objective lens and a generous magnification can also mean a large and weighty binocular.
While most of us will have considered binoculars as our first port of call, we might not have considered the more compact alternative of a monocular with a built-in camera. That's why we've deliberately included the Canon PowerShot Zoom here. It's a neat solution from a reputable manufacturer that could make for a great left-field choice.
So without further ado, let's dive into what's currently on offer when it comes to the best available binoculars with built-in cameras…
Best binoculars with cameras: our top picks
Best for night-obversions
The chief appeal of this bulky digital binocular is that it provides us with infrared-powered night vision, making it a boon for wildlife watchers.
2: Camonity 12x32 Digital Binoculars with Camera
Best for portability
This plastic-y-looking, relatively compact pair of binoculars are best suited for watching wildlife, concerts, sports, or more general surveillance.
3: Canon PowerShot Zoom monocular
Best for camera image quality
from a tried and tested manufacturer with a long history of both optical and photographic excellence. Which is why we felt it was well worth including here.
Best binoculars with cameras:
Why you can trust Digital Camera World Our expert reviewers spend hours testing and comparing products and services so you can choose the best for you. Find out how we test.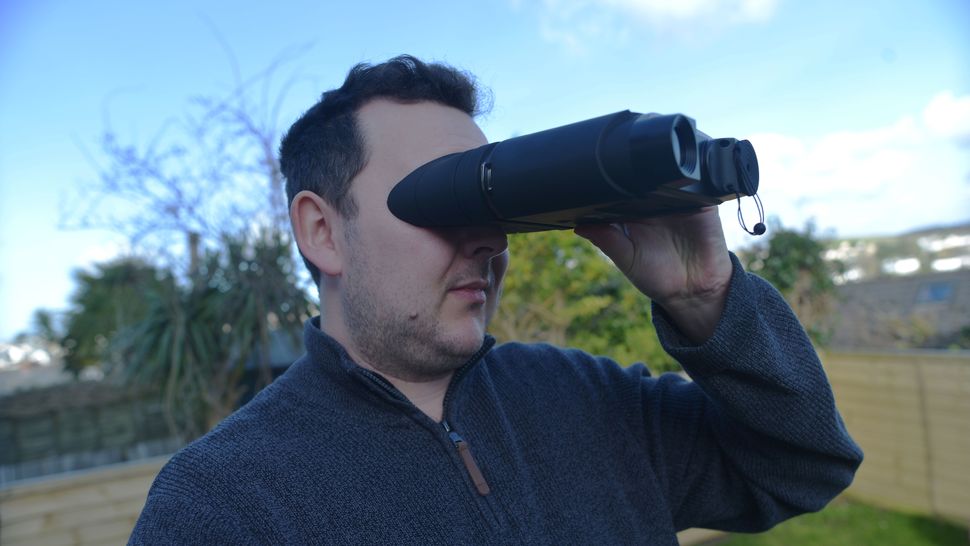 The chief appeal of this bulky digital binocular is that it provides us with infrared-powered night vision, making it a boon for wildlife watchers. But the added reason we're including it here is that it offers video recording, delivering grey, night vision type footage when it's dark and regular colour footage during the day. We also get a handy photo mode with it. Though the CMOS sensor boasts a 1920x1080 resolution, the actual recorded footage is a slightly less impressive HD quality 1280x960.
An additional purchase is the 6x AA batteries that provide around three hours of continuous use. We found good results are achievable at up to 150 metres, while even at up to 180 metres results are fair, its bright/fast f/1.4 aperture lens automatically adjusting for day or night.
The wrap-around viewfinder/eyepiece is of good enough quality for us to accurately pinpoint our subjects, recording to removable SD cards of up to 32GB capacity. There's also the option to tripod mount the binocular. A Micro USB port is another handy extra.
OK, so a 3x optical, 2x digital magnification isn't any great shakes in terms of pulling the faraway closer. But at least we'll have hard photographic evidence to fall back on later, rather than just our own recollections.
Read our full Nightfox Corsac review for further details.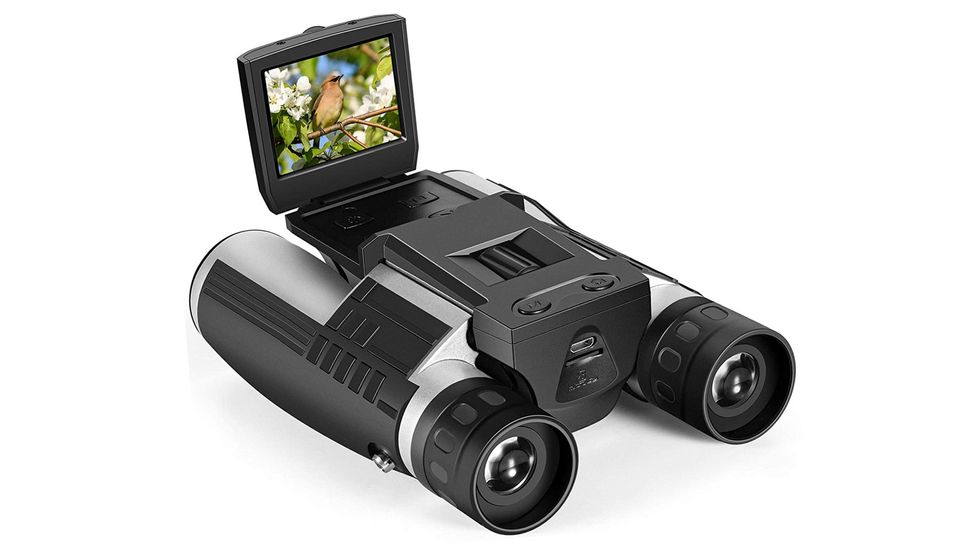 This plastic-y looking, relatively compact pair of binoculars for watching wildlife, concerts, sports, or more general surveillance unusually incorporates a flip up 2-inch LCD display screen on its top plate, rather than incorporating said feature into its viewfinder/eyepiece. A camera sits between the lenses at the front.
This pair of binoculars is sold under a variety of brand names, depending where you shop - including Camonity, Dreamy, Ansee, and Acuvar.
Suitable for everyday use, core features here include a maximum 12x magnification married to a 32mm objective lens. Once again, 5MP stills and 1080P video are recorded to a removable microSD card, with up to 32GB capacity supported and a slot provided between the eyepieces. Operational range is claimed to be approximately 500 metres, which is generous. Also located between the eyepieces, where it falls under the forefinger of the right hand, is a shutter release button.
Powered via lithium ion battery, this center focus device would suit those seeking an inexpensive pair of binos that also, unusually, features a camera built-in. Unlike others here we don't get the option of night vision, however, so spending a bit more and getting an option that does might ultimately be worth it for night owls.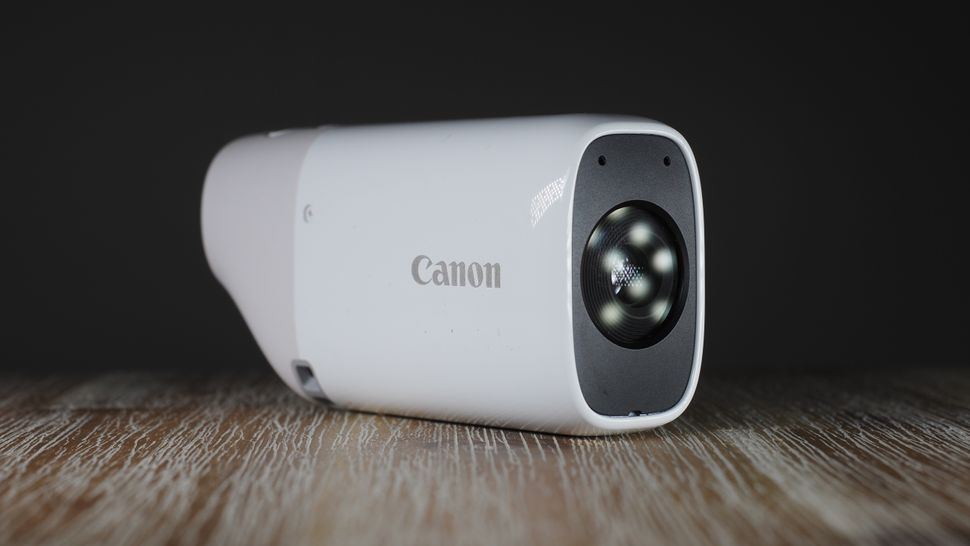 OK, this is an autofocus monocular that can take pictures rather than a pair of binoculars – a miniature telescope if you like. But it is from a tried and tested manufacturer with a long history of both optical and photographic excellence. Which is why we felt it was well worth including here.
Weighing just 145g the device is conveniently portable and can be slipped into a jacket pocket, though it doesn't have an infrared night vision facility, so is more for daytime use. The Canon's optical zoom is also relatively modest in present company at 3x, though it can be expanded from its maximum 400mm optical setting via 2x digital zoom to instead provide a maximum focal length equivalent to 800m.
Subjects are framed via an electronic viewfinder. Video capture resolution is a respectable Full HD 1080P at 30fps, while 12MP stills are also provided via a 12.1MP 1/3-inch CMOS sensor. With a closest focusing distance of one metre and basic Wi-Fi and Bluetooth connectivity meaning that images can be shared with a smartphone via the Canon Connect App, slightly less impressive is its mere one-hour battery life, or around 150 images.
Still, the lithium-ion battery can be recharged via USB port, while imagery is saved to microSD card, which we'll have to supply ourselves. While it might not be perfect in every way this Canon is at least practical, while image quality should prove a cut above Chinese-made cut-priced competitors. With built-in image stabilization provided, the added fact that the design of the device means it fits snugly in the grip of the palm, while resting against the eye socket of the user, further allows for a steadier view.
Read our full Canon PowerShot Zoom review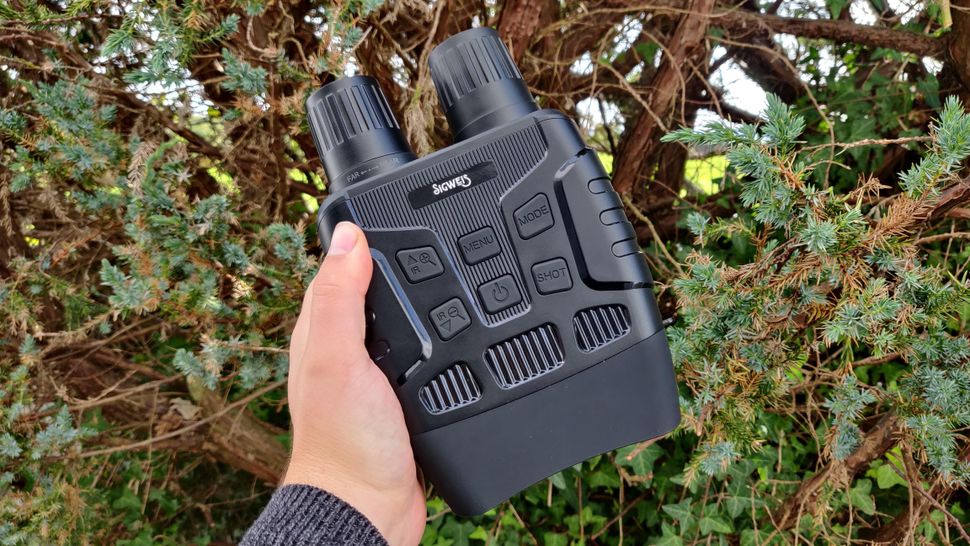 These solid-feel night vision providing binos might be a little bulky to handle, but more palatable for wildlife watchers is the value-added cost. Here we've the ability to not only view subjects at night or during the day, and capture grayscale night vision footage or colour respectively, but record in Full HD too. These infrared binos have a seven-stage sensitivity range with operational distance being around 300ft. Buttons located atop the device provide access to 4x digital-only magnification, 1920x1080 pixels video recording and the ability to capture 3 megapixel stills, both written to microSD card, while micro USB connectivity is further featured.
As usual these night vision binos require 6x AA batteries for power, providing three hours of use. We found it delivered great results at up to around 300ft, and we were still able to make out the likes of deer, sheep and rabbits at around 500ft. A 2.31-inch electronic viewfinder delivers excellent quality for its price range, enabling us to make out fine detail whether using at night with infrared deployed, or during the day. Also atop the device are zoom in and zoom out buttons. The only real negatives for us are the size and the weight of 1.3Kg, which you begin to feel with prolonged use.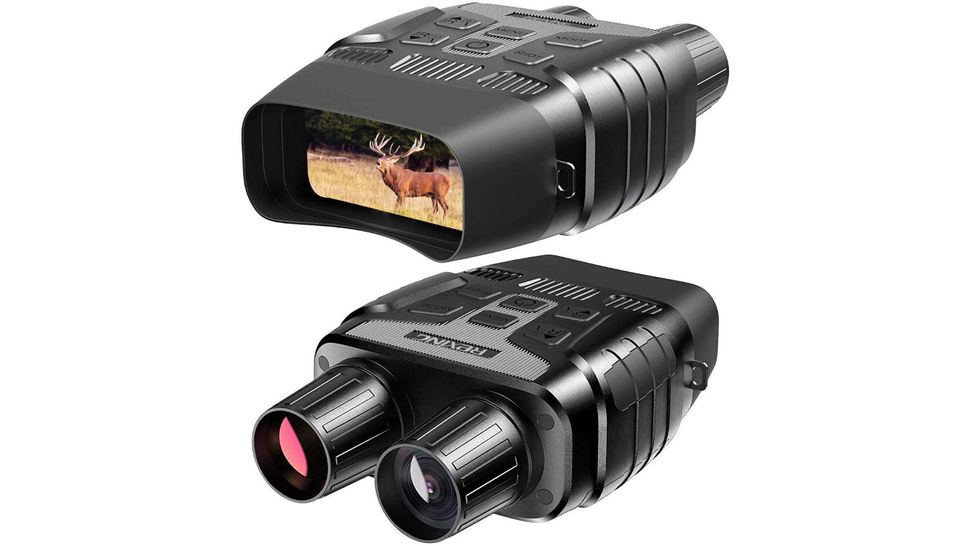 Nature lovers seeking enhanced night and daytime viewing plus the ability to capture low 1MP resolution still photos and HD quality 1280x960P video at up to 30fps without breaking the bank have another option here. Attendant core features include a viewing range of up to an impressive 300m (984ft) courtesy of the built-in infrared sensor, with a 10x optical, 4x digital zoom combo bringing the faraway that much closer and a bright f/1.2 aperture lens theoretically letting in plenty of light. Seven Infrared modes allow users to fine tune visibility as desired, while the device can be tripod mounted if our arms get tired.
Battery life supplied via 6x AAs betters some rivals in offering up to six hours of continuous video recording, or 17 hours of constant daytime operation if not using infrared. We also get IP56 level water resistance for use in the great outdoors, while the built-in LCD viewfinder allows for playback of imagery as well as viewing our subjects in the first place. Connectivity comes courtesy of USB 2.0, while there's the ability to insert an optional microSD card for image capture. In operation a 'Mode' button lets users quickly switch between video and stills capture. Further peace of mind comes via a 18-month warranty.
Read more:
The best binoculars
Best zoom binoculars
Best budget binoculars under $100
Best marine binoculars
Best rangefinder binoculars
Best compact binoculars
Best opera glasses