Nikon has now released its Webcam Utility software that turns your DSLR or Z mirrorless camera into a webcam – ideal for videoconferencing in these days where much of the population is still working from home, chatting with family and friends on video apps like Zoom, or broadcasting yourself to the world on Youtube.
Webcam Utility Version 0.9.0 is still in 'beta' release, meaning that this is an early test version where there may well still be bugs to be ironed out – so use it at your own risk! The current download is for Windows 10 only (there's no news on whether a Mac version is forthcoming).
Other camera manufacturers have already released software to turn their own cameras into webcams, including Canon, Panasonic and Fujifilm.
• Read more: Best webcam for home working
Webcam Utility Version 0.9.0 is free to download, and is compatible with the following models:
Nikon has committed that future Nikon mirrorless and DSLR cameras will also be compatible with the Webcam Utility software.
Once the software has been installed, simply connect the computer to your compatible Nikon camera with a USB cable, then marvel at the superior image quality offered by Nikkor glass and your DX or FX sensor, compared to the fingernail-sized units embedded in laptop or desktop machines.
Installation should be straightforward, but here are the detailed instructions:
Download the file named "S-NWU___-000900WF-ALLIN-ALL___.exe".
Before beginning installation, it's best to quit all other applications, including any anti-virus software.
When installing the update, make sure you log in to an account with administrator privileges.
Run the downloaded software and follow the on-screen instructions to complete installation.
There is no need to launch the software once installation is complete, and your Nikon should be selectable as a camera to use in your webcam applications.
Read more
How to use your camera as a webcam
Best camera for streaming on Twitch, Mixer and Facebook Live
Best Nikon camera: including Nikon DSLRs, Nikon Z and Coolpix compacts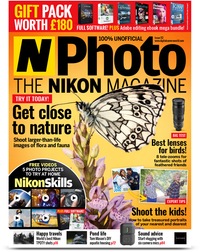 N-Photo: The Nikon Magazine is a monthly publication that's entirely dedicated to Nikon users. For the best news, reviews, projects and more, subscribe to N-Photo today!