The Nikon D780 will reignite a long-running camera debate about mirrorless versus DSLR cameras. It might even blur the boundaries and draw the two sides closer together, though we're not going to count on it. For some photographers a camera is just a camera; for others the choice between mirrorless and DSLR is as divisive as opposing political ideologies!
Like last year's Canon EOS 90D, the Nikon D780 is staging a counter-attack against the advancing hordes of mirrorless cameras. It takes crucial mirrorless technology, from Nikon's own mirrorless Z 6, to produce a kind of hybrid camera that offers the best of both worlds – an optical through-the-lens viewfinder but the high-performance live view AF and video features of a mirrorless camera.
The Nikon D780 has the makings to join the best full frame cameras on the market right now. Its launch prices is a little high for our liking, but it's still one of the best DSLRs around, and one of the best cameras for enthusiasts too.
So what's the beef with DSLRs vs mirrorless cameras? Traditionally, DSLRs offer optical viewing but compromised (slow) live view autofocus. Mirrorless cameras offer fast, hybrid on-sensor phase-detection AF but compromise with an electronic viewfinder (though many see it as an advantage, not a compromise.
However, Canon has been using its phase-detection on-sensor Dual Pixel CMOS AF system in its DSLRs for some time to give them the same live view performance as its own mirrorless cameras, and Nikon has now done the same with the D780. All along, there's been no technical reason why DSLRs shouldn't have the same on-sensor live view AF features as mirrorless cameras, and now it's happening.
The D780 is the first Nikon DSLR to use this on-sensor hybrid AF but it seems unlikely to be the last. It's a more upmarket alternative to the popular and long-running Nikon D750, sharing the same 24-megapixel resolution, but now with fast live view autofocus, 4K video, continuous shooting up to 12fps and improved processing.
It's interesting that Nikon is pursuing regular DSLR development alongside it's new Nikon Z mirrorless system, and a sign that the DSLR design is not quite the dead duck that many mirrorless fans believe.
The D750 becomes Nikon's cheapest full frame DSLR, the D780 can be seen as a more advanced enthusiast/semi-pro camera, and the only two cameras above it are the high-resolution Nikon D850 and the super-fast Nikon D6 pro sports camera.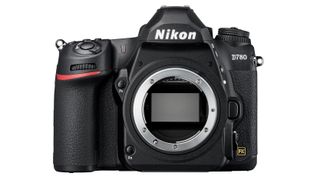 Specifications
Sensor: 24.4MP back-illuminated full-frame CMOS
Image processor: Expeed 6
Autofocus: 51-point phase detect (viewfinder), 273-point hybrid phase detect (live view)
ISO range: 100-51,200 (exp. 50-204,800)
Max image size: 6048 x 4024
Metering modes: 180k RGB sensor, Matrix, center weighted, spot, highlight weighted
Video: 4K UHD, 30/25/24p
Viewfinder: Optical pentaprism, 0.7x magnification, 100% coverage
Screen: 3.2-inch, 2359k-dot tilting touchscreen
Memory card: 2x SD/SDHC/SDXC (UHS II)
Max burst: Up to 7fps (viewfinder), 12fps (live view)
Connectivity: Wi-Fi, Bluetooth
Size: 143.5 x 115.5 x 76mm
Weight: 840g (including battery and memory card)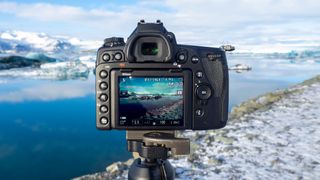 Key features
The Nikon D780 is designed for both stills and movies. By today's standards its 24-megapixel resolution is pretty much baseline spec for a full frame camera, but it does promise a good level of detail rendition combined with better high-ISO performance than you'd expect from a higher resolution camera. It also keeps the cost down for enthusiast photographers and allows uncropped 4K video downsampled from 6K data capture.
It's a well-planned modern evolution of existing camera tech rather than a bold new design. Nikon's Expeed 6 processor brings faster data handling and improved image quality, while the autofocus technology from Nikon's own Z 6 camera provides much faster live view focusing and 4K video – a big step up from Nikon's existing D750.
We understand the D750 will continue at a much lower price point for stills photographers who don't need 4K video or fast live view AF. In fact, after using the D780 for stills photography we were reminded how good the D750 was, and still is.
The Nikon D780 might have the sensor from a Z 6 (or an adapted version) but it still uses Nikon F lenses. You can use these on a Z camera with Nikon's FTZ adaptor, but you can't use Nikon Z lenses on the D780 because its mount is a lot narrower and its flange distance much longer, to allow room for the mirror mechanism.
The D780 has the same 180k RGB metering and scene recognition system as the more expensive D850. It also uses Nikon's tried and trusted 51-point phase detection AF sensor, though when you use the live view mode it swaps to the 273-point on-sensor phase detect AF system of the Nikon Z 6. This is a lot more sophisticated – and a lot faster – than the simple contrast AF system in the D750.
The live view experience is made even better with the high-resolution tilting 2359k-dot LCD monitor, with touch shutter release and AF point selection. This also offers wider 90% horizontal and vertical coverage than the viewfinder AF system, which uses a separate, dedicated sensor.
The Nikon D780 is unexpectedly good at continuous shooting. It can hit a good, though unremarkable, 7fps in viewfinder shooting, but this leaps to 12fps in live view, with a silent shooting option too.
The video capabilities are impressive too, including uncropped 4K UHD at 30/25/24fps, 60/50fps in DX mode and up to 120fps for full HD, but while the D780 does offer eye AF for stills, this doesn't extend to video. You get Nikon's N-Log option with up to 12-stop dynamic range and 10-bit capture, and you can capture HLG HDR footage to an external recorder via the HDMI port. There's an external mic socket, as you'd expect, but a headphone socket too.
Other features include a focus shifting mode for macro shots with extended depth of field, for example, and the ability to 'scan' 35mm film via Nikon's EX-2 digitising adapter and a Micro-Nikkor lens (both sold separately).
The ISO range is 100-51,200, expandable to ISO 50-204,800, and the D780 has an extended shutter speed range from 1/8000sec (good) to 900sec (excellent for long exposure fans). The D780 has dual UHS-II SD/SDHC/SDXC memory card slots, which is a nice surprise, and an extremely impressive 2,260 shot battery life, though we expect this would drop substantially with extensive use of the live view mode.
You can control the camera remotely using Wi-Fi/Bluetooth and Nikon's free Snapbridge app, or invest in the optional WR-1 and WR-R10 Wireless Remote Controllers. The Nikon D780 will be sold body only, or as a kit with the Nikkor AF-S 24-120mm F/4 VR long-range kit lens.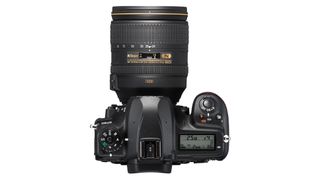 Build and handling
DSLRs are bigger and bulkier than mirrorless cameras, and full frame DSLRs are the biggest of the lot. That sounds like a disadvantage, but actually it was refreshing to use a camera body built to the same scale as today's full frame zoom lenses. We tested the D780 with the Nikkor AF-S 24-120mm f/4 VR and AF-S 16-35mm f/4 VR. These are both the kinds of lenses that enthusiasts and pros will want to use and both are weighty, medium-sized lenses that feel a good match for the D780 body.
We were also lucky enough to test the camera for several days in Iceland, where its size and heft were welcome when shooting and making adjustments in extreme cold and wearing gloves.
That's not to say the D780 is quite perfect. The four-way D-pad on the back could do with being bigger, and while it works faultlessly, it has a slightly imprecise, 'wobbly' action. It's surrounded by a lock lever designed to prevent accidental adjustments which is itself flicked a little too easily by accident. This lock lever is a very useful feature, but if the touch AF point selection on the rear screen unexpectedly stops working, it's because you've accidentally locked the controls.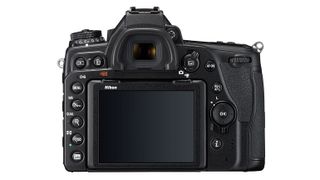 Also, although it has the on-sensor AF system of a mirrorless camera and the same live view performance, the D780 does not offer the seamless, automatic transition between viewfinder and rear screen shooting that a mirrorless camera does. On a mirrorless camera, an eye sensor detects when you put the camera to your eye or take it away again and switches displays instantly and automatically. On the D780 you have to press the live view button manually, and the camera's 'ker-chunk' as it locks up the mirror is a reminder than it's making a mechanical internal adjustment.
Users of other camera brands sometimes remark that Nikon control layouts are different to others and take a little learning. That's true to an extent, but the D780's buttons and dials will be instantly familiar to anyone who's used Nikon DSLRs in the past, and while the camera make look a little fussy at first, you very quickly adapt to its layout and it does offer fast and efficient external controls.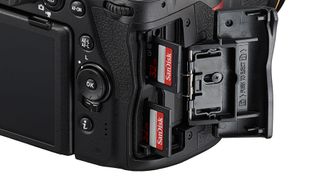 Above all, its finish and construction feel first rate. Unlike most mirrorless cameras which are all angles and edges, the D780 has a smoothly-contoured body with soft-feel materials and a very comfortable grip.
The rear screen is especially good. It has a tilting mechanism rather than a vari-angle pivot, but that's fine for horizontal shots and keeps the screen on the same optical axis as the lens. The screen is larger than usual at 3.2 inches across the diagonal, has a high 2359k-dot resolution and the Touch AF and Touch Shutter modes work very well – you tap to select the focus point or to focus and shoot in a single action.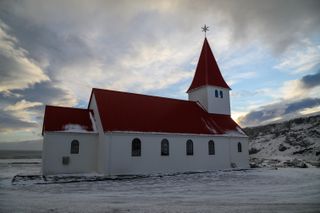 Performance
Most of our test shots were outdoor landscapes or close-ups, and both of the D780's AF systems proved fast and efficient. This is another difference – with a mirrorless camera, the AF system is the same for both viewfinder and live view shooting. With the D780 you need to adjust to two different AF systems with two different sets of characteristics and AF modes.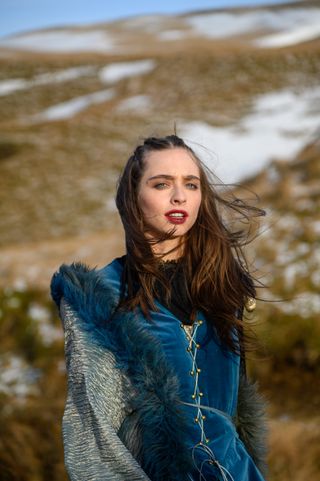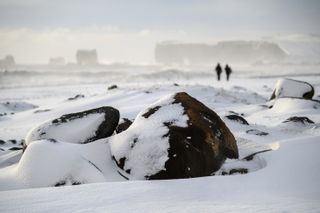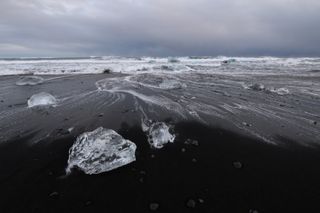 Our Iceland expedition offered up some amazing subject matter but it also provided some serious exposure headaches, thanks to the extremes of ice and snow and near-black lava beaches. Most shots taken with the default Matrix metering needed some kind of editing later, but that was mostly a reflection of the very difficult subject matter.
Even taking that into account, though, it does seem as if the D780's Matrix metering is biased towards highlights rather than midtones. You're less likely to get highlight blowout with this camera but more likely to have to make tonal adjustments in software later. We also had a few shots which were underexposed for no obvious reason.
Given the difficult conditions and the once-in-a-lifetime subject matter, we shot in raw and the images shown here have been adjusted for exposure in Adobe Camera Raw, which was updated to include support for the D780's raw files during our test.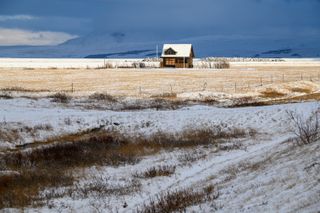 The D780 might have the sensor technology of the Z 6, but it doesn not have that camera's in-body stabilization. The lens based VR in many of the Nikkor F mount lenses is very effective for stills photography, but did not do much to stabilise the footage in our hand-held video tests. The D780's video quality is great, but we think this is a camera best used with a tripod or a stabilising gimbal.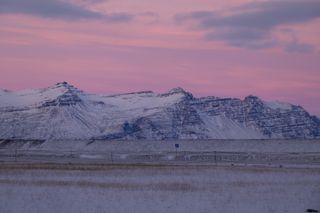 The 7fps continuous viewfinder shooting and 12fps in live view is pretty impressive, but the buffer capacity of 68 lossless compressed 14-bit raw files or 100 JPEGs is more impressive still. It's not billed as a camera for sports, but the D780 is pretty well equipped for a camera in this class.
It also has a highly impressive 2,260-shot battery life, though we assume this figure is based around viewfinder shooting, and that continuous live view shooting would drain the batteries a lot faster. The Nikon Z 6, for example, has a battery life of 380 shots.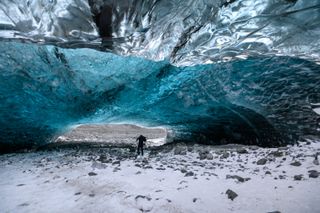 Lab tests
We ran our usual set of lab tests on the Nikon D780 and then compared its results against those of three rival cameras. We chose the old Nikon D750, still on sale at much lower prices than the D780, the Canon EOS 6D Mark II and the Sony A7 III, a mirrorless rival to Nikon's latest DSLR.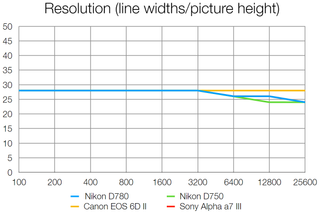 Resolution
The two Nikons and the Sony camera have 24-megapixel sensors. The Canon EOS 6D Mark II has 26 million pixels, but in practice its resolution was no higher than the rest except at ISO settings of 6400 and beyond. With peak resolution of 2,800 line widths/picture height, the Nikon D780's resolving power is exactly as we'd expect for a full frame 24-megapixel camera, and it's matched almost exactly by its rivals.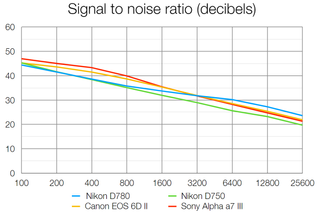 Signal to noise ratio
We often find that Nikon's image processing does not apply as much noise reduction as other brands, and we see that repeated here, where the D780 is slightly noisier than the rival Canon and Sony cameras at low to medium ISO settings, but at ISO 3200 and beyond it looks as if the new Expeed 6 processor really kicks in and the D780 offers the best high-ISO performance of this group.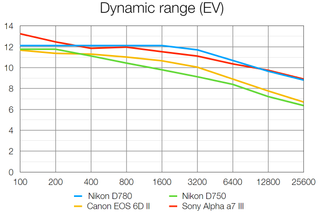 Dynamic range
In our dynamic range test, the Nikon D780 shows a marked improvement over the older D750 model, and indeed the Canon EOS 6D Mark II. In fact, across the full ISO range it narrowly beats the Sony A7 III, a camera with particularly good dynamic range.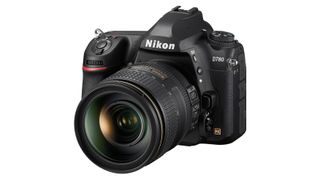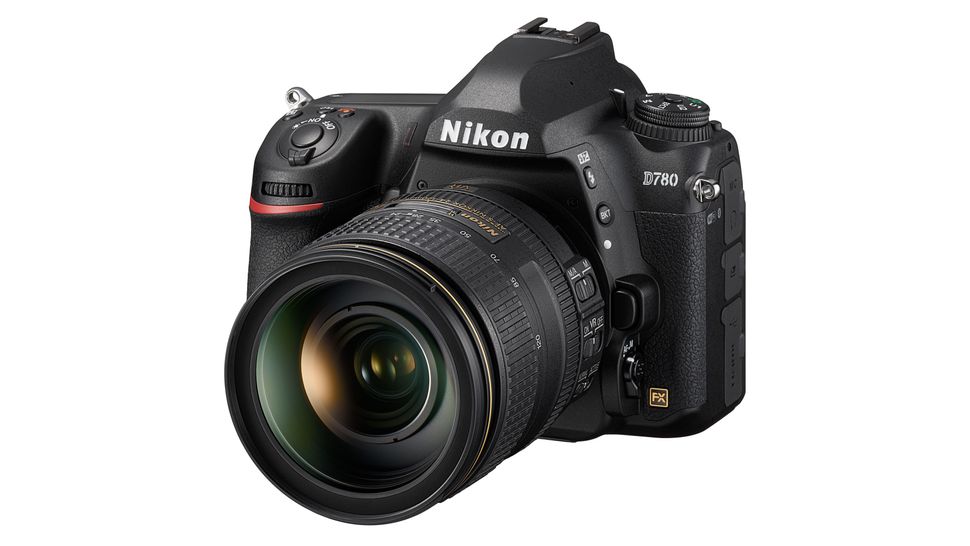 Verdict
The Nikon D780 is an exciting development in DSLR design that incorporates the on-sensor autofocus and video capabilities of mirrorless cameras and closes the gap between these two types of camera. It still handles like a DSLR camera, though, with both the good and bad points this involves. The body is bigger (and better, for some), there's an optical viewfinder rather than an EVF and two AF systems rather than one. For those who prefer the feel, heft and viewing system of a DSLR, though, it's an extremely effective hybrid camera that gives DSLR fans many of the advantages of mirrorless cameras.
The specifications aren't going to make any headlines. The 24-megapixel sensor is pretty well baseline spec for any enthusiast camera these days, full frame or not, and there are plenty of cameras that offer faster burst modes, better video features (though not much better) and more advanced AF. The D780 is also not particularly cheap at launch, though we expect prices to fall over time.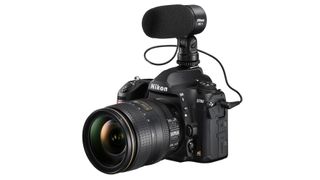 But what the D780 does is combine a long list of very desirable qualities in very well made, versatile and affordable camera. It doesn't break any new ground in any single area, but the resolution is enough for most needs, the continuous shooting is better than you'd expect, the video specs are very good and it has a very wide ISO range able to cope with all sorts of shooting conditions. It's not just about the specifications, either – this is a really nice, well-balanced camera to use.
The Nikon D780 might not have earth-shattering headline features, and it's possible, as with any camera, to find niggles and annoyances, but it offers quality in depth of a kind that grows on you progressively the more you use it and explore its features. In this respect, it's exactly like the long-running and still-popular D750 before it.
Read more:
• These are the best DSLRs you can buy today
• We pick the best Nikon cameras for different users
• These are the best Nikon lenses for your DSLR
• The best full frame DSLRs to buy right now