If you're a keen photographer or budding filmmaker that loves shooting video from 4K to 8K, as well as stills the best Nikon cameras might have tempted you over to the system with the impressive flagship model, the Nikon Z9 with its 45MP sensor and cinematic 8K video capabilities and its lightening-fast 120fps.
While cameras certainly help to produce most of the 'work' when capturing your next commission or video masterpiece, we all know that lenses can be used to make a great difference in the way your images or videos look.
So what do Nikon photographers actually buy? New York photo megastore B&H Photo Video has shared with us this list of the ten most popular Nikon lenses it sold in 2022.
These range from the best Nikon telephoto lenses to some of the best Nikon Z lenses for every budget, so If you're looking to match optical performance with your Nikon Z7 II, or you want to have a 'do-it-all' lens for your Nikon Z5 each lens on this list is perfect for your budget and need, so scroll down and see what other customers are buying, and why maybe you should too.
The Nikkor Z 14-24mm f/2.8 S is the widest member of a holy trinity of S-line zooms with f/2.8 constant apertures. A very obvious attempt to lure pros to the Z mount, it has to provide exceptional image quality to meet these exacting standards, and it does deliver on that front. The 16-element construction includes 3 aspherical elements, as well as Nikon's Nano Crystal and ARNEO Coat that reduce ghosting and flare. The front element also has a smear-resistant fluorine coating. The lens is fully weather sealed, and like the 14-30mm, it comes with an included lens hood that enabled filters to be used, though they do need to be huge 112mm filters. Nikon offers its own Neutral Colour and Circular Polarizer filters in this size if you're struggling to find any.
Read our full Nikkor Z 14-24mm f/2.8 S review
We'd still recommend the Nikkor 24-70mm f/4 lens (above) for enthusiasts and travel photographers purely for its size and affordability, but for professionals and experts, the Nikkor Z 24-70mm f/2.8 S is a no-brainer. It's a top-quality professional lens at the leading edge of optical performance.
The smaller lens is already so well corrected for color fringing and distortion that it left little room for improvement, but the 24-70mm f/2.8 is even sharper in the centre, far sharper at the edges, and delivers not just higher levels of resolution overall, but amazing consistency across the focal length and aperture range. The only thing is if you want the best you have to pay for it, both in financial cost and weight.
Read our full Nikkor Z 24-70mm f/2.8 S review
A little lens with a big heart, the Z 40mm is a truly versatile prime with a focal length and viewing angle that work really well for street photography, portraiture, architectural shooting, and more besides.
It feels right at home on both FX (full-frame) and DX (APS-C) mirrorless bodies and boasts a good turn of speed in both its autofocus performance and f/2 aperture rating. The lack of a lens hood, even as an optional extra, is disappointing but overall, the Z 40mm is a strong performer and a steal at the price.
Read our full Nikon Z 40mm f/2 review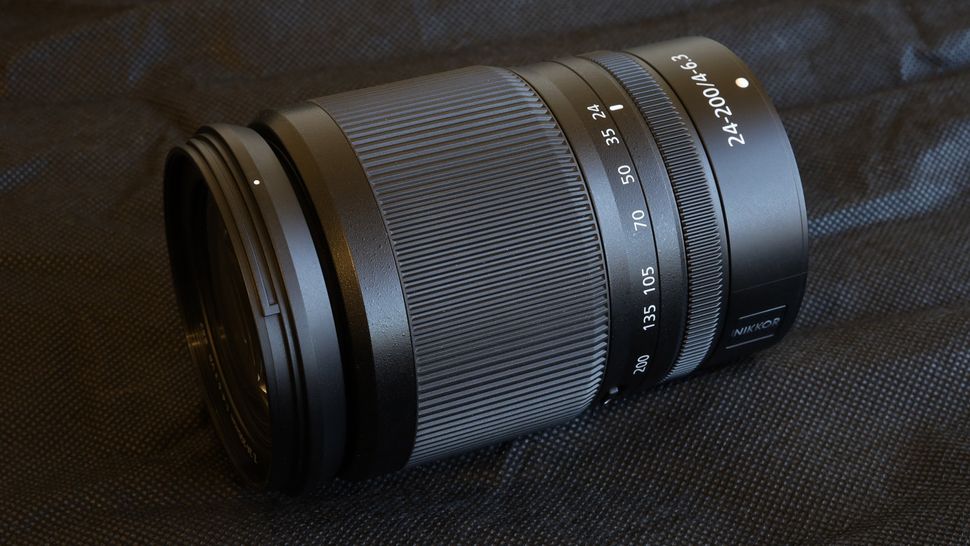 Ideal for the long or short haul, this 'superzoom' lens gives you everything from great wide-angle coverage to powerful telephoto reach, at the flick of a wrist. It's impressively compact and lightweight for a full-frame compatible superzoom, measuring 114mm in length and tipping the scales at just 570g. That's pretty remarkable, considering it can replace separate dual 24-70mm and 70-200mm zoom lenses, albeit with a more restrictive aperture rating of f/6.3 at the longest setting.
Travel-friendly credentials include weather seals and a fluorine coating on the front element to repel moisture and grease, as well as an anti-glare ARNEO Coat for when (or if) the sun comes out. It also boasts a 4.5-stop optical stabilizer which works in conjunction with the in-body stabilizers of the Z5, Z6, and Z7, and is even more desirable in the Z50 which has no IBIS. On the latter, you gain in telephoto reach what you lose in wide-angle ability, the 'effective' zoom range equating to 36-300mm in full-frame terms.
Read our full Nikkor Z 24-200mm f/4-6.3 VR review for more details
Building on bygone popularity, the Nikon Z 24-120mm f/4 S is a mirrorless version of a somewhat classic 5x standard zoom for F-mount DSLRs. It makes the most of optical enhancements afforded by the Z system's larger mount circumference and closer proximity to the image sensor. The net result is enhanced sharpness and all-around image quality, across the whole frame and throughout the entire zoom range, along with a reasonably compact and lightweight build. However, the lack of VR makes it less ideal for DX-format mirrorless cameras like the Z 50 and Z fc.
Read our full Nikkor Z 24-120mm f/4 S review for more details
Nikon's top quality f/2.8 telephoto zoom for its full-frame mirrorless cameras sets new standards for image quality and all-around performance. It's a fabulous lens that delivers spectacular performance in every respect. The autofocus system is super-fast and unerringly accurate, while lens-shift VR delivers 5-stop effectiveness right out to the longest focal length.
Throughout most of the zoom range, levels of sharpness are absolutely stunning, right across the entire image frame and into the extreme corners, even when shooting wide-open at f/2.8. Of course, all this doesn't come cheap, but the price is certainly justified.
Read our full Nikkor Z 70-200mm f/2.8 VR S review for more details
It's been a long wait, but the Z 100-400mm VR S finally brings a super-telephoto lens to Nikon's Z-mount stable. And it's certainly been worth the wait. This is a fabulous lens that combines rapid autofocus and highly effective 5.5-stop VR with superb image quality.
All-round performance is top-drawer, while handling is enhanced by customizable function buttons and an additional 'de-clicked' control ring, along with a multi-function OLED display. It's a weighty lens with a hefty price tag, but a worthy Z-mount successor to the aging Nikon AF-S 80-400mm f/4.5-5.6G ED VR lens, launched back in 2013 with DSLRs in mind.
Read our full Nikon Z 100-400mm f/4.5-5.6 VR S review for more details
50mm f/1.8 lenses are often regarded as the poor relations of f/1.4 standard primes. But despite its modest aperture rating, this Z-mount lens delivers sumptuous image quality, with amazing levels of sharpness across the whole image frame and negligible distortion or color fringing.
The f/1.8 aperture also enables a reasonably compact and lightweight build, in keeping with slim-line mirrorless camera bodies. Even more impressively, the quality of the bokeh is remarkably good for a 50mm f/1.8 lens, with a particularly smooth rendition of defocused areas. Autofocus is very fast and virtually silent, and the lens is well-built with a weather-sealed construction. It's pretty pricey for a 50mm f/1.8 prime but well worth the money.
Read our full Nikkor Z 50mm f/1.8 S review
Only a little larger and heavier than Nikon's Z 50mm f/1.8 S lens, this 85mm optic is better suited to portraiture on full-frame cameras. The focal length is ideal for head-and-shoulders and half-length shots from a natural shooting distance. 85mm f/1.4 lenses are often preferred for their tighter depth of field, which can blur the background a little more effectively and make the main subject really stand out.
Based on our tests, however, the bokeh (pictorial quality of defocused areas) produced by this lens is easily on par with f/1.4 lenses, and better than some. As with other Z-mount f/1.8 S-line primes, the build quality is very good and features weather seals. A drawback of unstabilized 85mm telephoto lenses is that camera shake can degrade sharpness in handheld shooting, but the in-body stabilization of Z5, Z6, and Z7 cameras helps to deliver consistently sharp shots.
Read our full Nikkor Z 85mm f/1.8 S review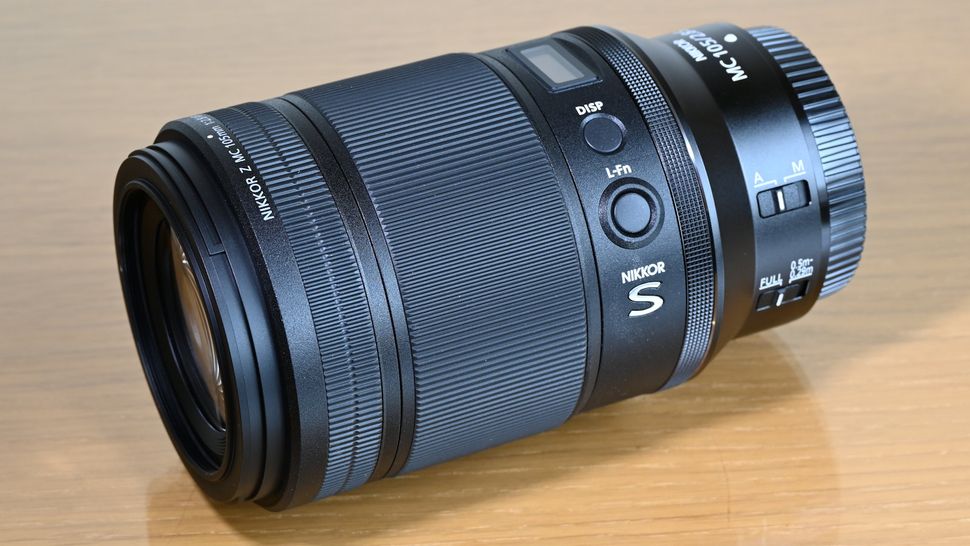 The Nikkor Z MC 105mm is something special. Sublime image quality for both general shooting and extreme close-ups is backed up by a super-fast and highly accurate autofocus system, along with highly effective optical VR (Vibration Reduction) that can work in tandem with the in-body stabilizers of Nikon's full-frame Z-series cameras.
Handling exotica includes a multi-function OLED display, a customizable Lens-function button and control ring, plus an autofocus range limiter, along with an electronically coupled focus ring that enables ultra-fine adjustments. Everything's wrapped up in a tough, weather-sealed construction. Image quality, all-round performance, and handling are simply sensational.
Read our full Nikkor Z MC 105mm f/2.8 VR S review
As you can see from the list above it features a vast array of focal lengths, some of them being the best-known Nikon standard zoom lenses, and further which are perfect if you're looking for the best lens for portraits or looking for the best Nikon telephoto lenses for sports or bird photography.
Hopefully, this list would have helped you in some way to make your purchase of some of the best Nikon lenses on the market today. If this has been of interest why not take a look at what we think are the best cameras for sports photography, best cameras for wildlife or if filmmaking is how you make your bread and butter, why not take a look at the best 6K and 8K cameras.