The Nikon Z 180-600mm f/5.6-6.3 VR aims to deliver seriously ultra-telephoto focal lengths along with an impressive overall zoom range, at an 'affordable' price of around $1,697/$1,799. To put that into context, the Nikon Z 100-400mm f/4.5-5.6 VR S ($2,497/£2,299) zoom and Nikon Z 400mm f/4.5 VR S ($2,997/£2,871) prime lenses give less telephoto reach and are considerably pricier to buy. The Nikon Z 800mm f/6.3 VR S ($6,497/£6,299) ultra-telephoto prime is another few rungs up the price ladder, while the Nikon Z 400mm f/2.8 TC VR S ($13,997/£13,499) and Nikon Z 600mm f/4 TC VR S ($15,497/£15,499) with their built-in tele-converters are far too expensive for most of us to consider.

The Z 180-600mm is more of an ultra-telephoto zoom for the masses, following in the footsteps of the Nikon AF-S 200-500mm f/5.6E ED VR for F-mount DSLRs, priced at $1,397/£1,249. There's something to be said for using this excellent lens on a mirrorless Z-system camera, via an FTZ or FTZ II mount adapter. The same goes for the similarly 'lightweight' Sigma 150-600mm F5-6.3 DG OS HSM Contemporary ($939/£849) and considerably heftier Sigma 150-600mm f/5-6.3 DG OS HSM Sports ($1,999/£1,295), both of which are available in F-mount options. It's interesting to note that the 'Sports' edition has been reengineered for Sony and L-mount mirrorless cameras, sold as the Sigma 150-600mm f/5-6.3 DG DN OS Sports at $1,499/£1,099. However, this lens isn't available in a Z-mount version for Nikon cameras. All in all, the Z 180-600mm really fills a gap, bringing ultra-telephoto zoom potential while making full use of the Z-system mounting flange's wide diameter and close proximity to the image sensor, for enhanced performance.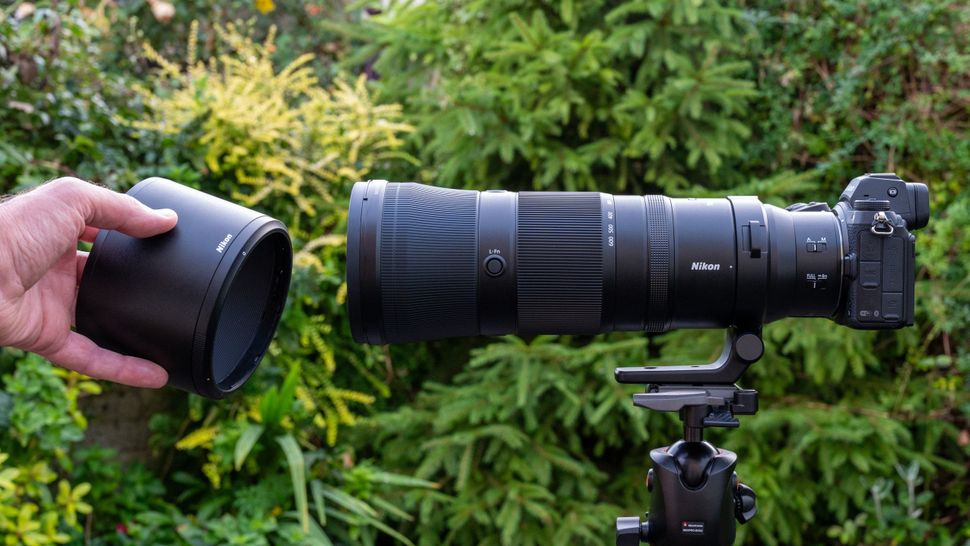 Specifications
Mount: Nikon Z
Full-frame: Yes
Autofocus: Yes
Stabilization: Yes
Lens construction: 25 elements in 17 groups
Angle of view: 13.7-4.1 degrees
Diaphragm blades: 9
Minimum aperture: f/32-46
Minimum focusing distance: 1.3-2.4m
Maximum magnification ratio: 0.25x
Filter size: 95mm
Dimensions: 110x315.5mm
Weight: 1,955g (2,140g with tripod collar)
Key features
The 180-600mm zoom range is a standout feature of this lens. It kicks off with a moderate viewing angle of 13.7 degrees at the short end, and powers through to just 4.1 degrees at the long end. The former works really well at relatively short to medium distances, while the latter really covers the distance when you can't get as close as you might like to the subject. That's often the case in sports photography, as well as for wildlife in general and birds in particular, as well as aircraft at air shows. And if you need even greater reach, the lens is compatible with Nikon's Z-mount 1.4x and 2.0x tele-converters, albeit with the usual relative one or two f/stop reduction in aperture width.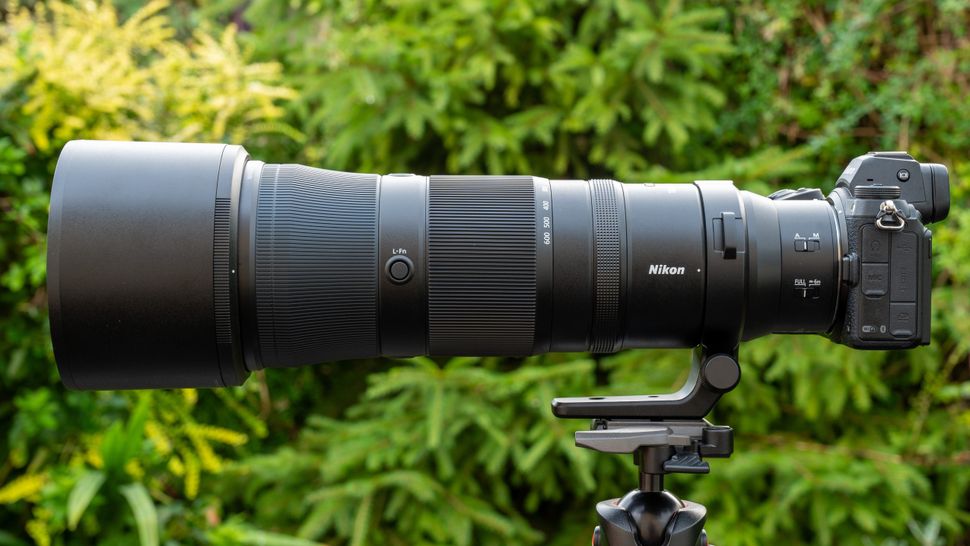 Another way of gaining even greater telephoto power is to shoot in DX (APS-C) crop mode on a full-frame Nikon Z-system camera, or to use it on a DX format body like the Z 50 and Z fc. In both cases, you'll get an 'effective' 270-900mm zoom range, with no loss of aperture rating.

It's worth noting that the zoom range of this lens neatly picks up the baton from the Nikon Z 70-180mm f/2.8 which, at $1,247/£1,299, is another highly attractive and competitively priced telephoto zoom.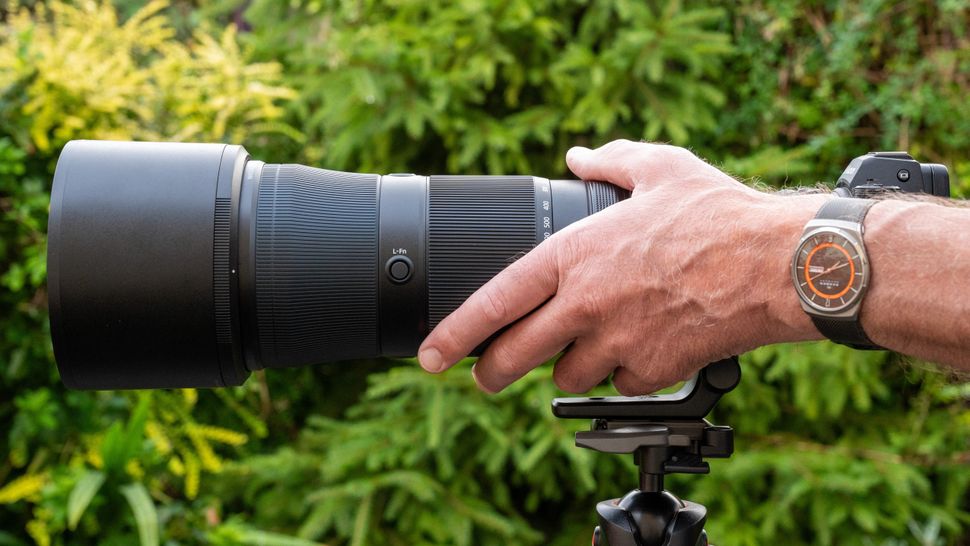 To help keep the size and weight of the lens to manageable proportions, the optical design includes an aspherical element, which also has the potential to reduce distortion. The optical path also includes no less than six ED (Extra-low Dispersion) elements, aiming to enhance contrast and color accuracy while minimizing color fringing.

Autofocus is of the now-common linear stepping motor variety, with the potential for fast response and effective tracking while shooting stills, along with smooth and virtually silent focus transitions when shooting video. An autofocus range limiter switch is featured, which can lock out the short section of the range closer than 6 meters. When the full range is enabled, the lens can focus down to 1.3m at the short end of the zoom range, rising to 2.4m at the long end, with a maximum reproduction ratio of 0.25x, which gives plenty of close-up potential.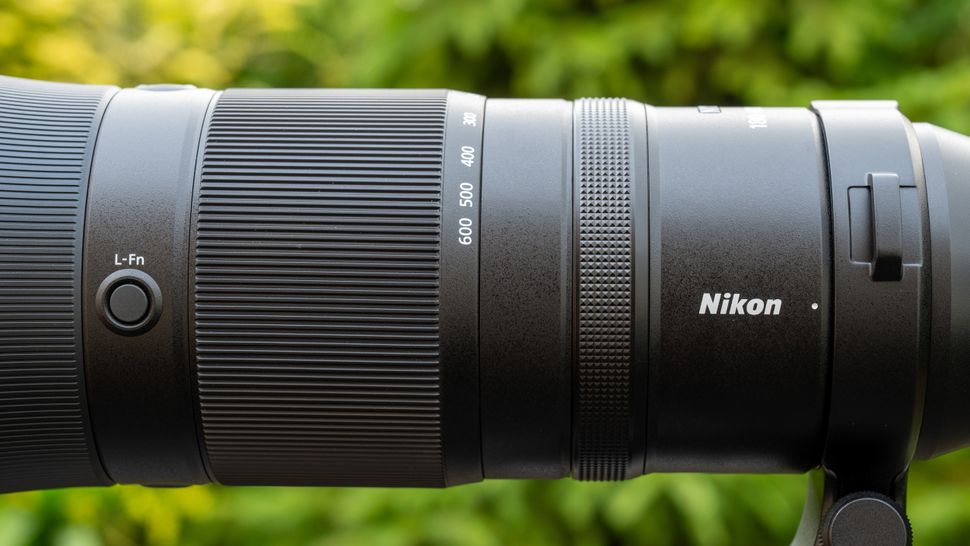 No ultra-telephoto lens would be complete without optical image stabilization, especially considering that camera-shake is such an ever-present danger at very long focal lengths and that IBIS (In-Body Image Stabilization) becomes less effective. As such, the Z 180-600mm comes complete with optical VR, claimed to be worth 5.5 stops. The lens also features a rank of customizable function buttons, which we'll come to next in 'build and handling'.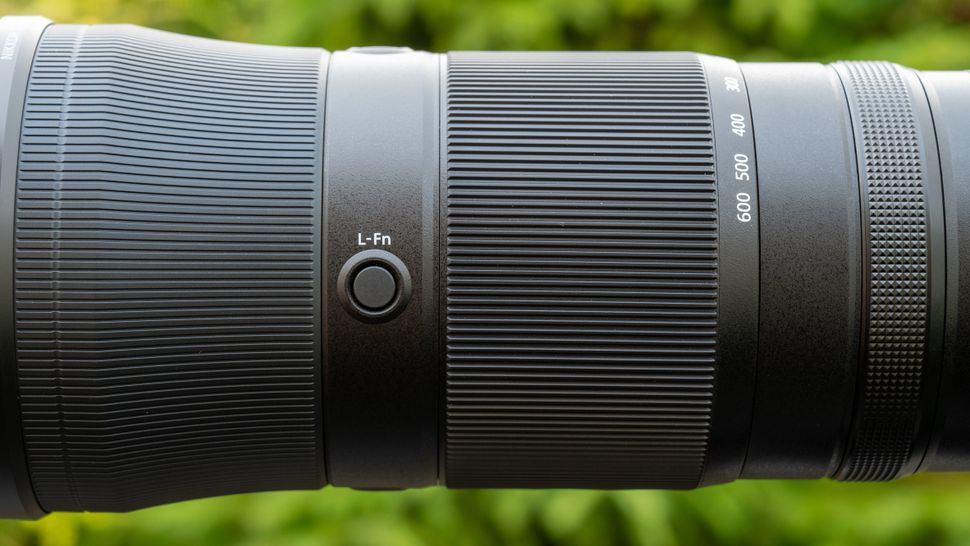 Build and handling
Although it's not classified as one of Nikon's premium S-line lenses, the Z 180-600mm feels sturdy and robust, with very good build quality. The construction incorporates a full set of weather-seals, although Nikon says the lens isn't guaranteed to be dust- and drip-resistant in all situations and under all conditions. A fluorine coating is applied to the front element, to repel moisture and grease and to aid easy cleaning.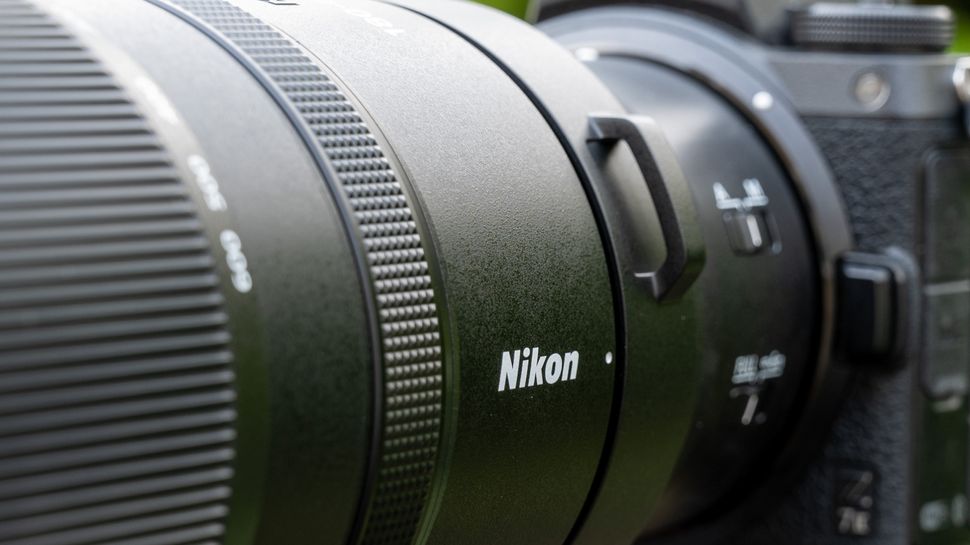 A bonus in terms of both build quality and handling is that both of the zoom and focus mechanisms are fully internal. As such, the physical length remains fixed throughout the entire zoom and focus ranges. Shooting at ultra-telephoto focal lengths, it can be difficult to pick out subjects in the viewfinder like birds and planes in flight, or racing vehicles on a track. In practice, it can be a big help to locate them using the short end of the zoom range and then to zoom in as needed. That's particularly easy with this lens, as the zoom ring operates very smoothly and has a short throw of just 90 degrees from 180mm all the way to 600mm. The fact that there's no extending inner barrel also avoids the risk of dust and moisture being ingested by the lens during continual zooming in and out.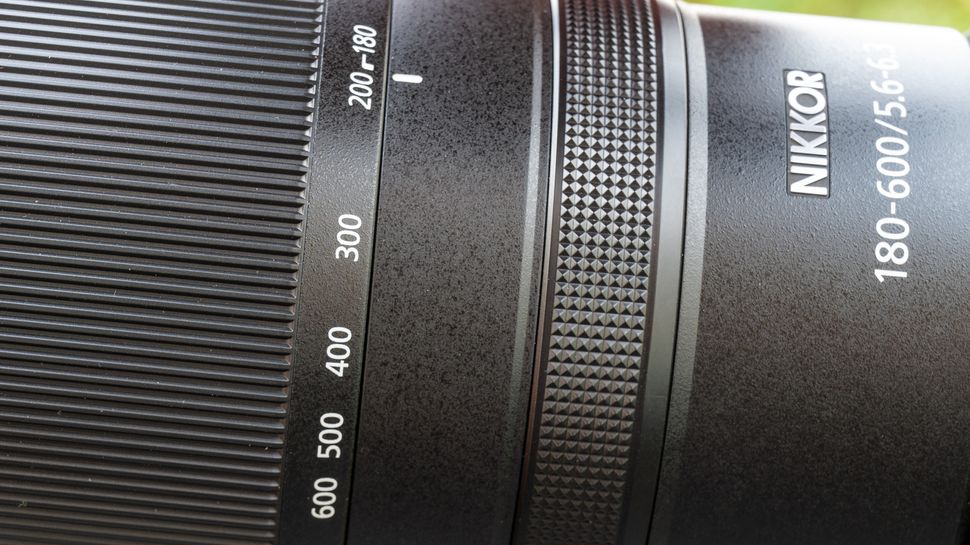 Naturally, shooting handheld gives you greater freedom of movement than using a tripod or monopod, especially when tracking erratically moving subjects. At 2,140g complete with tripod mounting ring, the Z 180-600mm is certainly no lightweight, but it's entirely viable for prolonged periods of handheld shooting. The tripod ring is completely removable, dropping the weight to 1,955g. To put that into context against F-mount lenses, the heavier Nikon AF-S 200-500mm f/5.6E ED VR weighs in at 2,300g and the Sigma 150-600mm f/5-6.3 DG OS HSM Sports is a real handful at 2,860g, while the Sigma 150-600mm F5-6.3 DG OS HSM Contemporary is a little lighter at 1,930g (1,830g without the tripod ring).

To help retain a good balance when you're using a tripod, monopod or gimbal, the tripod mounting ring works well and gives the usual ability to easily switch between landscape and portrait orientation shooting. Again, the internal zoom mechanism is a bonus, keeping the center of gravity pretty constant throughout the zoom range.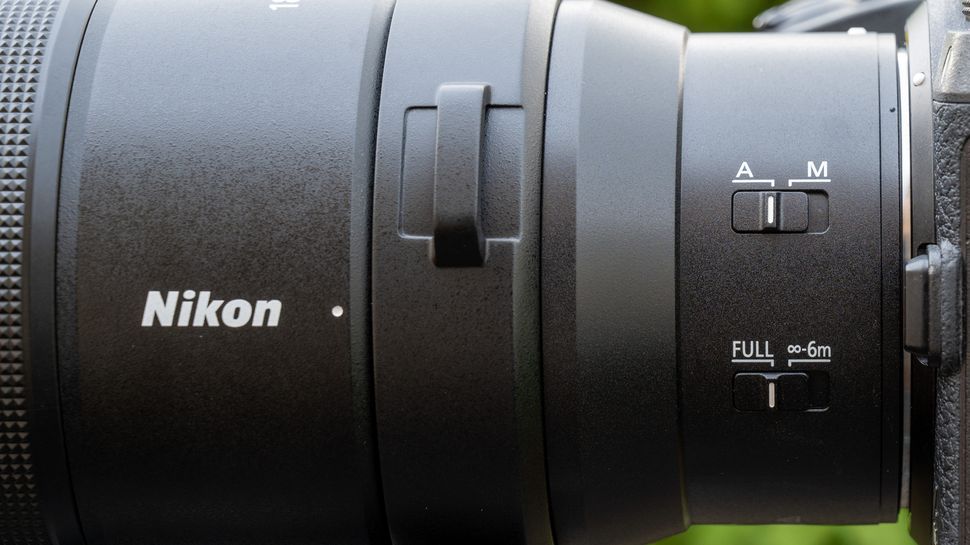 The A/M focus mode switch enables easy switching between autofocus and manual focus modes, without resorting to in-camera menus. In autofocus mode, you can also switch instantly to manual focus simply by twisting the focus ring, which is electronically coupled and operates very smoothly. Alternatively, you can assign other functions to the focus ring while in autofocus mode, like control over aperture, ISO and exposure compensation.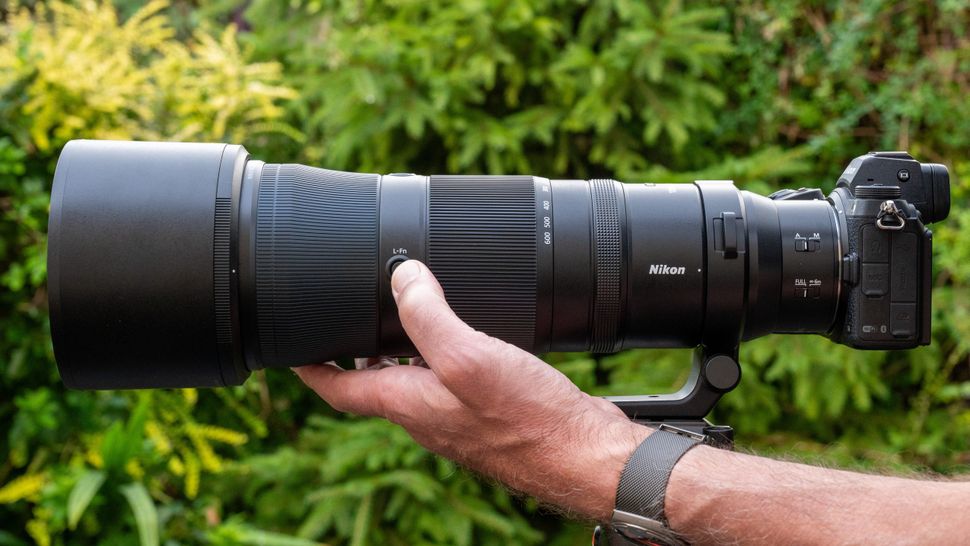 Similarly, there's an array of four customizable L-Fn (Lens Function) buttons, situated at 90-degree increments around the barrel, just forward of the zoom ring. These fall neatly under the thumb when shooting at any orientation. They're typically used for AF-Lock but can be assigned to many alternative functions via the host camera's Custom Settings menu.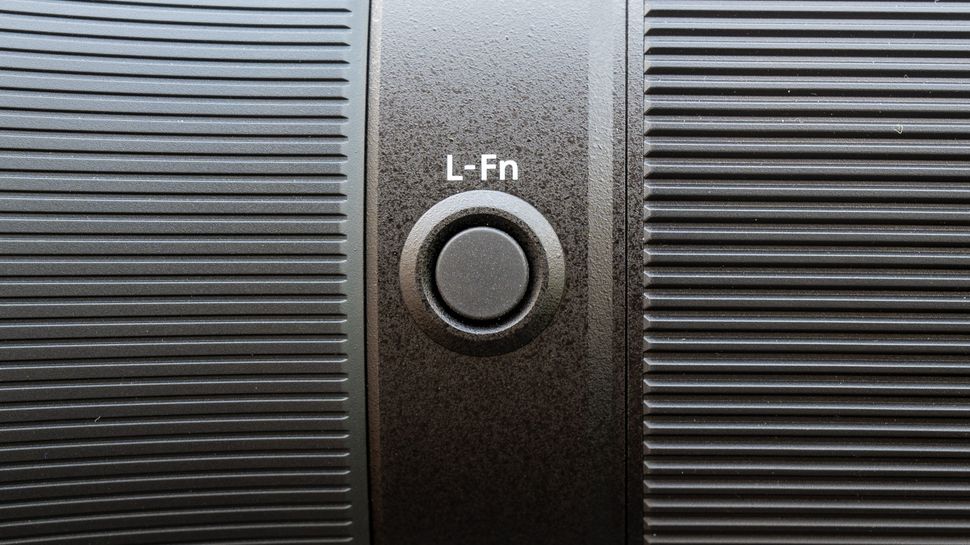 Performance
The Z 180-600mm looks a very appealing proposition on paper but it really shines in terms of outright performance. The lens powered through our lab-test regime, delivering a thoroughly excellent set of results. As usual though, that's only half the story. Unless you're buying a lens to take shots of test charts, real-world performance is much more important.

In our real-world tests, the lens proved highly impressive, delivering superb sharpness, clarity, contrast and color rendition, throughout the entire zoom range. For one of our tests, we used the lens at a motocross event, under thick black clouds. Despite the gloomy lighting conditions, teamed up with a Nikon Z 7II body, the lens locked onto bikes and riders even at very long distances and tracked them tenaciously. Coupled with 5.5-stop VR, we got a great hit rate with consistently sharp results in handheld shooting although, for the example images of bikes below, we stuck to a 1,1000th of a second shutter speed to freeze the movement and vibration of the bikes. Again, despite gloomy lighting, the results images are rich in color, contrast and clarity, although the retention of fine detail is impacted by high sensitivity settings in the camera of up to ISO 4000.

We also shot some birds at a lake and a pet dog, under sunny conditions. The results reveal superb levels of sharpness and retention of fine detail, the Z 180-600mm easing noticeably ahead of the Nikon AF-S 200-500mm f/5.6E ED VR, Sigma 150-600mm F5-6.3 DG OS HSM Contemporary and Sigma 150-600mm f/5-6.3 DG OS HSM Sports F-mount lenses.

Color fringing is very minimal throughout most of the zoom range, even at the extreme edges and corners of the image frame. It can be a little noticeable at the long end of the zoom range but is eliminated by automatic in-camera correction. The same goes for the minor amounts of pincushion distortion at all focal lengths.

All in all, the Z 180-600mm delivers excellent image quality and all-round performance, along with great handling characteristics, making it very good value for money at the price.
Sample images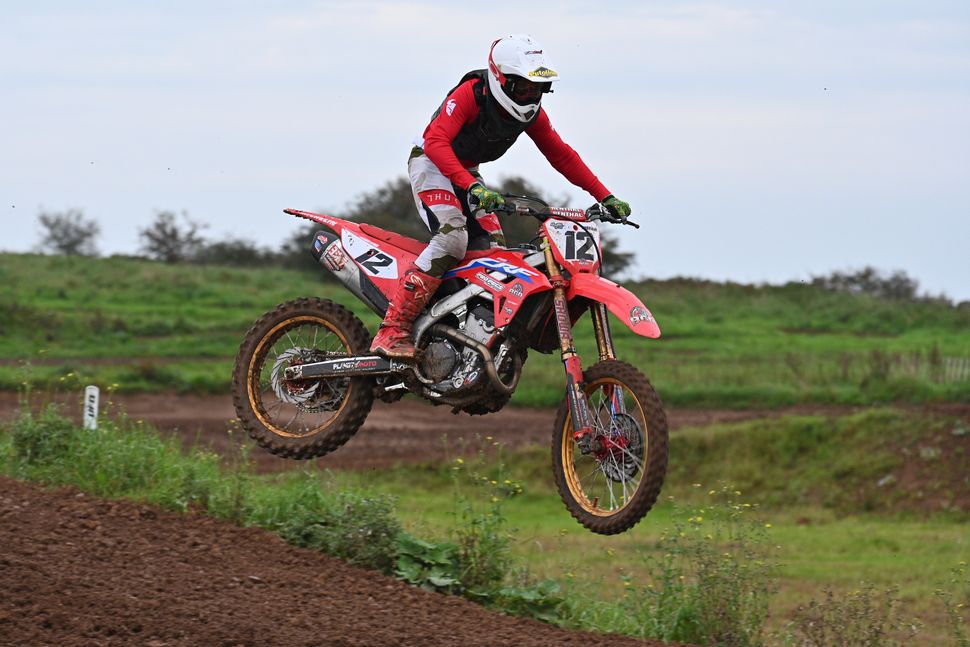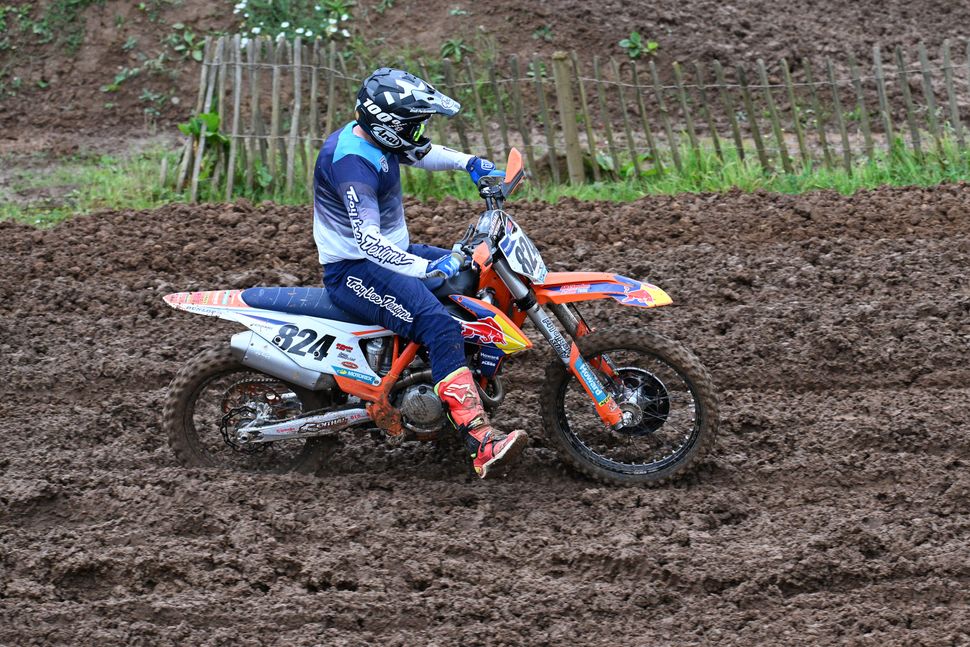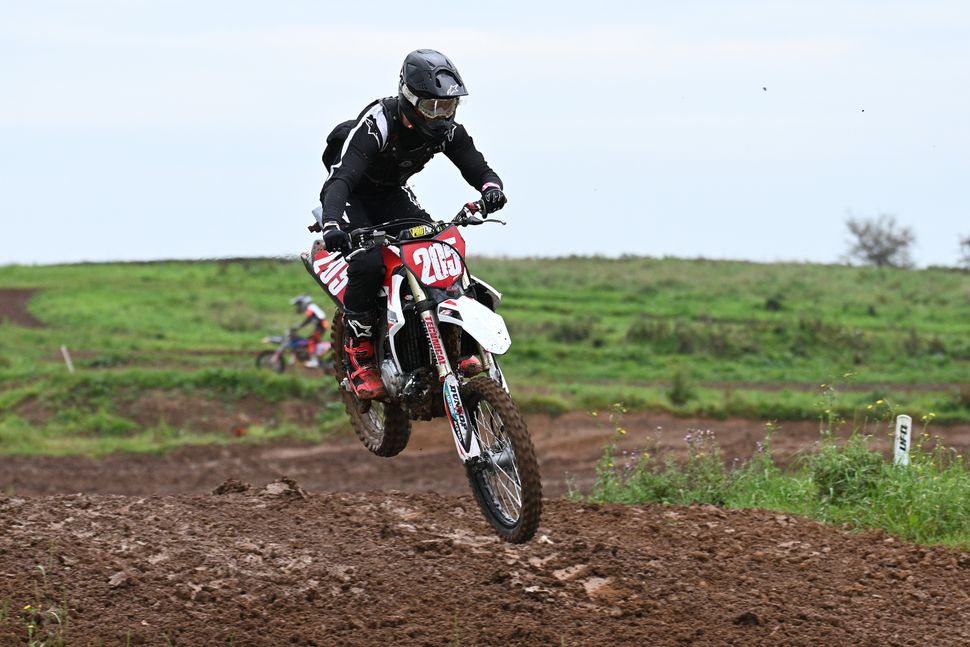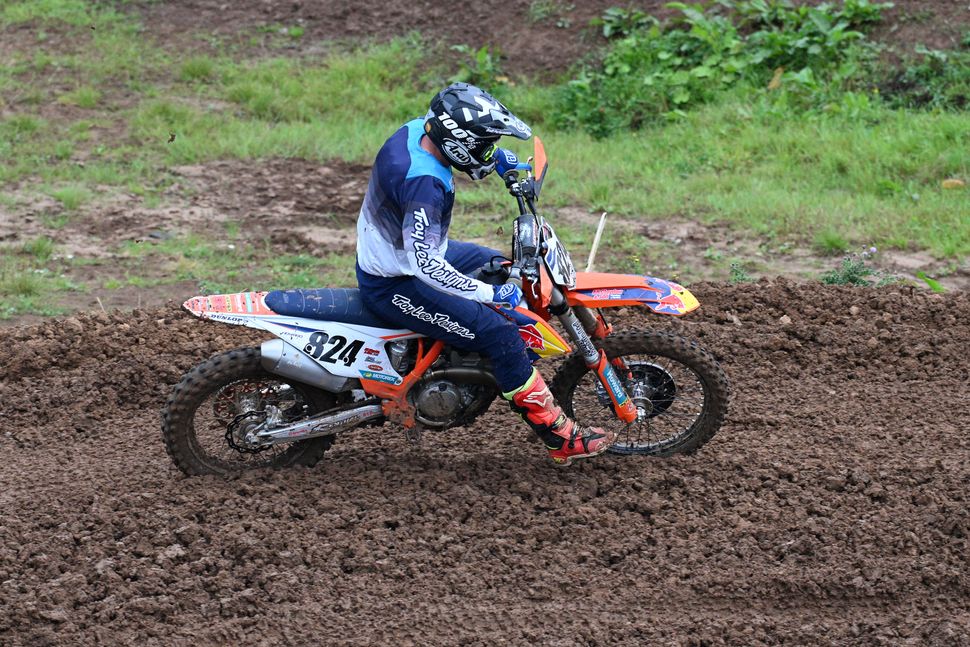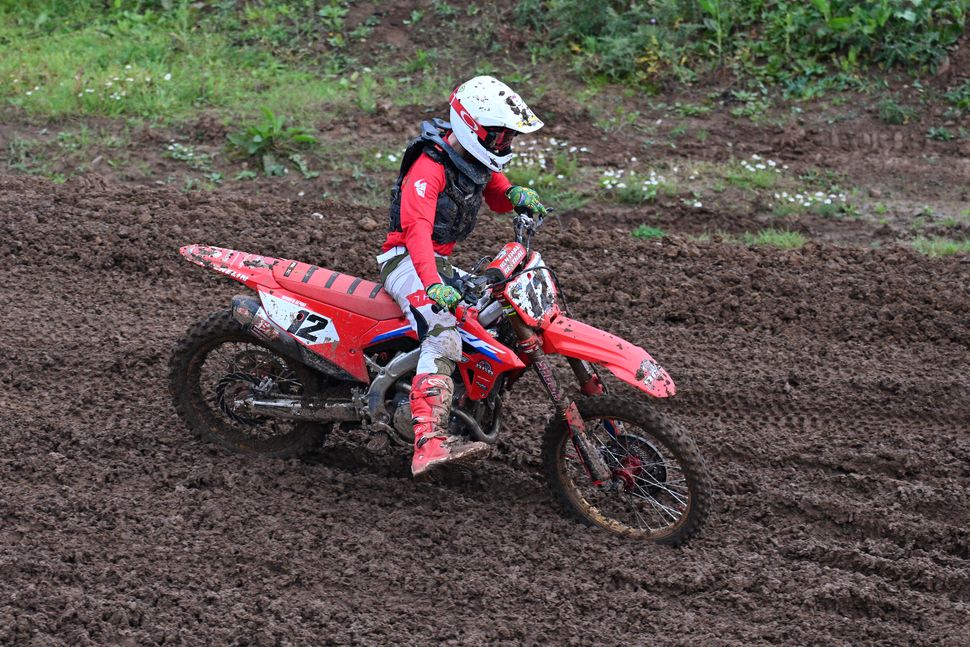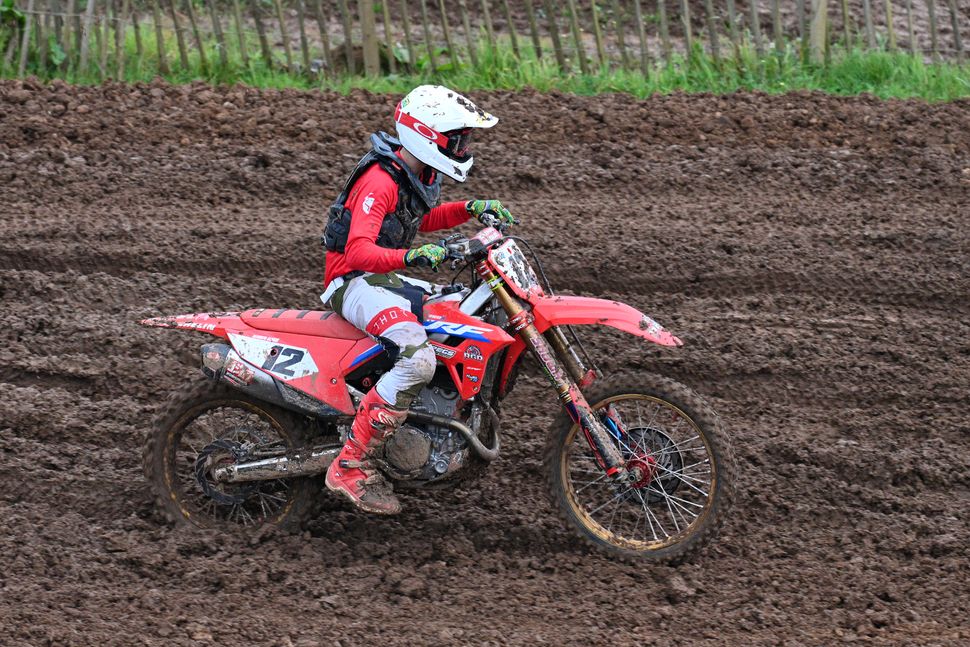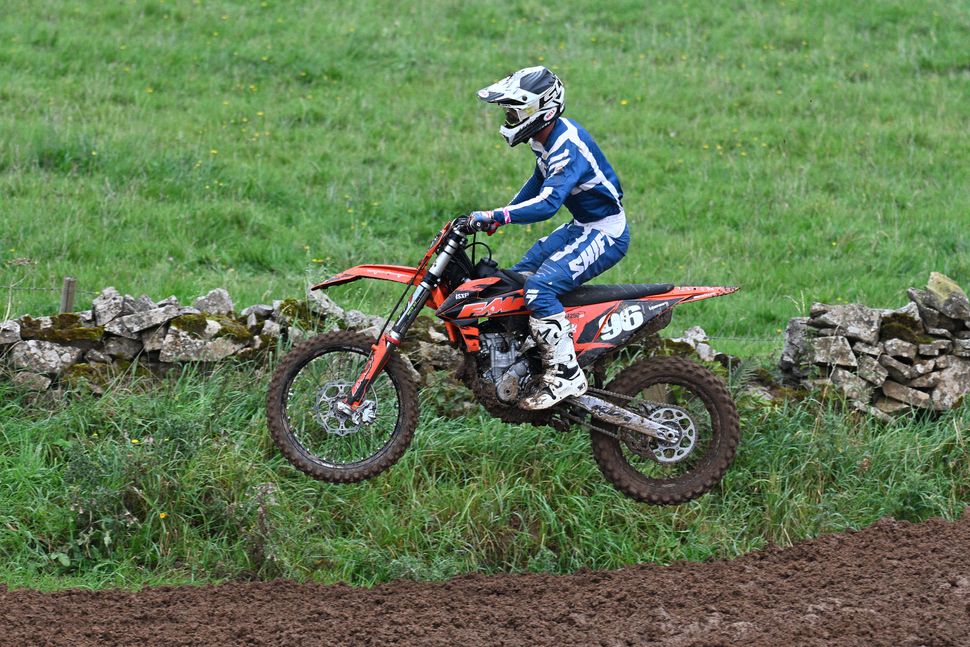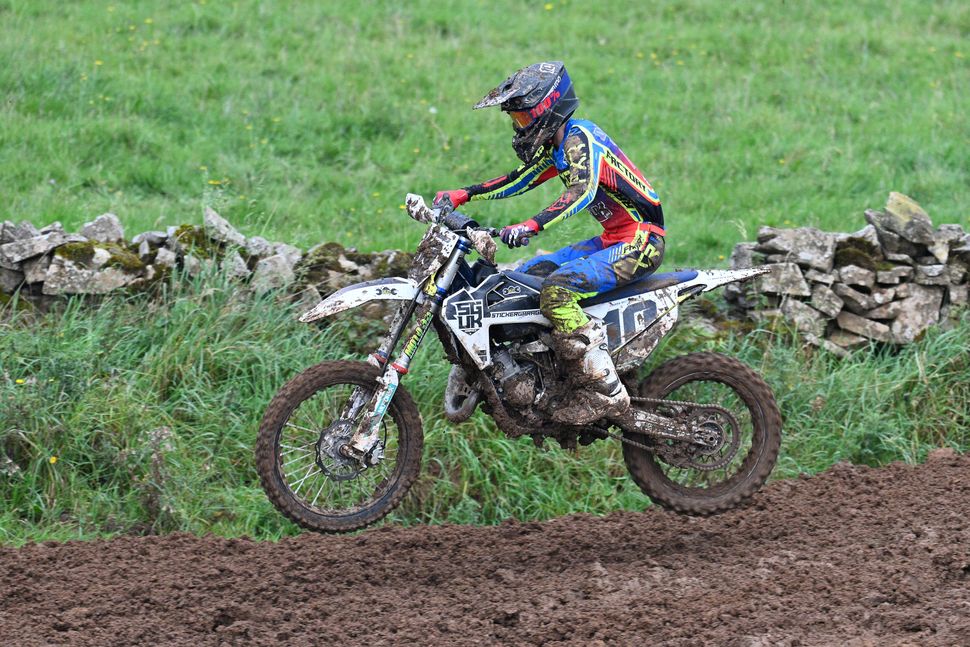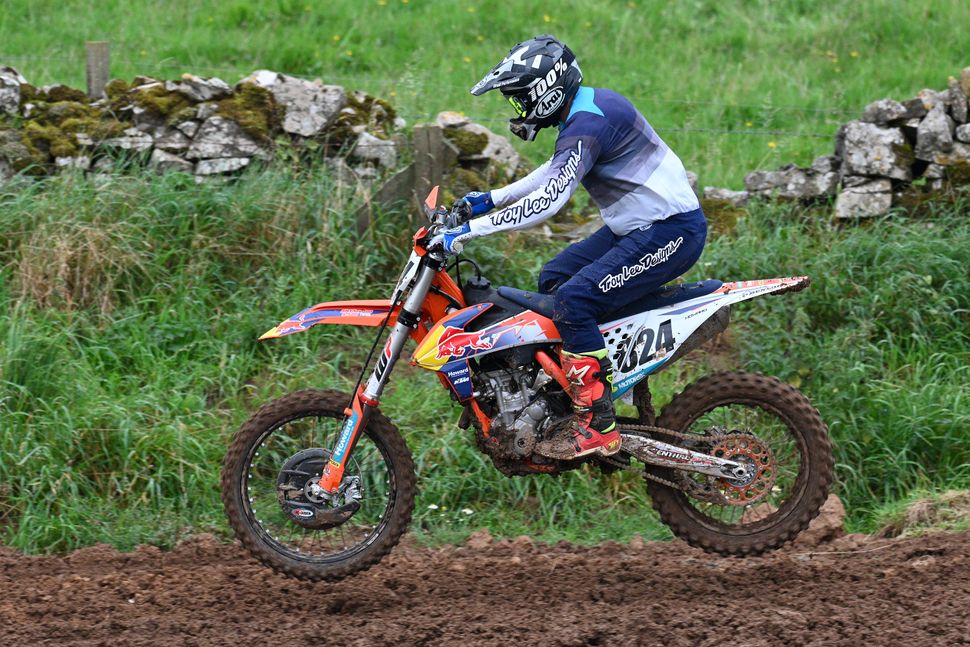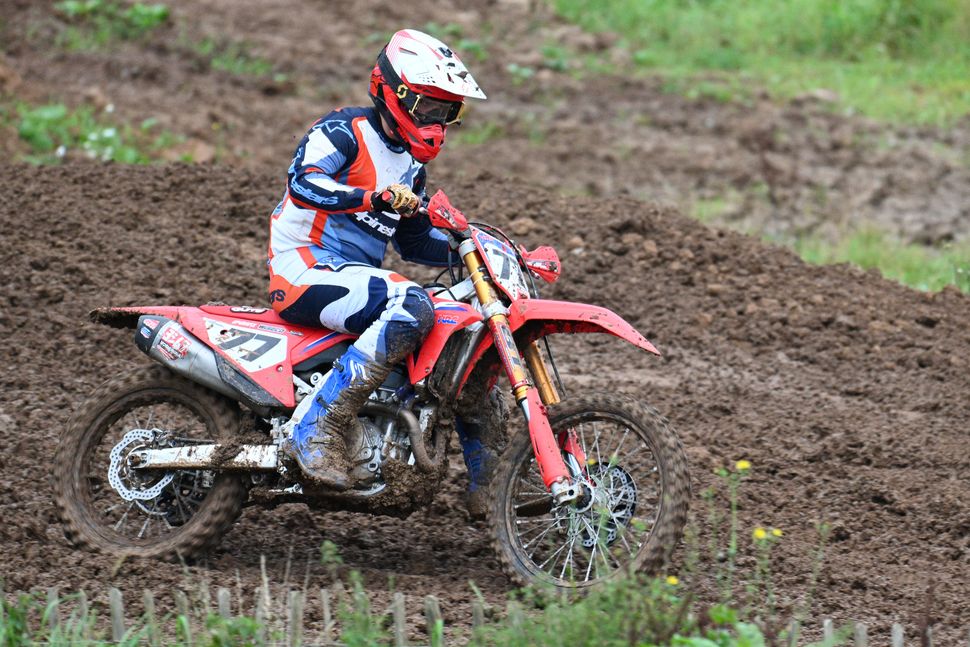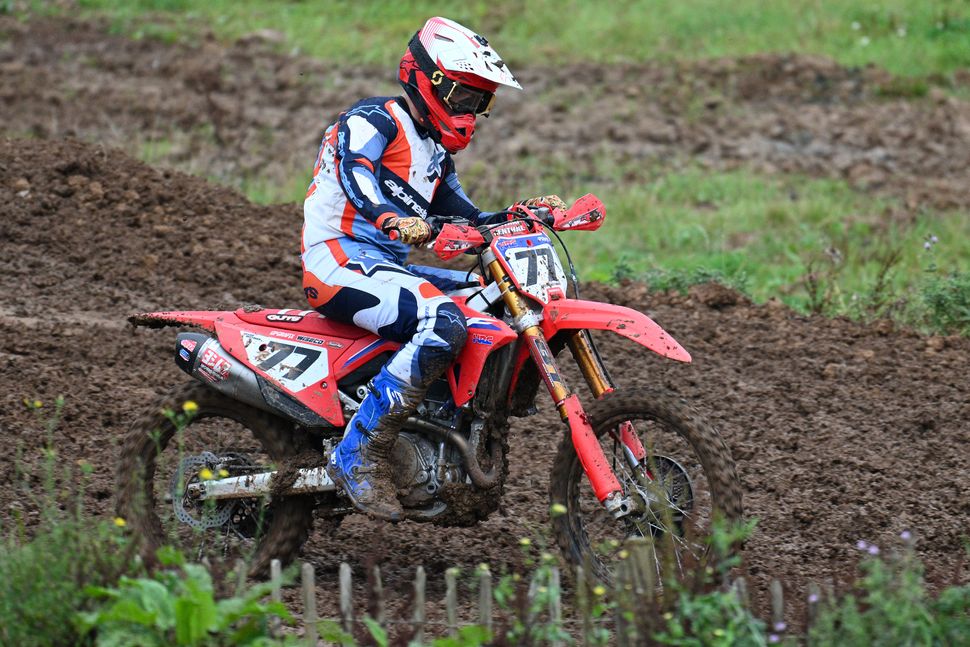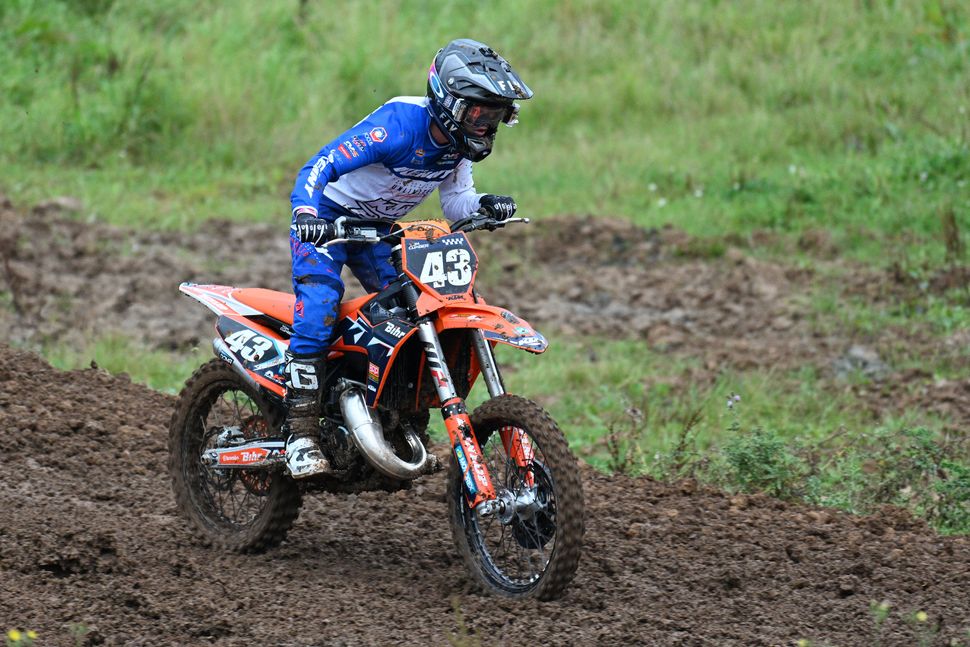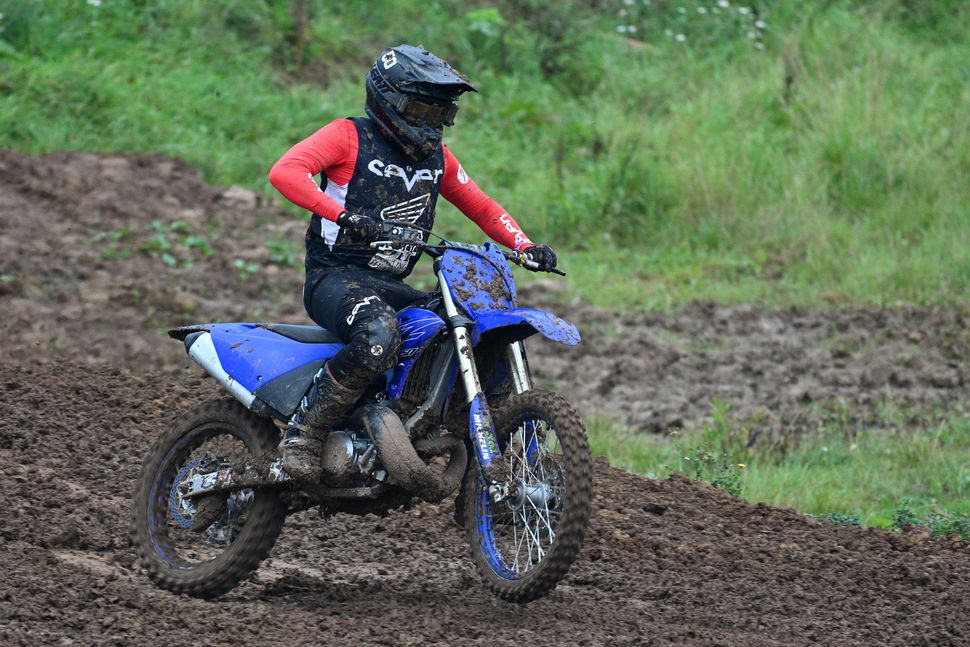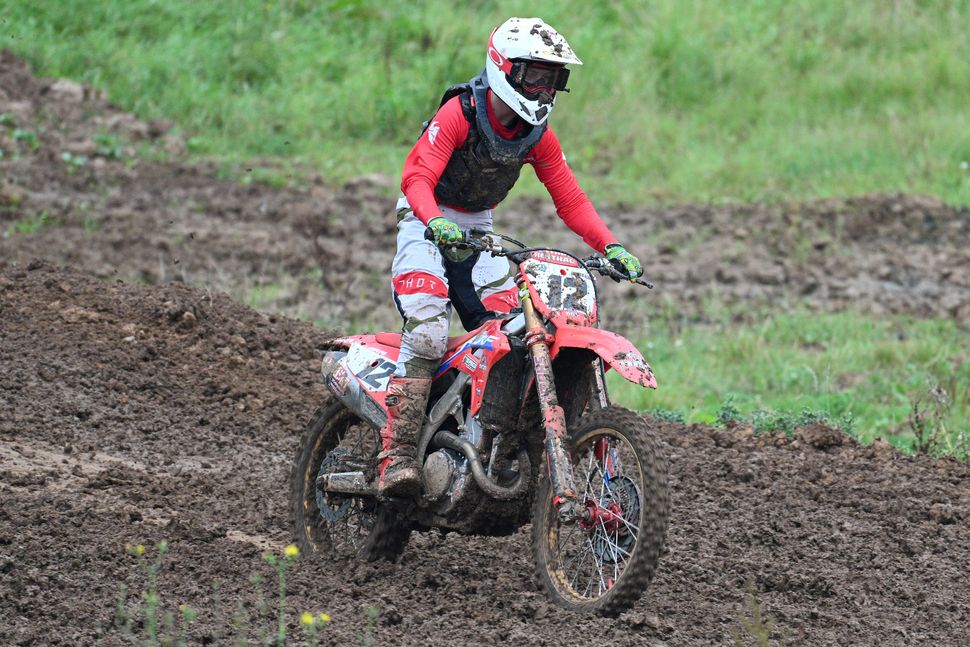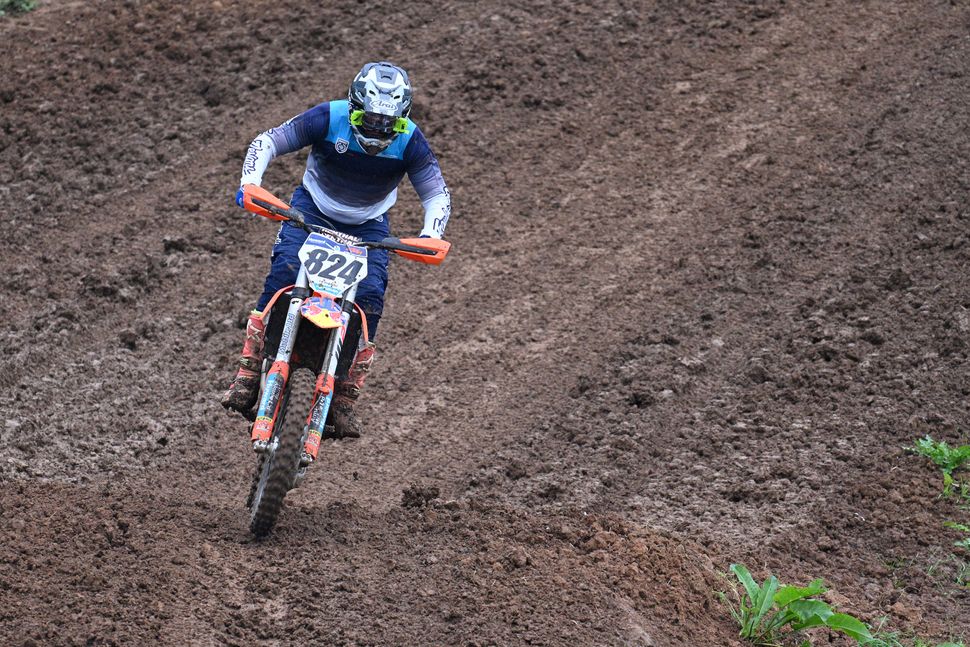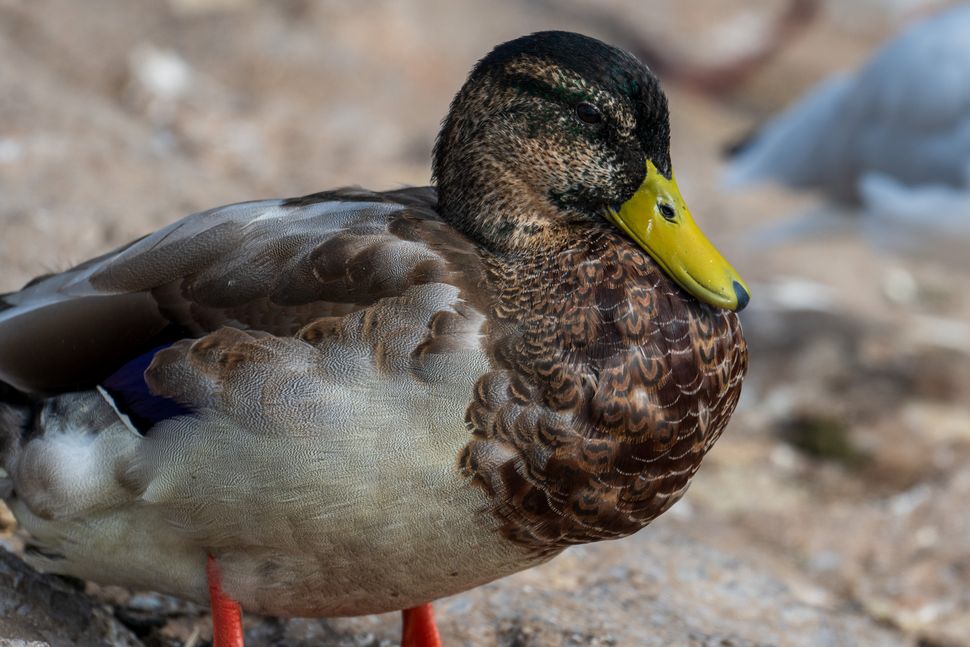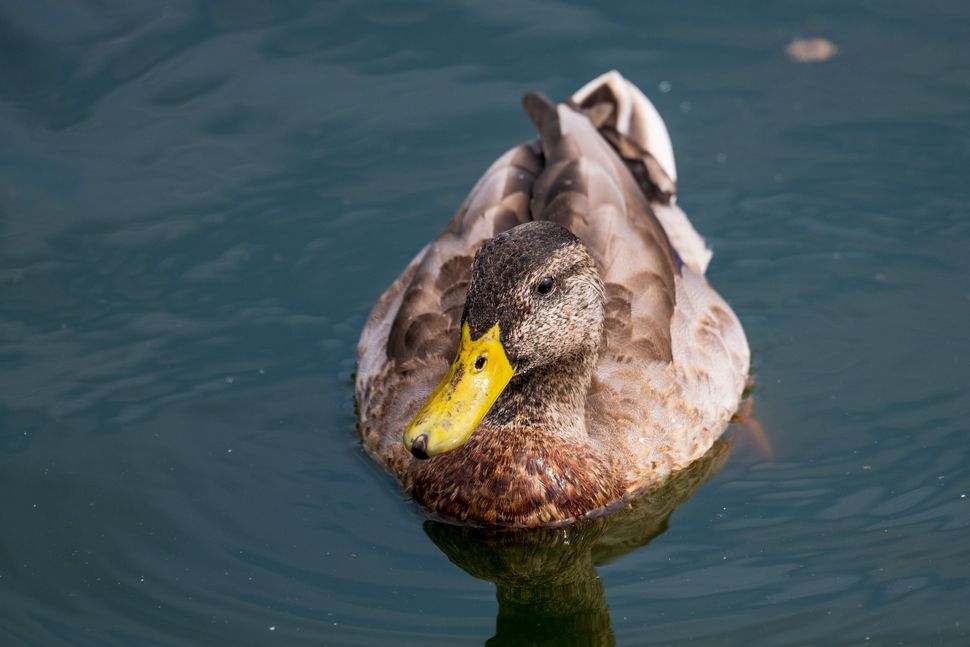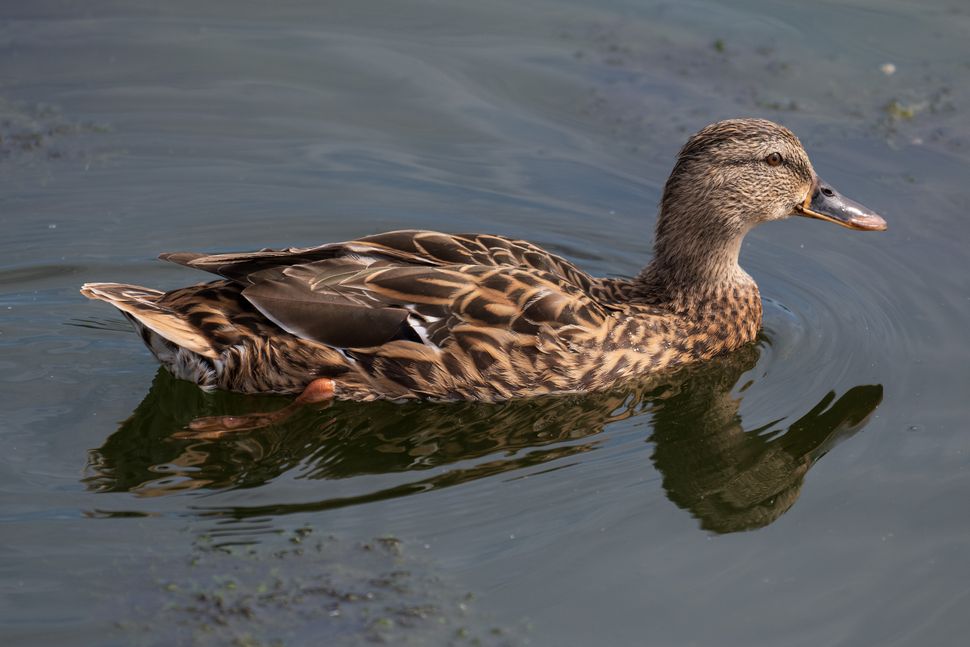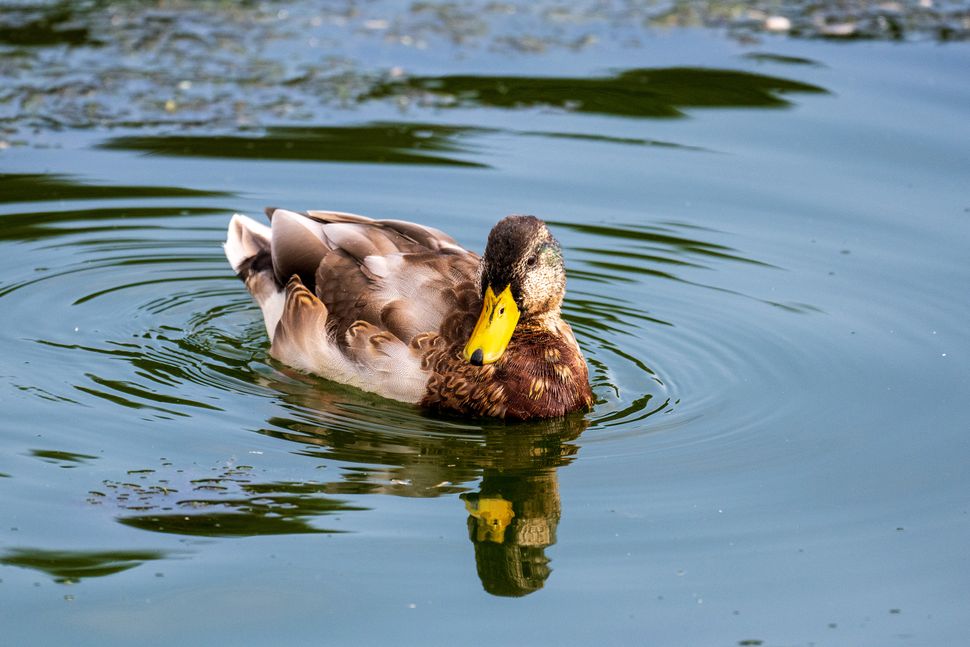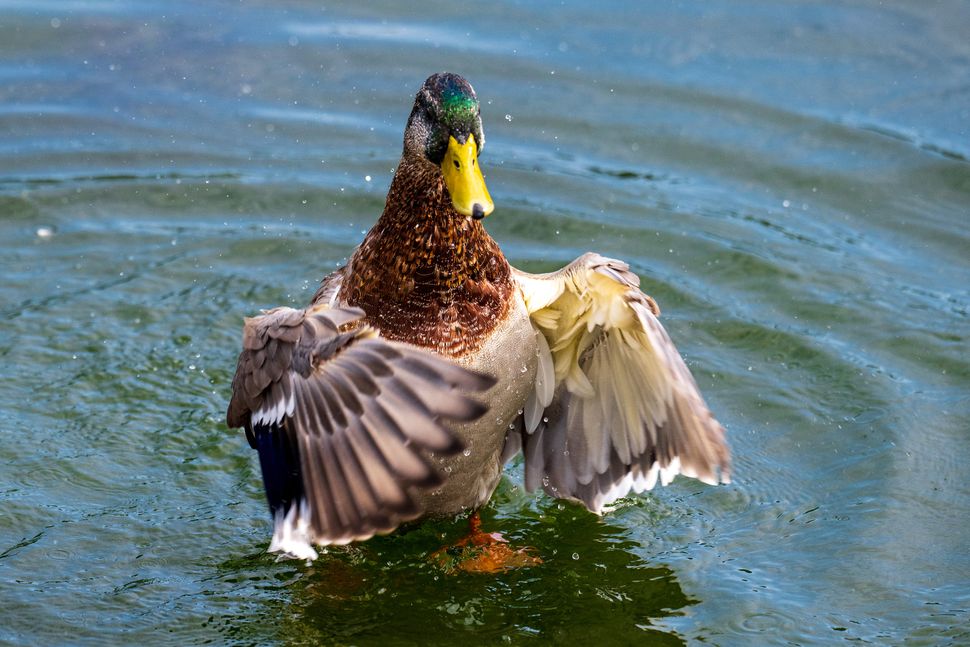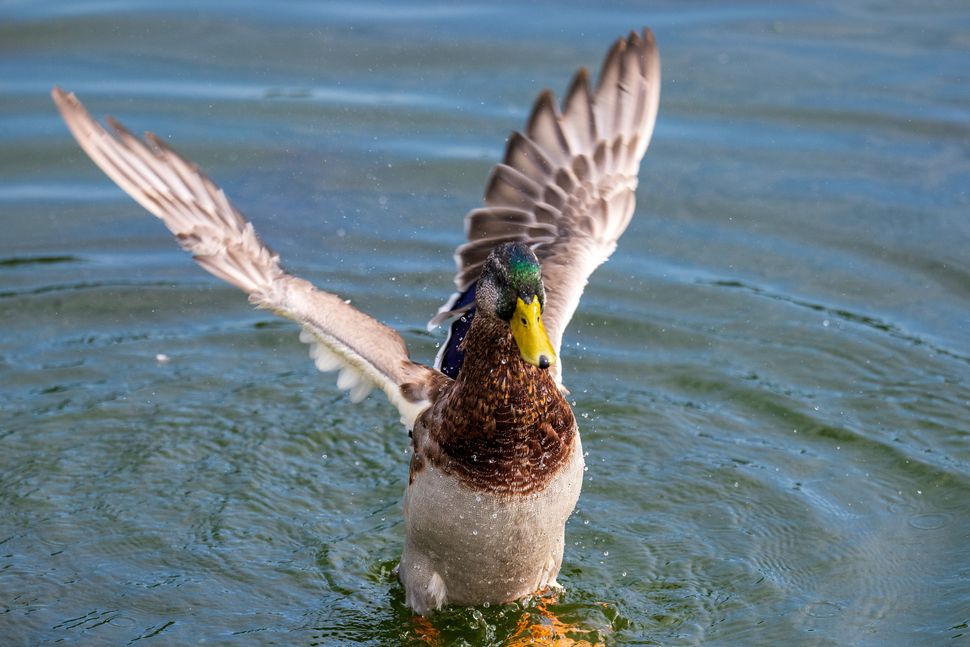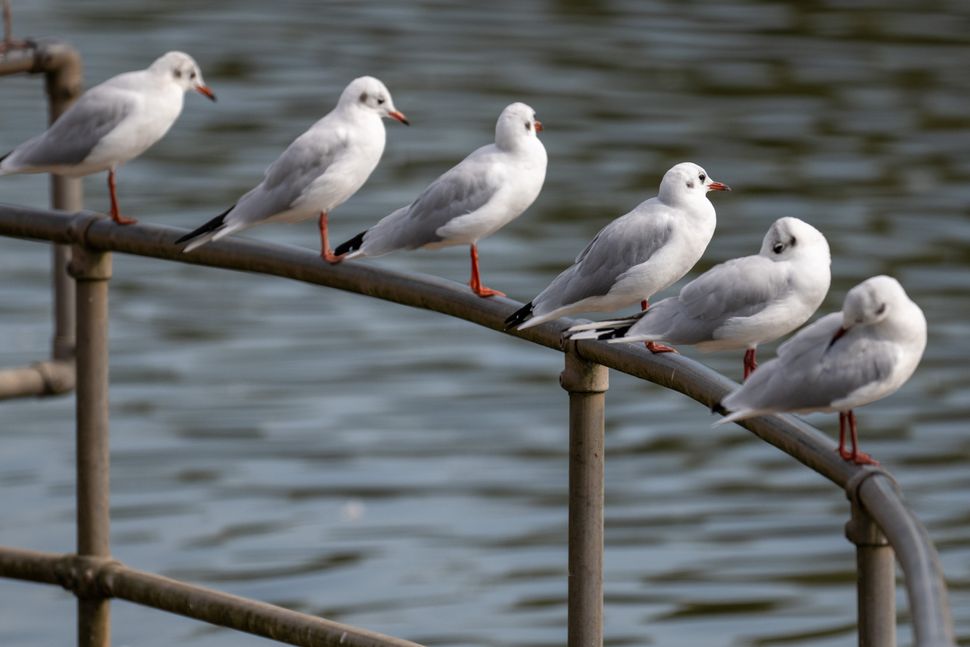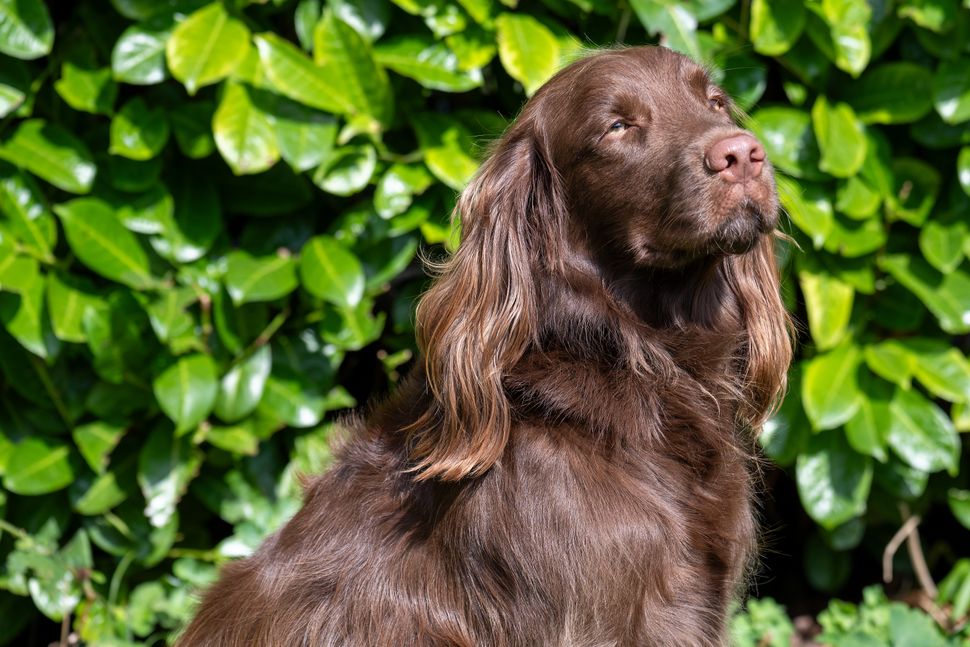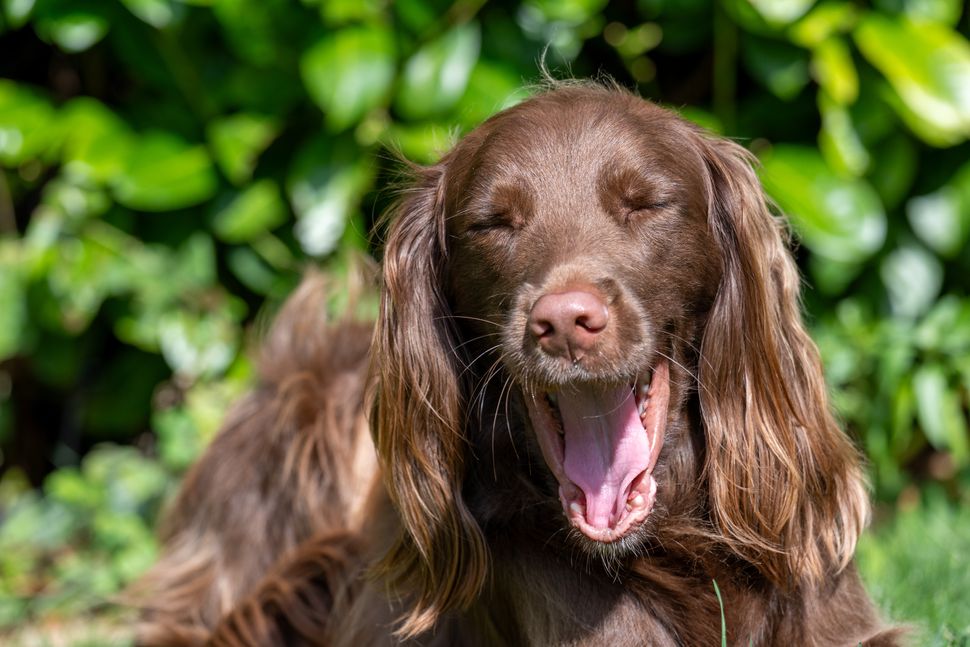 Lab results
We run a range of lab tests under controlled conditions, using the Imatest Master testing suite. Photos of test charts are taken across the range of apertures and zooms (where available), then analyzed for sharpness, distortion and chromatic aberrations.

We use Imatest SFR (spatial frequency response) charts and analysis software to plot lens resolution at the center of the image frame, corners and mid-point distances, across the range of aperture settings and, with zoom lenses, at four different focal lengths. The tests also measure distortion and color fringing (chromatic aberration).

Sharpness: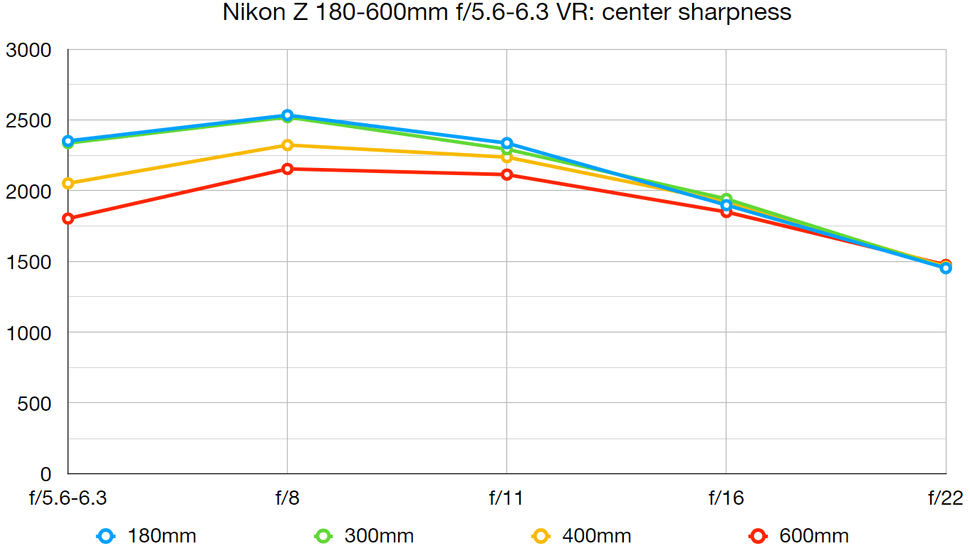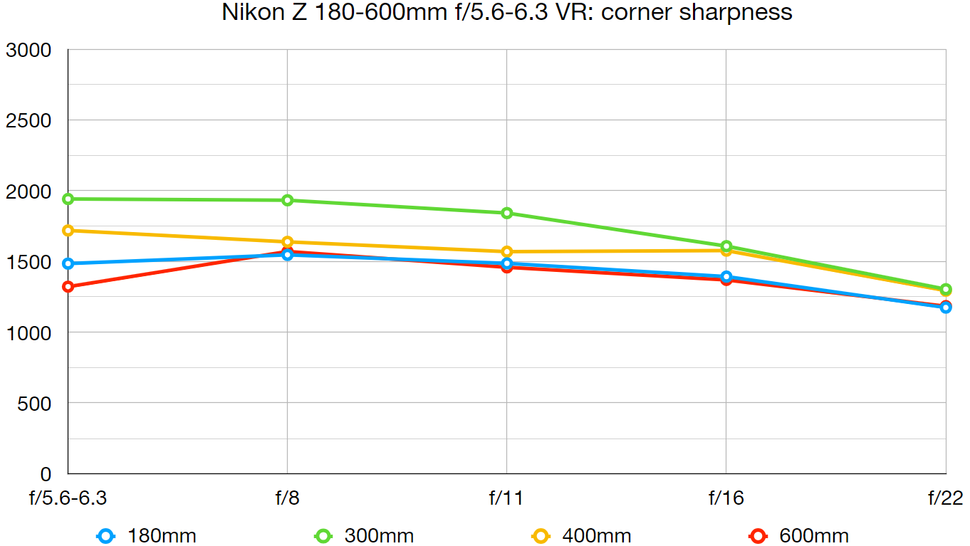 For an ultra-telephoto zoom, levels of sharpness are fabulous throughout the entire zoom range, not only in the central region of the image frame but right out to the extreme edges and corners.

Fringing: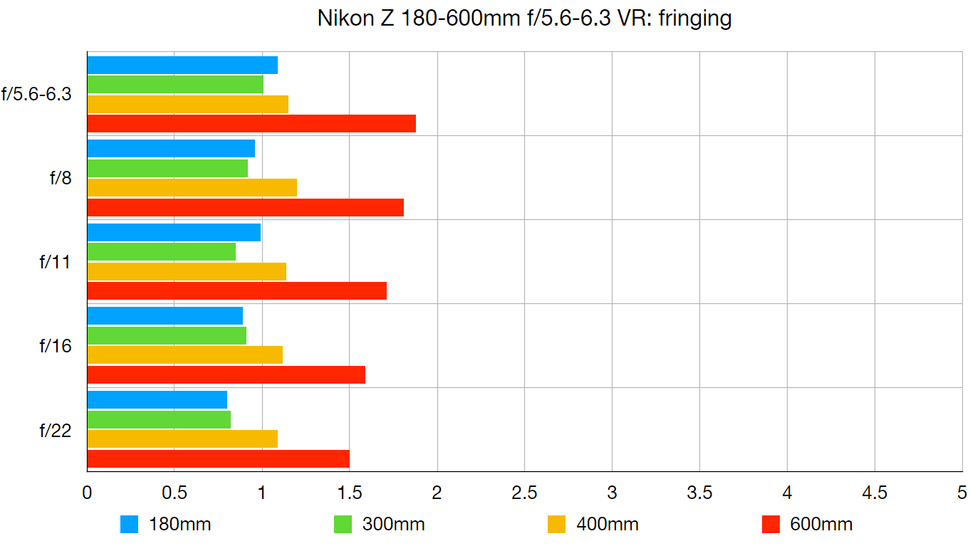 Color fringing is pretty minimal at most focal lengths, even at the extreme edges and corners of the image frame. It can be slightly noticeable at the longest zoom setting but is fairly slight even here, and easily within the remit of automatic in-camera correction.

Distortion: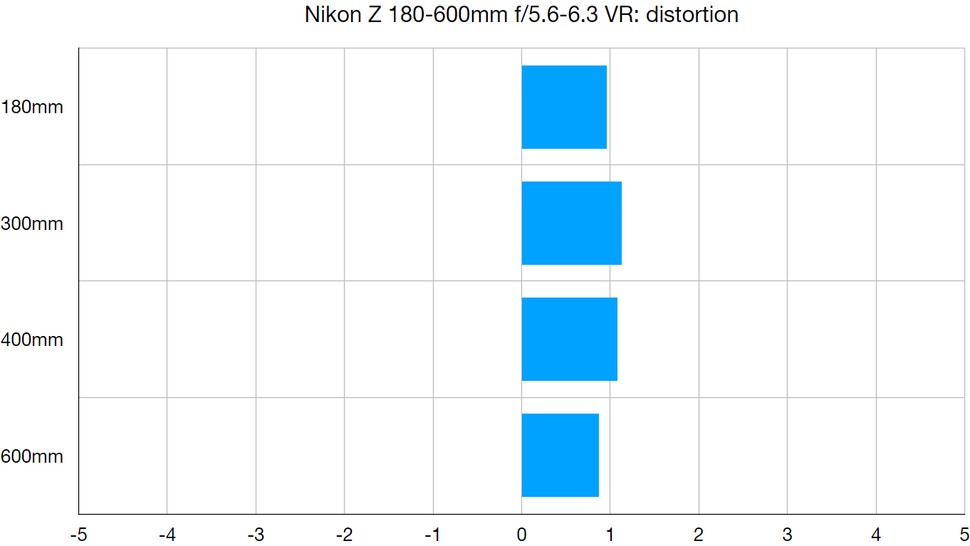 Pincushion distortion is of a low order and quite consistent throughout the entire zoom range. As with color fringing, it can be virtually eliminated by automatic in-camera correction.
Verdict
For action, sports, wildlife, bird and aviation photography, the Nikon Z 180-600mm is a humdinger of a lens. Its monster zoom range really covers the distance and it's razor-sharp at all focal lengths. The lens is just about lightweight enough for long periods of handheld shooting, for which the highly effective optical VR and customizable function buttons really earn their keep. Combine that with super-fast and deadly accurate autofocus, and the lens delivers a great hit rate even in challenging shooting conditions. All in all, it's a top performer and very good value for money at the price.
Read more:
• Best camera lenses to get
• Best Canon lenses
• Best Nikon lenses
• Best Sony lenses