We all love the versatility of interchangeable-lens system cameras, but we're not always so keen on actually swapping lenses. That's especially true for even the best mirrorless cameras, where the image sensor is exposed to the elements every time you switch optics. So there's a lot to be said for a superzoom lens, with a mighty zoom range that caters to a huge range of shooting scenarios. The drawback is that, compared with prime lenses and zooms with a more modest range, there's usually a substantial compromise in image quality, especially when it comes to sharpness and distortions. Let's see if this new Z-mount lens can do any better.
Specifications
Mount: Nikon Z
Full frame: Yes
Autofocus: Yes
Image stabilization: Yes
Lens construction: 19 elements in 15 groups
Angle of view: 84-12 degrees
Diaphragm blades: 7
Minimum aperture: f/22-36
Minimum focusing distance: 0.5-0.7m
Maximum magnification ratio: 0.28x
Filter size: 67mm
Dimensions: 77x114mm
Weight: 570g
Key features
This is Nikon's first FX (full-frame compatible) Z-mount lens that isn't in the acclaimed S-line family. You wouldn't guess as much, however, as the build quality, feature set and handling are similarly impressive. A rarity so far in FX format Z-mount lenses is that this one features an optical image stabilizer. Indeed, the VR (Vibration Reduction) system is based on voice coil motors and rated at 4.5-stops. Its effectiveness is further enhanced when used in conjunction with the in-body VR of Nikon's full-frame Z-series cameras – the Z5, Z6, and Z7.
There's an even bigger bonus when using the lens on the DX (APS-C format) Nikon Z 50, which has no in-body stabilizer. On this camera, the lens effectively gives a useful 36mm wide-angle focal length, while boosting the maximum telephoto reach to 300mm.
Despite the competitive asking price, there's no shortage of up-market optical finery. A complex aspherical ED (Extra-low Dispersion) element is featured, along with two further aspherical elements and two additional ED elements. The total count is 19 elements placed within 15 groups. High-tech ARNEO Coat is also applied to minimize ghosting and flare.
As usual for Z-mount lenses, autofocus is courtesy of a stepping motor. This enables fast and precise autofocus for stills, as well as smooth transitions for movie capture, with virtually silent operation. The lens has a fully internal focusing system, so the front element neither extends nor rotates during focusing. Also typical of Z-mount lenses, the aperture diaphragm is electromagnetically controlled, rather than being operated via a mechanical lever (used in many of Nikon's DSLR lenses). This ensures better consistency on a shot-to-shot basis even during rapid-fire continuous shooting and is far preferable for movie capture.
Build and handling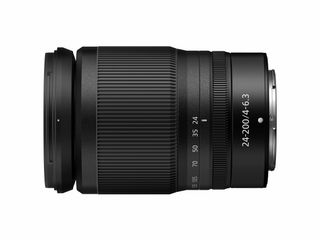 As with the feature set, we're used to seeing excellent build quality and handling in Nikon's S-line lenses for Z-series cameras. Although it's not an S-line lens, this superzoom follows suit. It has a lightweight and easily manageable construction, measuring 77x114mm and tipping the scales at just 570g. However, it feels very solid and sturdy, comes with a full set of weather-seals, and also boasts a fluorine coating on the front element to repel moisture and grease, as well as making it easier to clean. The lens is supplied complete with a petal shaped hood and carrying pouch.
The large zoom ring positioned at the forward end of the lens operates with smooth precision and is very resistant to zoom creep. Even so, a zoom lock switch is fitted, to avoid the lens extending accidentally while you're carrying it around. There's quite a bit of extension as you sweep through the zoom range from 24mm to 200mm, with dual inner barrels stretching out to cover the distance.
Helped by the wide diameter of the Z-mount system, the lens is well-balanced with relatively large elements at the rear and front elements that are smaller than usual for a full-frame superzoom. As a result, the filter attachment thread has a modest diameter of 67mm.
Another handling bonus, as featured in S-line lenses, is that the control ring usually used for manual focusing is customisable. As well as giving smooth and high-precision operation for manual focusing, which works well with the host camera's 'focus peaking' display option, you can assign alternative functions to the control ring. A top favourite is stepless aperture control when shooting movies, while other options include control over ISO settings and exposure compensation. Overall, handling is excellent.
Performance
The 24-200mm isn't as scary-sharp as some of Nikon's S-line lenses that we've reviewed so far, but levels of sharpness are nevertheless very impressive, especially for a superzoom. And there's remarkably little drop-off in sharpness right out to the very longest focal length. Distortions and lateral chromatic aberration are effectively taken care of with in-camera corrections, and there's little in the way of vignetting, even when shooting wide-open. Bokeh is pleasant, especially towards the long end of the zoom range, where you can get a reasonably tight depth of field when shooting close-ups, despite the widest available aperture shrinking to f/6.3.
Autofocus proved fast and unerringly accurate in our tests, while the lack of focus breathing is a bonus when shooting video. The optical VR system is similarly effective, both on its own and when combined with the in-body stabilization of Nikon's full-frame mirrorless cameras.
Sample images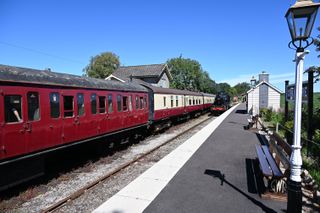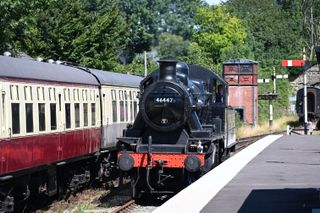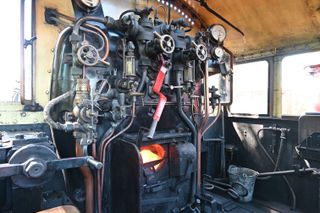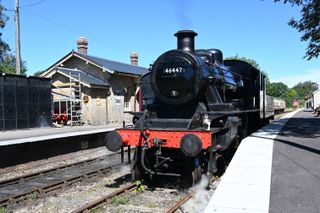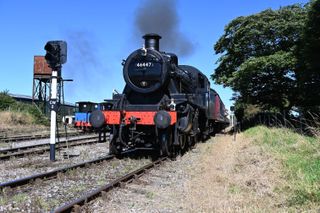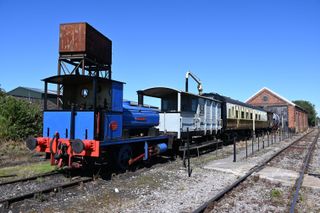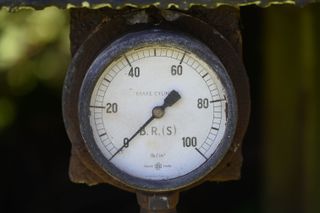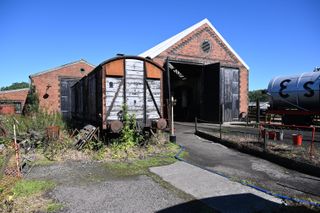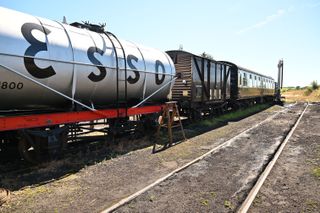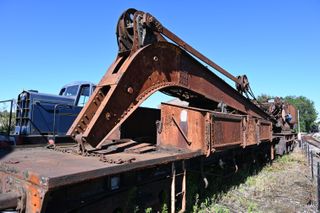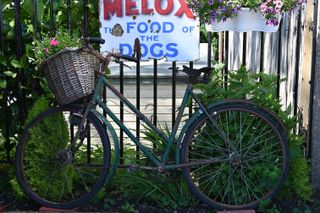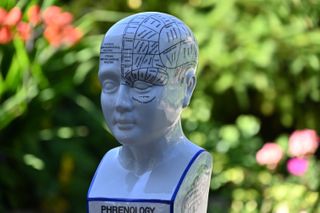 Lab tests
About our lab tests:
We run a range of lab tests under controlled conditions, using the Imatest Master testing suite. Photos of test charts are taken across the range of apertures and zooms (where available), then analyzed for sharpness, distortion and chromatic aberrations.
We use Imatest SFR (spatial frequency response) charts and analysis software to plot lens resolution at the center of the image frame, corners and mid-point distances, across the range of aperture settings and, with zoom lenses, at four different focal lengths. The tests also measure distortion and color fringing (chromatic aberration).
Sharpness:
The sharpness scores in the two graphs below are produced by shooting a monochrome test chart covered in multiple sharp boundaries between black and white. This image is then assessed by specialist software, with the extent of blur on the contrast boundaries at the centre, mid and edges of the image converted into a spatial frequency value to determine how many line widths per picture height the lens is capable of resolving. A higher spatial frequency corresponds to a greater number of finer lines over a given distance that the lens can resolve - this number is the sharpness score.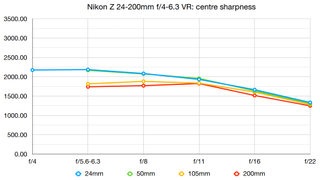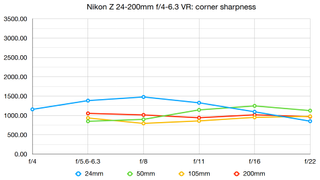 For a superzoom, there's very little drop-off in sharpness at the long end of the zoom range, and sharpness is also retained well out towards the edges of the frame.
Fringing:
The chromatic aberration scores are calculated using the same chart we use for measuring sharpness. This time the processing software assesses the sharp black-white contrast boundaries and determines the width in pixels of the colour fringe that divides black from white - the larger the width of the fringe, the greater - and worse - the fringing score.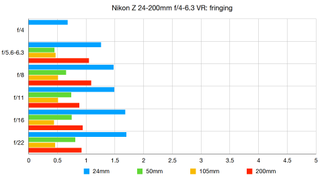 There's only very negligible colour fringing at 24mm, and even less at mid to long zoom settings.
Distortion:
At the top and bottom of our lens test chart are horizontal black bars that run its full width. A lens that bulges these lines towards the edges of frame produces barrel distortion, the degree of which is indicated by a negative score. Shrinking (pincushion) distortion, usually produced by a telephoto lens, produces a positive score. The higher the number - positive or negative - the greater the distortion. A score of zero indicates no distortion.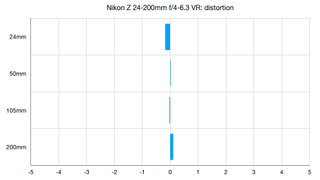 Helped by automatic in-camera corrections which can't be disabled, distortions are basically a non-issue at all focal lengths.
Verdict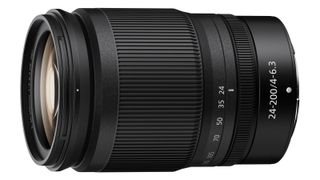 Excellent overall performance, highly impressive image quality and refined handling are shoehorned into this compact superzoom lens, to great effect. The lightweight yet robust construction makes it ideal as a travel lens, or for everyday shooting, and it works brilliantly well for both stills and video capture. As we're seeing increasingly in lenses for mirrorless cameras, there's reliance on in-camera corrections for the likes of distortion. Ultimately, however, this superzoom delivers superb results on any Nikon Z-series FX or DX camera.
Read more: