Is Leica about to enter the action camera business? If the latest leaked images are to be believed, it looks like the answer might be yes.
An action camera with a Leica lens has just appeared online, raising all manner of questions. Is Leica about to announce its first action cam? Entirely possible – it has, after all, just launched its first instant camera in 7 years (the Leica Sofort 2). And it has been taking aim at the best camera phones with the Leitz Camera 2 in Japan, too.
Of course, given its history of licensing out its camera expertise, this could be a collaboration with another action cam maker to challenge the GoPro Hero 12. The obvious candidate would be Insta360, given that the pair have collaborated on action cams previously with the likes of the Insta360 One R modular system.
However, Leica cameras also appear on phones like the Xiaomi 13 Pro, so it's entirely possible that it could be working with an entirely new manufacturer.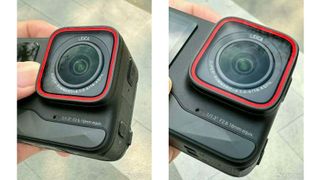 The images surfaced from respected leak and rumor outlet Camera Beta, on the Chinese social network Weibo. While they should obviously be taken with a suitable pinch of salt, the outlet has a good track record when it comes to early information.
"Leica action camera?" reads the post (via machine translation). I just got an action camera that looks like it has a Leica lens on it. Is Leica about to release an action camera? Or maybe a brand has jointly developed an action camera with Leica?Equipped with a 1/1.3-inch bottom, Leica Summarit lens, equivalent to a 16mm focal length… whose lens will it be?"
The previous team-up with Insta360 produced great product, but did little to loosen GoPro's stranglehold on the action camera segment. Whether this is another collaboration or a standalone Leica product, it's certainly going to have an uphill battle – but given how many disgruntled GoPro users there are, a kick up the butt would be more than welcome right now!
If the best GoPro cameras don't tickle your fancy, take a look at the best GoPro alternatives. You can also check out the best Leica cameras for traditional camera bodies, along with the best Leica M lenses and best Leica SL lenses to go with them.