Looking for an action camera that can handle a variety of creative challenges? The Insta360 ONE R may be just the tool you're looking for. Rather than simply offering you a pocket-sized go-anywhere camera, the ONE R is a modular system that currently offers you three cameras; a dual lens 360° option, a 4K wide angle camera and a 5.3K 1-inch version. Each module is sold separately, but can be picked up as part of a bundle. The 1-inch Edition is the most recent module to join the party and adds a large 1-inch sensor to the system.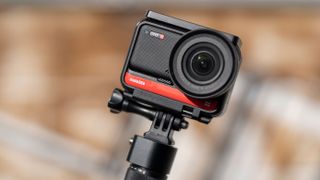 Specifications
Sensor: 1-inch CMOS
Lens/Aperture: 14.4mm f/3.2
Stabilization: 6-axis Gyroscope, FlowState (e-Stabilisation)
Max image size: 5312 x 3552 (3:2)
Photo format: Raw (dng) + JPG
Video: 5312x2988 at 24/25/30fps, 3840x2160 up to 60fps, 1920x1080 up to 120fps
Video format: insv (exported via App or Studio), MP4 (enable in-camera basic stabilization), LOG
Video codecs: h.264 / h.265
Video bitrate: 100Mbps
Video Modes: Standard, Timelapse, Hyperlapse
Memory card: 1x microSD/SDHC/SDXC (UHS I)
Connectivity: Wi-Fi, Bluetooth, USB Type-C
Size: 78.7mm x 53.8mm x 47.2mm
Weight: 158.2g (fully assembled)
Key features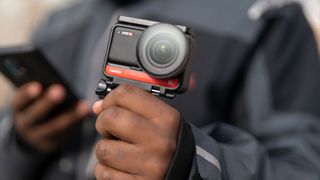 The introduction of the 1-inch modification, co-engineered with Leica, adds a high-quality 1-inch sized sensor to the modular Insta360 ONE R system.
But why should I buy the Insta360 1-in Mod? And is the 1-inch mod worth the extra money?
Let's take a look. The larger sensor is the most immediate advantage over the other modules available for the Insta360 ONE R. Most action cameras use a 1/2.3-inch sensor. It's the same sensor size most commonly used in action cameras and smartphones. These sensors handle detail and color reproduction well in good lighting conditions, but tend to struggle with particularly high contrast or low light scenes. This is because their light sensitive areas are tiny. The larger the sensor, typically the larger the cells are that it uses to collect light. That's what gives this mod an advantage; its 1-inch sensor has over 4x the light sensitive surface area of the sensor used in the GoPro Hero 8 Black and many other rival action cameras.
The 1-inch edition can capture up to 5.3K video at 30fps with a bit rate of 100Mbps, which may seem like overkill to some. But it allows for extra flexibility when editing in post and for adding software stabilization if needed. It can also record video at a more conventional 4K/60p resolution and capture 19-megapixel stills.
Insta360 is committed to supporting the ONE R platform with consistent firmware and App updates that provide improved performance and functionality. With the latest update, firmware v1.2.16, the Insta360 ONE R platform has further improved low-light shooting and six-axis gyroscope-powered stabilization in camera, with PureShot. This AI powered feature analyses the frame and smooths out noise, while retaining relevant detail. It also allows the camera to record to .MP4 format by default, rather than the h.265 codec. This addresses one criticism some people had about the Insta360 ONE R previously, and makes it easier to play back your files without having to use specialized video editing software.
Enhancements to the system's color and shadow/contrast reproduction have also been made. This is most notable on high-contrast sunny days or when recording underwater, thanks to new AquaVision mode, which compensates for a lack of red tones when filming in dive mode. Another notable functionality expansion comes in the form of clever webcam and livestream use cases. With the 4K Wide-angle mod, the camera uses its AutoFrame AI mode to detect the number of people in the frame and adjust the crop accordingly to ensure the attention is on the person speaking. Using the 360 mod, the ONE R gets 360 Live, Re-frame Live and split screen view, allowing people on the other end of your connection to see everyone around a table or change the viewing angle in real time for example. These clever upgrades expand the usefulness of an already flexible system. Insta360 even offers an Aerial Edition (sold separately), which makes it possible to mount the 360 ONE R to a Mavic 2 Series drone.
With all of the updates and modules considered, it's hard to argue against the Insta360 ONE R being the most versatile action camera system on the market right now.
Build and handling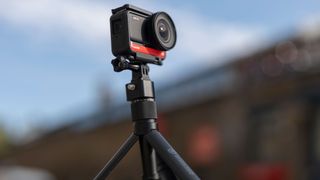 Being modular, the Insta360 ONE R needs to be taken apart and reconfigured each time you want to change camera. This can be particularly fiddly when switching to the 1-inch, mod as you need to remove its 14.4mm equivalent f/3.2 lens to get the reassembled mod inside its housing. Switching between the 360 mod and the 1-inch took me about 20 seconds, which isn't arduous, but it's worth considering if you ever anticipate wanting to switch mods quickly. Due to its large lens, the 1-inch mod weighs a little more at 158.2g compared to the 4K (121g) and 360 (130.5g) mods.
Once everything is securely connected the ONE R feels solid and you quickly forget it's a modular system. The only thing I found awkward about its design was the door that covers its USB Type-C port and MicroSD slot. You may struggle to open it with super short fingernails. Otherwise, it's a very clever solution overall that allows you to flip the screen module 180° to face in front or backwards – suiting your needs accordingly.
The majority of its controls are touchscreen or via the Insta360 app. The camera has only two physical controls; a power button and a capture/shutter button. Navigating the ONE R's menu system is simple and intuitive; the screen is responsive to touch and can also be operated while wearing light gloves. The ONE R is also IPX8 rated as waterproof to a depth of 5m/16.4ft and freezeproof down to -20° C, something I did not expect given its modular design. If underwater filming is a priority, you may want to fork out for the additional Dive Case, that will get the camera to a depth of 60m/196.9ft.
Pro tip
Check out Freewell Gear's range of ND and polarizing filters to help keep shutter speeds down and improve the cinematic quality of your footage when using the ONE R. It's the first company I've seen creating a full range of filters for this system and they're affordable, so well worth a look.
One minus perhaps is the battery performance of the ONE R. It only has a 1,190mAh battery, the smallest capacity cell of the best action cameras. It will last about an hour of constant use and it takes 65 minutes to charge so there's a significant wait if you run out of juice and want to get going again. There are workarounds, though, as Insta360 does offer an affordable fast charge hub for quickly charging two batteries simultaneously. It also sells an optional Boosted Battery Base that has a 2,380mAh capacity. The indie filmmakers among you will appreciate the fact that you can run the ONE R while it's connected to a power bank, which will effectively keep you going for as long as you like. Continuous recording was only stopped by overheating, and this occurred around the 90 minute mark while recording at the highest resolution. In normal use, you can expect to run out of storage before overheating becomes an issue.
Performance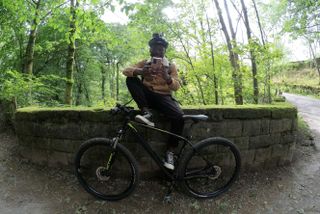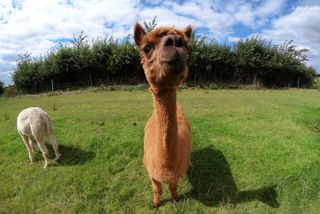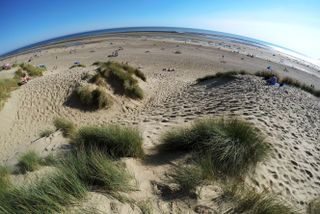 The Insta360 ONE R 1-inch Edition takes everything you could hope to expect from an action camera and raises the bar for image quality in a subtle, but meaningful way. Particularly if you care about image detail and colour faithfulness.
Comparing the 1-inch Edition ONE R to one of the best rival action cameras, the DJI OSMO Action, images and videos are delivered with more detail, fewer chromatic aberrations and are less saturated when in standard mode. I rated the OSMO Action more highly than the GoPro Hero 8 Black as they had comparable image quality, but I felt the OSMO came out on top based on the strength of DJI's RockSteady stability mode. So how does the ONE R 1-inch do in terms of stability? In this latest firmware the ONE R can apply its Pro stabilization in camera, which can be further enhanced in post. One of the major benefits of the 1-inch mode being able to capture 5.3K resolution video is that it allows for increased flexibility for software stabilization.
It's hard to say if it's better than DJI's RockSteady – take a look at the side by side comparison in our video below and see what you think. At this point, electronic stabilization is so good that it's hard to see where improvements could be made.
NOTE: any compression artefacts visible here are from the encoding and compression for online playback and are not present in the original footage.
The only thing that really counts against e-Stabilisation is the crop it incurs, but this is less of an issue for the ONE R 1-inch mod. It's safe to say, if you need steady footage, this action camera choice will not let you down. The only perceptible step up is the insane stability that comes from shooting with ONE R's 360 mod. It produces the smoothest 4K and HD video footage at this price point.
The latest firmware allows you to record audio and also remotely trigger the ONE R using Apple AirPods. Remote trigger is helpful, but the audio quality when using AirPods is surprisingly poor. Given how good the audio is when using the ONE R's inbuilt microphone system – with improved wind reduction via the latest update – AirPod audio recording is a redundant addition, disappointingly.
Standard, Vivid and LOG recording colour modes are available. Standard is a faithful reproduction of colours, with scenes being captured close to what the eye can see, while VIVID adds noticeable punch to blue skies and warm tones. If you want the maximum flexibility in post, you'll want to use the flat LOG profile, though, which is great if you intend to color grade your footage. The Insta360 Studio and App also has a 'ColorPlus' option on export that will enhance clarity and colour depth automatically. This works well enough for quick edits.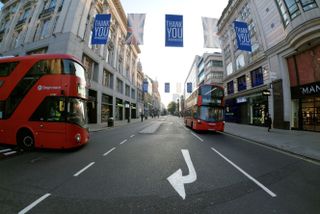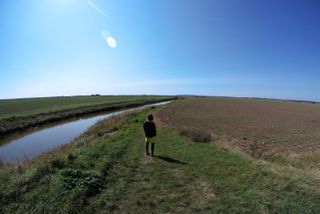 This camera has a limitation as a vlogging solution, due its combination of 1-inch sensor and a fixed focus 14.4mm f/3.2 lens. The ONE R 1-inch has a minimum focusing distance of 90cm, so people with limited reach will need to use the selfie arm to avoid being out of focus. This quirk can also be used as a creative tool however, as you can place things in the foreground to give your frame extra depth.
Verdict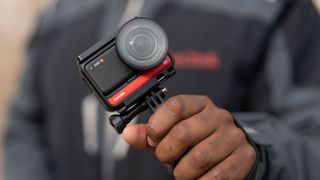 As a camera system and with the 1-inch Edition attached, the Insta360 ONE R is a great investment for creatives who want a camera that will allow them to capture action and more. Used more conventionally, the ONE R 1-inch records brilliant quality 5.3K/30p and 4K/60p video that outshines the competition in terms of detail. It also takes better quality photos that are rich in detail and have bags of latitude for editing in post when captured in .dng RAW format.
But the real magic behind the ONE R system takes place inside the Insta360 Studio app or Desktop software. Download-free editing provides smooth editing via phone or tablet before exporting the footage off the camera. You'll want to be using a more recent (2018+) Android or iOS device to avoid choppy playback, though. More extensive outputs, such as exporting at 5.3K, requires desktop software. But for the most part, the Insta360 Studio provides a host of fun and creative ways to make the most of the ultra-wide angle. It also has a community feature section within the app that provides tips and inspiration shared by other creatives around the world. It's a really neat way to get new creators familiar with and exploring the ONE R's capabilities.
Want a camera that can go anywhere you go and help you unleash your creativity with few limits? The Insta360 ONE R is one of the best options you can buy right now. And perhaps the best thing about it, is that being a modular system, there's every chance its cameras will keep improving as technology advances. Making the Insta 360 ONE R a good investment for the future as well.
Read more
Insta360 ONE R Twin Edition review
Best 360 cameras in 2020
Best action cameras
The best selfie sticks