Ever wanted a camera that looks like a crocodile? Then Polaroid has something for you, thanks to a collaboration with Lacoste that has resulted in a limited edition crocodile-styled Polaroid 600.
The Lacoste x Polaroid Kit Polaroid 600 camera is the headline product of the collaboration, which has also seen the iconic camera brand and the French clothing company team up to produce a line of streetwear.
• Read more: Best instant cameras
This isn't a great resurrection of the beloved Polaroid 600 line, though; the Lacoste x Polaroid Kit Polaroid 600s are cameras that have been restored and restyled by Milwaukee, Wisconsin-based retro tech refurbishment specialist Retrospekt.
"(Re)discover the pop culture in this instant camera," reads the official product description. "Fruit of the Lacoste and Polaroid merger, the Polaroid 600 is a genuine piece of vintage retro tech – refurbished, restored and reimagined by Retrospekt. Thanks to its built-in flash with manual control, get an additional light source when you need it. The Polaroid 600 is sold with a strap and a single pack of 600 color film."
Accordingly, aside from the polarizing design, this is the same classic camera that has made the Polaroid 600 one of the most beloved Polaroids ever made – so you'll be getting the same fixed 110mm f/10 lens, built-in flash, automatic exposure control with +/- 1EV compensation wheel, and satisfying folding design.
Additionally, if you're in the market for crocodile-themed clothing to wear while using your new camera, you can rock the new collection of Lacoste x Polaroid shirts, sneakers, hoodies, hats, pants and accessories.
"Polaroid has been capturing memories on glossy instant film for over 70 years – from major events to private occasions – all in vibrant colors and warm tones," says Lacoste. "For Spring 2021, Lacoste dug deep into this legendary, high-color, and cultural heritage. Inspired by Polaroid's famous rainbow logo from its first instant color film developed in 1963, the Lacoste x Polaroid collection centers around the distinctive blue, green, yellow, orange and red rainbow from the creative brand.
The Lacoste crocodile marches across bold, block-color backgrounds on classic polos and hoodies, while polo dresses and shirts in oversized stripes make for a supercharged silhouette that stands out. Accessories also feature the full-color treatment, as white sneakers get subtle color-flash accents, tennis shoes go rainbow-striped, and caps, watches and backpacks are a concentration of high-energy sporty style."
The Lacoste x Polaroid Kit Polaroid 600 retails for $150 / £135 (approximately AU$197), but is so limited edition that it is currently sold out online – though it will be carried at selected stores in New York, London, Paris, Milan and Shanghai. For more info and to check out the clothing collection, visit the Lacoste website.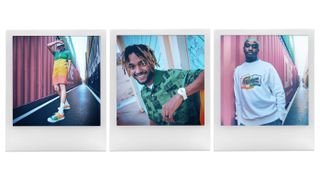 Read more:
Polaroid Now review
The Mandalorian Polaroid Now review
Polaroid OneStep 2 review
Polaroid Lab review
What type of instant film do I need?